Series:
Percy Jackson and the Olympians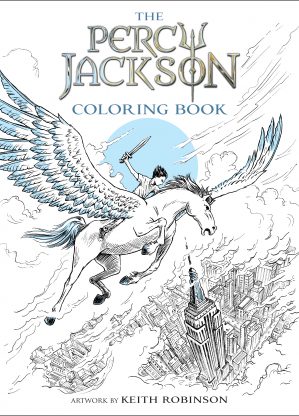 The Percy Jackson Coloring Book
Demigods, brandish your crayons!
Over the past decade, millions of young readers, parents, and teachers have come to adore Rick Riordan's classic series Percy Jackson and the Olympians, which made ancient Greek mythology contemporary, relevant, and entertaining as it turned kids on to reading. Now fans can literally color Percy's world with the amusing portraits, dramatic scenes, and intricate designs on every spread of this large format paperback. This book is a great way to introduce young children to the series, to allow older fans to reminisce, and to augment classroom units on Greek mythology.
Fans of Percy Jackson, students of Greek mythology, and adults looking for escapist fun will love bringing demigods, gods, and monsters to life with their own artistic skills in this book with more than 100 images to color.
Rick Riordan is the #1 New York Times bestselling author of the Percy Jackson and the Olympians series, the Kane Chronicles, the Heroes of Olympus, and Magnus Chase and the Gods of Asgard
Parent Teacher Resources
Series:

Percy Jackson and the Olympians