What is the 'Rick Riordan Presents' Imprint?
Rick Riordan Presents is one small branch of the Disney-Hyperion Publishing family. We aim to publish about four books a year. All these will be books that my editor Stephanie Lurie and I feel will appeal to kids who like my books. In other words, they will probably be some type of middle grade adventure, with lots of humor and action, and probably draw on myth or folklore in some way.
Our goal is to publish great middle grade authors from underrepresented cultures and backgrounds, to let them tell their own stories inspired by the mythology and folklore of their own heritage. Over the years, I've gotten many questions from my fans about whether I might write about various world mythologies, but in most cases I knew I wasn't the best person to write those books. Much better, I thought, to use my experience and my platform at Disney to put the spotlight on other great writers who are actually from those cultures and know the mythologies* better than I do. Let them tell their own stories, and I would do whatever I could to help those books find a wide audience!
(*And when I use the term myth, I use it in its first and most basic sense: a traditional story about gods and heroes, not in its later, more secondary connotation as something false or made up.)
Are the Rick Riordan Presents connected to Percy Jackson's world?
No! My job is to help edit the books where it seems appropriate, to offer advice and guidance where I can, and to promote the great books we publish. I am not writing the books and I don't tell the authors what to write. This is not like using a ghost writer or 'assistant writer' to write my ideas. These are original stories generated by the authors – their intellectual property, told their way, with their characters and their sense of humor. The worlds they create are their own. They are not extensions of Percy Jackson's world, but I can safely say that if you like my books, you will probably love these.
*Suspicious Sideways Glance* So what's in it for you?
Disney is paying me a nominal fee to write an introduction for each book, help edit and promote it, etc., but that's the limit of my monetary involvement. The authors own their own intellectual property and negotiate contracts with Disney as they would with any publishing deal. I am not doing this for money.
For me this is a way to give back for my success. I've been very lucky in my career. I want to use my platform to help other writers get a wider audience. I also want to help kids have a wider variety of great books to choose from, especially those that deal with world mythology, and for all kinds of young readers to see themselves reflected in the books that they read.
Books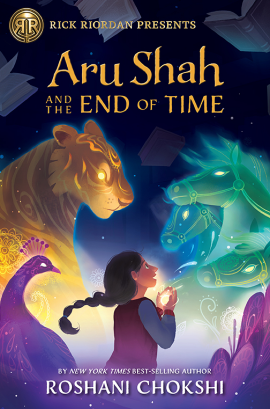 Aru Shah And The End Of Time
By Roshani Chokshi
Best-selling author Rick Riordan introduces this adventure by Roshani Chokshi about twelve-year-old Aru Shah, who has a tendency to stretch the truth in order to fit in at school.
A New York Times bestseller!
Chokshi weaves an engrossing adventure that will leave readers anticipating the next installment.
- Publishers Weekly (starred review)
Buy Now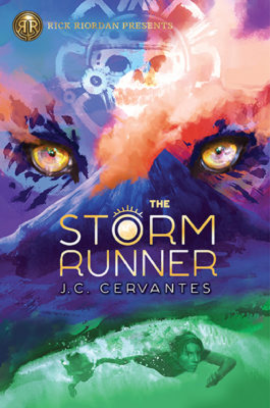 The Storm Runner
By J. C. Cervantes
A lonely boy in New Mexico has a physical disability that makes middle school feel even more like everyone is watching him. But as he soon learns, his physical differences are merely the first clue to a family history that connects him to the Maya gods—and puts him in mortal danger.
A New York Times bestseller!
Cervantes wastes no time getting right into the action, and her conversational tone and suspenseful pacing will keep the pages turning as the tension escalates and the characters face deepening stakes. Don't miss this rip-roaring adventure.
- Booklist (starred review)
Buy Now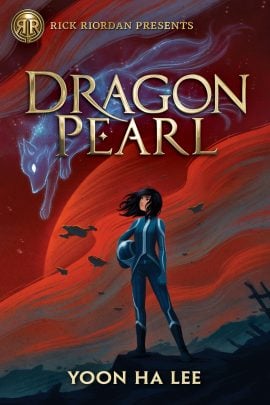 Dragon Pearl
By Yoon Ha Lee
A sci-fi adventure novel about Min, a teenage fox spirit, who runs away to solve the mystery of what happened to her older brother and ends up on an adventure that could save her entire planet.
A New York Times bestseller!
Lee skillfully weaves Korean folklore into this space opera narrative, creating dynamic and relatable characters. VERDICT With ghosts, pirates, and a rollicking space adventure, there's a little something for everyone here.
- School Library Journal (starred review)
Buy Now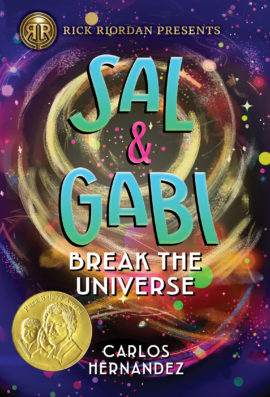 Sal and Gabi Break the Universe
By Carlos Hernandez
A brilliant sci-fi romp with Cuban influence that poses this question: What would you do if you had the power to reach through time and space and retrieve anything you want, including your mother, who is no longer living (in this universe, anyway)?
Pub date: March 2019, paperback with new cover art May 2020
Winner of the Pura Belpré Award!
Jacket art by Guilherme Asthma (Instagram: guilherme_asthma)
Designed by Phil Buchanan (Twitter @fillbuchanan)
This engrossing adventure is sure to leave readers excitedly anticipating the next installment.
- ALA Booklist (starred review)
Buy Now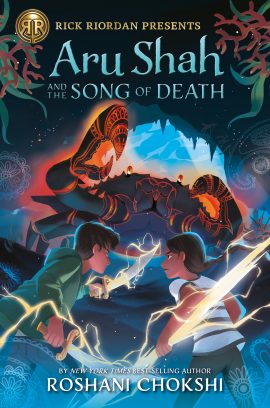 Aru Shah and the Song of Death
By Roshani Chokshi
The second book in the best-selling Pandava series. Just when she's learning how to be a Pandava, Aru is accused of stealing the god of love's bow and arrow. In order to prove her innocence, she must navigate the serpent realm with Mini and two new companions, one of whom is a BOY!
A New York Times bestseller!
Pub date: April 30, 2019
Chokshi seamlessly weaves Indian cosmology and pop culture into a refreshingly feminist plot laced with witty dialogue. This will leave fans enthralled and clamoring for more.
- Kirkus (starred review)
Buy Now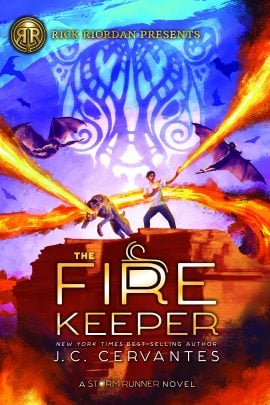 The Fire Keeper
By J.C. Cervantes
In this fiery and fast-paced sequel to The Storm Runner, Zane Obispo has an impossible choice to make: save other godborns like him from the angry gods, or rescue his father Hurakan from his eternal prison. Featuring gods from both Maya and Aztec myth!
Pub date Sept. 3, 2019.
A New York Times bestseller!
Buy Now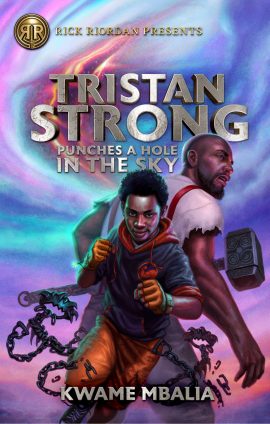 Tristan Strong Punches a Hole in the Sky
By Kwame Mbalia
Pitched as an MG American Gods, the book stars a seventh-grade boy who accidentally creates a hole into the Midpass, a world where ancient African gods clash with gods of African-American legend. He must race to find Anansi, the Weaver, and repair the rip before the iron monsters wreaking havoc in the Midpass consume their world and ours.
Pub date: October 15, 2019
A New York Times bestseller!
"It brims with heart, humor, and action, successfully crafting a beautifully unified secondary world that brings the power of stories to glorious life."
- Booklist (starred review)
Buy Now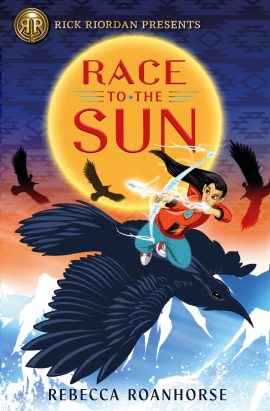 Race to the Sun
By Rebecca Roanhorse
New Mexico seventh grader Nizhoni Begay and her brother, aided by various Navajo gods disguised as relatives, must stay one step ahead of a shape-shifting monster as they follow in the footsteps of the legendary Hero Twins to save their family.
Pub date: January 14, 2020
A New York Times bestseller!
"By reimagining a traditional story in a contemporary context, populating it with faceted Native characters, and centering it on and around the Navajo Nation, Roanhorse shows that Native stories are active and alive."
- Kirkus (starred review)
Pre-order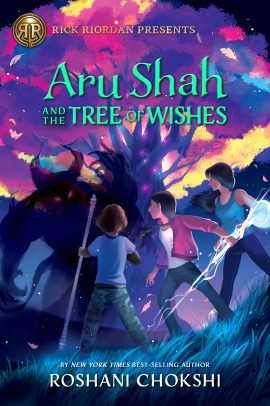 Aru Shah and the Tree of Wishes
By Roshani Chokshi
The third book in the Hindu-based, best-selling Pandava series by Roshani Chokshi, in which Aru and her cohorts, Mini, Brynne, and Aiden—and now a pair of twins—each search the Otherworld for Kalpavriksha, the wish-granting tree.
War between the devas and the demons is imminent, and the Otherworld is on high alert. When intelligence from the human world reveals that the Sleeper is holding a powerful clairvoyant and her sister captive, 14-year-old Aru and her friends launch a search-and-rescue mission. The captives, a pair of twins, turn out to be the newest Pandava sisters, though, according to a prophecy, one sister is not true.
During the celebration of Holi, the heavenly attendants stage a massage PR rebranding campaign to convince everyone that the Pandavas are to be trusted. As much as Aru relishes the attention, she fears that she is destined to bring destruction to her sisters, as the Sleeper has predicted. Aru believes that the only way to prove her reputation is to find the Kalpavriksha, the wish-granting tree that came out of the Ocean of Milk when it was churned. If she can reach it before the Sleeper, perhaps she can turn everything around with one wish.
Careful what you wish for, Aru . . .
Pub date: April 7, 2020
Artwork by Abigail L. Dela Cruz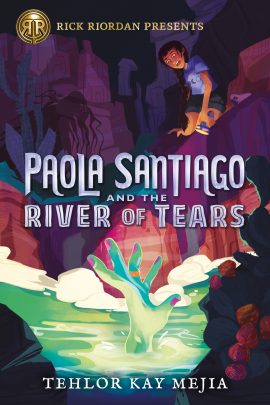 Paola Santiago and the River of Tears
By Tehlor Kay Mejia
Space-obsessed 12-year-old Paola Santiago and her two best friends, Emma and Dante, know the rule: Stay away from the river. It's all they've heard since a schoolmate of theirs drowned a year ago. Pao is embarrassed to admit that she has been told to stay away for even longer than that, because her mother is constantly warning her about La Llorona, the wailing ghost woman who wanders the banks of the Gila at night, looking for young people to drag into its murky depths.
Hating her mother's humiliating superstitions and knowing that she and her friends would never venture into the water, Pao organizes a meet-up to test out her new telescope near the Gila, since it's the best stargazing spot. But when Emma never arrives and Pao sees a shadowy figure in the reeds, it seems like maybe her mom was right. . . .
Pao has always relied on hard science to make sense of the world, but to find her friend she will have to enter the world of her nightmares, which includes unnatural mist, mind-bending monsters, and relentless spirits controlled by a terrifying force that defies both logic and legend.
Artist: Vanessa Morales
Pub date: August 4, 2020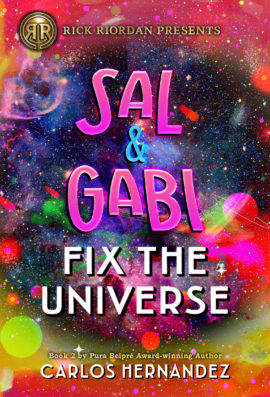 Sal and Gabi Fix the Universe
By Carlos Hernandez
In the sequel to the Pura Belpré-winning SAL AND GABI BREAK THE UNIVERSE, Sal has to prevent a rogue Gabi from another universe from destroying his own.
Jacket art by Guilherme Asthma (Instagram: guilherme_asthma)
Designed by Phil Buchanan (Twitter @fillbuchanan)
Publication date: May 5, 2020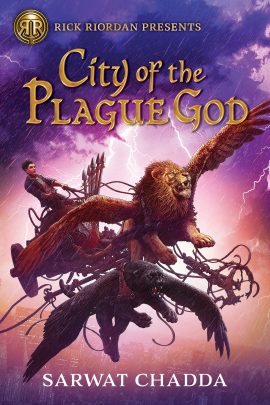 City of the Plague God
By Sarwat Chadda
Inspired by Mesopotamian mythology, the story follows Sikander Aziz, a Muslim boy born and raised in New York City, as he teams up with legendary hero Gilgamesh to defeat the ancient god of plagues before the entire population of Manhattan is wiped out.
Jacket art by Kerem Beyit (Twitter: @KBeyit)
Designed by Jamie Alloy (Twitter: @JamieAlloy)
January 2021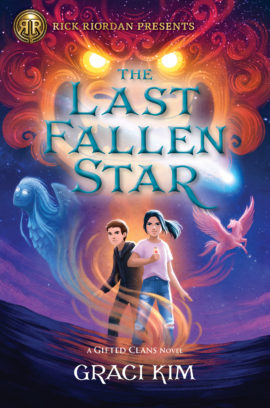 The Last Fallen Star
By Graci Kim
Twelve-year-old Riley Oh desperately wants to have healing powers like everyone else in her Korean witch family. With the help of her sister, Riley attempts to summon Mago Halmi -- the mother of all goddesses -- but instead her sister is banished to the spirit realm and Riley is given an ultimatum. If she wants to get her magic and save her sister's life, she must find the godrealm's last fallen star.
May 4, 2021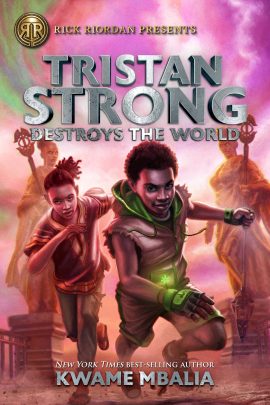 Tristan Strong Destroys the World
By Kwame Mbalia
When Tristan's Nana is abducted, he has to return to Alke, the land of folktale heroes and gods, where, instead of getting a hero's welcome, he gets KO'd.
Jacket art by Eric Wilkerson (Instagram: ericwilkersonart)
Designed by Tyler Nevins (Twitter: @TylerNev)
Publication date: Oct. 6, 2020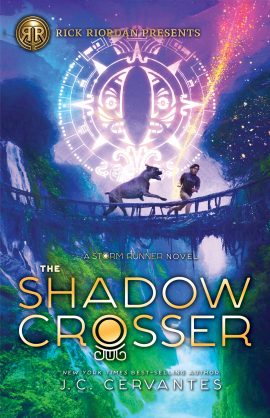 The Shadow Crosser
By J.C. Cervantes
The final book in the bestselling Storm Runner trilogy has Zane Obispo and his friends trying to rescue the Maya gods from the clutches of a faceless enemy.
Jacket art by Irvin Rodriguez (irvinrodriguez.com)
Designed by Phil Buchanan (Twitter @fillbuchanan)
Publication date: September 1, 2020
Aru Shah and the City of Gold
By Roshani Chokshi
Aru Shah and her sisters--including one who also claims to be the Sleeper's daughter--must find their mentors Hanuman and Urvashi in Lanka, the city of gold, before war breaks out between the devas and asuras.
Aru has just made a wish on the tree of wishes, but she can't remember what it was. She's pretty sure she didn't wish for a new sister, one who looks strangely familiar and claims to be the Sleeper's daughter, like her.
Aru also isn't sure she still wants to fight on behalf of the devas in the war against the Sleeper and his demon army. The gods have been too devious up to now. Case in point: Kubera, ruler of the city of gold, promises to give the Pandavas two powerful weapons, but only if they win his trials. If they lose, they won't stand a chance against the Sleeper's troops, which will soon march on Lanka to take over the Otherworld.
Aru's biggest question, though, is why every adult she has loved and trusted so far has failed her. Will she come to peace with what they've done before she has to wage the battle of her life?
Filled with wondrous magic, unforgettable creatures, manipulative gods, and laugh-out-loud dialogue, this fourth book in the Pandava series, a fantasy adventure loosely based on mythology, will leave readers wishing they could read the finale right now.
Publication date: April 6, 2021