Series:
Percy Jackson and the Olympians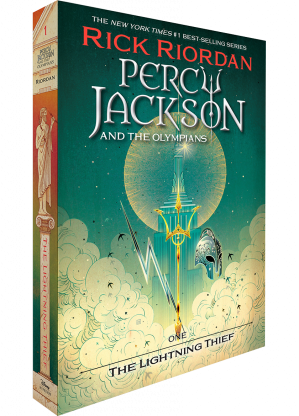 Book 1
The Lightning Thief
Twelve-year-old Percy Jackson is on the most dangerous quest of his life. With the help of a satyr and a daughter of Athena, Percy must journey across the United States to catch a thief who has stolen the original weapon of mass destruction — Zeus' master bolt. Along the way, he must face a host of mythological enemies determined to stop him. Most of all, he must come to terms with a father he has never known, and an Oracle that has warned him of betrayal by a friend.
Disney Hyperion
0-7868-5629-7
Ages 10+
The sea does not like to be restrained.
- Rick Riordan
The Lightning Thief, Chapter One
Hear the first part of the first Percy Jackson book, as read by the author (MP3).
Notable Awards
A New York Times Bestseller
Selected for Al Roker's Book Club for Kids, The Today Show
A Best Book of 2005, School Library Journal
A New York Times Notable Book of 2005
A Best Book of 2005, Child Magazine
Bluebonnet Award Nominee, 2006, Texas Library Association
Askews Torchlight Award (UK) Winner, 2006
Chicago Public Library Best of the Best Book List, 2005
VOYA Top Shelf Fiction List for 2005
ALA Notable Book for 2005
More Awards

YALSA Best Book for Young Adults 2005
Red House Children's Book Award Winner (UK), 2006
CCBC choice award 2006, Cooperative Children's Book Center
A 2006 Notable Children's Book, National Council for Teachers of English
A Publishers Weekly National Children's Bestseller
Warwickshire Book Award Winner (UK), 2007
Parent Teacher Resources
Series:

Percy Jackson and the Olympians