Hello, all! It seemed like a good time to do a news round-up as we head into spring, so here we go!
Rick Riordan Presents
Lots of wonderful new books from the Rick Riordan Presents imprint are winging their way to you over the next few months!
Stacey Lee's amazing adventure Winston Chu vs. the Whimsies is now available, and if you haven't read it yet, you are missing out! You can read my review and order a copy to get your spring started right!
And coming soon . . .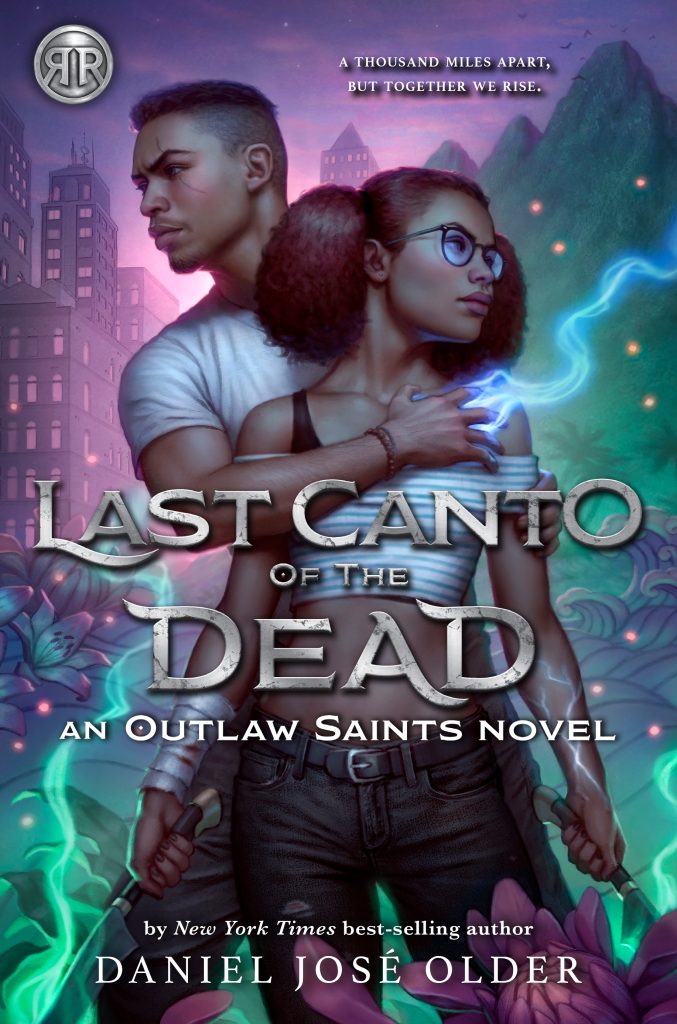 Last Canto of the Dead is Daniel José Older's second Outlaw Saints novel, the inaugural YA series for our imprint. It combines everything I love about Older's writing! It's part mystery, part thrill ride, part love song to the people of San Madrigal, a culture inspired by Cuban Santeria among other wonderful elements. Pre-order before it comes out, May 16 — and if you haven't read the first novel, do so!
Graci Kim's incredible Gifted Clans series continues on June 6 with The Last Fallen Realm! Korean myth meets modern Los Angeles with explosive results! Pre-order here for the adventure-lover in your family.
And on August 1, Sarwat Chadda brings us back to the world of Mesopotamian mythology with Fury of the Dragon Goddess, the second Sikandar Aziz novel! Nothing says 'summer' like dragon fire, my friends! Pre-order here.
My Own Books
I'm very excited to be hitting the road with Mark Oshiro for our co-written novel The Sun and the Star, featuring demigods Nico di Angelo and Will Solace! The book is out May 2. You can preorder a copy now, or join us on tour if you are close to one of our five stops.
Most recent links for the events are updated below:
BOSTON
Tuesday, May 2, 7:00PM, event hosted by Brookline Booksmith
Location:  The Chevalier Theatre
NEW YORK
Wednesday, May 3, 7:00PM, event hosted by Barnes & Noble
Location/tickets: Town Hall
ATLANTA
Thursday, May 4, 7:00PM, event hosted by Brave + Kind Books.
Location: Gas South Arena, Exhibit Hall A
SAN FRANCISCO
Friday, May 5, 7:00PM, event hosted by Kepler's Books.
TORONTO
Saturday, May 6, 7:00PM, event hosted by Indigo Books.
Please note each event requires a ticket, and it's a good idea to get one now if you plan to attend. The events almost always sell out, and a few are close to doing so already.
LIBRARIANS! Mark and I will also be speaking at ALA Chicago, June 23-27, so please join us then if you can!
Also coming out this year on Sept. 26: The Chalice of the Gods, the first classic-style, first-person-POV Percy Jackson novel I've written since The Last Olympian came out in 2009. Percy, Annabeth and Grover are reunited for their most dangerous quest yet: Getting Percy a recommendation letter so he can get into college. Thrills! Chills! Gods! Monsters! The college admissions process! And plenty of Percy snark throughout. I wrote this book in honor of the Percy Jackson and the Olympians TV show coming out soon, and it was so much fun to get back into Percy's narration. You can read more about the book in my recent interview with Entertainment Weekly, and pre-orders are available here. I will be doing a short tour for the book in the fall. Details on that as soon as I have them!
Updates of the TV/Film Front
As you may know, Becky and I started our own production company in 2020 to shepherd my various books into TV/film adaptations. Mythomagic, Inc. has had quite a busy few years since then!
The first season of Disney+'s Percy Jackson and the Olympians is now in post-production. This means we've finished all the filming and are editing the episodes — choosing scenes, putting them together, adding the music and special effects — all massive undertakings that require many months of work. This is one way in which publishing and television production are not too different. Each episode goes through countless 'drafts' and revisions until everyone is satisfied that we have the best possible cut. It takes lots of time. I have no updates on a release date, but you can check my previous blog posts for my best guesses about how long the process will take. All I can say now is that the eight episodes of season one are shaping up beautifully, and I think you'll be delighted with the results. I have learned so much going through this process. The whole team was incredible, but special shout-out to our hard-working actors. They make the show.
Meanwhile, we have started work on the writers' room for season two. This does NOT mean the second season has been green-lit yet. It's too early for that. But we have been approved to start developing scripts, and I think everyone's expectation is that a second season will happen if all goes as planned. It sure is exciting to be part of the room, though. We've broken down the action of the second Percy Jackson book, The Sea of Monsters, into a series of episodes, and have begun outlining what the first episodes would look like. I love imagining the introduction of Tyson, our favorite Cyclops, and it's so helpful to picture our amazing actors in their on-going roles as I am visualizing the season. A bigger role for Clarisse LaRue, the incredible Dior Goodjohn? Yes, please. More Luke Castellan, aka Charlie Bushnell? Sign me up. Percy (Walker), Grover (Aryan), and Annabeth (Leah) braving the scenes from the second novel . . . I can't wait. And Party Ponies! While we were filming season one, I explained to Glynn Turman (Chiron) who the Party Ponies were, and he laughed and laughed. He said, "I think I have some friends I could call." Can't wait to see that scene!  My usual disclaimer: This is all HYPOTHETICAL at this point. We have big plans, but nothing is green-lit (past the writers room) and nothing is set in stone. Fingers crossed, though, the first season does as well as we hope, and leads to an even greater second! I continue to be in the writers' room every day, weighing in on every creative decision.
Daughter of the Deep. As I previously reported, my homage to Jules Verne's Captain Nemo adventures is being developed for a live action feature film at Disney+. My co-writer Aditi Kapil and I recently finished the script, which is now with our development partners at the Gotham Group. Once we get their notes and make a few last tweaks, we will send it to the studio and see what they think! The revision process can be long and complicated, as I mentioned above, but I think we're in good shape so far! The script will have to be finished and approved, though, before we move into next steps like finding a director, then casting. Stay tuned!
The Red Pyramid script is a good example of how complicated the adaptation process can be! We've been developing this for a live-action feature film at Netflix for over two years now and have seen some great progress in the drafts of the script. It just takes time to get everyone's notes, do new drafts, revise, revise, and revise. Just like writing a book, except with way more people involved! We are about ready to send the latest draft to our studio partners at Netflix, and hopefully that will give us a good indication where we are, and whether we're ready to move into the next stages of production.
Now some of you are asking, What about Magnus Chase? Don't worry, I haven't forgotten about Magnus. As you can tell from all the things I've described above, we've been a little bit busy . . . Nevertheless, we are in early discussions about what sort of adaptation would be best for our favorite Valhalla warrior, and are working on developing some materials to pitch. More on that when I have more I can say!
Until next time, stay well and keep reading!