Becky and I are just back from an eventful and fun two weeks in Ireland. Part business, part vacation, the trip took us from Dublin to Cork to the hinterlands of Munster and back again. Here's a recap of what we were up to!
Arrival in Dublin
We spent our first full day getting our land legs in Dublin, walking St. Stephen's Green and visiting the National Gallery of Ireland.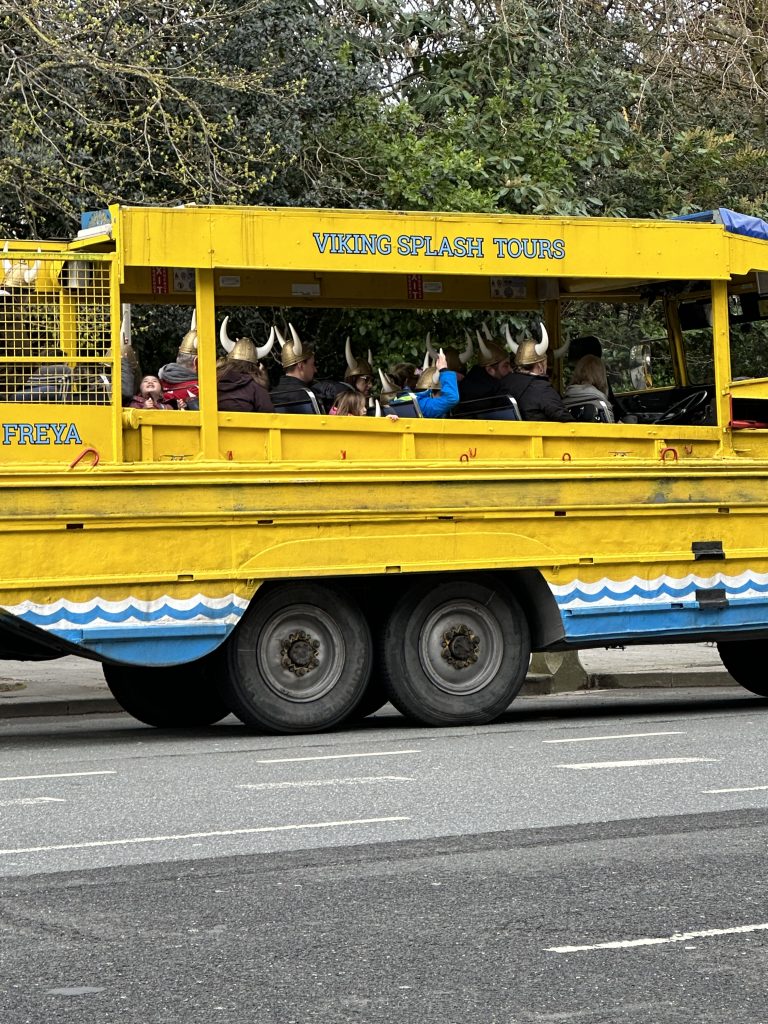 I'm not sure what Magnus Chase would've made of this tour group of alleged Vikings trundling around St. Stephen's Green on the good bus "Freya." The last we saw them, they were turning into a tiny street that their tour guide promised was Thor's Alley! Seems like Thor would merit at least a boulevard, but whatever.
Some of our favorites from the National Gallery included Saint George killing the dragon, though my sympathies are very much with the dragon. He looks cool.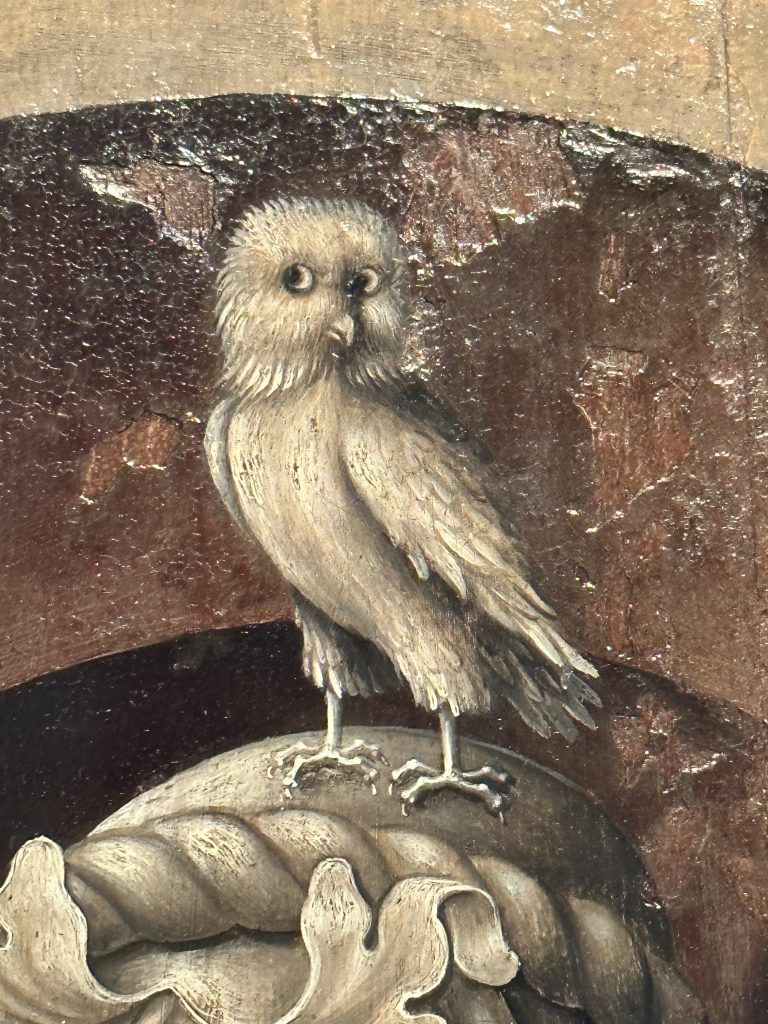 Athena's owl shows up in the strangest places . . .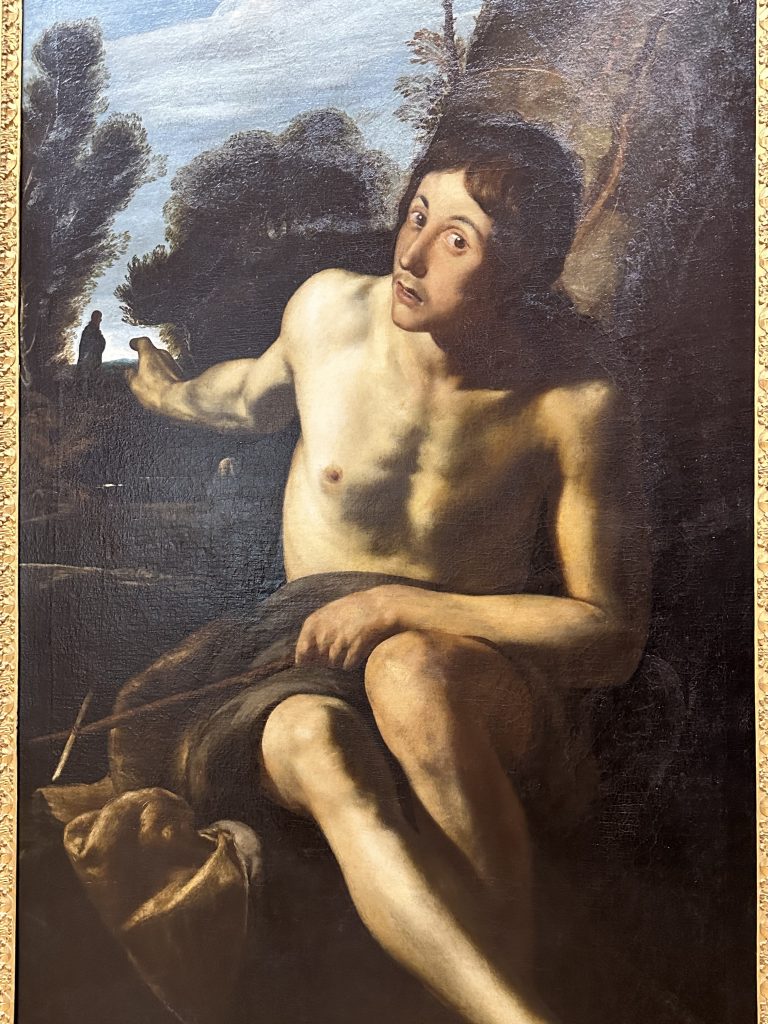 This John the Baptist looks rather worried as he proclaims the coming of Jesus. His expression seems to say, "He's right behind me, isn't it?" Maybe that's because Baby Jesus is depicted like this in the next painting . . .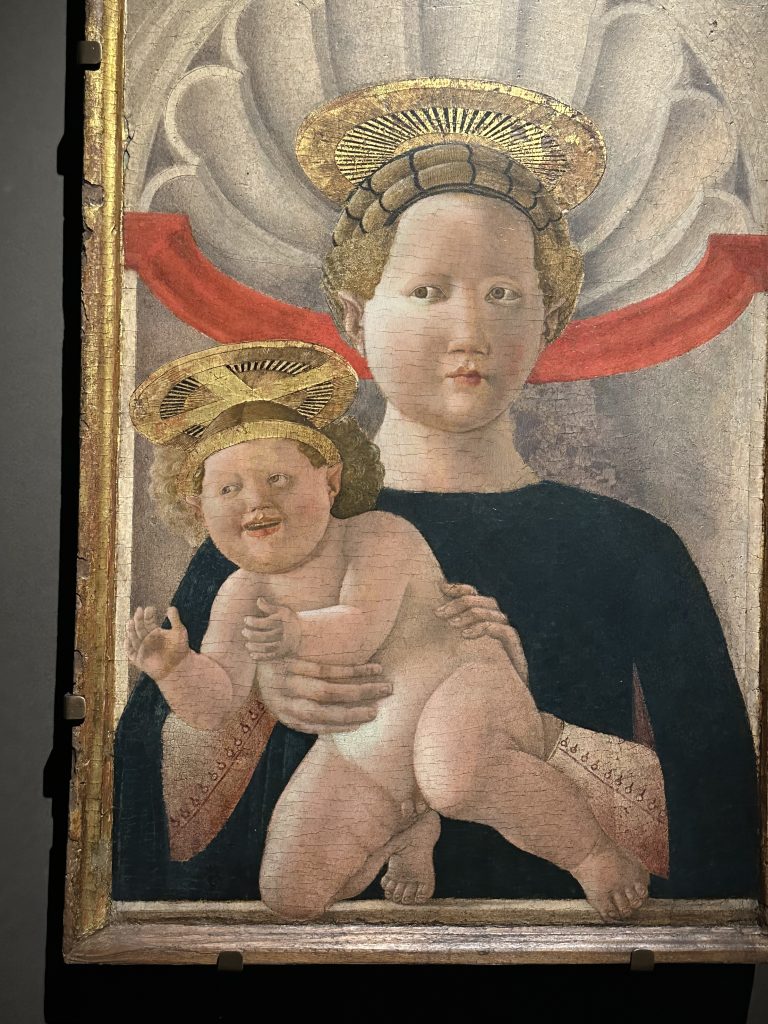 If your baby Jesus looks like this, see a doctor. He might be turning into Dionysus.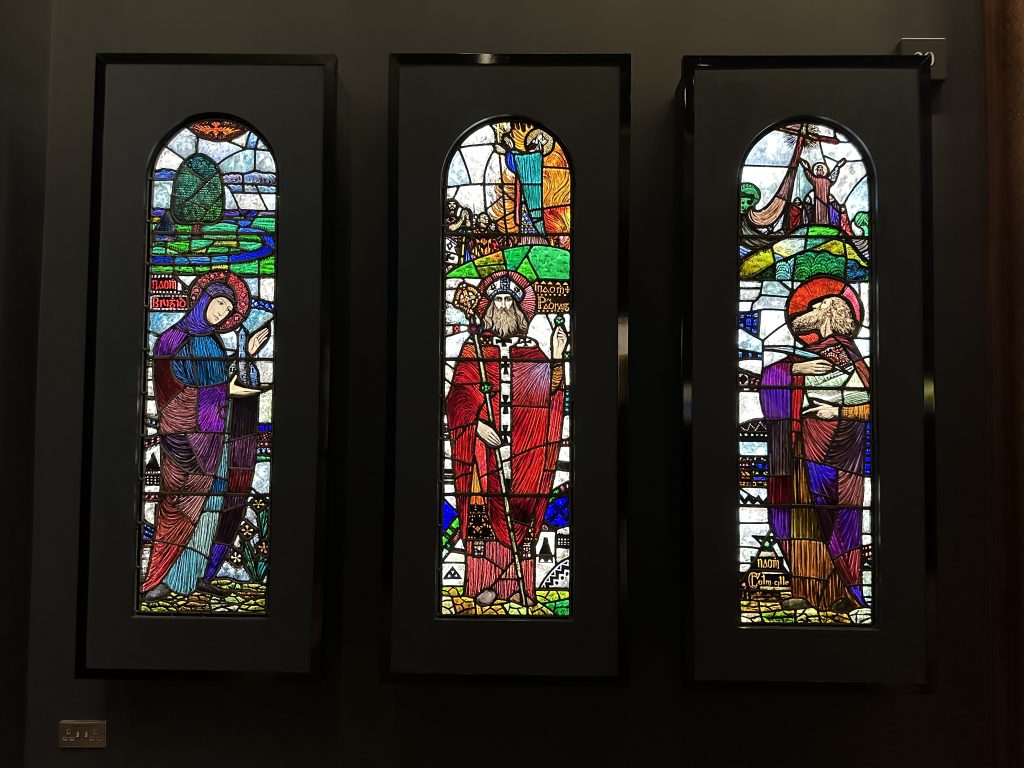 My favorites were these awesome stained glass windows of Ireland's three great saints, Brigid, Patrick and Colmcille, done by Michael Healy in the 1920s. Brigid has always been one of my favorite goddesses, er, saints.
We had a scrumptious dinner at Glas, a vegetarian/vegan restaurant with a Michelin star, and we could see (and taste) why. Burp!
We decided it was time to leave Dublin when the seagulls outside our hotel window started staking out our room. I'm pretty sure they were planning something nefarious. So off we went on the train to . . .
Cork!
Cork City is the Riordan ancestral homestead. We checked into the lovely Hayfield Manor and stayed for a week.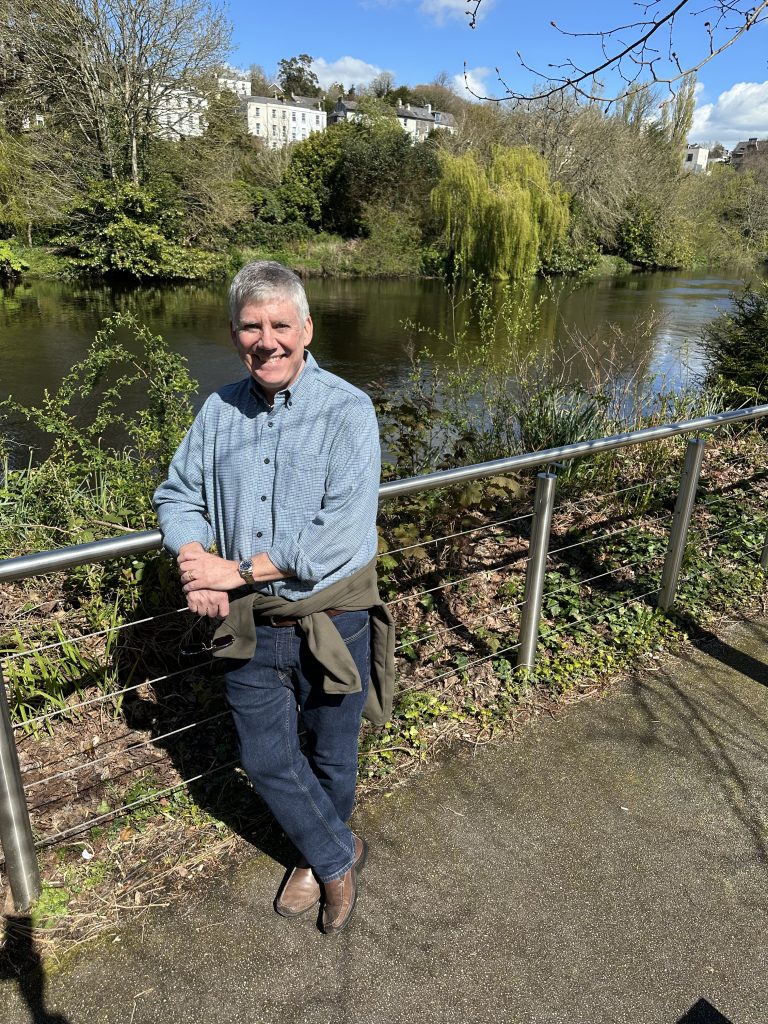 Here's me on a sunny day in Fitzgerald Park on the banks of the River Lee. We were blessed with great weather most of the week, and the banks of the Lee are one of my favorite places to walk.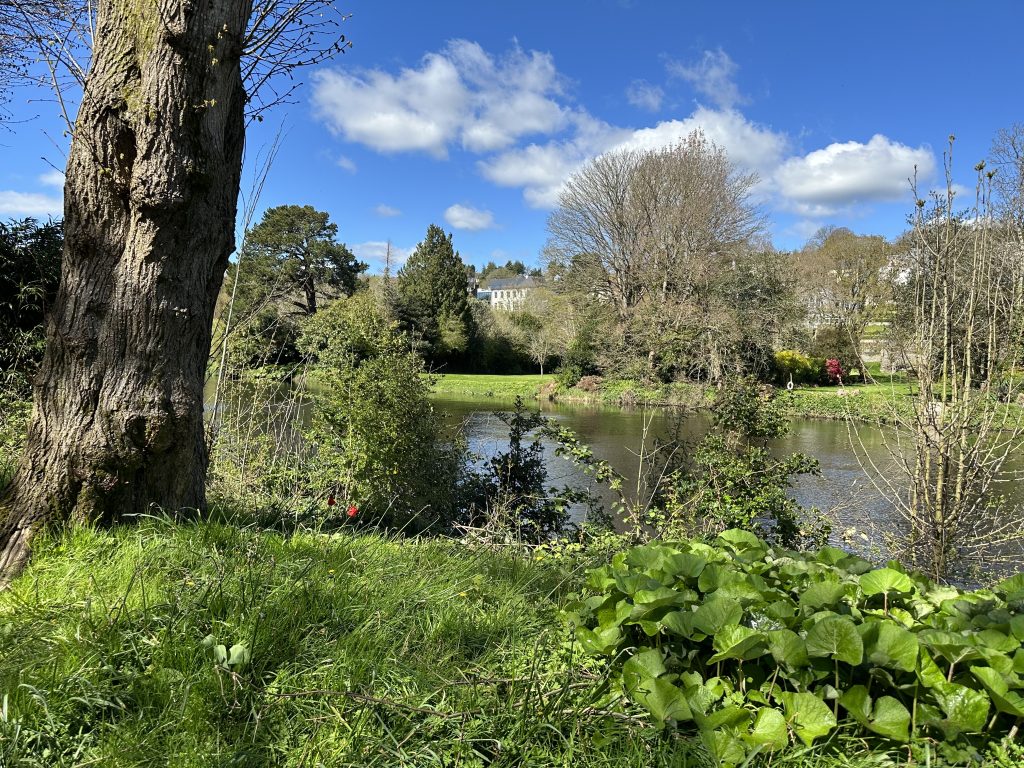 We also paid homage to my ancestors' homestead. Well, what's left of it . . .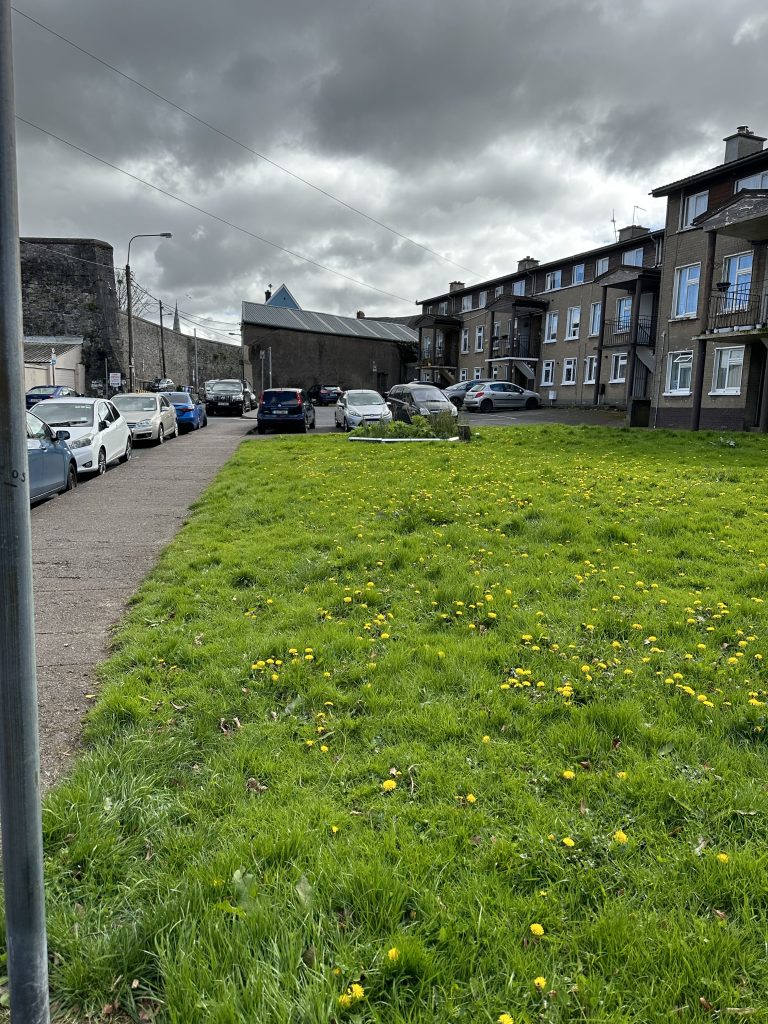 This field of weeds and wildflowers on Fort Street, between St. Finbarr's Cathedral and Elizabeth Fort, was once the site of 6 and 7 Fort Street, where my third great grandfather Dennis Riordan lived. He was born in the city around 1788, fought against the armies of Napoleon in Spain, lost a leg in the Battle of Tarragona, and returned to Cork to live out his life as a tobacconist. He lived at this site through the 1850s. Someone suggested we put a memorial plaque on the spot. Not sure what the Corkonians would think of that, though . . .
A Conference with the Gods of Ireland
Over the weekend, we participated in the main event and reason for our trip: an academic conference at University College Cork, hosted by the Department of Modern Irish. The subject was the Irish gods known as the Tuatha Dé Danaan. After I graduated from UCC with a masters in Gaelic literature, I was invited back as a guest at the conference, and the department head Dr. Pádraig Ó Macháin presented Becky and me with a beautiful page of vellum calligraphy thanking us for our support. That will be framed and will hang proudly in my office!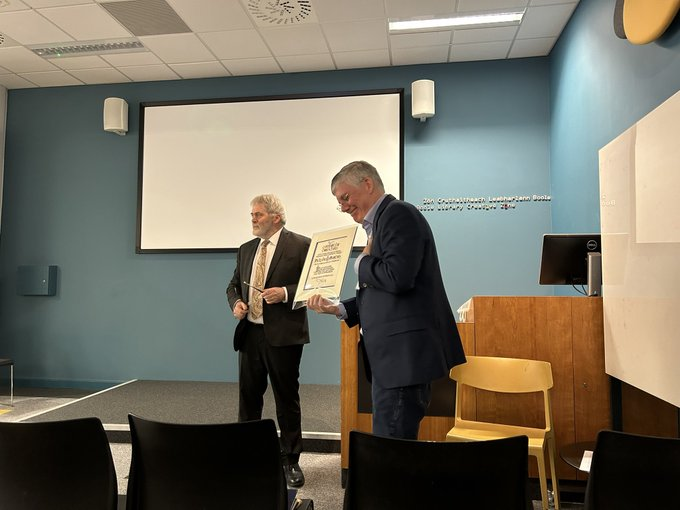 I got to say a few words of thanks in Irish, and attended a wide array of lectures in both English and Irish, learning all sorts of fascinating info about the Irish gods. You can bet those details will be percolating in my brain, waiting to be included in a novel!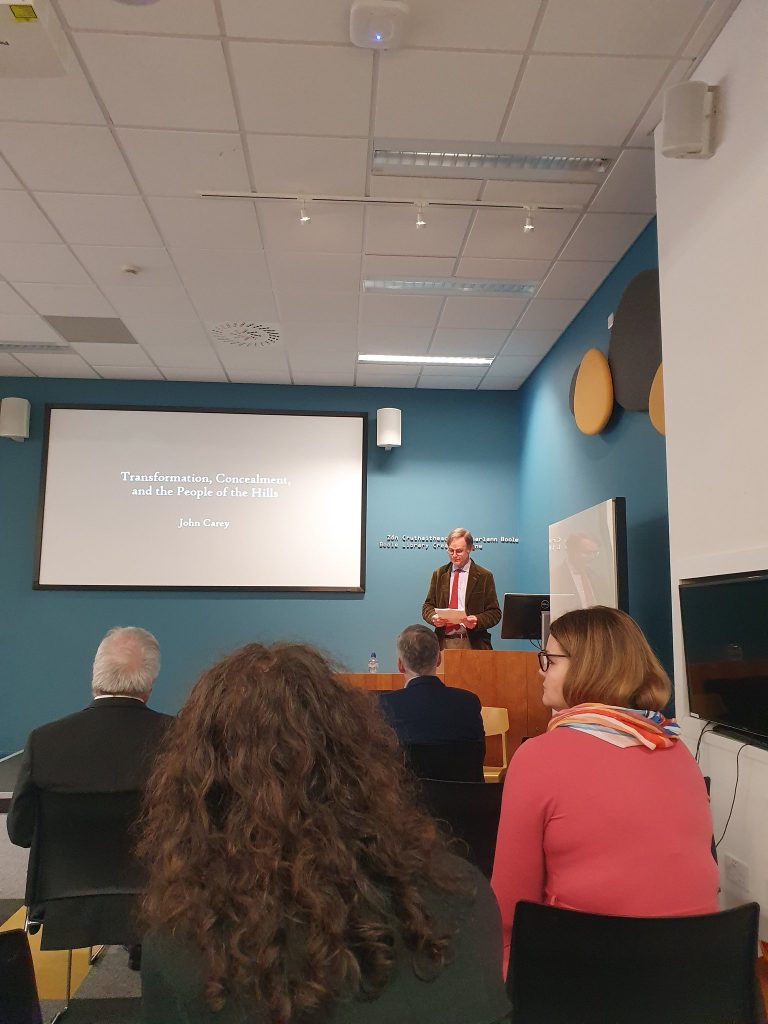 Here's the well-known Celtic scholar John Carey presenting his closing talk on the concealment magic of the Tuatha Dé. That's me in the front row, taking mental notes and trying to conceal myself.
Also while at UCC, we got to see the Book of Lismore, one of the prizes of their archival collection. It's a manuscript in Irish from the 1400s, and contains many of the most important Irish tales of saints and heroes.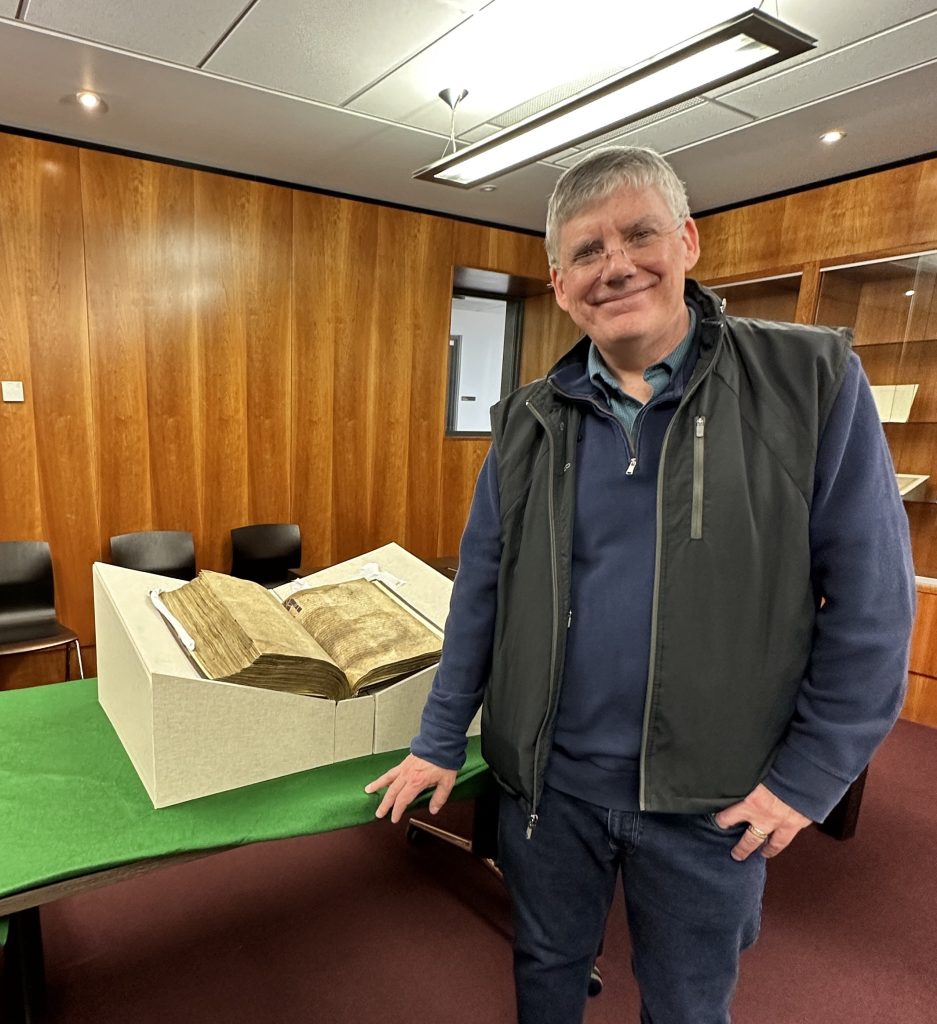 This is not a fancy illustrated manuscript like the Book of Kells, but the stories inside are priceless. You can still see the marks where the calligrapher scraped the fur off the hide of the cow's skin to make the vellum. Sorry, cow!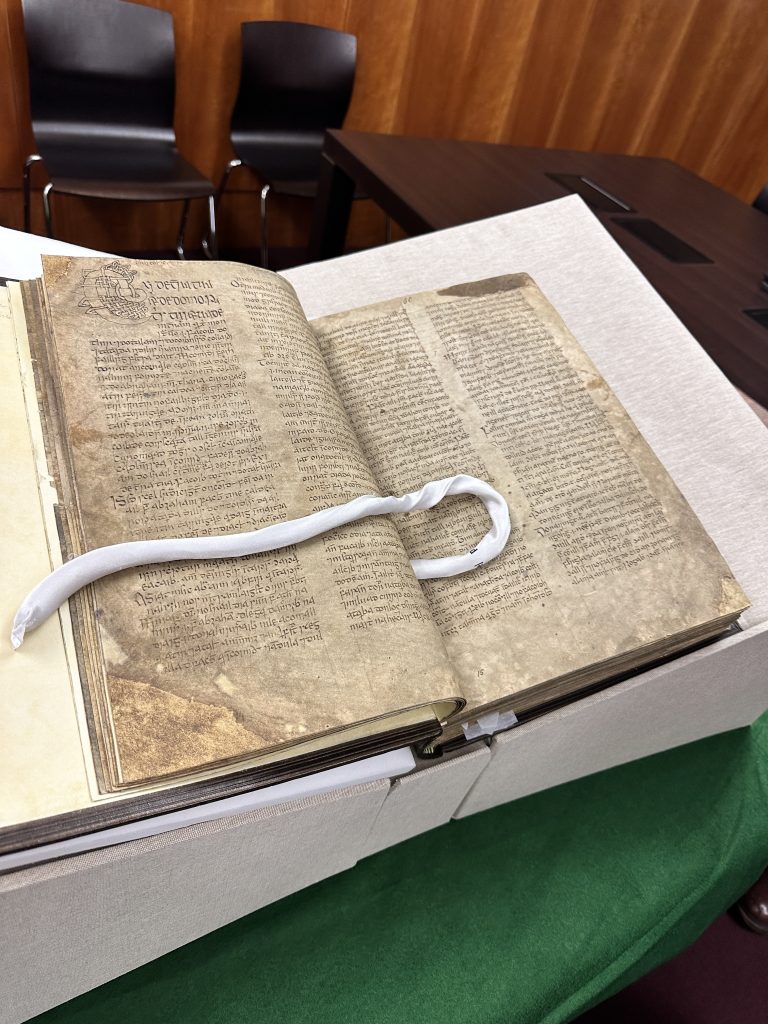 We also visited the corridor at UCC which contains the Ogham stones: the earliest written inscriptions in Irish, using a system of notches that don't look like much, but record the names of powerful people from a forgotten time. Gravestones? Territory boundary markers? No one is quite sure.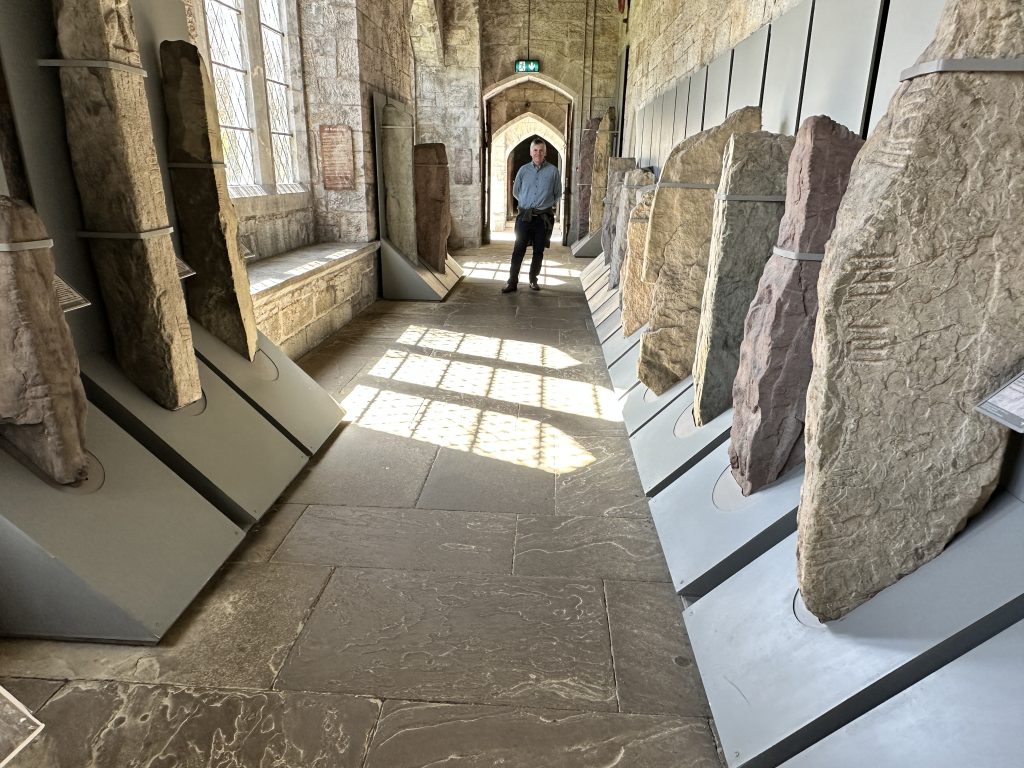 Around Munster
After the conference, we spent a few days knocking around the province of Munster. We visited the lovely port town of Kinsale, where the final battle was fought that sealed the fate of the Irish and gave England near total dominion over Ireland for three hundred years, during which time England did its best to strip away the Irish language, culture, resources and lives. (Spoiler alert: Colonialism sucks.)  It was a sad place to visit, but it certainly is a more inviting town now than it was in 1601.
The next day we met my Irish language teacher Paraic, whom I'd only worked with over Zoom, and took a car trip around the countryside with him and his wife. It was a magical experience! First we visited Gougane Barra, a remote chapel in the middle of a lake where according to legend Saint Finbarr defeated a great serpent that swam in the waters. The serpent, almost surely, symbolizes paganism, but standing in this place, I could tell that not all magic of the ancient gods is gone. As in so much of Ireland, Christianity and the old ways are entangled together right down to the roots.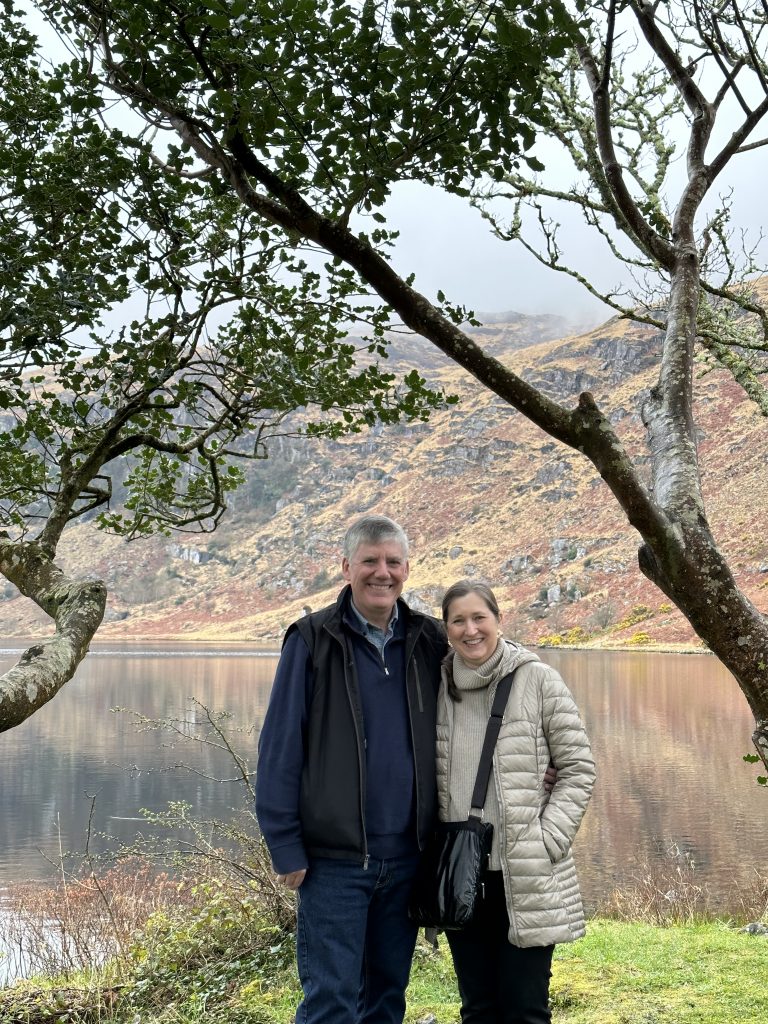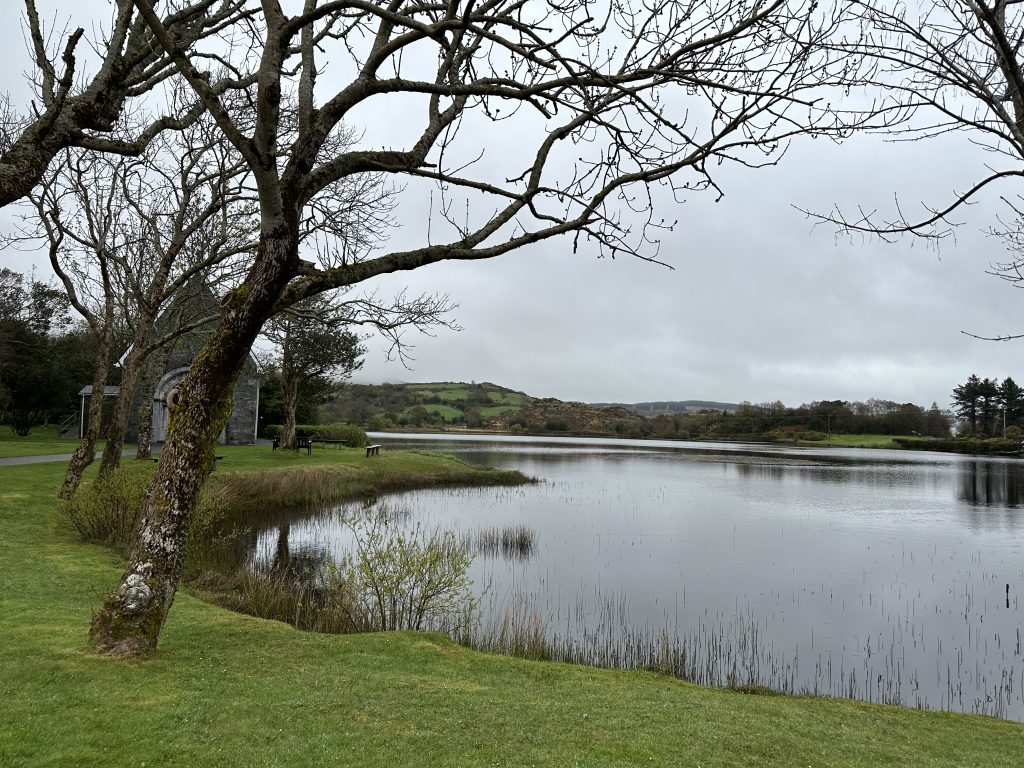 After that, we headed into the town of Kinmare, where we had a nice lunch and visited a ring of standing stones. Nobody knows who made these back in the Neolithic era, but they are all over Ireland. Much like Stonehenge, they were made to line up with the movements of the sun, moon and stars.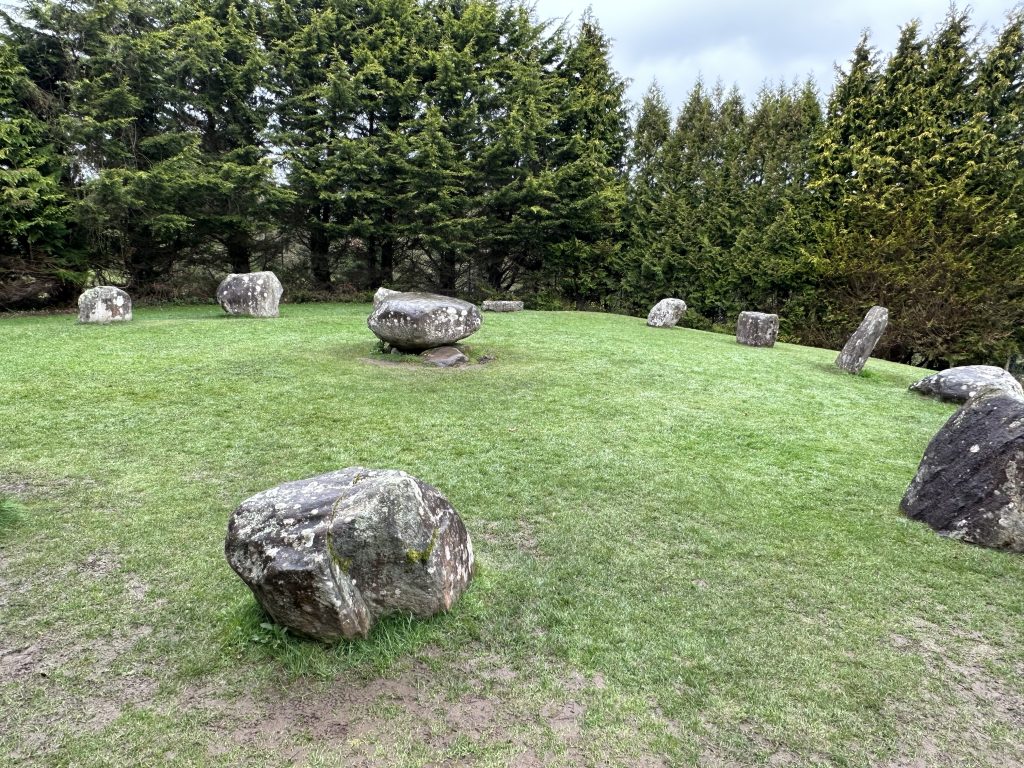 Also at this site was a hawthorn fairy tree, which people had covered with wishes they wanted the spirits to answer.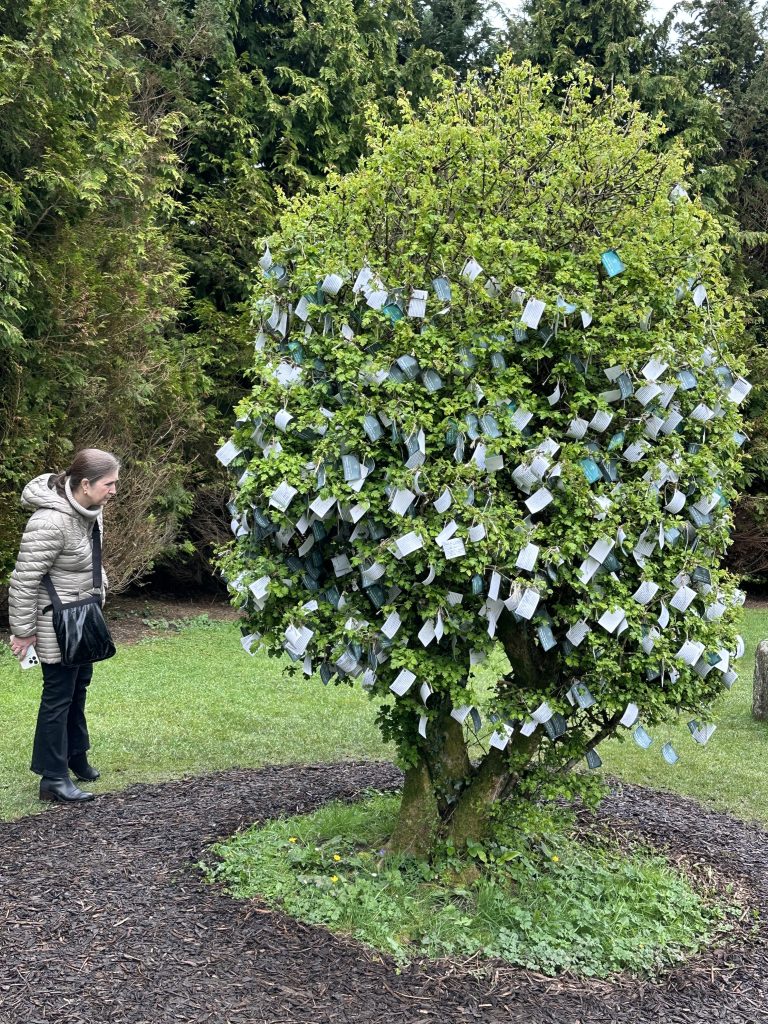 Here's the wish I left on the tree: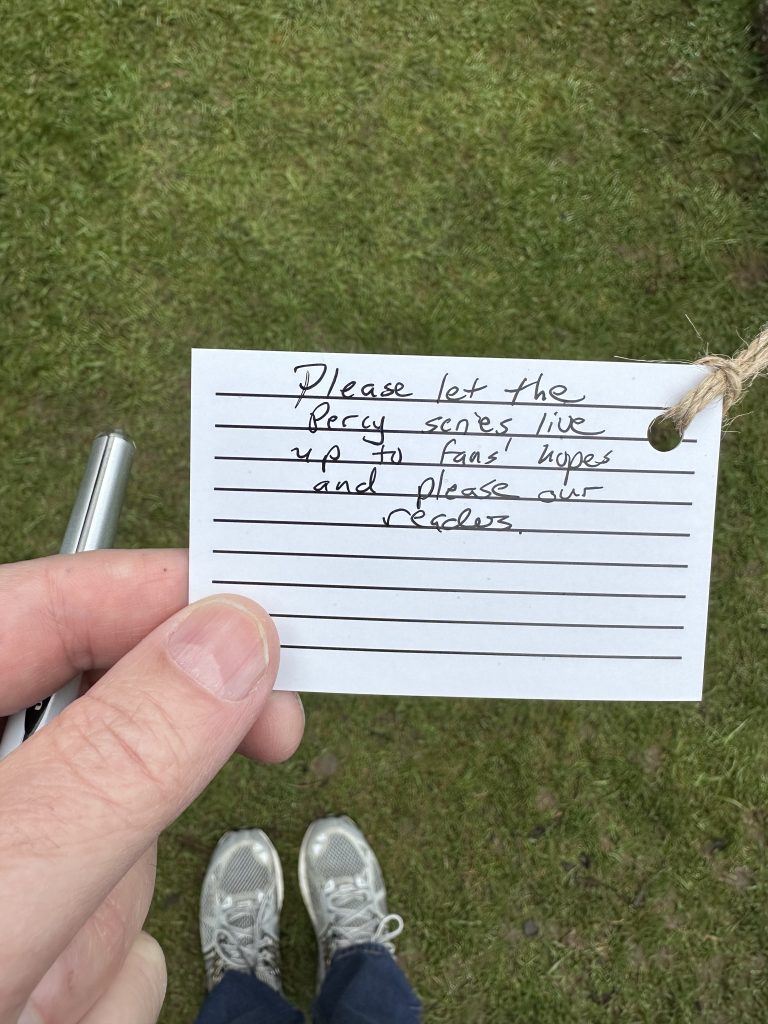 Only time will tell if the gods of the fairy mounds will answer!
Finally we headed to the stone circle of Uragh, out on the Beara Peninsula. It's very remote and not easy to find, but wow, once you're there, the landscape is incredible. A fantastic circle of stones aligns with the stars, and you can easily imagine how ancient people might have come here for important rituals. We have the place all to ourselves, expect for a few friendly sheep.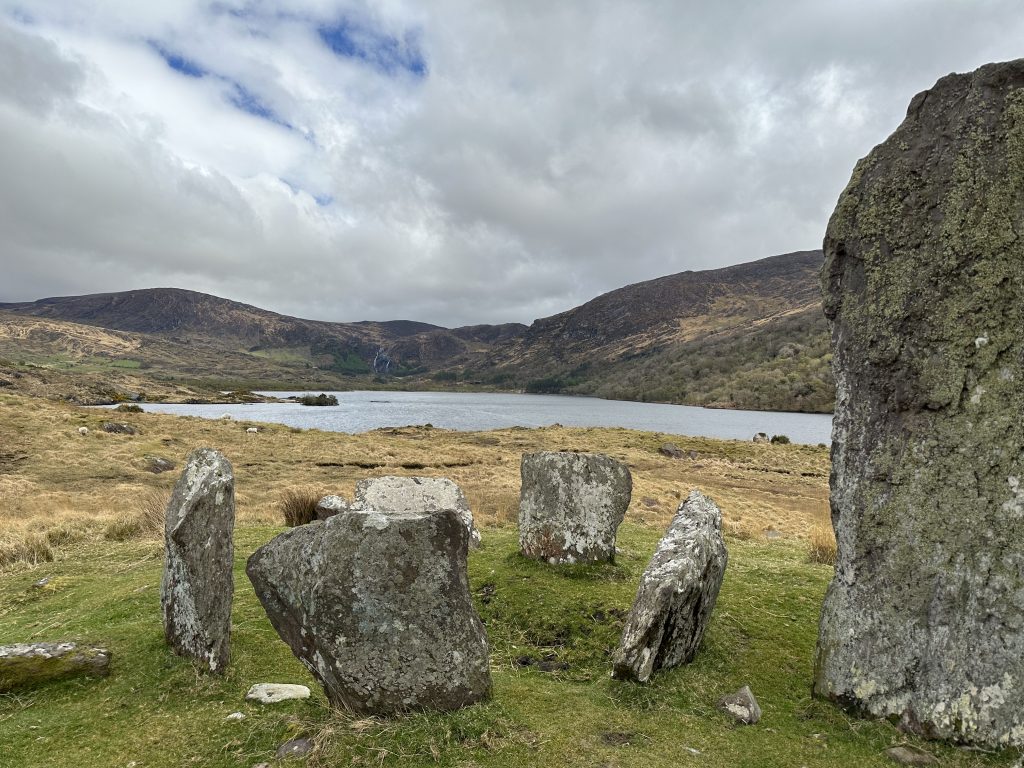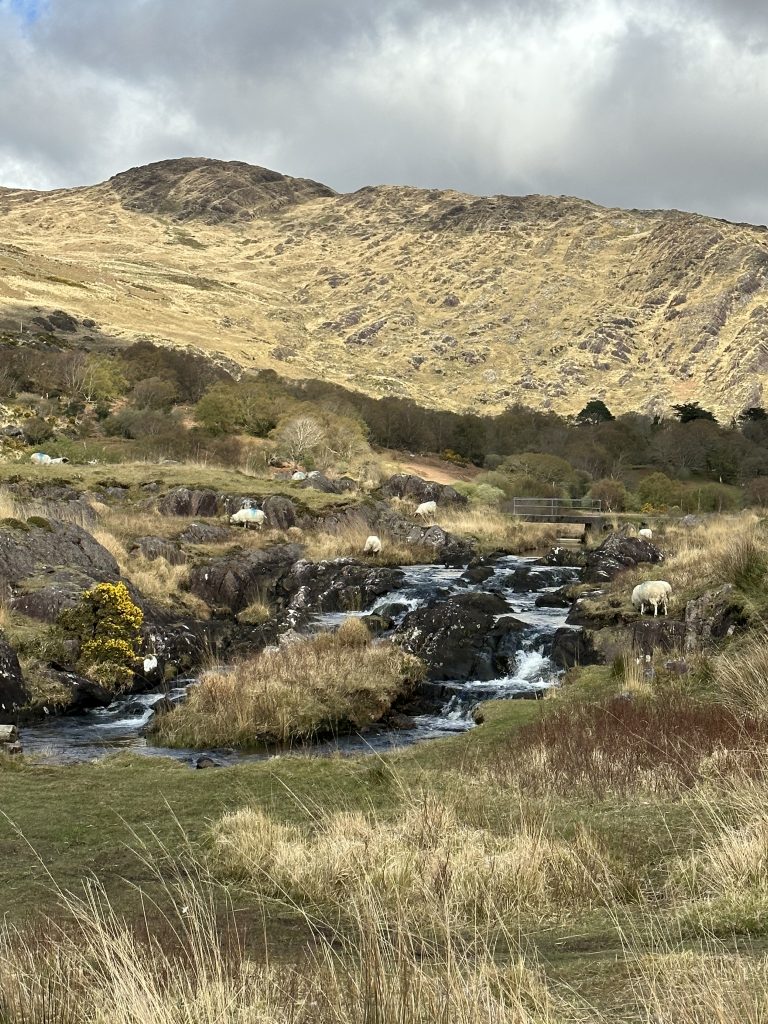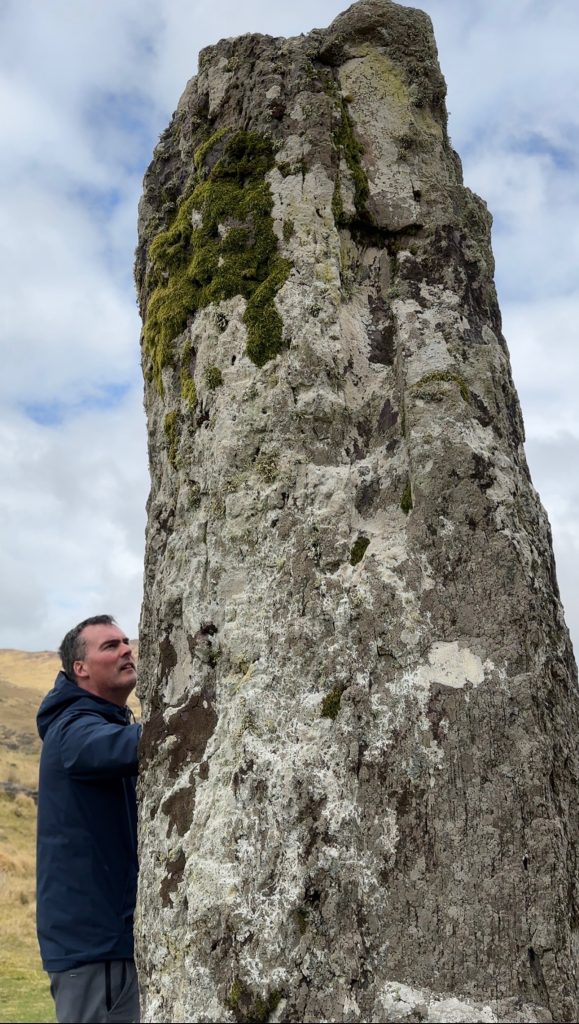 Paraic is a tall man, and you can see from this picture how gigantic the main stone at Uragh is. The ancient builders would've had to expend a huge amount of effort to haul this thing into place, and it's still standing thousands of years later.
Back to Dublin!
Finally we spent two last days in Dublin with our friends at Element Pictures, working in a writers room to outline a TV season based on my short story "My Life as a Child Outlaw," which is the origin tale of the great Irish hero Finn Mac Cumhaill. We got the main beats of all the episodes sketched out. Now we'll now begin writing a script for the pilot. This project is in the very earliest stages, nor have we pitched it to any studios yet, but it is incredibly exciting to be working with great Irish writers and producers to bring Irish mythology (we hope) to a much larger global audience. Stay tuned for more on that!
Now Becky and I back home in Boston, though I am gearing up for the Sun and the Star tour with Mark Oshiro starting on May 2. Hope to see some of you at our events!
Boston, May 2
https://chevaliertheatre.com/artist/rick-riordan/
New York, May 3
https://www.ticketmaster.com/the-star-and-the-sun-with-new-york-new-york-05-03-2023/event/03005E763A7C0997
Atlanta, May 4
https://www.eventbrite.at/e/rick-riordan-mark-oshiro-share-the-sun-and-the-star-tickets-575200258457?aff=ebdsoporgprofile&keep_tld=1
San Francisco Bay Area, May 5
https://www.eventbrite.com/e/rick-riordan-and-mark-oshiro-tickets-554822036647?aff=speakers
Toronto, May 6 (this link only works from within North America)
https://www.ticketscene.ca/events/44139/