Spring has arrived in Boston, and with it comes sunshine, warmth, blossoming trees, flowers, baseball, and other wonderful things! Massachusetts has now opened vaccinations for almost everyone over sixteen, which means the Riordans are in the process of getting our shots. We've all had the first one (Pfizer, except for Haley, who is the family rebel and got Moderna). By the end of May we should all be fully vaccinated. Yippee! I hope wherever you are, you are staying safe and well.
Since my last update, the Rick Riordan Presents imprint authors continue to amaze and impress me. I am so lucky I get to help publish and promote such talented folks.
ARU SHAH
Among other great news, Aru Shah and the City of Gold is a USA Today and Publishers Weekly bestseller! I had a great time talking with Rosh on her tour last week, and if you haven't picked up City of Gold yet, do yourself a favor! We all need more Pandava magic in our lives.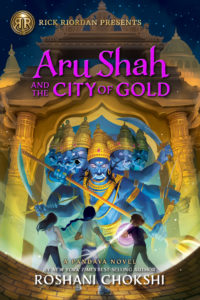 THE LAST FALLEN STAR
At long last, Graci Kim's brilliant debut THE LAST FALLEN STAR will be published May 4! Korean witches in Los Angeles? Yes, please!
I will be joining Graci for a virtual launch event on May 4 with Blue Willow Bookshop. I hope you can join us, and check out all of the other wonderful guests she will have at her other events! Most importantly, get this book, read it, love it. And get very hungry from all the delicious food described therein. I know I did. Also, have you taken the quiz to find out which witch clan you are? I am Gom, which is obviously the best, not to brag or anything.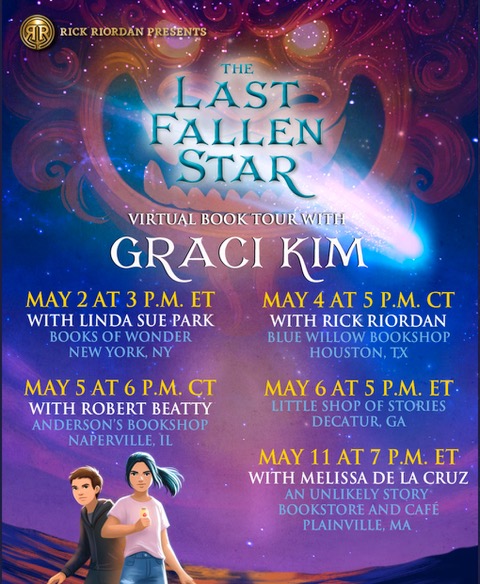 PAOLA SANTIAGO: MORE BOOKS PLEASE AND THANK YOU
Also, Becky let me know that this news has broken on social media: Tehlor Kay Mejia will officially be releasing a third Paola Santiago book for Rick Riordan Presents! I am SO EXCITED!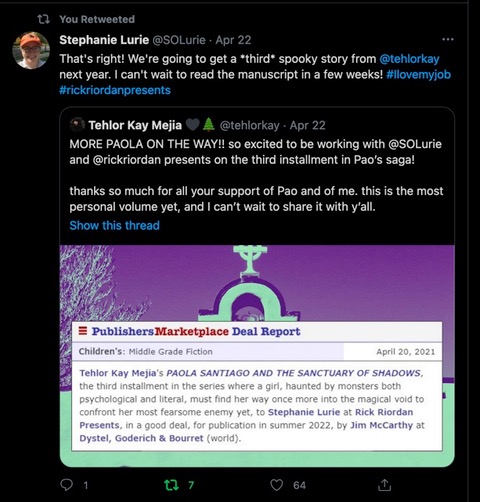 The Paola Santiago books are such a perfect mix of spooky, fun, exciting and heartfelt adventure. I just love these characters. The third book will be called THE SANCTUARY OF SHADOWS. (Cool, cool, cool!)
In the meantime, we have the second Paola Santiago book to look forward to on August 3: The Forest of Nightmares. And yes, folks, this is another 'must purchase' book. You'll thank me later!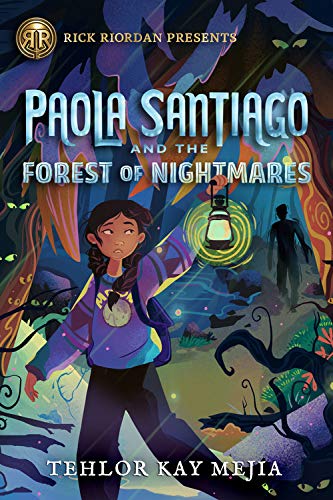 TRISTAN STRONG KEEPS ON PUNCHING
Also just revealed this week, the cover for the forthcoming third Tristan Strong book from the incredible Kwame Mbalia: Tristan Strong Keeps on Punching! Is this a Gum Baby I see before me? I think it is, and I am there for it! The book will be out on Oct. 5. Dare I say it's the best one yet? That's a high bar, I know, but I think it may be true. What's it about?
"Best-selling author Rick Riordan presents the finale of Kwame Mbalia's trilogy, in which Tristan Strong faces off with his archenemy, King Cotton, once and for all. After reuniting with Ayanna, who is now in his world, Tristan travels up the Mississippi in pursuit of his archenemy, King Cotton. Along the way they encounter new haints who are dead set on preventing their progress north to Tristan's hometown of Chicago. It's going to take many Alkean friends, including the gods themselves, the black flames of the afokena gloves, and all of Tristan's inner strength to deliver justice once and for all. Shocking twists, glorious triumphs, and a cast of unforgettable characters make this series conclusion as satisfying as it is entertaining."
THE CURSED CARNIVAL AND OTHER CALAMITIES
Finally (for now) on the RRP imprint front, we recently revealed the cover for our short story collection THE CURSED CARNIVAL. So much adventure. So many awesome heroes. Even a story from me — my first on Irish mythology! The book will be out on Sept. 28!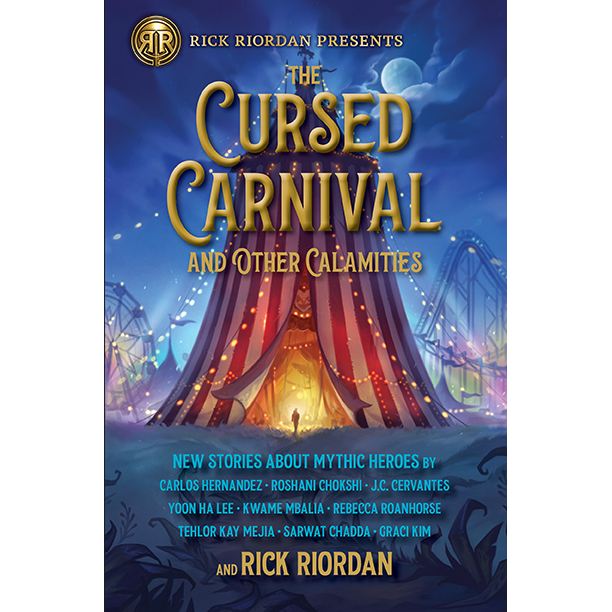 Phew! You need more news? That isn't enough fabulous books to keep your to-be-read pile full? Okay, then…
DAUGHTER OF THE DEEP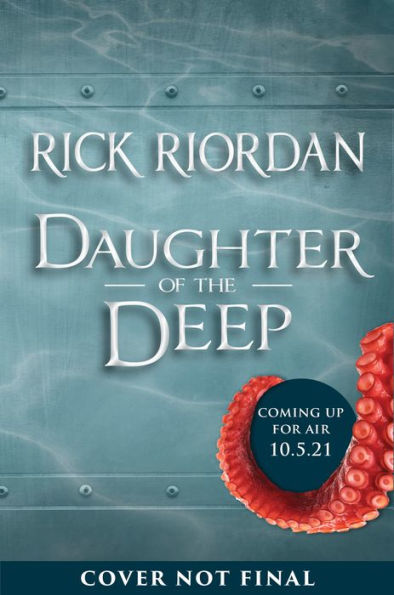 Soonish… very soonish, I will have a final cover to show you for my upcoming science fiction novel DAUGHTER OF THE DEEP, a new modern take on the story of Captain Nemo from 20,000 Leagues Under the Sea, featuring his only living survivor, Ana Dakkar, a high school freshman who must claim her heritage to save the world.  Also very soonish, I should be able to announce some exciting news about movie rights for this book. Stay tuned! The book itself comes out Oct. 5, and I can't wait to share it with you.
In the near future, I may also have news to share with you about the book project after Daughter of the Deep. I am bursting to share the secret… Nope. I can't yet. But oh wow, wait until you hear…
MOVIE/TV STUFF
Finally, just my occasional post about the adaptations: "Yes, we're working on it. No, I can't share anything else." Well, that's not exactly true. I came across this post from one year ago, which made me realize just how far we have come in twelve months, despite a worldwide pandemic: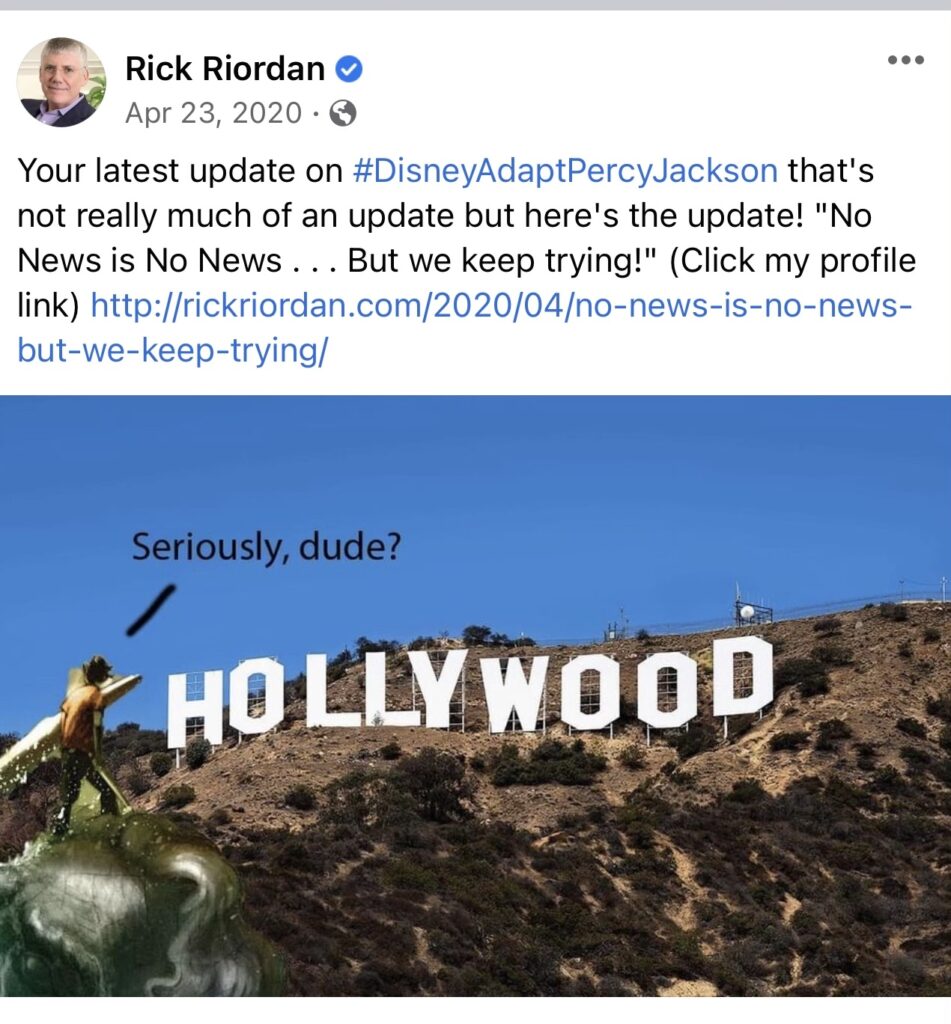 Here is a link to the original post. Last year at this time, we weren't sure anything was going to happen. We were still taking meetings and scrambling around trying to make a deal to bring Percy Jackson to television. It wasn't until May 14, 2020, that we were able to tell you that we had a deal, and even then, things were in the super earliest stages of organization.
What has changed since then? A LOT. We still don't have an official green light, no, but I am increasingly confident this show is going to get made, and it will be awesome. (Fingers and toes crossed, of course.)
We have passed the all-important test of having a great pilot episode script. We will, no doubt, keep revising it right up until filming, because writing is like that — as with novels, nothing is ever "done," it is simply "due." But the heavy lifting is done for the pilot script and everyone is happy with the results. This was a huge effort, guys, and it took most of the past year.
We have pretty much nailed down the outline for the entire first season. We know what each episode will cover, and how the season will narrate the action of The Lightning Thief in a faithful way, but also with some new and exciting depth, so if you know the story, you will love it and find it rewarding and refreshing. If you have never heard of Percy Jackson, you will also love it.
We have our showrunners, who are just beyond amazing. I love them. You will love them. They are smart and experienced. They are very committed to honoring the source material. They have taught me a lot about the process. We are in good hands.
We have a casting director for the show, and have begun conversations about what the casting process will look like with the casting department at Disney, ASSUMING of course that we get approval for that process to start. It's possible I can share a bit more about what this will look like soon. Stay tuned.
We have identified a small core of experienced, excellent writers who will join us for the writers' room, and will be ready to get going on the rest of the season's scripts ASSUMING we get approval to begin. I will, of course, be working very closely with that group and contributing input to all the scripts.
We have initiated budget conversations with the studio. We are in the process of figuring out the logistics of how much everything will cost, and how exactly this show needs to be done. As I said before, a show like this is not cheap. On top of all the visual effects that come with mythology and monsters, we will be working with young actors, who are limited by law to working shorter days, and we will be creating many different sets, since The Lightning Thief is basically a road trip adventure, right? All of that is expensive, but necessary to make a great show. We've been having a lot of conversations about how truly unique this show will be. A fantasy adventure TV series based primarily on young characters with sets that change every week? No one has ever done anything quite like this before. This is one reason we can't rush the process.
We are talking about directors. More on that later.
Basically, we are close, friends. Not to jinx anything, because we are all superstitious, but I think we're very close to (hopefully) getting that green light and beginning work in earnest. And once the train leaves the station, it's going to be a wild ride! I may have more news to share as soon as next week, but I can't say for certain. This whole process has been one huge never-ending cliffhanger, hasn't it? I was born for this!!
On the personal front
What can I say? I am a very fortunate guy and life is good. When I am not working on the RRP imprint or the Kane/PJO Hollywood adaptations, I spend my time researching for future books, continuing my self-paced education in Irish language and literature, and working on improving my Italian. I am looking forward to being able to travel again, but until then, I really can't complain. I have the best job in the world and lots of flexibility to follow my interests. Quick reminder that I am no longer on social media and have not been for about, what, nine months now? It's been very nice and has given me a lot more emotional and mental bandwidth to concentrate on reading, learning, writing, and just enjoying time with my family. Ashlee Latimer continues to oversee my social media accounts for me, and will keep you posted on all the news. We're very lucky to have her!
That's it from me for now. Stay well, everybody, and keep reading!