If you missed the exclusive reveal on Barnes & Noble's site, the news is out! My next book is DAUGHTER OF THE DEEP, my modern-day homage to Jules Verne's 20,000 Leagues Under the Sea.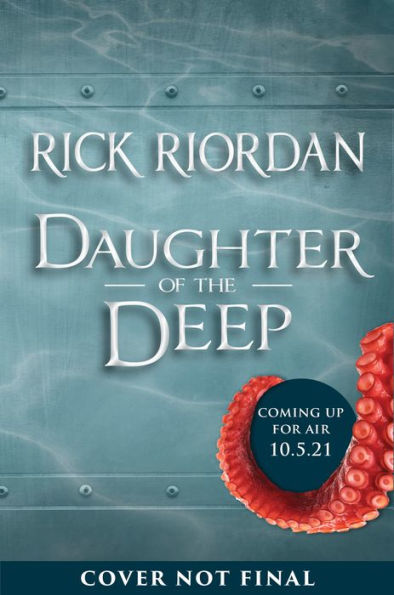 You can read more about the premise and my reasons for writing it at Barnes & Noble, where you guys have already made the book a top ten bestseller thanks to pre-orders. B&N is running a 20% discount right now, but the book, of course, will also be available at any of your favorite booksellers, so buy it where you wish! We have also secured deals in many international markets, with more to come. I will keep you posted on those. The US release date is Oct. 5, 2021. Eeeeeek, that's soon!
I am so excited for this book for a number of reasons. You guys have been asking me for a long time: "When will you do a book that is exclusively focused on a female protagonist?" This is that book! Though obviously I've had lots of female protagonists in my previous novels, this book is told first-person solely from the point of view of Ana Dakkar, a high school freshman who learns her parentage is every bit as complicated as Percy Jackson's, though it has to do with science, not Greek gods . . .
I've had this idea percolating in my head since at least 2008, and it was so great to finally have the space to write it. I have been a fan of Captain Nemo's story since I was a little kid. Finally, I get to go under the sea in his wake! It was so different than my usual mythology fantasy, and so much fun, but you can expect my usual blend of action and humor, twists and turns. As part of my research over the last decade, I've gotten my advanced diver certification with PADI, gone on numerous dives in the Caribbean and the Mediterranean, become a lifetime member of the U.S. Naval Institute so I can keep up with news of the marine services through their journal Proceedings, and done a ton of reading on submarines and the sea. Right now the book is in the final edit phases, which includes a line editor for grammar, typos, etc., a sensitivity reader, and a science editor to make sure I got my fish and facts right! I'll be so excited to get this into your hands in October, by which time the deck should be properly swabbed, the sails trimmed, and the hatches battened down!
Okay, but now real talk. Which HP house are you?
And when I say HP, of course I mean Harding-Pencroft Academy. What else?
House Dolphin—communications, exploration, cryptography, counterintelligence
House Shark—command, combat, weapons systems, logistics
House Cephalopod—engineering, applied mechanics, innovation, defensive systems
House Orca—medicine, psychology, education, marine biology, communal memory
More on this later, but that will give you just a first look at Ana Dakkar's world . . . I cannot wait for you to meet her!