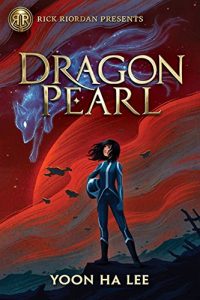 The verge of Halloween seems like an appropriate time to get excited about the next title coming out from Rick Riordan Presents: Dragon Pearl by Yoon Ha Lee! Monsters, magic and outer space adventure, the book has it all!
Why am I so excited about Dragon Pearl? It's unlike any of the other books in my imprint, and it's unlike anything you've ever read. For one thing, it's very hard to find great middle grade science fiction. I'm not sure why that is, but Dragon Pearl is exactly the sci-fi fix you need. Younger and older readers alike will devour it! Imagine Stars Wars combined with Korean mythology. It's like that, only better. Our main character Min, a young fox spirit, lives on a backwater planet, helping her family scrap by, when she learns that her big brother Jun has supposedly deserted from the Thousand Worlds Space Forces to search for an ancient magic relic called the Dragon Pearl. Min knows something isn't right. She runs away in search of her brother and the truth behind his disappearance, but even for a fox spirit with shape-changing and Charm abilities, the universe is a big scary place!
Dragon Pearl comes out January 15, 2019. It's the perfect pre-order for those holiday bookstore gift certificates, because you WILL want to have this book in your hands the day it comes out. All the cool fox spirits, dragons, goblins, tigers and humans will be reading it. Stay tuned to my website and social media feeds between now and then. I'll be giving you sneak peeks at Dragon Pearl every #SciFiSunday!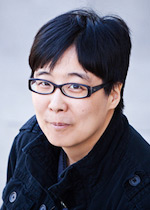 Yoon Ha Lee. You can follow Yoon on Twitter here.
Confused about what the Rick Riordan Presents imprint is all about? You can get answers here!