My son Haley and I took a last-minute trip up to Montreal this weekend. I had not been there in decades and wanted to chase down some family history before winter set in. Haley came along for good food and entertainment!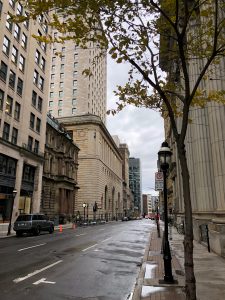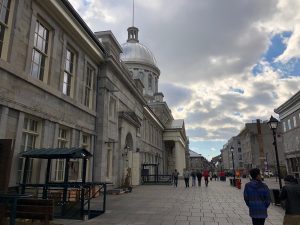 First we took a stroll through Old Town Montreal, which was full of beautiful architecture.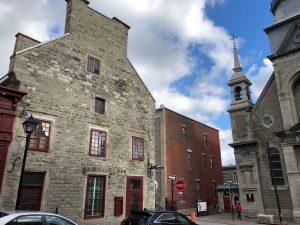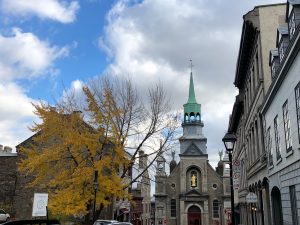 There were still a few hints of Autumn leaves, here at there. We were blessed most of the trip with blue skies.
We also got to check out the archaeology museum, which was amazing. If you have a chance, go! You get to plunge straight into the ruins under street level: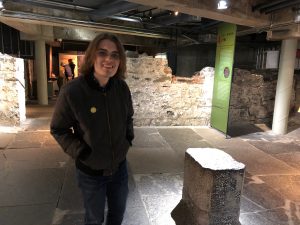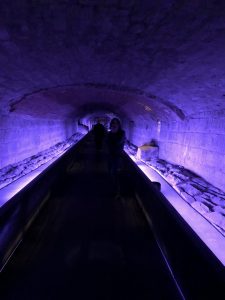 The old city sewer. I'm pretty sure it wasn't lit up purple back in the day. It probably smelled worse, too.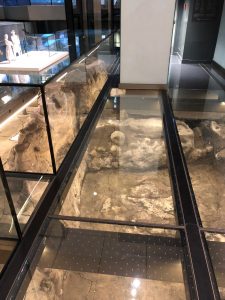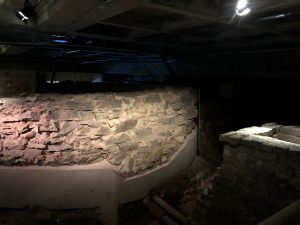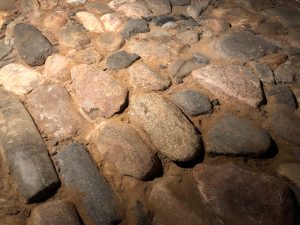 At night, the buildings are lit with soft pink, red, and blue accent lights, so the whole city looks like an ice palace. Hard to get pictures of that, but it was magical.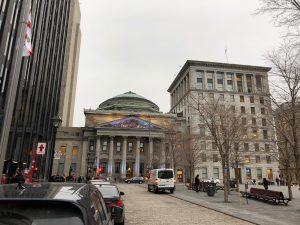 On our first full day, we visited the Cimeterie Notre-Dame-des-Nieges, where several generations of my Riordan ancestors are buried: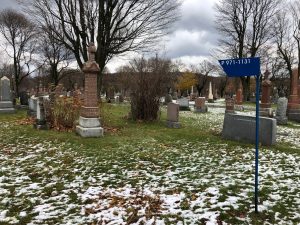 It's a lovely maze of monument stones and fields, forests and mausoleums. Hades and Daedalus would be pleased! Also, according to Haley, the whole place is full of Pokemon Go gyms. Ghost types, would be my guess.
Great view from the cemetery looking out of Mont Royal and the dome of St. Joseph's Oratory:
After seeing dead people, we headed to Parc La Fontaine, which is right across the street from my great-great-grandfather Michael Patrick Riordan's old homestead. This would have been their view out the windows each morning: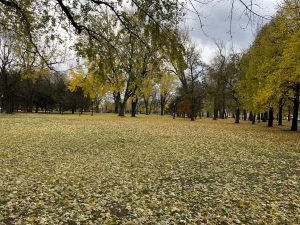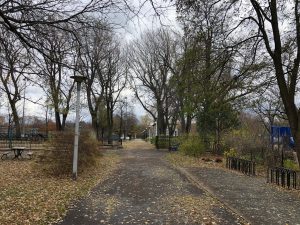 Here's Haley, enjoying our autumn stroll: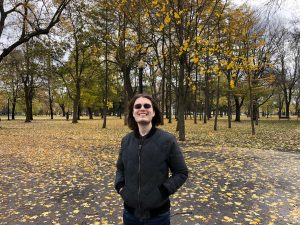 And here is a giant sculpture of a slingshot, for reasons unknown: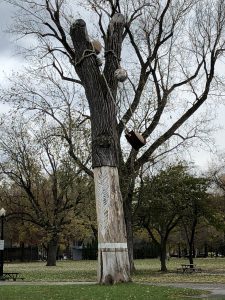 My 2x great granddad was a professor who taught writing (seems appropriate), and one of the schools where he taught still exists in the park. It's not an active school anymore, but you can still see the words PRIMARY AND SECONDARY SCHOOL etched in French on the stone: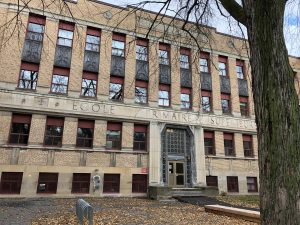 The old Riordan homestead has seen better days. I doubt this is the same building as in the 1890s, but it's the correct location on Rue de Champlain: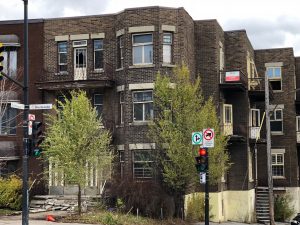 The Saint Mary's Ward, where a lot of Catholic Irish settled in the 1800s, has changed a lot over the decades. Much of it was torn down to build the Radio Canada building, but here and there we could still see glimpses of the grimy Victorian past. Saint Mary's Ward was filled with working class tenements and stinky factories like tanneries. (Hey, you couldn't put those factories where the rich people lived!) This old warehouse is probably a relic from Michael Patrick Riordan's days: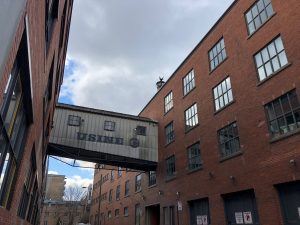 Now, of course, it has been converted to upscale lofts.
That night, we went to a concert inside Notre-Dame Basilica, on the main square in the old city.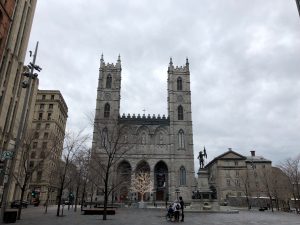 This was the church where my 2x great-grandpa and a lot of other Riordans had their funeral services. The concert was Mozart's Requiem, so that seemed especially appropriate. The inside . . . wow.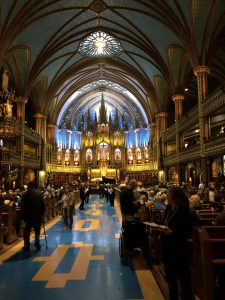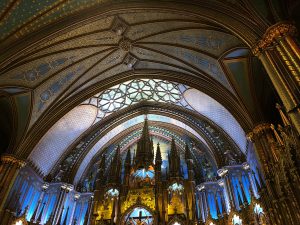 Day two, we decided to check out the Biosphere, an environmental museum of one of the islands in the St. Lawrence River. The museum is housed in an old geodesic dome built for the World's Fair in the 1960s: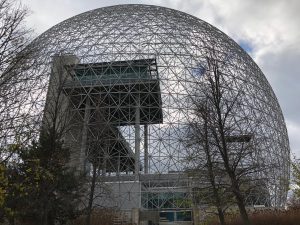 Alas, when we got there, the place was closed for Remembrance Day, which left us on a deserted island in the middle of the river, in windy sub-freezing temperatures, screaming, "Noooooooo!" as our Uber driver drove away, no doubt cackling maniacally.
We could have called another ride, but we like walks in the bitter cold, so we headed to a huge structure on the next island over, figuring we could catch a cab from there.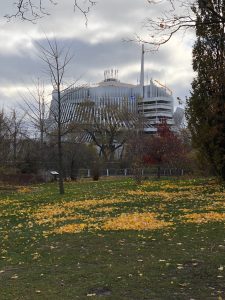 From the distance, we were pretty sure this was the Canadian Super-Friends' Fortress of Justice. Turns out, it's a casino. Lots of people playing high stakes poker games and slots for 11 AM, but hey, whatever! We got a cab back into town and hit MAC, the contemporary art museum. Our cab driver looked very confused. I had to break out my rusty French to give him the address. I don't guess a lot of people roll out of the casino and head to the art museum. Not sure why.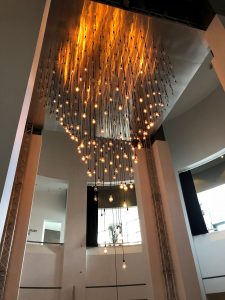 When you touch the controls of this light installation in the lobby, the whole thing pulses to your heartbeat.
The show on offer was the works of Francois Sullivan: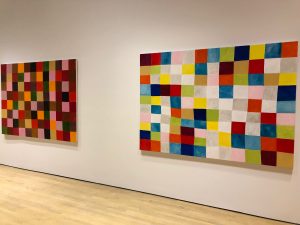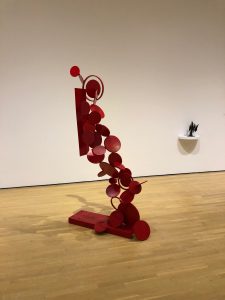 Haley thought the red sculpture would look great in his apartment. Alas, it was not for sale.
In case you're wondering, you can get an Oreo blizzard in downtown Montreal: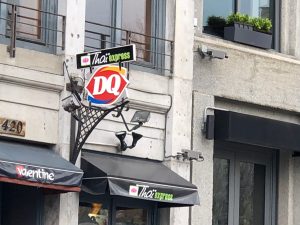 Later we passed this crooked old stone building that looked like it would fall down any second. I figured it had to be something really cool like a museum or a French bakery or an art gallery!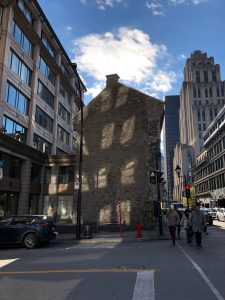 Nope. It's a Starbucks.
The coolest coffee shop, though, was Crew Coffee in the lobby of an old bank building:
I walked into this swanky place thinking, "I am not worthy of your caffeine!"
That night we were to the Plateau-Mont-Royal neighborhood, which is hip and trendy for sure. Lots of restaurants and clubs and galleries. More Pokemon spin stops than Haley could keep up with!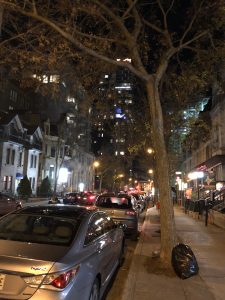 We had dinner at the Upstairs Jazz Club and heard a great Afro-Cuban quartet.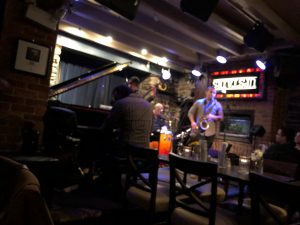 Blurry picture. Those musicians were moving fast!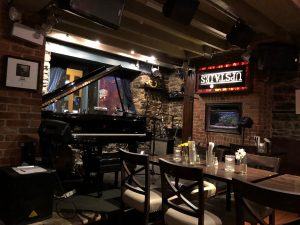 Pre-show picture. Notice the fish tank under the Upstairs sign. Those fish must be traumatized from all the music. I hope they like jazz.
And now we're back in Boston, just in time for the first snow of the year. Merci, Montreal, for a wonderful weekend! See you again soon, I hope!