Okay, so I mentioned on Twitter that I'd read about thirty good books this year. The actual number is probably higher, but I went back and found some of the ones that really stood out. In case you're looking for a book to check out, these I can heartily recommend! Be aware, however, that I read a wide mix of books. Some are middle grade, some YA, some adult, some fiction and some nonfiction. All these books may not appeal to every reader. I'm sure I'm forgetting some . . . The ones at the beginning were posted on my blog with longer reviews. The ones at the bottom were every bit as good — I just didn't have time to do lengthy reviews on them.
Also, be aware that this isn't every book I read. I make a point not to review books that I didn't like, couldn't finish, or simply found 'meh.' If you can't say anything nice . . . well, pick another book!
It's been a long time since a book has made me teary-eyed, but Gracefully Grayson had me sniffling at the end. The story is beautiful and authentic. To say it is the tale of a young transgender person coming of age and finding his (her) identity misses the larger picture. This is a book about how we treat each other as human beings — whether we choose compassion or mistrust, kindness or ostracism. Most of all, it's a story of courage. Grayson is a sixth grader who has always felt different and alone. His parents died when he was young. He hasn't eaten in the lunchroom with his peers since second grade. When he looks in the mirror, his reflection does not match what he feels inside. Secretly, he imagines his over-sized shirts are dresses and his workout pants are long skirts. He wishes more than anything that he could be who he really is on the outside as well as the inside. When the school play comes around, The Myth of Persephone, Grayson tries out for the lead female role of Persephone, causing a storm of reaction that will affect everyone in his life. I know the character of Grayson. I have taught Grayson in my own classroom. His struggle and his bravery are portrayed with great love and insight. I'm grateful this book exists — not just for transgender youth, but for all young readers who are searching for their own identity and their own voice in the face of societal pressures.
Caleana Sardothien, young woman assassin, is betrayed and sentenced to the salt mines of Endovier. After a year, however, she is given an opportunity: If she wins a contest to become the king's champion, she will be granted a four-year contract, working as an assassin for the empire she hates, at the end of which time she will be freed. After reading the premise of the book, I thought, "Sign me up!" After the first chapter, I knew I was in good hands. This book has plenty of mystery, magic, humor and romance — a perfect brew for fans of good YA fantasy. If you liked Graceling, Grave Mercy, Shadow and Bone or other fantasies featuring strong female protagonists with scary good skills, I think you'll enjoy this quite a lot. And it's the first of a series!
An adult sci fi novel with an intriguing premise: Mankind has reached its first extraterrestrial world, Oasis, and the giant corporation USIC is working hard to build a colony there while economic and climatic conditions on earth continue to deteriorate. There's one hitch to their plans: the natives of Oasis want a preacher. They've had a limited introduction to the Christian faith, but after their first human pastor mysteriously goes missing, they refuse to provide food to the human settlers until a new preacher arrives to replace him. Peter Leigh steps up to take the job, leaving behind his wife Bea in England to become an interstellar missionary. When Peter gets to Oasis, we know something is not right. Why have two colonists disappeared? Why are the natives so intent on learning about the Christian gospel? And why is USIC censoring news and correspondence between Earth and Oasis? As Peter and Bea write back and forth to one another, sharing what is happening on the two planets, the story becomes both painful and compelling. And when you find out the answers to some of the novel's central mysteries . . . Well, I won't give anything away, but the answers pack a punch.
An awesome comic book debut — Ms. Marvel introduces Kamala Khan, your typical 16-year-old Muslim Pakistani-American girl from Jersey City, who is endowed with the power to change her form and size. The writing in this series is so good — punchy, funny, believable and fresh, and Kamala's daily-life struggles dovetail wonderfully (and sometimes hilariously) with the exploits of her secret alter ego. If you like the Marvel universe and are looking to check out some original new superheroes, I highly recommend Ms. Marvel.
King of Thorns, by Mark Lawrence
I think this is my favorite book in an excellent trilogy, because the odds are so severely against our anti-hero Jorg. The stakes are high and the plot twists are perfect. Having killed his uncle and secured a small kingdom in the mountains, young Jorg now faces a powerful, charismatic enemy – the Prince of Arrow – who seems destined to unite the Broken Empire. The action jumps back in forth in time, from the siege of Jorg's capital to several years before, showing us how Jorg traveled the empire and gathered his resources to fight a seemingly impossible battle. We also see part of the story from the viewpoint of Katherine, the woman Jorg wants more than anyone, and the woman he is destined not to have. Though Jorg continues to be the most Machiavellian of protagonists, not hesitating to kill, maim or destroy if it serves his goals, we come to understand him more in this book, and it is impossible not to cheer for him. He is a refreshing, brutal wind, blowing away all the romantic trappings of high fantasy – chivalry, honor, good versus evil, and faith in a higher cause. Sometimes, when you see that white knight riding by with his armor gleaming and his smile flashing, you just want to pull him off his horse and punch him in the face for being too perfect. If you've ever had that feeling, Jorg is your man.
Emperor of Thorns, by Mark Lawrence.
A wonderful, surprising, and worthy ending to the Thorns trilogy. If you've followed Jorg Ancrath through the first two books, it shouldn't shock you that Jorg does not give you the ending you might expect, but it's an ending that makes perfect sense. As with the past two volumes, this book jumps around in time, from Jorg's journey to the seat of the empire to vote for a new emperor, back to his earlier journeys through Hispania and Afrique in search of power and answers. Looming on the horizon is the Dead King, a mysterious force who has raised armies of the dead and bent powerful necromancers to his will. Eventually, Jorg will have to face both the Dead King and the other players in the internal struggle for the throne of the empire. How he manages this . . . well, let's say he employs his typical Jorgian style and panache. There will be blood. It was hard to say goodbye to Jorg and his story, but I'm anxious to read Lawrence's future books set in the Broken Empire. Highly recommended.
The Twelve, by Justin Cronin.
Cronin's first book in this trilogy, The Passage, received a lot of buzz. The Twelve is the second. The trilogy tells the story of an engineered virus that creates a race of vampires – "Virals" – which almost wipe out humanity. The writing is strong, the characters are sympathetic, the post-apocalyptic world Cronin describes is terrifying and believable. The reader does have to have some patience, as Cronin tells the story in several parts that at first seem only loosely connected. Just when you are completely riveted in the story of the outbreak, he flashes forward seventy-nine years, where you have to learn to care about a whole new set of characters in an entirely different situation. If you can stick with it, though, the parts do create a satisfying coherent whole. I had a little trouble getting into the rhythm with The Passage, but found The Twelve a quick, compelling read, since I was now accustomed to Cronin's narrative structure. I will certainly be anxious to see how he wraps up his trilogy in the third volume, due out later this year. If you like Stephen King's The Stand, check out this series.
The Mortal Instruments: The City of Bones, by Cassandra Clare.
Okay, so I'm far behind the curve on reading this, but I very much enjoyed my introduction to the world of nephilim, Shadowhunters and demons. Clare constructed a vivid, believable parallel world with great characters, punchy dialogue, and a winning mix of humor, pathos and action. I like her take on warlocks, vampires, and werewolves, and of course I'm a big fan or urban fantasy, where these fantastic elements mix into the regular gritty city life of New York. Clary Fray is a sympathetic protagonist, though I was equally drawn to the supporting cast. I especially like that the villains are believably three-dimensional. Even when you do not support them, you understand what motivates them. There is no easy black and white, good and evil dichotomy. I'll be interested in seeing where the series goes from here, and what Clare does with her Victorian prequel series The Infernal Devices.
Half a King, by Joe Abercrombie.
I'm a big fan of Abercrombie's stark gritty fantasy books for grown-ups. His fiction pulls no punches and takes no prisoners (unless those prisoners are later tortured and executed). So I was curious to see how he would approach the world of young adult fiction in Half a King. The answer: brilliantly. Abercrombie creates a fantasy world that is somewhat neo-Viking, set around the Shattered Sea (the Baltic and North Atlantic?) ages after the elves (21st Century man?) shattered god (Blew everything up?) and disappeared. Our protagonist, Yarvi the youngest son of the king of Gettland, was born with a deformed hand in a world that values only able-bodied warriors. He is prepared to spend his life in the Ministry, as a sort of combination priest/physician/royal advisor, but his plans are upended when his father and older brother are both killed in an ambush. Suddenly Yarvi must be king and avenge his family, but very few Gettlanders are prepared to have 'half a king' – a weakling with only one good hand. Without giving any spoilers, I can tell you that Yarvi will have to endure many hardships and many adventures before he can find his true destiny. As in all Abercrombie's books, friends turn out to be enemies, enemies turn out to be friends; the line between good and evil is murky indeed; and nothing goes quite as we expect. Abercrombie also throws in his trademark dark humor and got me to laugh even during some grim scenes. With eye-popping plot twists and rollicking good action, Half a King is definitely a full adventure. I was lucky enough to read an advanced copy of the book. When it's published in July, be sure to check it out!
The Lies of Locke Lamora, by Scott Lynch.
Another great fantasy, this novel follows a talented rogue and conman, Locke Lamora, through his adventures in Camorr, a city loosely patterned after Venice, but set in a world where humans have built their society over the ruins of a much older race called the Eldren. Locke rises from an orphaned beggar to become one of the most wanted thieves in the city, and along the way makes some enemies in very high places – the Duke's head of secret police, 'the Spider,' the capa of the city's underworld (who doesn't approve of targeting the city's nobles) and a new player in town, the Gray King, who has his own deadly agenda, along with some unbeatable magic backup. Lynch's world is so vivid and fully formed that the reader feels as if he's been dropped into the crowded bazaar in an exotic city and left to find his way out. At first, this can be overwhelming. Everything is different: the days of the week, the gods, the geography, the slang. On top of this, Lynch jumps back and forth in time from Locke Lamora's past to his present. I confess I got bogged down at the beginning and had to come back to this book several months later. But if you keep going, the payoff is well worth the effort. Give it a hundred pages, and you'll be hooked. If you like intelligent funny dialogue, clever protagonists facing equally clever antagonists, and vivid original world building, Scott Lynch is your guy. When I got to the end, I immediately ordered the next two books in this series.
Looking for a good middle-grade adventure this summer for you and your kids? LOOT by Jude Watson should be at the top of your list. Jude knows this territory well. Not only does she write beautiful prose worthy of the National Book Award (which she won, writing as Judy Blundell). She also understand what kids want in a fast-paced action story. She has written numerous novels set in the Star Wars universe, and is also a veteran of the 39 Clues, which I was lucky enough to be part of.
Still, none of that prepared me for the fantastic thrill ride of LOOT.
Imagine your dad is the world's most notorious jewel thief, Alfie McQuin. You live on the run, traveling from heist to heist, never attending school but learning all sorts of other skills — how to bluff at poker, how to blend into crowds, how to con someone out of their money, how to pick any lock. Sound fun?
That's life for twelve-year-old March McQuin, until one night in Amsterdam when his dad falls from a roof (or was he pushed?) and lies dying on the cobblestones at March's feet. Alfie's last words seem to be a riddle: "Wait one month. Find jewels. Follow falls to day. No!"
Soon March is plunged into a dangerous search to find out what his dad was up to, and who might have killed him. He is reunited with a twin sister — Jules, not jewels! — whom he never knew he had. Together they race to find the secrets of Alfie McQuin's biggest, unfinished heist, but they're pursued by a crooked cop, a sinister old heiress, and many others who will do anything to stop them. Who can they trust? Can they even trust each other? The stakes are clear: If they succeed, they'll be set for life. If they fail, they'll be dead.
So many things I love about this book: the ultra-short chapters that keep you turning pages, the pitch-perfect dialogue, the supporting characters Darius and Izzy, the humor, the action, the twists and turns. Cursed jewels, a dangerous prophecy, a crash course in the history of thievery, acrobatics and grift . . . this is LOOT you can take to the bank. It's the perfect summer read for kids (or adults who like kids' books!).
Also read and loved in 2014: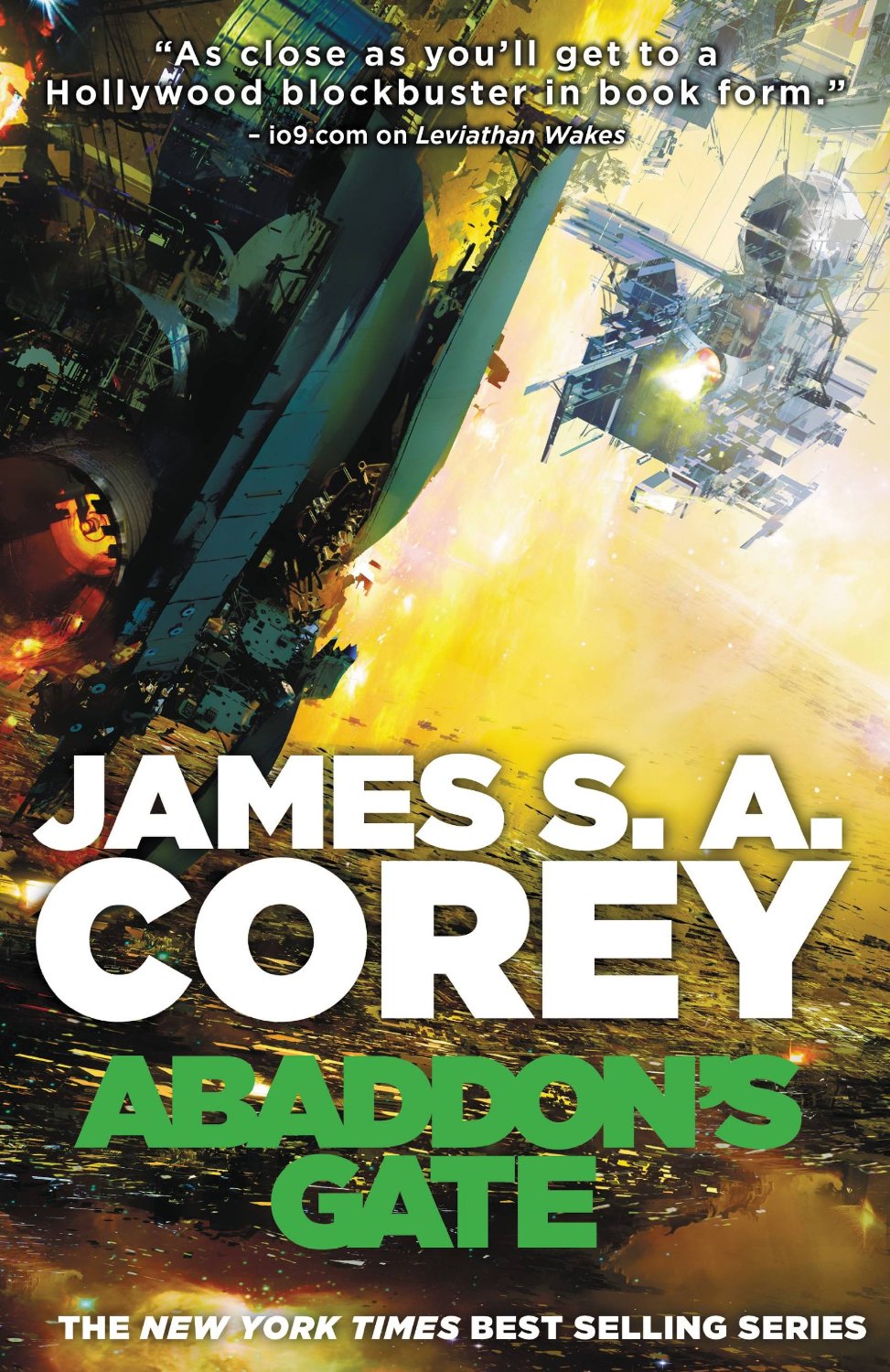 Abaddon's Gate, by James S.A. Corey. Third volume in a great space opera sci fi series.
The Name of the Star, by Maureen Johnson. Jack the Ripper has returned to modern London, or has he? YA supernatural sci fi with a wonderful cast of characters.
The Sisters' Brothers, by Patrick de Witt, a Western, which I don't read very often, but this is the best one I've encountered since True Grit. Eoin Colfer recommended this one to me, and he was right on the money. Two assassins make their way through the Wild West on a job that goes horribly and hilariously wrong.
Rise and Fall of the Third Reich, by William Shirer. I remember this book being on my grandfather's bookshelf. It's the first real blockbuster attempt to tell the story of Hitler's Germany by an American author who lived in Germany at the time and watched the rise of Nazism. Some elements of the narrative seem dated now, but the firsthand account is compelling and terrifying. Not an easy read or a short read, but definitely a book I had on my bucket list, now checked off!
Tesla's Attic, by Neal Shusterman and Eric Elfman. Top notch middle grade fantasy adventure with a whacky sense of humor — a definite pageturner.
The Fall of the Roman Empire, by Peter Heather. I wouldn't recommend this for the casual reader looking for an easy introduction. The information is dense and the canvas is huge, but it presents a wonderful picture of how Rome fell, the story woven from all the available sources from an age where documentation is scanty.
By Blood We Live, by Glen Duncan. The third volume in a knockout amazing series about werewolves and vampires. This is a definite *adult* fantasy, tons of violence and sex, but written in beautiful prose. The first volume is The Last Werewolf.
I went on a Nesbo kick during 2014 and read The Bat, The Redbreast, Nemesis and The Leopard. This is bleak stuff, Norwegian police thrillers, but I found them strangely addicting.
The School of Good and Evil, Soman Chainani, A middle grade/YA fantasy that re-imagines the world of fairy tales and will make you question who is the good princess and who is the evil witch. Loved it!
The Young Elites, by Marie Lu. YA fantasy. The X-Men meet the Spanish Inquisition is the best way I can describe this book. After a plague sweeps through the world (which resembles Renaissance Europe but with different gods and cultures) some surviving children develop strange and amazing powers, but these children are quickly ostracized and hunted down. A fascinating, highly original premise. Be warned: some pretty dark stuff happens to the characters, but the narrative is compelling.
And of course I re-read the Prose Edda, the Poetic Edda, and many other books on Norse mythology getting ready for Magnus Chase . . .