Here it is, folks! The cover for The Sun and the Star, a Nico di Angelo adventure cowritten by Mark Oshiro and me!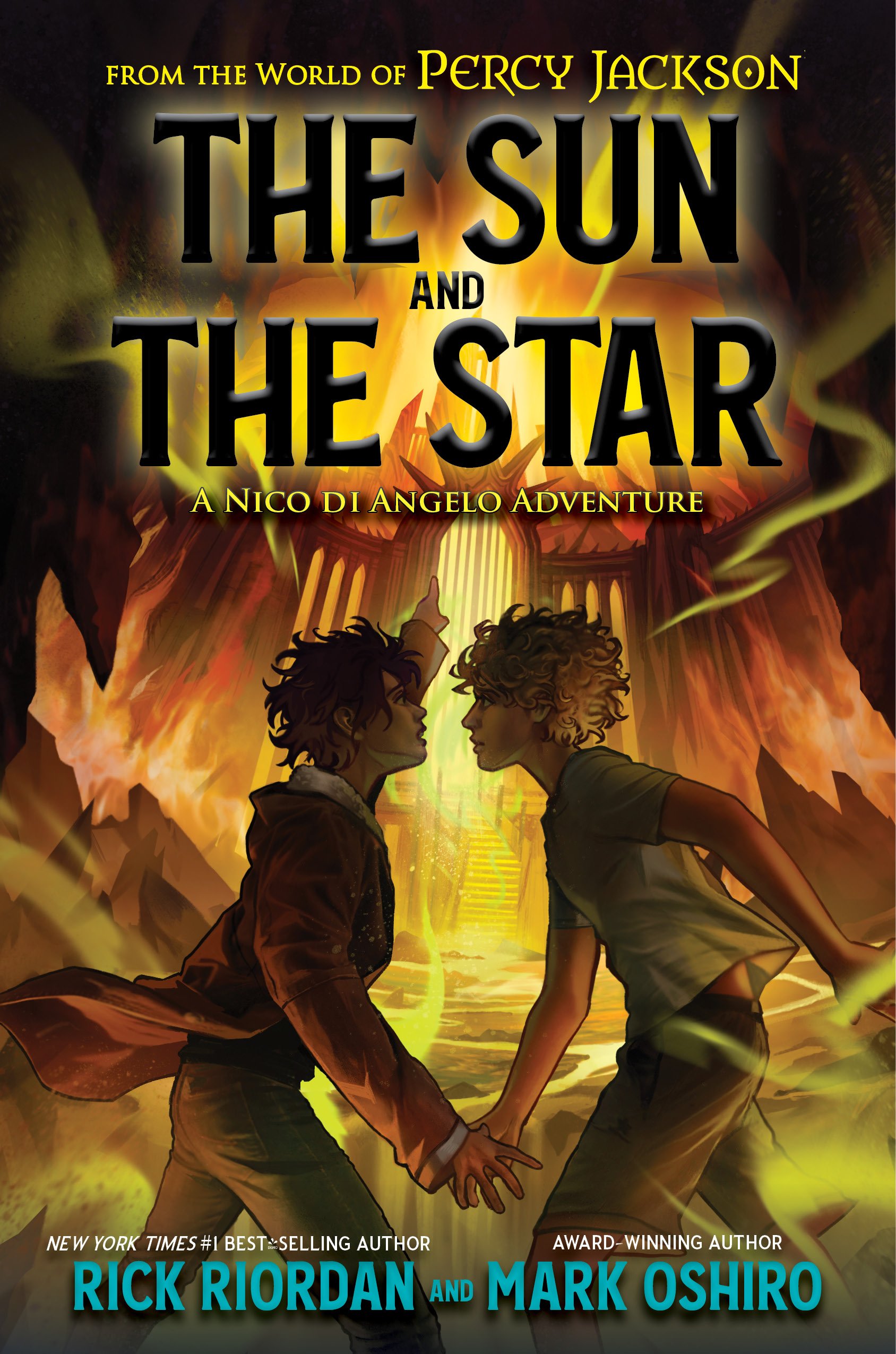 Here's a quick summary (SPOILERS if you have not read through TRIALS OF APOLLO):
As the son of Hades, Nico di Angelo has been through so much, from the premature deaths of his mother and sister, to being outed against his will, to losing his friend Jason during the trials of Apollo. But there is a ray of sunshine in his life–literally: his boyfriend, Will Solace, the son of Apollo. Together the two demigods can overcome any obstacle or foe. At least, that's been the case so far . . .
Now Nico is being plagued by a voice calling out to him from Tartarus, the lowest part of the Underworld. He thinks he knows who it is: a reformed Titan named Bob whom Percy and Annabeth had to leave behind when they escaped Hades's realm. Nico's dreams and Rachel Dare's latest prophecy leave little doubt in Nico's mind that Bob is in some kind of trouble. Nico has to go on this quest, whether Mr. D and Chiron like it or not. And of course Will insists on coming with. But can a being made of light survive in the darkest part of the world? and what does the prophecy mean that Nico will have to "leave something of equal value behind?"
Nico will have to face demons both internal and external as his relationship with Will is tested to the core in this standalone adventure featuring two of the most popular characters in the Percy Jackson saga.
Who did the cover art?
The cover art is by the incredible, amazingly talented Khadijah Khatib, who also did the art for the UK edition of Daughter of the Deep. Isn't it beautiful? We are so lucky to have her involved with this book design. Her art will appear on both the American and British editions.
When does the book come out?
The on-sale date for North America and the United Kingdom is May 2, 2023. As always, release dates for other countries may vary depending on how long it takes to translate and market in those countries.
Will you be doing a tour?
Mark and I are planning to do a limited North American tour together, which will be my first in-person tour since 2019. More details on this as soon as we have them.
Tell us about the title!
I have to credit Mark with the title! They have a lot more poetry in their soul than I do. It is not a title I would ever have come up with by myself, but I'm very grateful because it is absolutely perfect.
How did you co-write the book?
As I've shared before, it was really important to me that writing a book entirely from the perspective of two queer characters, I collaborated with a great queer author who could bring perspective, authenticity, and a different set of writing strengths to the project. Mark Oshiro is someone whose writing I greatly admire, and who also knows the Percy Jackson world intimately. They were the perfect choice!
It was equally important to me that this be a true fifty-fifty collaboration in every sense: credit, compensation, workload, creative input. I started with a rough outline for the plot. Mark elaborated on this outline, making a lot of good additions and revisions. We sent notes back and forth several times. Then Mark did the first draft of the manuscript. They sent it to our editor, Stephanie Lurie, who made her own suggestions, and then sent it to me. I then did an extensive second draft, the same way I would for one of my own first drafts. Again, the manuscript went back and forth several times, and the process was marvelous. I learned a lot. Mark showed me a lot of wonderful new perspectives on writing, and brought a fresh sensibility to the characters of Nico and Will. I found the collaboration rewarding and delightful. I think it's safe to say that the final product is an equal balance of my style and Mark's style. I can't wait for you all to read it! And in the meantime, if you haven't checked out Mark's own work, what are you waiting for?
Will anything bad happen to our favorite characters?
They're going to Tartarus. What could possibly go wrong? But seriously, I know your concerns. I can't give away the plot of the book, but I can assure you that Mark feels just as strongly about these characters as you do. I am quite fond of them myself. What will happen exactly, I can't say, but I would point out that fan worries are (almost) always overblown. People have been spreading rumors that Percy Jackson was going to die since 2005, and he's still alive and kicking at the ripe old age of (checks notes) yep, still seventeen. Past that, you'll have to wait and read the book!