Back from a whirlwind U.S. tour for the new Percy Jackson book: The Chalice of the Gods! We had six sold-out events from Seattle to Portland, Maine, and every one was an amazing celebration of the return of our favorite Seaweed Brain narrator, Percy Jackson. Thanks to all the readers who were able to attend, and especially to our special guests from the Rick Riordan Presents imprint who joined me at stops along the way: Stacey Lee, Yoon Ha Lee, J.C. Cervantes, Daniel José Older, and Roseanne A. Brown. It was so nice catching up with friends and colleagues!
Thanks for you, dear readers, The Chalice of the Gods debuted at #1 on the New York Times bestseller list, and was the #1 bestselling book in the country according the USA Today.
Here's a photo montage collected by my editor Steph Lurie (who appeared in the events as Coach Gleeson Hedge) . . .
Hard to pick my favorite moments, but some of them were seeing Topher Bradfield again, founder of Between the Pages and organizer of Camp Half-Blood Austin; catching up with Cathy Berner and the whole team at Blue Willow Books in Houston; meeting Stacey Lee and Rosie Brown for the first time (!) in person; and seeing my friend Aryan Simhadri (Grover Underwood) and family at the event in Glendale, CA. Aryan was just there as a fan, by the way, not participating in any SAG-strike-restricted activities.
While I was on tour, we got word that the WGA was lifting its strike restrictions after reaching a tentative deal with the studios. Kudos to WGA and its entire membership for fighting the good fight and getting a better deal for writers! Now hopefully SAG-AFTRA will also be able to come to a fair deal so the actors can get back to work, too. This means that I, as a WGA member, can start working once again on the various adaptations we have in development, but it may take a while for all the industry wheels to get turning again. Everyone is scrambling to catch up and reactivate projects that have been dormant for the last five months. That's a lot of time to lose, yes, but it is what it is. The strikes were necessary, and we will move forward as best we can from here! And a reminder: We are not yet green-lit for any future seasons of PJO, though we are hopeful that if viewers like the first season and it does well, we will be able to move ahead. How do you help make that happen? Tune in and watch on Disney+ when the first episodes air, Dec. 20!
A few other pictures from the tour, if you missed them:
Blue milk and cookies which the hotel in Houston gifted me. So thoughtful, and also yummy!
In Glendale, Steph asked me to take a selfie with the audience to give her a little time to get into costume as Coach Hedge. I did that, then decided I couldn't post it on social media because my weird grin makes me look like an axe murderer. Now that all the audience members are safely home, I present the photo below. Decide for yourself: would you buy a book from this man?
Also in Glendale, where the lovely staff of the Alex Theater helped us organize books and give-away items, I was greeted with my name on the marquee. On the side it said RICK RIORDAN – SOLD OUT.   Wow, I thought, everybody's a critic. Nevertheless, we had a fantastic time!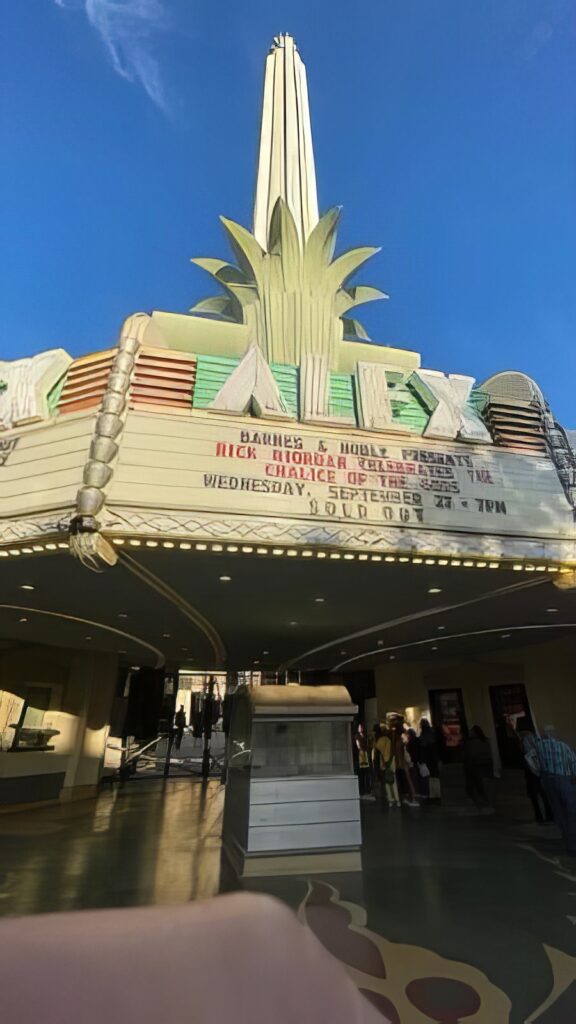 At each stop, we found these photo-op stand-ups, provided by Disney Publishing.
Nice to see my friend Walker Scobell (Percy Jackson) on the poster, looking very heroic and demigodly!
So what did you miss if you weren't able to join us on the tour? Here are a few random tidbits I revealed along the way:
The quest for Percy's college acceptance letters will continue with WRATH OF THE TRIPLE GODDESS, coming out next September. It seemed cruel not to see Percy through all the way to college, given that I had already sketched out three adventures, one for each letter of recommendation. This will be the second!
I confirmed that I do have a cameo in the Percy Jackson and the Olympians TV series. It's a 'blink and you miss it' moment, but I'm sure some of you eagle-eyed fans will find me!
A whole batch of freshly baked YA and MG novels are coming soon from Rick Riordan Presents. Check on readriordan.com for more details!
We shared the recently released trailer for the PJO TV series. It was an incredible rush to experience it with a crowd of fans. If you haven't seen it yet, it is here:
Now I am back home in Boston, just in time for fall — my favorite season. The squirrels in the park say, "Decorative gourd time? Yum!"
I imagine you will hear from me again before too long, since we are now gearing up for the release of the TV show. Keep reading and happy October!