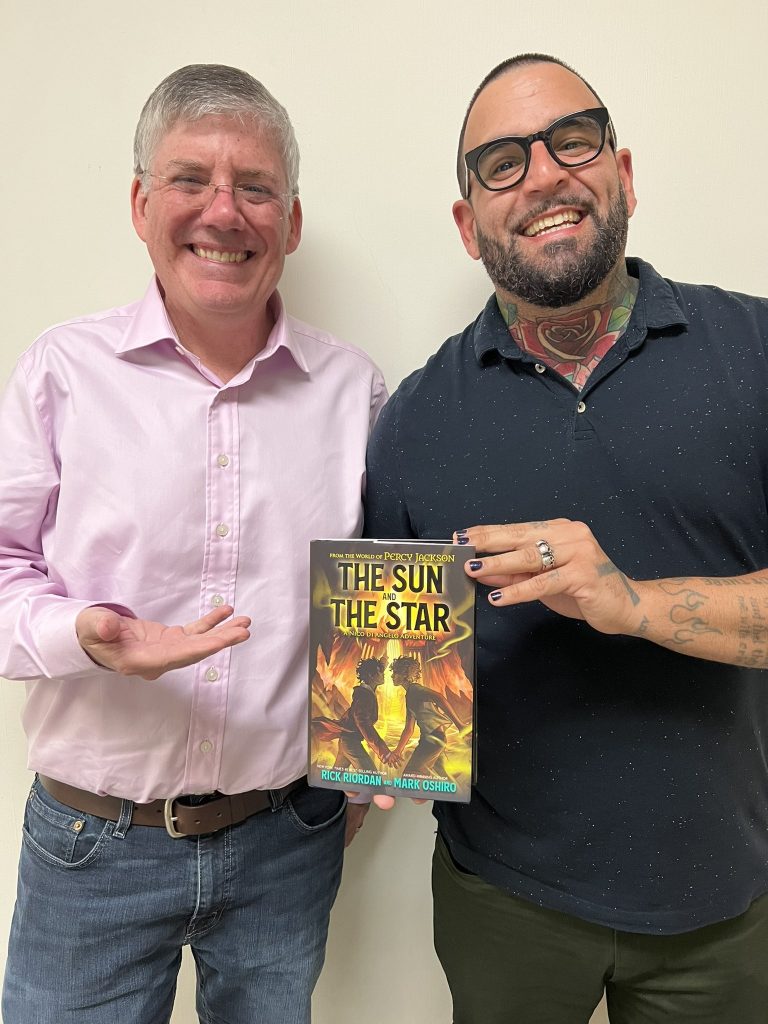 What a week! Mark Oshiro and I recently wrapped up our tour for The Sun and the Star: five cities in five days. My ears are still ringing from all the joyous cheering. Thanks to everyone who came out for an event! If you didn't get to make it, here's a look at what you missed.
We started on Monday, May 1, with a satellite media tour in Boston, speaking to about twenty different TV and radio stations in quick succession. Here are a few of our interviews available online:
BOSTON
On Tuesday, May 2, the book's official release date, we headed to the Chevalier Theatre in Medford, MA, for our first evening event with 1400+ fans. We thought our editor Steph Lurie was going to conduct an interview with us, but instead (GASP!) the Underworld nymph Gorgyra appeared instead, right out of the book, and demanded we answer all her questions!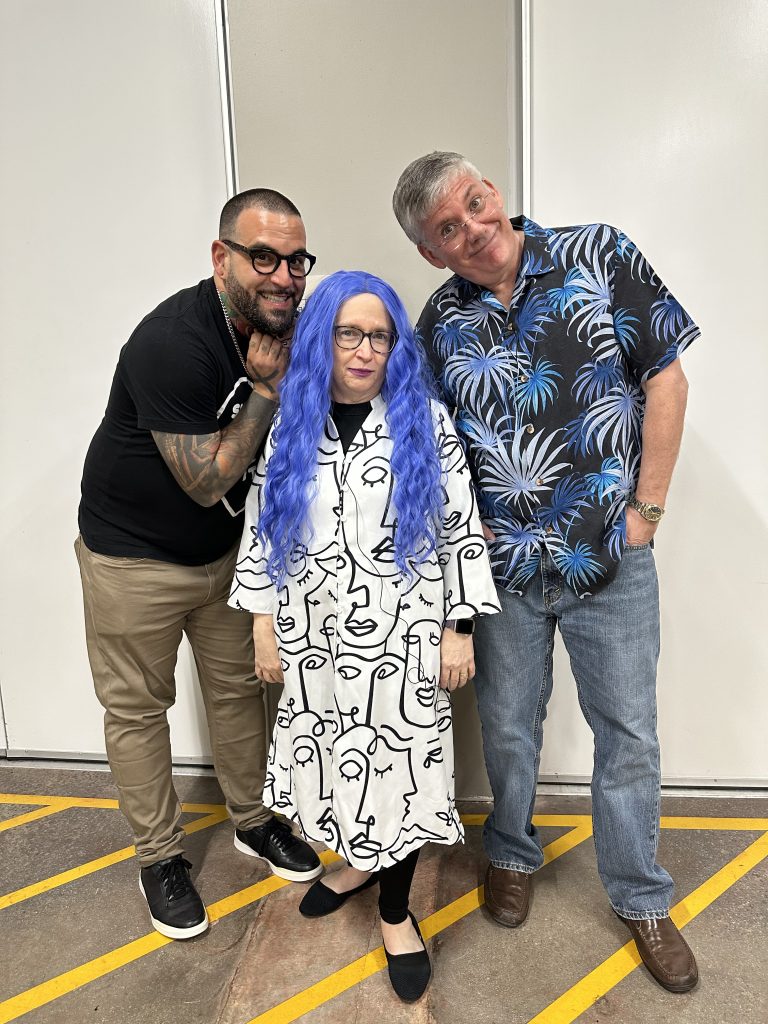 She let us live (and leave) at the end of the night, so I guess we answered her questions to her satisfaction. Despite the cold, rainy weather,  the mood was celebratory inside the theatre. Mark in particular was on fire, delighting the crowd with their stories and quips. Were we feeling the love for Nico and Will? You can judge from this selfie we took with the audience: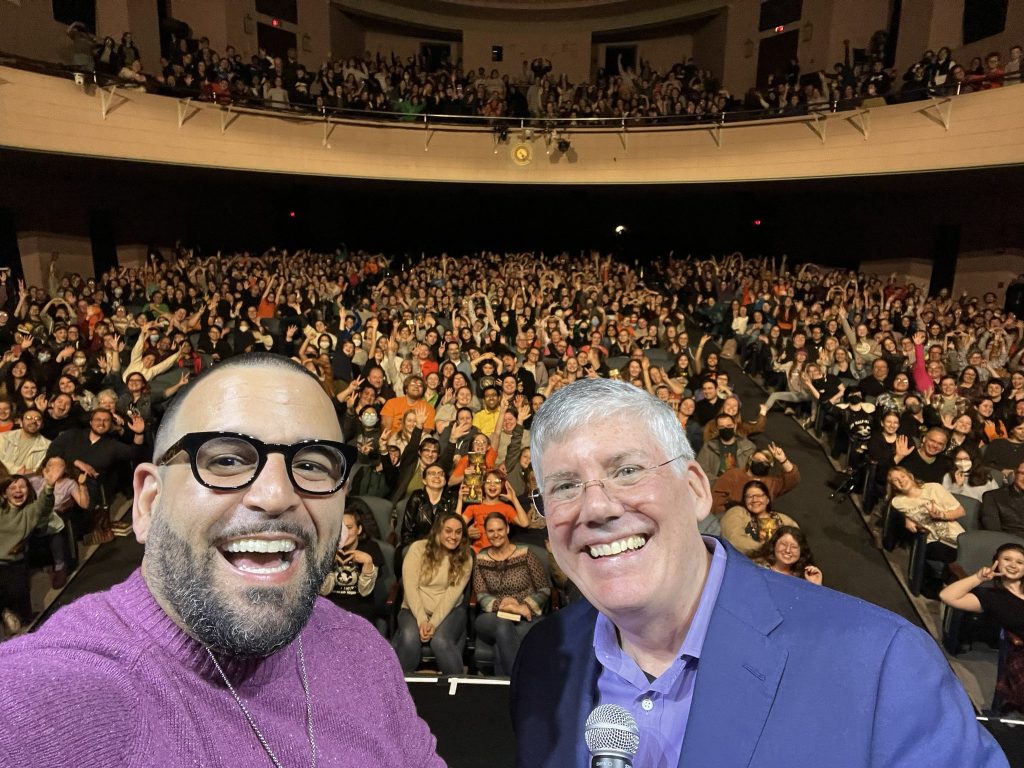 The crowd at the Chevalier Theatre, Medford.
My favorite part of the night, however, was that my wife Becky was able to attend. She doesn't normally come to my events. She did that for decades! But since it was a local event, she came with us and I got to bring her out on stage to get a well-deserved round of applause from the crowd. As I told them, without her, there would be no Percy Jackson, and Becky's help was instrumental with The Sun and the Star. She advised Mark and me on many of the tougher parts in the book, including how to portray Will Solace, who had never gotten his own POV before. Thanks to Brookline Booksmith for hosting us!
NEW YORK
Wednesday, we flew to Manhattan for our next event at Town Hall, hosted by Barnes & Noble Union Square. Gorgyra showed up again! I was beginning to suspect that she was following us… We had another packed house and an enthusiastic crowd of Solangelo supporters. Here they are in all their glory: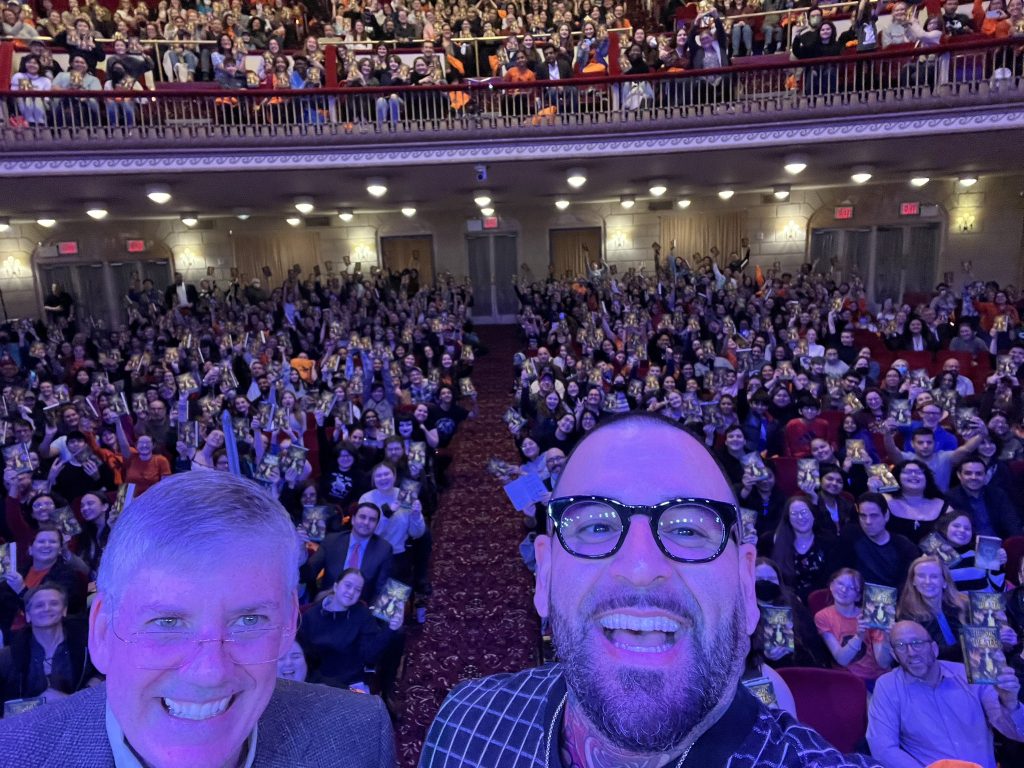 I am not sure where the toy swords came from, but several audience members were waving them. It was only slightly concerning. This was the first event I can recall that had its own Playbill program. Between that and rushing out the stage exit after the show, I felt like a Broadway star for a few minutes . . . except that I can't act, dance, or sing well, but we'll let that pass. Percy would have been very pleased with the hometown reception we got in the Big Apple.
Backstage, we also got to meet with Liam Crowley, who interviewed us and also gifted us with this photo, which Becky turned into a gif. I don't remember Liam having such a fancy hat, but maybe I was too busy looking at the terrifying things within our book! Like typos — AHHHHH!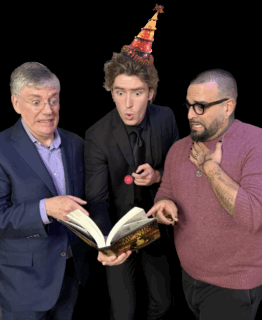 ATLANTA
Next stop: Mark's adopted hometown of Atlanta, where we did an event with one of their favorite bookstores Brave + Kind. I had never worked with them before, but they did an amazing job organizing the event with the help of the Gwinnett County Library staff, who were also fabulous and helped find our event space at the Gas South Arena.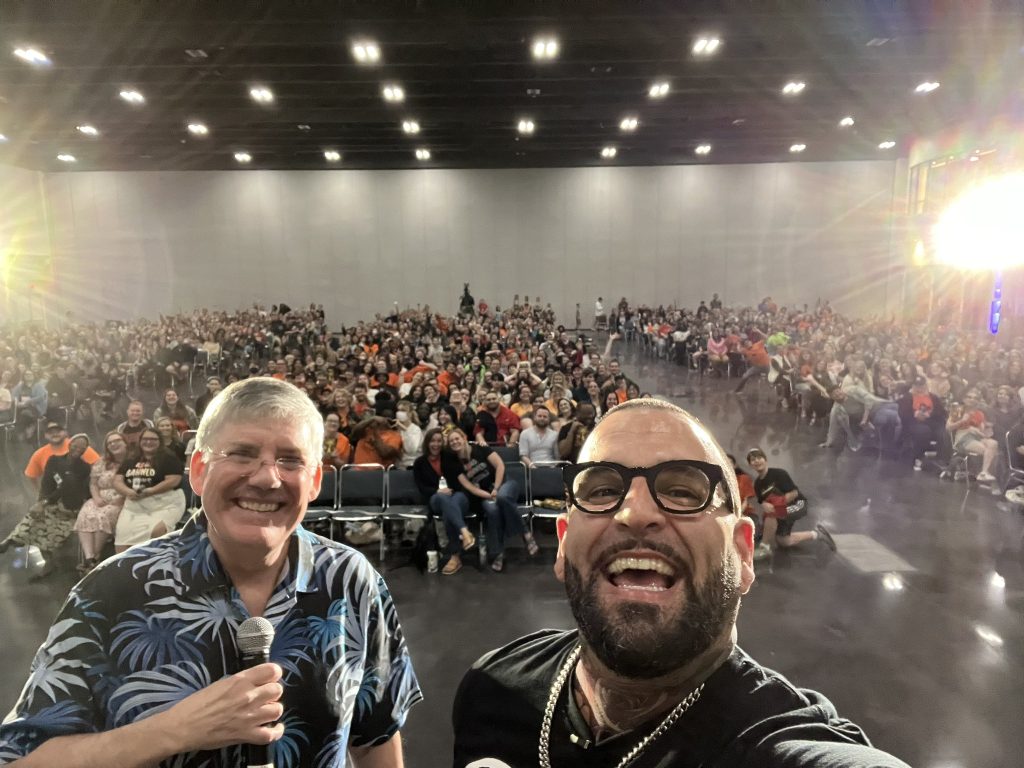 From this photo, it's hard to picture just how huge that convention hall is, but it was packed with a massive happy crowd. Aside from the well-run nature of the event, I especially appreciated the Lenox Cupcakes in the green room, which were sinfully good, and our after-show dinner at Alebrije. Mole enchiladas = yum. It was great to be back in Atlanta — always lovely welcoming folks. And did I mention to cool gift bag Brave + Kind gave us? This is my new favorite coffee mug.
And what did the convention hall look like when we first arrived and saw its bigness? See below . . . You must also appreciate Mark's shirt, which says "Surviving Purely Out of Spite."
SAN FRANCISCO
The Bay Area was great! It's always a treat to be back here, where Becky and I lived for most of the 90s, but I was particularly relieved to see that the landscape had bounced back from the last time I was here, when everything was brown and burned after a series of droughts and wildfires. This time, everything was green and definitely more "Bay Area-ish." As usual, Kepler's did a bang-up job organizing our event.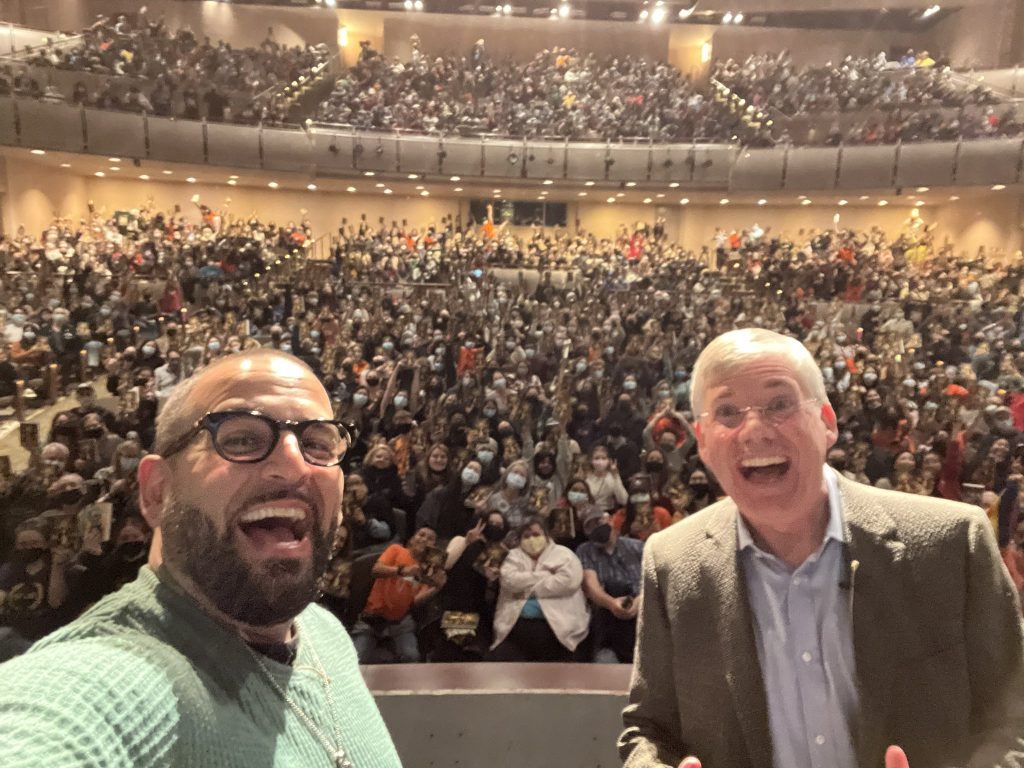 Wow, what a crowd at the San Mateo Performing Arts Center! Special shout-out to the mom in the front row with her arms crossed. Apparently, her kids gave her grief because she looks disgruntled, but she assured us she was smiling under that mask! You gotta be a great mom to bring your kids to a book event on a school night and sit in the front row, putting up with a few thousand happy screaming fans right behind you. Respect! I'm so glad everyone had a good time at the event and came out to celebrate our heroes Nico and Will.
If you're wondering how we sign everyone's books before the event, this is what the signing stack looks like when we first arrive at a venue:
TORONTO
The last day was the hardest in terms of travel, because we had to get up at 4AM to make our flight to Toronto, losing three hours as we traveled back east. It was totally worth it, though! The Toronto fans had heard about San Francisco being the rowdiest event so far, and they took it as a personal challenge. As our hosts from Indigo explained, the town was low spirits because of the Maple Leafs performance this post-season, so they needed something to cheer for. Fortunately, they did not ask me to play hockey.
Our editor Steph (who looks suspiciously like Gorgyra, now that I think about it) made our morning better by bringing mochi donuts on the flight.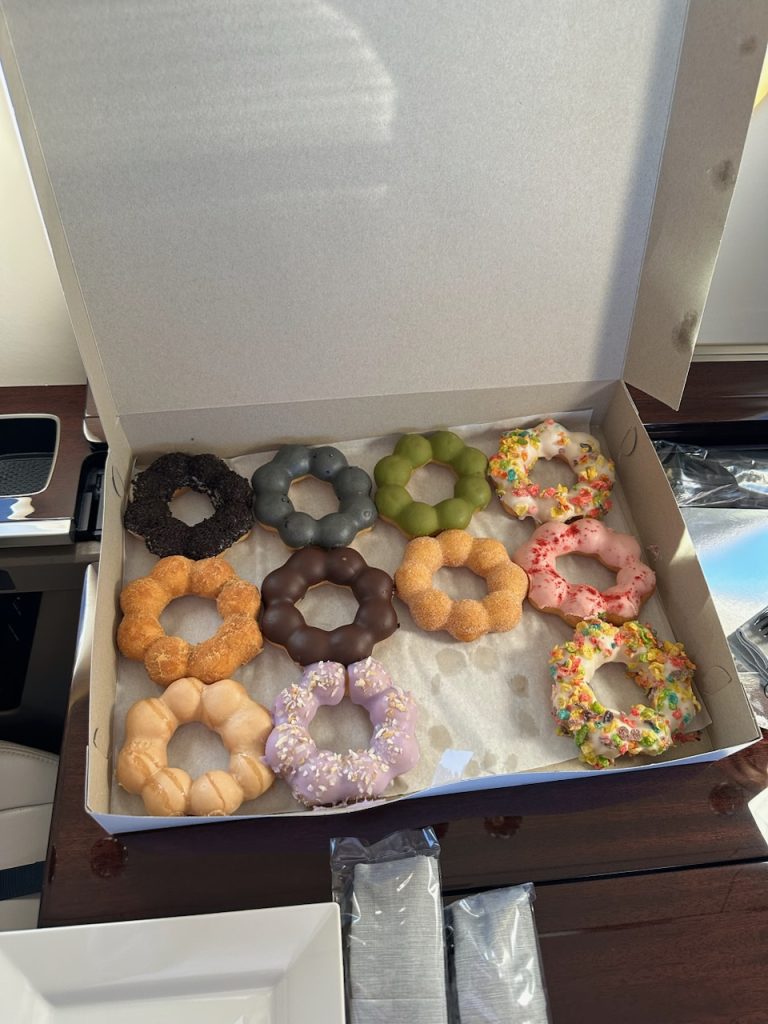 As you can see, I was not fast enough snapping this photo and one of the donuts had already been claimed. The mochi donuts are an inside joke referencing something that happens in The Chalice of the Gods, the Percy Jackson adventure coming out Sept. 26. Steph is one of the only people on earth who has already read the manuscript, but when you get to read it next fall, you'll see what this is about.
Once in Toronto, we were picked up by a limo SUV with the license plate CLBRTY 9, so we did our best to get into the 'celebrity' mood. That's our super publicist Crystal on the left, who organized the whole tour and kept everything running like clockwork.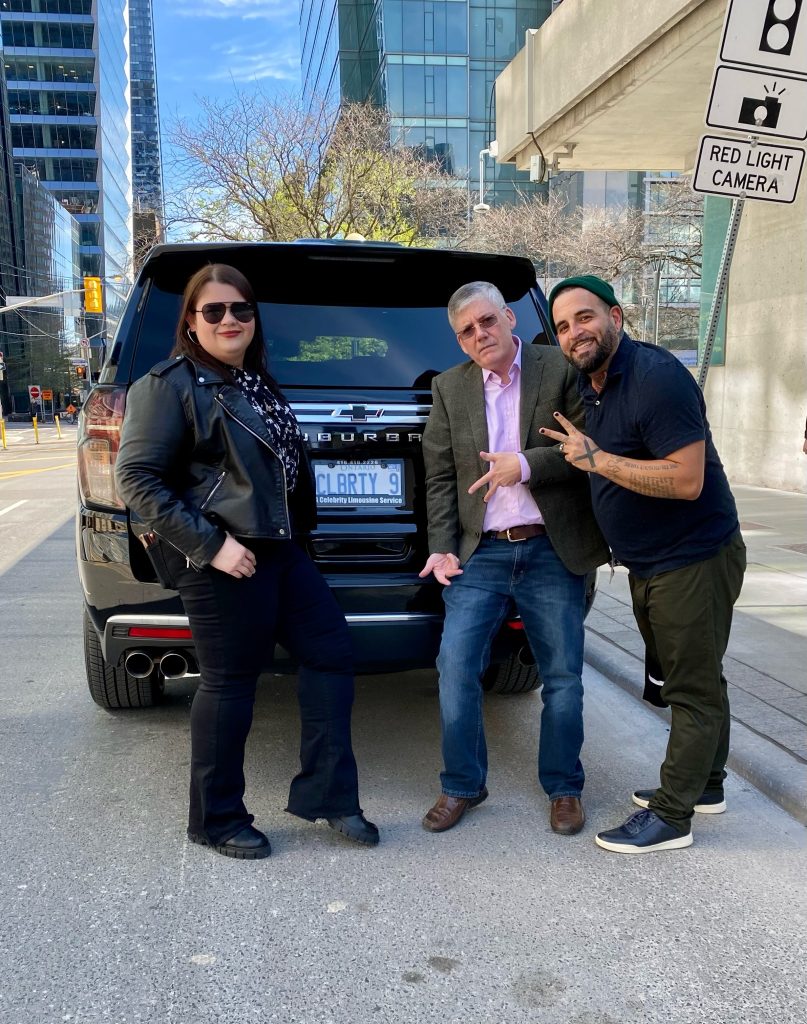 That's me in the middle, showing once again that I have no idea what actual cool celebrities do with their hands. I appear to be ordering three grande lattes on the down-low.
Our event that night was at St. Andrew's Presbyterian Church, and we definitely had that 'spirit moves you' kind of energy in the sanctuary!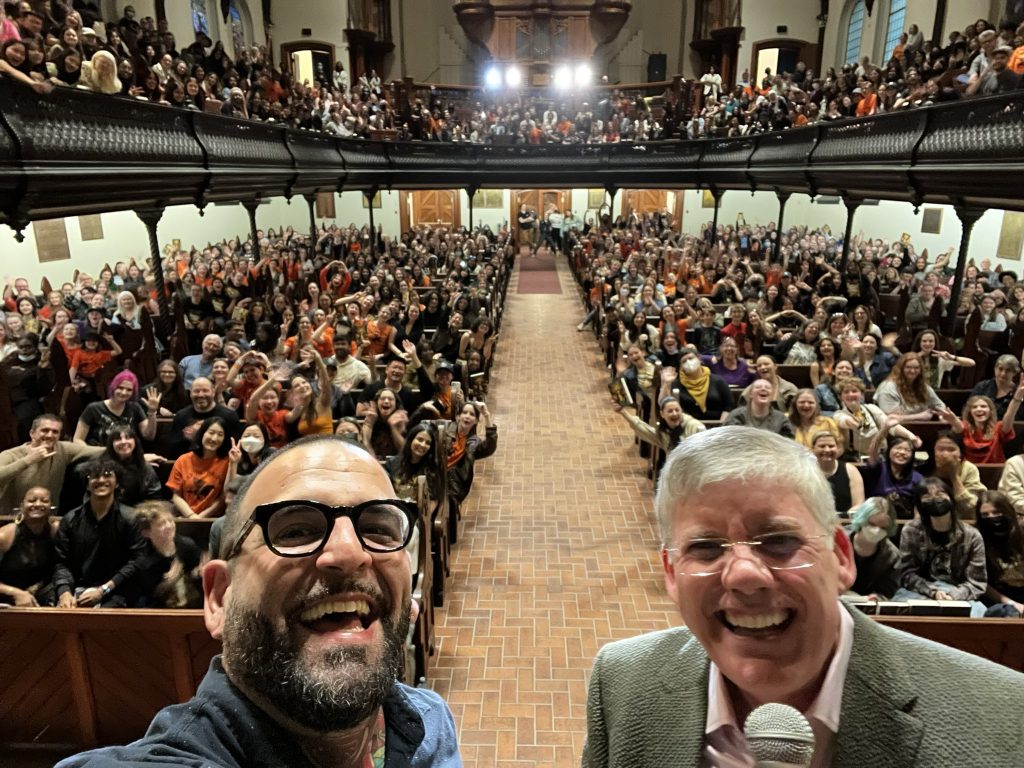 It was indeed to loudest crowd of the tour, so congrats, Toronto! We loved your energy and positivity. I told them it had been nine years since I last did an event in Toronto, which is much too long. Thanks to Indigo and St. Andrews for hosting us! My favorite part of the evening was getting the crowd to sing happy birthday to our buddy Aryan Simhadri, who plays Grover Underwood in the upcoming TV show.
Now I am back in Boston, and yesterday I learned that The Sun and the Star has debuted at #1 on the New York Times children's bestseller list. This means I will be introducing my co-author for the rest of eternity as "New York Times #1 bestselling author Mark Oshiro," and the title is well deserved! Thank you, readers, for embracing this book and especially for giving Mark such warm and loving welcome into the Percy Jackson universe. You all are the best!
Finally, if you'd like to get a sense of what we talked about on the tour, you can check out this video conversation on ReadRiordan.com.
Thanks again to everyone who made the tour such a success. It was without a doubt one of the best I've ever done!