As posted today on Entertainment Weekly, along with an exclusive interview with me, here is the U.S. cover for The Chalice of the Gods, the new Percy Jackson novel arriving on Sept. 26!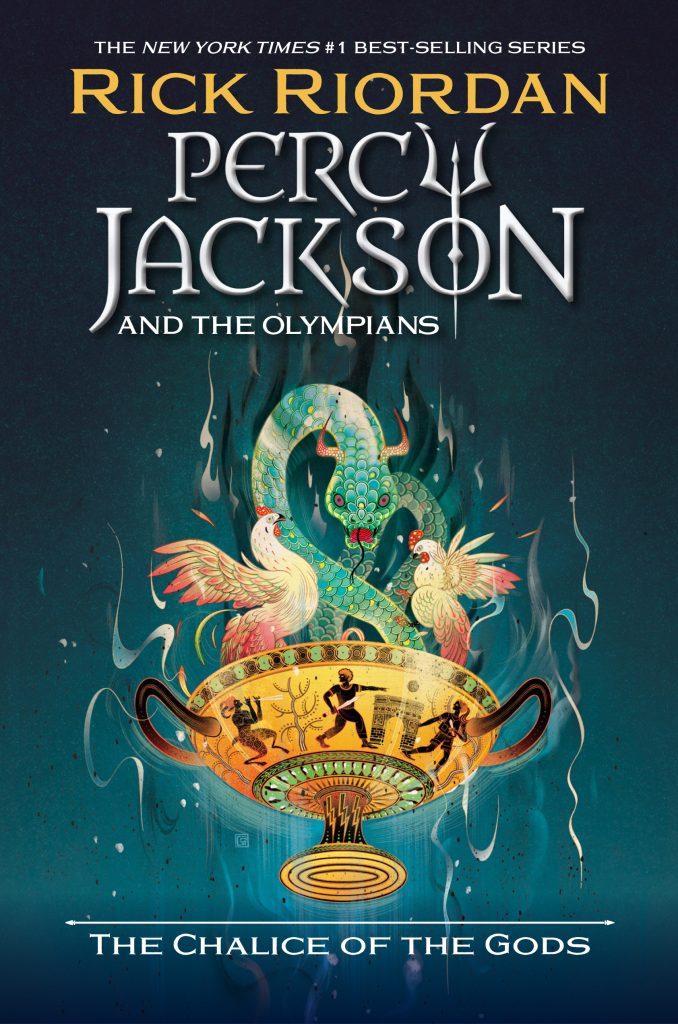 The art is by Victo Ngai, who did the most recent US covers for the Percy Jackson and the Olympians original series, so this book will stand nicely next to the others. Victo is an amazing talent. I love her elegant, highly stylized work, which reminds me of the wonderful sci-fi and fantasy book covers I grew up with in the 1960s and 70s. This one is obviously inspired by Greek pottery, which makes sense since the story is about the chalice of the gods.

See how beautifully the covers will go together?
You can preorder in North American edition here.
To my UK and international fans, a cover will be revealed for you all soon, and I can't wait to share it with you. In the meantime, pre-orders are also open globally, and the UK edition will also be available on 26th September! I don't have exact release dates for all other markets. As you know, sometimes translating the book can make those editions take longer, but I will keep you updated as I learn more.
To answer some of the questions you probably have:
Is Chalice of the Gods really "Percy Jackson and the Olympians, book 6"? 
Kinda? It is the first time since the original series wrapped up in 2010 that I have written a first-person Percy Jackson novel featuring the main trio of Percy, Annabeth and Grover. It will read very much like those books, I hope you'll find. On the other hand, the plot is not directly connected to the first five books in the sense that this is a standalone adventure that happens during Percy's senior year in high school, after the Heroes of Olympus series, but before the Trials of Apollo. I have tried to write it with a variety of different readers in mind. You don't necessarily have to have read every book in the Heroes of the Olympus series to enjoy Chalice, though Percy may make references to some things that happened in those books. You could go straight from The Last Olympian to Chalice of the Gods, and you hopefully wouldn't have any trouble figuring out what's going on. But of course the book will resonate differently if you know the other books I've written in the PJO world. And if you like the five-book series to stand by itself in your memory, that's fine! I get it. There is no obligation to add Chalice of the Gods to the original series unless you want to revisit your old friends from PJO.
Will you be doing a tour for Chalice of the Gods?
I will be doing a brief North American tour for the book in the fall, as I have done in the past (pre-Covid). Unfortunately, I don't have the time or bandwidth to do an international tour. My apologies to my global readers! Hopefully we will be able to offer some of the US events on line if you want to join us from abroad. As soon as I have details on the tour, I will post them on my blog.
Will there be signed copies available for pre-order?
I imagine so! I don't have any information on those yet, but I always sign a limited number of special editions in advance which are made available through some booksellers. Again, as soon as I know more, I'll let you know.
Is this the start of a new series?
Chalice is meant to be a standalone for now. It was originally one of three ideas I had for Percy's senior year adventures, so it's possible I could write the other two at some point in the future. That really depends on what my schedule ends up looking like in the next few years. As you probably know, the film and TV adaptations have been consuming a great deal of my time over the last two years.
Why go back to writing a Percy novel now?
Short answer: To celebrate the upcoming Percy TV show! Disney Publishing asked me what kind of tie-in books we could market for the show, and Chalice of the Gods was my idea as a 'thank you' to fans who have waited so long for a great adaptation. If you are one of the many readers who have asked me over the years for a new Percy/Annabeth/Grover adventure, this is for you!
More news soon, and thanks as always to my terrific readers. It has been a thrill to write in Percy's voice again, and a great honor to know that these books have been part of your lives!