Friends, please welcome our newest immortal in the Olympian pantheon — the god of travelers, gamblers, merchants, thieves, messengers, and all others who make their lives on the road — the one and only Hermes, otherwise known as Lin-Manuel Miranda!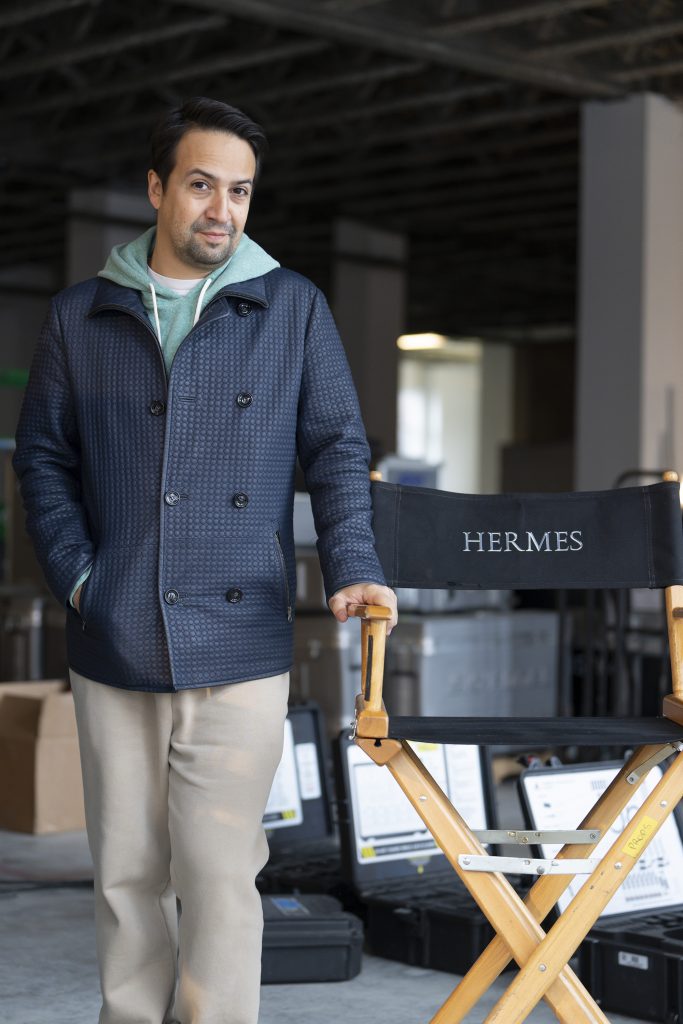 Last week, we had the absolute pleasure of hosting Lin-Manuel on set. I have, of course, been a fan for years, and we'd corresponded a few times since his son and he are both fans of the Percy Jackson books, but this was the first time I'd gotten to meet him in person. It's always wonderful when someone so multi-talented and wildly successful turns out to be also a genuinely nice and decent person. Lin-Manuel is that kind of guy.
Now you book fans may be thinking, "Wait a minute. Hermes doesn't appear until the second book, The Sea of Monsters." You are correct. But remember when I told you we are adding new glimpses of backstory, Easter eggs, and other nuances to enhance the narrative while remaining true to the original storyline? This is a prime example. When you see the episode in question, it will make sense why we introduced Hermes early . . .
Once we'd written the script and had Hermes' lines, I could not get Lin-Manuel Miranda's voice out of my head. I knew he would be the perfect person to bring Hermes to life in all his complex glory. I figured it was a long shot. Lin-Manuel is a busy guy! But with our show runners' encouragement, I sent him a note saying, "Hey, you ever felt like being a god for a couple of days?"  To my delight, he was excited to join the Percy Jackson family. His son even provided him with some background reading on Hermes to prep him for the part. I love junior Classicists!
After Lin-Manuel took the role, it occurred to me that this is the second time he has played a god of commerce. The first was the father of the American banking system, Alexander Hamilton. I have to think Hamilton would be pleased with the comparison. Immortals, after all, never run out of time.
As I've told you before, the PJOTV set is a happy place to work. It really feels like a family. Lin-Manuel's presence only made it better. He was generous and kind, and delivered a performance that ignites the screen. Wait until you see him with Percy and Annabeth. Wow. The best part was watching him work with our young stars — what an incredible experience for them and for us! We all agreed we can't wait for season two! (Fingers perpetually crossed, of course, that we get green-lit for a second season, but I am optimistic.)
More to come, demigods. Stay tuned. And thank you again to the Mirandas for joining us on our heroes' quest!