Happy Remembrance Day / Veterans' Day to all those marking the holiday.
Here in Vancouver, we have been treated to some amazing, dramatic landscapes. We woke up last week to find the mountains across the bay dusted with snow, though the temperature at sea level was well above freezing. Chilly, yes, but most of the past week was nice and sunny, so I can't complain. In any case, we spend most of our time indoors, filming on the Volume stage.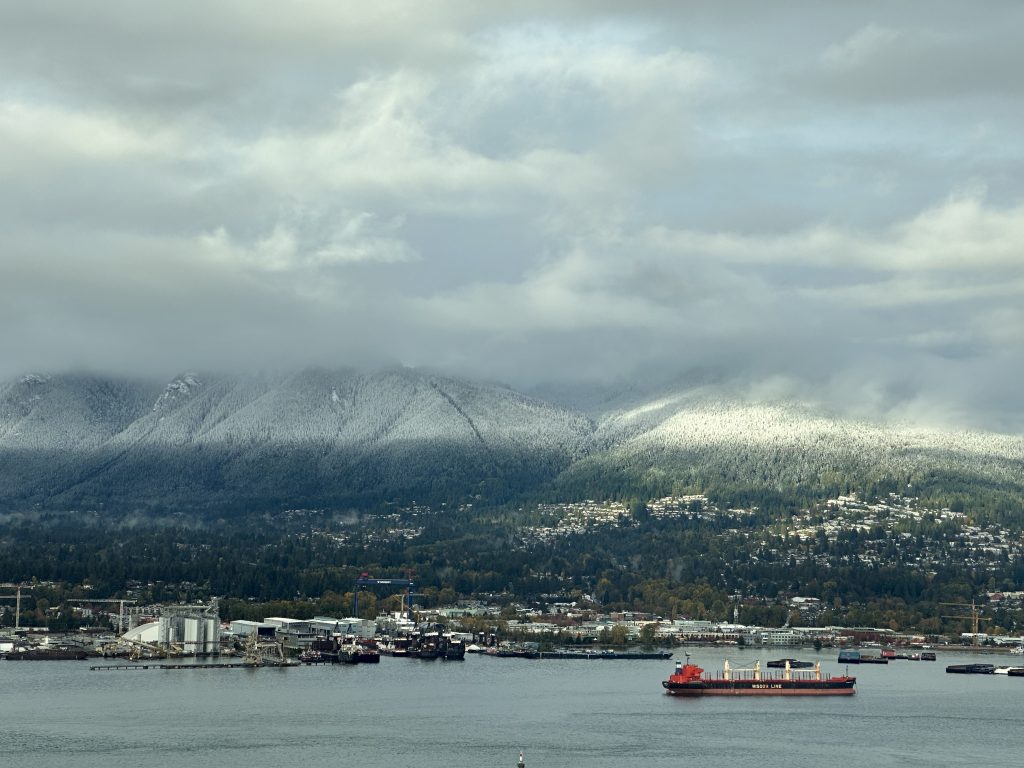 Highlights from this week included watching an aquatic set being constructed, complete with a squad of scuba divers to help place the underwater cameras. Also, I had a lovely chat with the god Hades. Can't tell you who it is yet, but he did such a great job, and wow, the Underworld set! Amazing stuff as usual from our art & design team.
Some random thoughts on casting:
First, I'd remind everyone that I am not personally on social media anymore and haven't been for two and a half years. Becky keeps me posted on big picture stuff, but I stay away from it and am not reading posts. Comments on all my posts on all platforms have also been closed for over two years, just so you know this is not anything new or specific to any particular posts. I recently started up an account on Mastodon, which I am overseeing myself for the time-being. If you can find me, you're welcome to follow me there, though most of my posts are about my adventures learning the Irish language.
I'd imagine everyone is curious about casting for the other Olympian gods. As you know from the books, if you've read the books, not all twelve Olympian gods appear in book one, so not all gods will appear in season one, nor have all gods been cast yet. Actors have to be cast based on scripts, and scripts have to be written one season at a time. Aphrodite, for instance, probably won't appear until season three, assuming we're lucky enough to get a season three, so that casting is at least 2-3 years away. Apollo and Artemis, same thing. Hestia, Hera and Demeter probably wouldn't appear until season five.
Still to come for this season: the Big Three, Hades, Poseidon, Zeus. When those parts will be announced publicly, I'm not sure yet.
To answer another question I get a lot, even being isolated from social media: What about actors from the original movie adaptations? The answer should not surprise you if you've read anything I've said about the movies over the last decade, but I'll say this again: A lot of wonderful, talented actors were involved in those movies. I have been quite open about my feelings concerning the adaptations, but that is no fault of the actors, whom I have enjoyed watching in many other great screen productions. That said, the whole point of me being involved in the TV show is to make sure this is a completely different production and a fresh start for Percy Jackson. That means an entirely new cast putting their own spin on the characters, and it's important for the cast and crew that they have a clean slate to work from. Because of that, there will be no crossover casting between the movies and the new TV show. This must be and will be its own thing.
Where we are now: We have begun principal photography for the final episodes of season one. As I mentioned before, we will be filming through mid-January. Our main heroic trio of Walker, Leah and Aryan just get better and better every episode. It's incredible to watch. They're also having a wonderful time working with our many guest stars. (I heard a rumor that Percy startled Hades with a firecracker the other day. I can neither confirm nor deny, but it does sound very on-brand for Percy . . .)
We have delivered our initial cuts of the first two episodes to our studio partners and are making edits to address some of their excellent notes. The process continues to be collaborative and positive. Everyone who has seen the cuts so far is incredibly excited, as am I. Again: these cuts are still extremely rough, and no special effects have been added. That process, 'post-production,' will take many more months per each episode. This week I expect to see the first rough director's cuts for episodes three and four, though again much work remains before those are even shareable internally with our production partners. With all those caveats in mind, it's happening, folks. It's actually becoming a TV show! This show is more like making a massive, eight-episode movie than a regular TV show, also. Its scope and complexity are truly vast.
Other News
While all this is going on, I am working on my pass of the script for the Daughter of the Deep feature film for Disney+, which I am co-writing with Aditi Kapil. I am also working on revisions for the new Percy Jackson novel, The Chalice of the Gods. Between those two massive projects, I know what I will be doing over the winter holidays! When I get back to Boston, there will also be several thousand tip-ins for The Sun and the Star waiting for me to autograph, so they can then be sent to my co-author Mark Oshiro for their signature before being bound into the special autographed edition of the book. Thanks to everyone who has already pre-ordered that! I imagine I will have more news on our May '23 tour for the book after the New Year.
A hearty congratulations to Kwame Mbalia for his new forthcoming imprint with Disney Books, Freedom Fire! As reported in Publishers Weekly, the imprint will feature stories of Black resilience and Black joy, written by Black creators, and you couldn't ask for a better person to head such an important project than Kwame!
Also congratulations to Sarwat Chada, whose second novel for the Rick Riordan Presents imprint just had a cover release. Check out this beauty:
Artwork by Kerem Bayit. The book itself will be out Aug. 1, 2023.
And if you can't wait that long for your next RRP fix of great middle-grade mythological fantasy, remember that Stacey Lee's Winston Chu vs. the Whimsies comes out Feb. 27, 2023, featuring a modern reimagining of a classic Chinese folktale. I adore this cover, too:
Artwork by Amber Ren.
That's all the news for now, friends. Keep reading and have a great weekend!