I am back in Vancouver after a great time last weekend at D23 in Anaheim!
The cast and I had a super time backstage, meeting the cast and crews of the other Disney shows. I have to say, the amount of love and support was really incredible to see up close. When people talk about Disney being a family, this is what they mean. The older teen and adult stars gave our trio lots of kudos, and everyone was so genuinely excited to see Percy Jackson come to life as a TV show. I was also very moved to hear so many of the young stars on other shows come up to me and thank me for being part of their childhood. What an honor, and to see what successful, grounded, and genuinely nice young people they have grown up to be.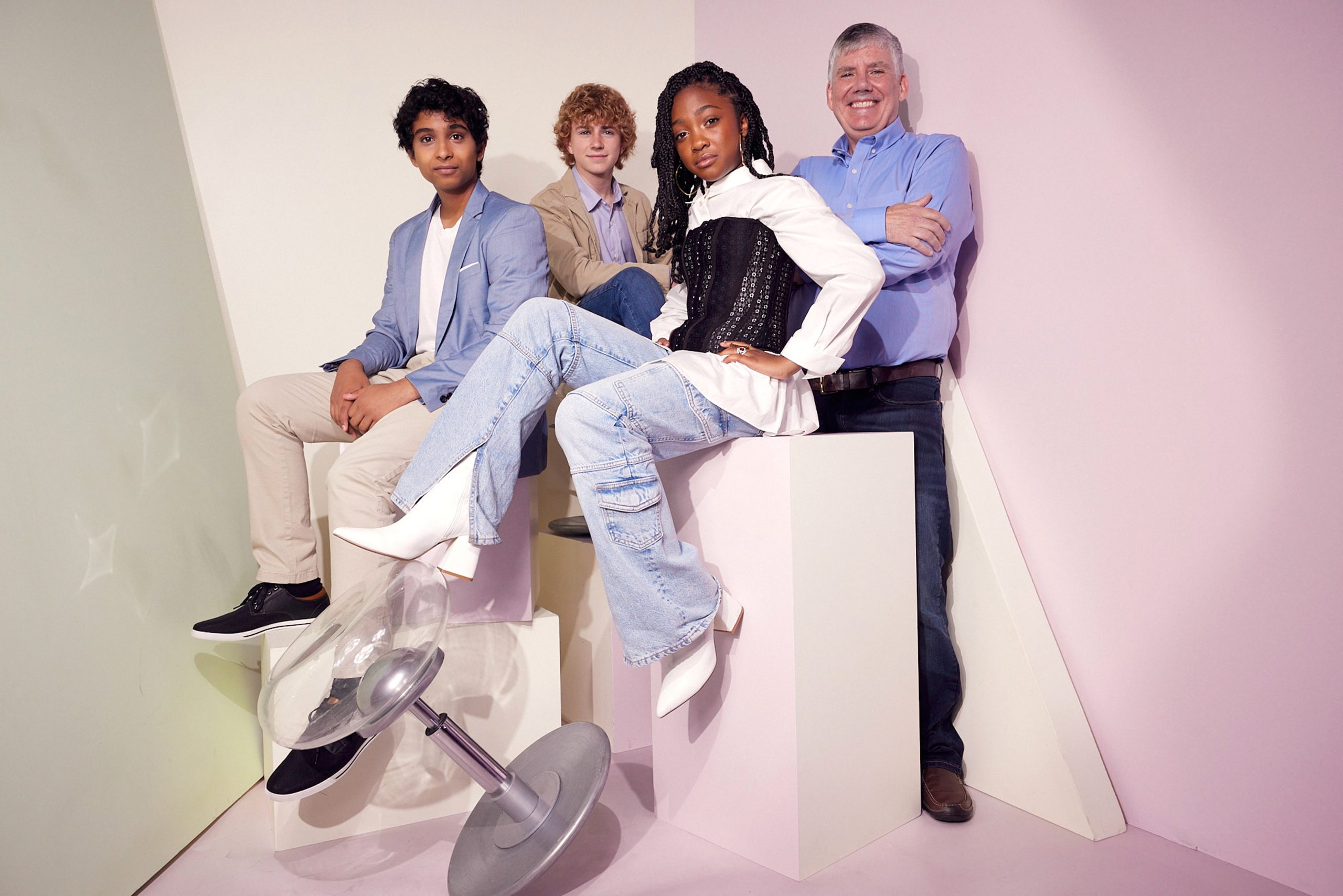 Check out this great trio of heroes above! Just ignore that old dude in the back . . . not sure how he sneaked in. Probably just some random creator of the series who wandered in off the street.
I tried not to fan-boy too hard about all the talented folks in the green room, but I did have to tell Harvey Guillén how much the Riordans loved his work in What We Do in the Shadows, because, come on, Guillermo! In fact, here is a random shot of Harvey photobombing Leah on the press line: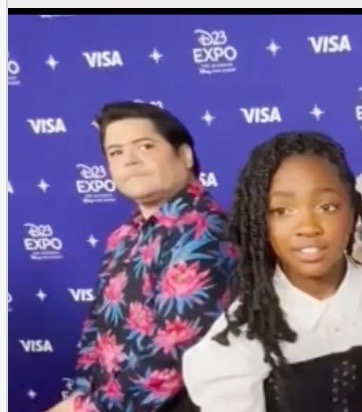 His shirt is cooler than all my shirts put together.
The press line was an interesting experience. I have done tons of media over the years, but never like that. They have a sort of runway to walk down, with the "talent" on one side and five billion different media outlets lined up along the other side, separated by stanchions and a ribbon that did not at all remind me of crime scene DO NOT CROSS tape. Publicists walk down the line with signs, announcing who they can offer for interviews. It's kind of like an open market for TV personalities. Can I offer anyone a Tim Allen? Oh, yes, please! We have a fresh batch of High School Musical stars, just in today, anyone? Yes, yes! Offering one slightly used Rick Riordan! Um . . . who's Rick Riordan? Exactly.
That sort of thing.
The reaction to the Percy Jackson trailer was incredible, both at the convention and online. And as I've said before, the really exciting thing is that this trailer is just the tiniest glimpse! Wait until you see what else we've got cooking . . .
Oh, and speaking of the trailer, I am hearing that some of you have questions about this and that. I am not on social media anymore, as you know, but these things sometimes do filter back to me through my colleagues and family. First, a question about why there are Greek letters misused as English letters in this sign: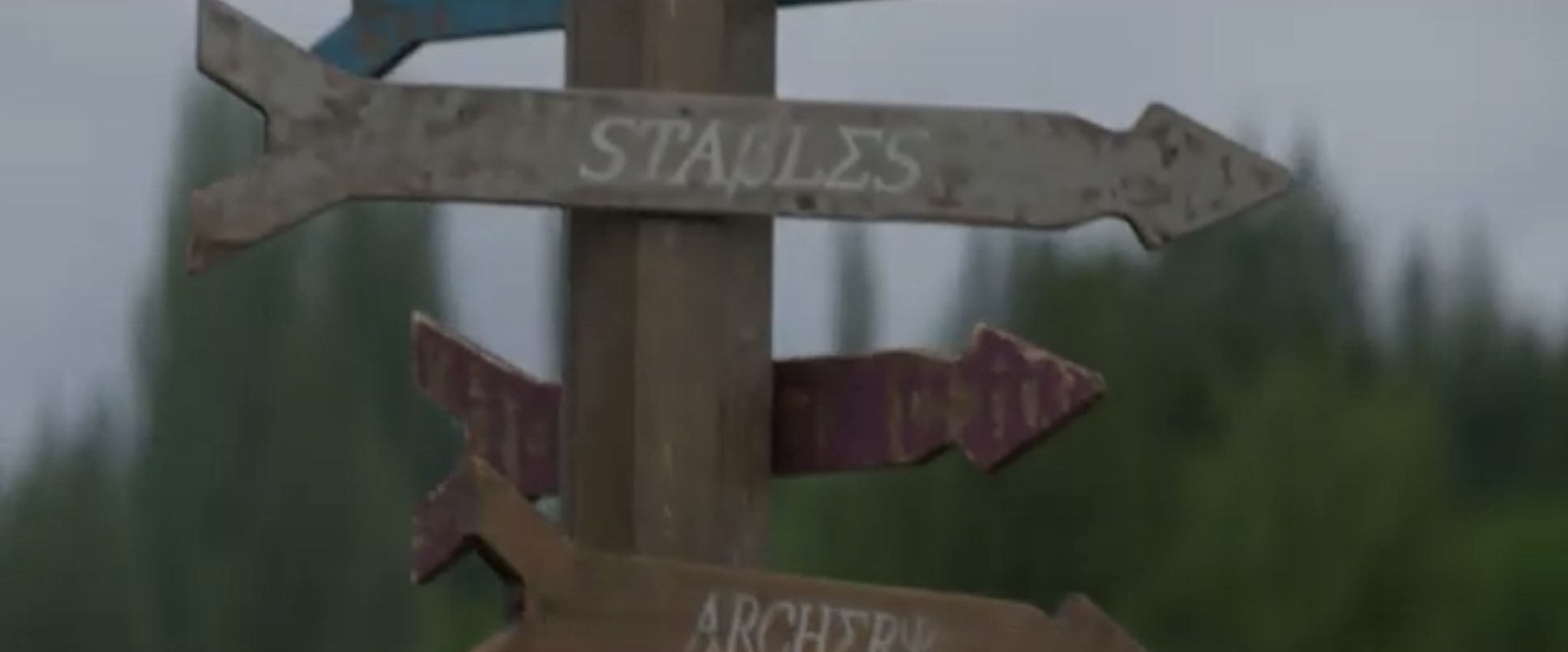 I have to admit, this question confuses me. What Greek letters? The lettering looks perfectly normal to me . . . Unless . . . Wait. Are your brains hardwired for Ancient Greek? Ooooh. You're demigods, of course! It all makes sense now.
Another question: What is with the unusual symbols on the cabins? Like this: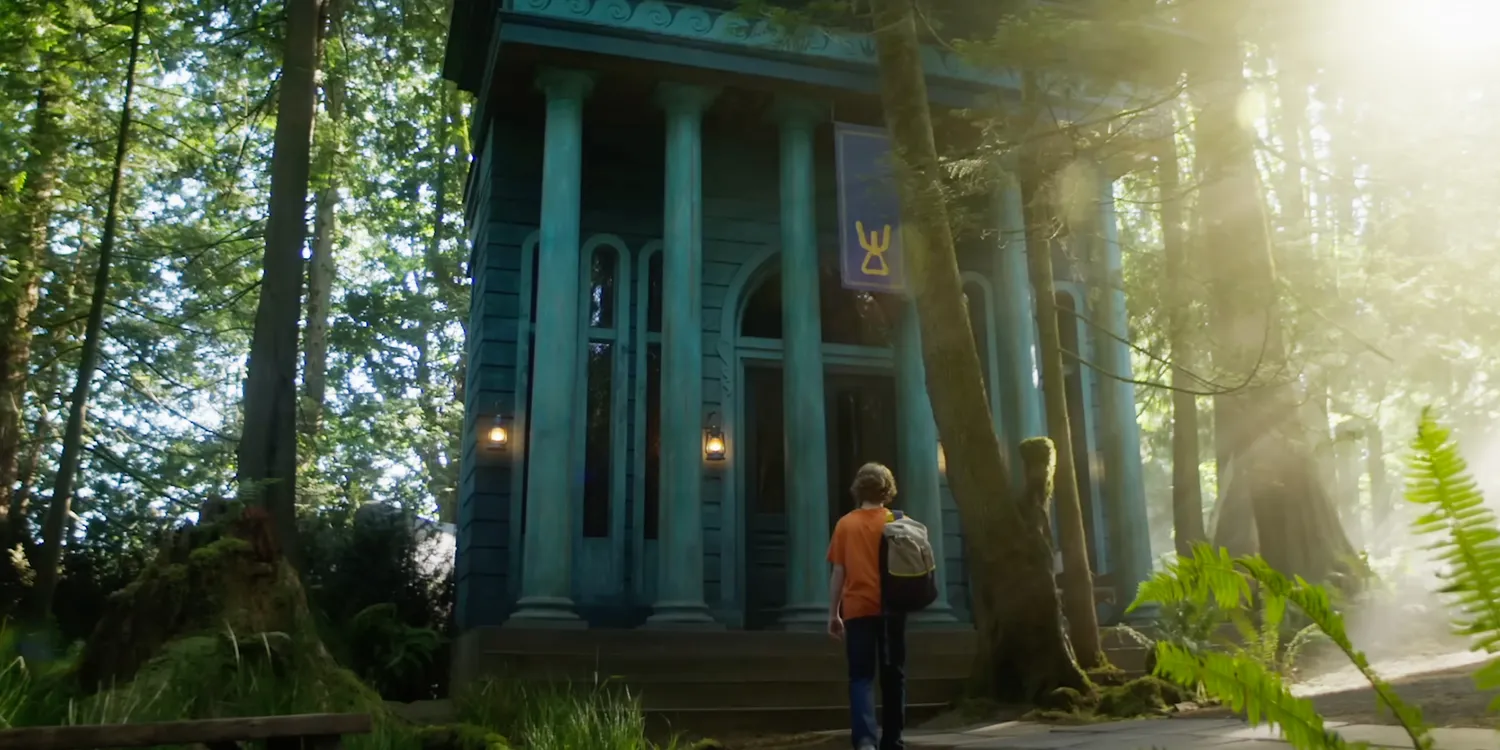 Ah . . . now that symbol I can see. There is a story behind these. You are right. They are not Greek. They are not any known human language. That is intentional. You will discover what those are about later on. Good spotting, eagle-eyed fans!
Another question is about the new generation design for the Camp Half-Blood shirts, which are absolute fire, thanks to our art department and costume designers. I imagine there will be many ways to score your own T-shirt, and Disney is working on that right now, so stay tuned . . .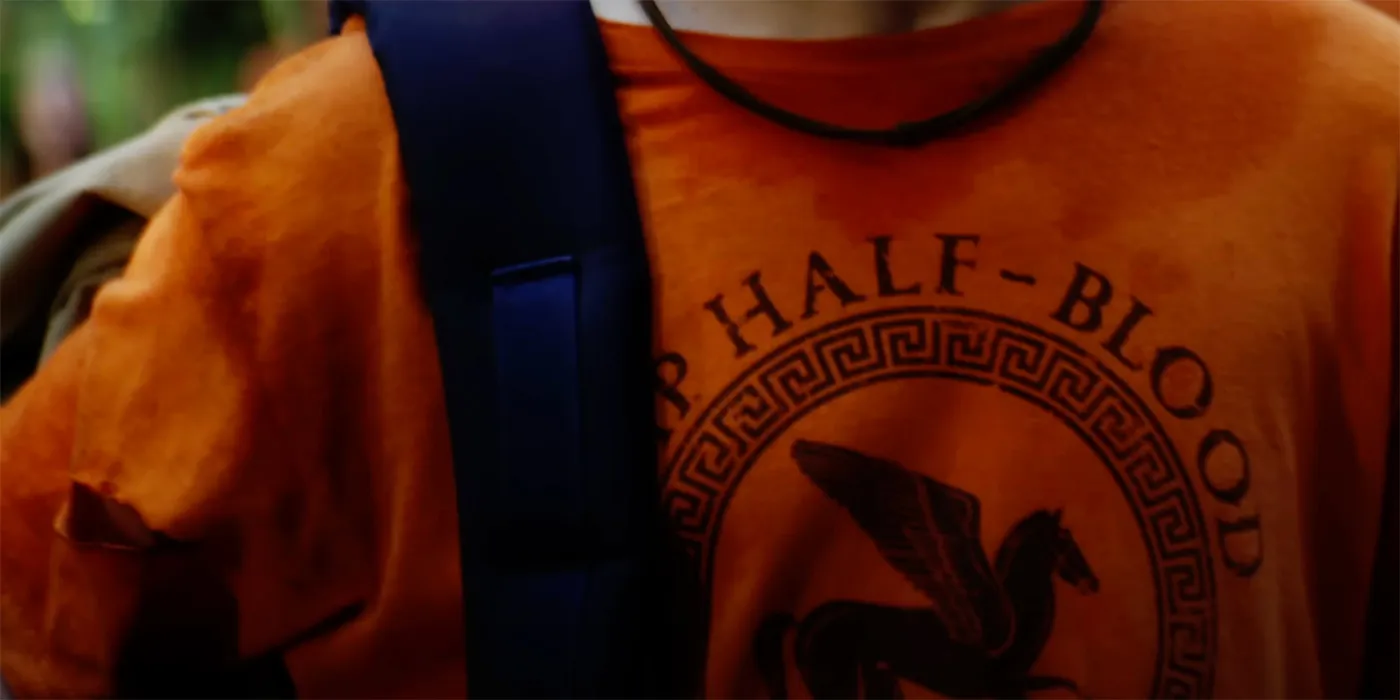 It is great to be back on set. Shout out to our awesome 'block 2' director Anders Engström who is handling episodes 3 and 4, and 'block 3' director Jet Wilkinson, who is overseeing episodes 5 and 6. Both are true pros who bring so much skill, artistry and enthusiasm to the process. It's just an honor to watch them work with our cast. Each day, I have to pinch myself, as it becomes clearer and clearer that this is really happening. After all the years of hard work and hand-wringing, we are actually bringing this show to life in the best possible way.
And with that, I will leave you with one more photo from D23 of our main trio. What stars!