There's a joke in The Sea of Monsters about how to translate "Laistrygonians" — the cannibalistic giants from the far north — into English. When Percy asks, Annabeth thinks for a minute, then deadpans: "Canadians." The joke, of course, is that nothing could be farther from Laistrygonians than Canadians, who are lovely people and who (as far as I know) never practice cannibalism. At any rate, Becky and I have spent the past week in Northwest Laistrygonia (otherwise known as Vancouver) setting up an apartment and office for our use this summer, when we will be here pretty much full time filming  Percy Jackson and the Olympians, season one.
We arrived in Vancouver just as the cherry blossoms were blooming, which was amazing! Last Thursday, we reported for duty on our first day at the studios in Burnaby, Canada. We took the metro and walked from there, though most of the studio staff apparently use something called "cars" to commute.
Rick Riordan, public transit warrior
Once at the studio, we had meetings with the props and costume departments to get a "show and tell" about what they're working on. So many things to think about that would never have occurred to me: What kind of backpack does Percy use? What kind of t-shirts would he wear? What kind of sheath does Annabeth use for her dagger? Is Grover a cargo shorts kind of guy? And the all-important question: What pattern does Chiron prefer in his sweater vest?
We looked at various mock-ups for camp armor and weapons, different shades of orange for the camp t-shirts and how each would appear on camera, and even a 'mood board' of various types of blue candy. We also saw some early replicas for Riptide and got to play around with them. The blades were sharp, but somehow I managed not to hurt myself or anyone else. All this by way of saying: Everything is looking great, and I'm very happy with how the project is coming together. I think you will be, too.
On Friday, we had a video conference with the higher-ups at Disney Studios to show concept art: the monsters, the world environments, etc., and they were very pleased. It's pretty spectacular stuff. Of course, we will keep tweaking and making everything better, but this world is going to come to life in an amazing way.
After that, we got a chance to see Yuja Wang at the Orpheum Theater. An amazing piano recital and a beautiful space, even if we were in the nosebleed section!
Casting — yes, I know that's what you want to hear about. I think we are very close to having our primary trio of Percy, Grover and Annabeth, but I can't announce anything until we have all the necessary approvals, deals are closed, etc. However long you think this process should take, it takes even longer than that. Be patient! Please don't pester Ashlee or Becky on social media. Ashlee doesn't know any more than you do, and Becky can't say anything more than I can. As soon as we can say anything, we will, but asking for news more often will not make the news magically appear more quickly.
Just a guess, I would say we are at least a couple more weeks away from being able to announce anything, and when we do announce the three main leads, we will probably announce them all at once (but that is JUST my personal guess). At the same time, we have begun the process of looking for our other actors. You know the ones: Sally, Mr. D., Chiron, Luke, Clarisse, Gabe, Mrs. Dodds, etc.  This is hardly a spoiler. It's basically all the characters from the novel The Lightning Thief. This search is in its early stages. We have sent out "sides" (script sections to read) to the agencies for some candidates to consider, but I haven't seen any casting tapes yet, nor is there any sort of definitive list of possibilities. Just ideas at this point, but very exciting ideas!
Script work is also coming along nicely. We have scripts for the first four episodes pretty much done, and are hard at work on the remaining four of season one. The writers' room continues, but now I have a much more impressive backdrop for our Zoom meetings. Here are some views from our new abode, Riordan Northwest: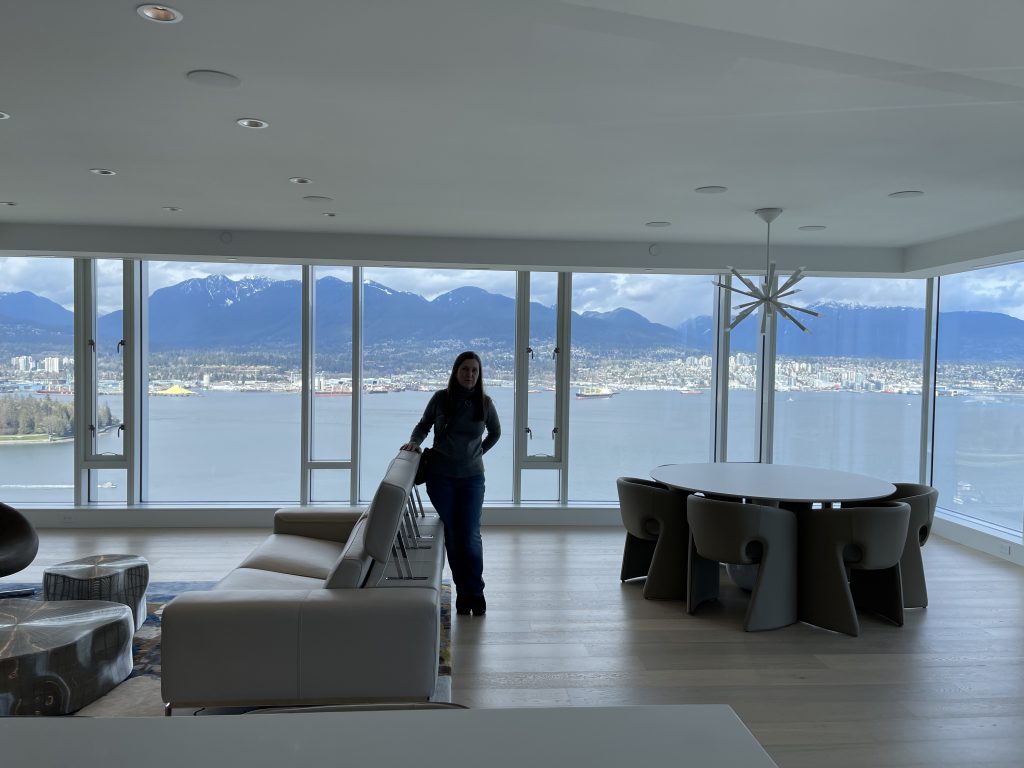 I know . . . we are pretty lucky.
In other news, the rights deal for Daughter of the Deep has finally, FINALLY closed, which means Aditi Kapil and I can get to work on the script for the feature film. Hooray! We will have our first meeting this week. My revision work also continues apace for the Nico and Will book with Mark Oshiro, which is on track for a 2023 publication date as planned. I'm a busy guy, but all these projects are super fun and exciting. In a few days, Becky and I get to head home to Boston to see our sons, our pup, and maybe even some Red Sox baseball. I can't wait. I hope everyone's April is off to a good start. More soon!