It has been another busy week so far at Athena House in Boston. There really isn't a 'typical' week for me. Every day brings a different schedule and new challenges, but I thought I could share a little bit about what my days have looked like recently.
Monday:
Our first work day since returning from Vancouver. (Although 'work day' is kind of meaningless, since I work seven days a week.) Every morning as I drink my coffee, I scan through the news. I have subscriptions to multiple online newspapers, because I like to get a wide range of perspectives. I read The New York Times (liberal bent), The Wall Street Journal (conservative bent), The Boston Globe (local news), The Guardian and the Irish Times (international English-speaking perspective), then La Repubblica and Corriere della Serra (Italian perspective). I don't watch TV news of any flavor because I find it too depressing.
Around 7AM, I begin reviewing a new draft of script 104 (meaning episode four of season one) of the Percy TV show and making notes for Jon, our show-runner.
After a few hours of that, I turn to the Nico and Will book, adding my contributions to a few more pages of Mark Oshiro's first draft. It's going very well, and Mark's draft is brilliant. It is a loooooong manuscript, though (*crumples up ball of paper, tosses it at Mark's head*) which will delight our readers, but does mean it is taking me a while. : ) While writing or editing, I often listen to music, but I can't listen to anything with lyrics as I get distracted, so I tend to stick to jazz. Favorites right now are Art Blakey and Red Garland.
Around 12:30, after a quick lunch, I join our Zoom session for the PJO writers' room, where we discuss episode five. The writers' room serves as a kind of brainstorming mosh pit, where we look at the section of the book we are adapting, deconstruct it to its basic elements, figure out how it will play on the screen, and then start putting the scenes back together again as a series of major 'beats,' or important moments. It reminds me of being in a literature discussion class. What is this character's motivation? What's the theme of the episode? We can spend days or even weeks talking about what a single episode should look like. Then one of the writers will go off to their secret Writer's Lair and start working on an outline, usually a 5-10 page overview of the episode. This is then circulated among the writers, the producers and the studio partners. Once everybody has agreed it's going in the right direction, the drafting of the actual script begins. Next on our schedule is creating the outline for 105.
Around 2:30, I take my afternoon nap. ZZZ. It is a great luxury to be able to take a nap in the middle of the work day. I've learned that this recharges my creative batteries and helps me make it through the rest of the day.
At 4PM, I would normally get on Zoom and work out with my personal trainer. He has been meeting with me three times a week virtually since the pandemic started. This is a great system, as I only have to stumble upstairs when I am done to take a shower, rather than trudging back through the streets of Boston. Unfortunately, at the end of last week I broke a toe in the stupidest possible way, by dropping my iPhone on it, so I spent the afternoon with my foot up on a pillow and an ice pack.
In the evening, I do my Italian homework for tomorrow: read a chapter from the original version of Pinocchio and be prepared to discuss (in Italian, of course).
After dinner, Becky and I chill for a while watching one of our recent TV shows. We've been enjoying Resident Alien, Raising Dion, Star Trek: Discovery, Around the World in Eighty Days, and Emily in Paris, among others.
I always read before bed to wind down from the day. Right now I am alternating between three books, which is pretty typical for me: The Vagrant, a sci-fi novel by Mark Newman, The Cruelest Month (Inspector Gamache #3) by Louise Penny, and Il Paradiso by Dante. (I made it to Heaven, guys! It's super boring here! But the poetry is beautiful!) I  am usually asleep by ten or eleven, lulled by the soothing medieval Tuscan of Il Maestro and the snoring of Speedy at my feet.
Tuesday
After a cup of coffee or two and a look at the news (ugh. still depressing), I start at 9AM with my weekly Zoom lesson with my Italian teacher in Florence. We spend the hour discussing Pinocchio, the latest headlines, and anything else that comes to mind. The point is to keep me fresh with the language. While I haven't been able to travel to Italy for several years for obvious pandemic reasons, my Italian now is probably better than it's ever been. I am somewhere in the C1-C2 range. No one would ever mistake me for a native speaker, but I can understand Italian media pretty well and can hold my own in a conversation. Grazie, Alberto!
A disturbing illustration from the 1920s edition of Pinocchio. 'Gee, Rick, why do you put such horrible things in your children's books?' Your occasional reminder that children's books have always been terrifying.
At 10:30, I have a meeting with some contractors who are going to repair our roof over the summer. Because we don't have enough else going on. The roof deck is over ten years old though, and it has taken a beating from the Boston summers and winters. When holes started appearing large enough to swallow our dog, we knew it was time to get it redone.
12:30: Back in the writers' room for another discussion about episode 105. Also, two people in the room are expecting babies this summer! Hooray for PJOTV babies!
In the afternoon, I review a new version of episode 102 from Jon, make some suggested tweaks, and send them back. We are constantly revising every episode, trying to capture that Percy tone and voice. I am sure we will be revising right up until the moment the lines are filmed, and maybe even after! Just like with a novel, the script-writing work is never really 'done.' It's just 'due.'
Before dinner, I reviewed another batch of audition tapes for Grover, sent from our casting director Denise. There is a handy online system called 'CastIt' where I can easily access the links and review the tapes as needed (with the proper access info, of course). Denise and her team screen through thousands and thousands of submissions for each role — I think we had something like ten thousand unsolicited tapes for Annabeth? Then she sends us what look like the most promising choices. No decisions have been made, as I said earlier, but we are getting closer. There is a lot of talent out there!
Around 6PM, my sons are done with work and graduate school. They come over for a typical Riordan family dinner, playing Scrabble and eating homemade pizza compliments of Becky. Afterwards, we chat about everything that's going on before Becky and I kick back for another evening of reading, TV, cuddling the pets, and answering emails (not necessarily in that order).
Wednesday
In the morning, I finish up my revisions of episode 102 and send them back to Jon. We also send the revised version of 104 to the studio for their approval. Next, we'll be taking another pass on 103 to streamline the action and smooth out the dialogue, while continuing to work ahead on 105.
No writers' room this morning, since Jon and Dan are on set finishing shoots for their most recent show The Old Man with Jeff Bridges. Meanwhile, I work on the Nico and Will book, then send Dan Hennah some thoughts on set designs for Camp Half-Blood, Aunty Em's, and other Top Ten Places to Visit in The Lightning Thief.
The weather is warm enough to take Speedy for walk, and the dog goes bonkers. She loves walks. She hates winter. She refuses to wear her coat. It's a tough life for a Boston basenji. On the bright side, she does find Olaf in the Public Garden.
During lunch, I finish reading Canto VI of Paradiso. 
In the afternoon, Becky and I have a Zoom meeting with the core PJO production team and our director James Bobin to begin the conversation about adult casting for the series. The most important job, of course, is to cast our core trio of Percy, Annabeth and Grover, but very soon we will begin looking at the other roles like Sally Jackson, Chiron, the gods, the older campers, the monsters, etc. There are many considerations here: Who is available? Who is right for the part? What will it cost? How can we schedule the filming so that the recurring characters can do all their sections at once? It's quite an eye-opener, seeing firsthand how many variables you have to juggle to get a cast in place. And we are supposed to start filming June 1! Very grateful that we have a team of seasoned pros working on this process. Some exciting names have been batted around as ideas, but right now that's all they are — just ideas.
I am not on social media anymore, thank the gods, but Becky tells me there has been some discussion about who might play what role, and if there will be anyone from the movies in the TV show. Short answer: I have no idea. We have had zero discussions about this. But: There were some very fine actors in those movies whom I feel terrible for because they had to be associated with those movies. I would never ask them to revisit that nightmare, especially when so many have gone on to wonderful, successful careers. Also: The whole point of the PJOTV is to do it fresh, do it anew from square one.
That's just my own personal opinion. The choosing of the cast is a group decision, and the studio must have final approval on whatever names we put forward. Here is an exclusive look at my private notes, though, doodled while discussing who we should hire for PJOTV:
That's a joke. Well, mostly a joke. 
In the afternoon, I am able to work out again despite the broken toe. My trainer is very good at finding ways to make me work hard no matter what injuries I may have. (Hooray?) Despite my grumbling, it feels good to get back in the gym. I have told our Hollywood partners that I view the film/TV business very much like a workout. It's not something I will ever enjoy, but on my better days, I will grudgingly admit it might be worthwhile, and it always feels great when I stop.
That evening, Becky and I spend some time researching where we might stay in Vancouver this summer. (Anybody got a spare couch?) We make travel arrangements for our next trip to the West Coast. I make a quick visit back to Tartarus to check on Nico and Will. I review some more casting tapes, then do some reading before calling it a night.
Thursday
Here we are on Thursday. We have contractors in the house, which makes it a little tough to concentrate, but Speedy and I are holed up in my office doing our best. The latest draft of episode 102 is now in the hands of the studio. We won't have the writers' room today, but I suspect we'll be back at it next week. In the meantime, I anticipate having more revised pages of 103 to look at over the weekend. We will be moving to outline on 105 soon, but it's strange to think that the episode probably won't actually be filmed until next fall. We will need June and July mostly just to get through James Bobin's block, which covers episodes 101 and 102.
On my agenda today:
Revise the Nico and Will book some more. (Only 243 pages to go! I got this!)
Have some conversations with folks in Vancouver to nail down our travel plans and living arrangements.
Follow-up on the casting conversations from yesterday and provide feedback on the most recent audition tapes we watched.
Write a blog post to update you all. (Wait. I'm doing that now!)
Take a nap.
Try not to break any more of my toes.
It's quite an agenda, but I'll do my best.
While all this is going on, I've also been working on various upcoming projects for the Rick Riordan Presents imprint.
Among the many other books that should be on your pre-order list:
OMG this book. Read my Goodreads review and see what I mean.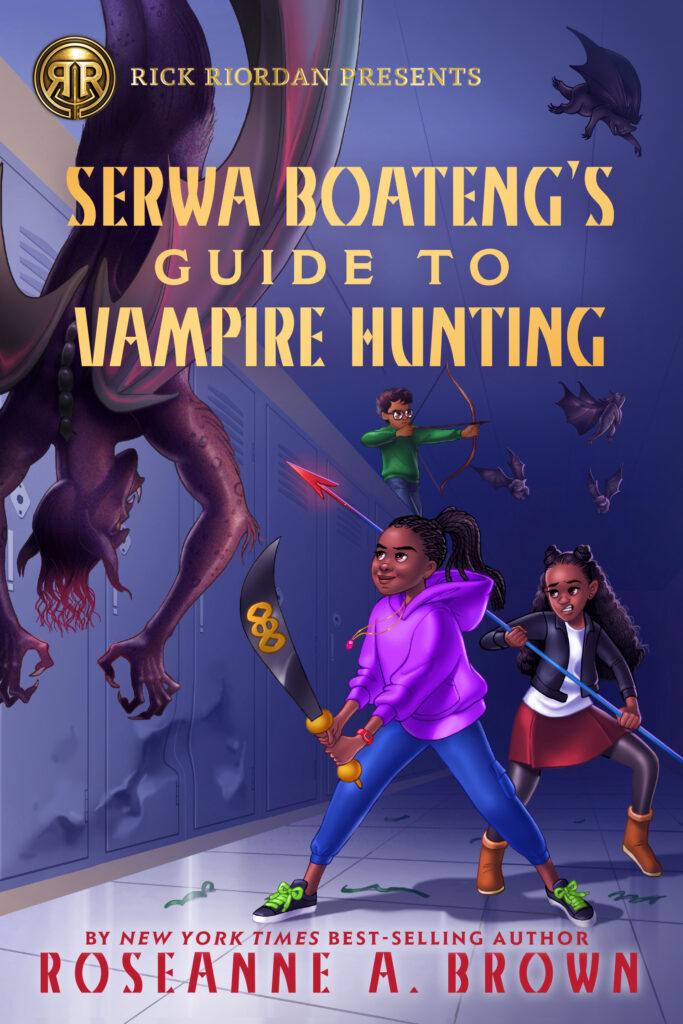 And THIS book! (Screams with excitement.) Here is my Goodreads review to give you a taste.
More great titles are on the way, so stay tuned. And now I am off to — checks 'to do' list — not break my other nine toes. Have a good rest of the week, everyone!