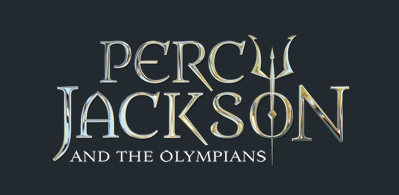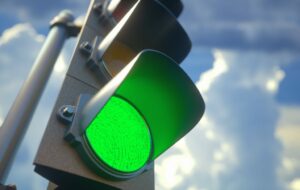 As you might have heard, Percy Jackson and the Olympians got the official green light from Disney+ this week! Here's my announcement video below.
This is great news, obviously, and we couldn't have done it without the enthusiasm and support of millions of Percy fans making themselves heard. Thank you for that! Becky and I will be involved at every step of the process, making sure this is a show we think you'll be proud of. Also, huge props to our great development team, our show-runners, and our partners at 20th TV Studio and Disney+. Everyone has been incredible to work with, and it's wonderful to be part of a group committed to a common goal of doing PJO right! Becky and I have now been working on this project for over two years. It has become a full-time job that I never envisioned having or wanting, but I have learned a lot, and if the final product is a great show, it will have been worth it.
So what's next? There's an old Zen saying: "Before enlightenment, chop wood, carry water. After enlightenment, chop wood, carry water," the point being that enlightenment is great, but it doesn't change your daily work. The same is true here: Before green en-lightenment, tons of stuff to do. After green en-lightenment, still tons of stuff to do.
Just to give you an idea, here are some of the agenda items we are working on, and please remember that these are my own opinions, guesses and insights as someone who has never gone through this process before. What I say should not be taken as 'official' word, nor I do not speak for the show as a whole, or the studio, or Disney, etc., etc.
Scripts:
Our writers' room continues to meet every week, and I am always in every meeting. The team continues to be absolutely wonderful. We have delivered the first four scripts (which is what we needed for the green light) and are now working on some revisions based on the studio's feedback. The executives had really smart comments, and it's always good to have fresh sets of eyes on the scripts. We are also moving ahead to outline the remaining episodes of season one. A large part of this spring will be spent finishing up the season one scripts. I can tell you with 100% confidence that this season follows The Lightning Thief faithfully, although we're adding a lot of interesting nuances, depth, Easter eggs and backstory that will keep the story fresh and fun even if you know the books inside and out. Everyone in the writers' room is a fan of the books — thank the gods! — and the best part of our job is when we think of things that make the other writers squeal with excitement, because as book fans, it is something they want to see on screen. You have a lot of advocates in the room, demigods, including me.
Casting:
As previously announced, we have launched into the audition process for the three main roles: Percy, Annabeth and Grover. The perfect trio has to be found first, as that will inform a lot of the other casting choices. It's not just a matter of finding a great actor for each role. It's a matter of finding a group of great actors that have good chemistry when they act together. That process is on-going, but we are making good progress. Don't expect any announcements on that front for a while. I would guess it'll be several more months, but that's just my own estimate.
Other casting: We've only started the earliest brainstorming about this. I am not on social media anymore, but there was some chuckling yesterday in the writers' room about posts they saw on various social media, claiming "official word" of this person or that person cast as this role or that role. Nope . . . not so much. Those conversations have barely started. No decisions have been made.
I understand some folks have been asking about open casting for ancillary roles. This is just my guess, but I doubt that is going to happen. There are so many young actors out there who have already made the hard choice to try professional acting, and have put in countless hours honing their craft, have done the legwork of getting an agent, etc., etc., that we will have no shortage of diverse and talented agented actors to choose from. As I've said before, acting is a hard job. I couldn't do it. I have great respect for those who do. My advice to those who want to act would be the same as to those who want to become writers: Put in the work. Get serious about it. Only submit something when you've made it the best it can possibly be. Then get a reputable agent. That's the first big sign that someone in the business takes you seriously, sees your talent, and will advocate for you getting roles. Don't expect anyone to pluck you out of obscurity and give you a job. There are no "overnight successes." Every overnight success (including me, including every successful writer or actor you can think of) labored for years behind the scenes, trying to get better at what they do, with no guarantees they would ever 'make it.' Is it possible? Sure! But it's also hard, unglamorous work with no guarantees and no short cuts. At any rate, I will keep you posted when I know anything else, but I imagine we are quite a few months from any additional casting news.
Oh, and one other thought. If you're wondering about characters like Leo or Jason or Hazel or whoever . . . Dude. That is six books away (meaning six years of production away) at the minimum, if we even get to adapt a Heroes of Olympus spin-off, which would be fantastic, but which we haven't even discussed yet. You don't even meet Nico until season three of PJO. Olympus and Disney willing, we will get to produce the entire five-book PJO series as five seasons and then have those types of discussions, but that depends on how many of you tune in to watch the show, right? We'll do our best to make it great viewing. : )
Production:
As I said in previous posts, our plan is to begin filming in Vancouver this summer. From now until then, lots is happening to get ready. A stage is being built. Production designers are hard at work imagining what Percy's world will look like and bringing it to life. Visual effects teams (some of the best in the world) are designing the monsters you will meet in season one. Costume designers, composers, and all manner of important folk are being hired. It's pretty 'dam' exciting, if I do say so myself. (Had a glorious conversation yesterday about what Chiron's sweater vest should look like.) Becky and I will be in Vancouver for the entire process, so never fear! We will continue to advocate for the fans and make sure everything keeps humming along like a well-oiled bronze dragon.
Another thing I've said before: making a TV-show is a team sport. Yes, Becky and I are executive producers, and we have a great deal of input in the process, but it would be misleading to say I have "total creative control." On a project this big, no one has "total creative control." We work together as a team to figure out the best way forward. What you will see is not just my vision, but the vision of the team as a whole. I can, however, tell you that we feel great about the direction of the show and I think you will too. There will always be differences of opinion, of course. Will every viewer approve of every choice we make? Human nature would indicate that isn't possible. But you are going to see Percy Jackson. You will be immersed in his world. You will recognize the stories you know and love.
This is a massive project. It is one of the biggest shows the teams at Disney have ever produced — and that is down to you all, the Percy fans! They know you are important, and they want to do right by you! I will keep you posted when I know more.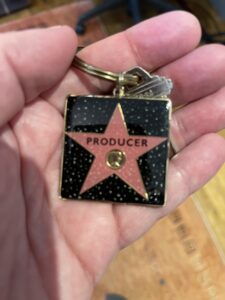 See? This is my keychain that I take with me whenever I go to Los Angeles to prove I am legit. They only give you these when you become an official Hollywood producer (or you can buy them at the LAX gift shop).
Other Thoughts:
What about animated content? I get this question a lot, and it's certainly something I have thought about. I love animation. My family all are massive fans of Japanese anime. At some point, I would love to explore animated adaptations of my worlds. But this inaugural PJO adaptation is live action because that's the way I wanted it. I felt strongly that this is where we need to start. Is it harder and more expensive? Absolutely. But my personal feeling is that live-action, rightly or wrongly, carries much more heft and cache, and gets a lot more attention from general viewers than animation. Again, if the PJO series does well — and we have every expectation that it will — then many other things are possible. But that is all to be determined.
What about other projects? We are zeroing in on a revision writer for the Kane Chronicles script at Netflix. Everyone still feels great about the project. We just need to polish up the script for The Red Pyramid a bit more to get it in shape to send to potential directors. Just a guess, but I'd say we're a good six months away from getting that second draft done and to directors for consideration. Maybe less? We will see. This will be a live-action feature film for Netflix. If it does well and a bunch of people watch, then the hope is to do the other two books in the trilogy as well. Fingers crossed!
Daughter of the Deep: We are waiting on the final rights agreement from Disney before we can start writing the screenplay. There is nothing particularly difficult about these negotiations. It's all pretty standard. And yet, it does show you how long things can take! We have been trying to get this rights contract finished for almost a year — longer than it took to write the book — and until it's done, we can't start working on the script. I think we're close, though. The Nautilus has been underwater for over a century. I guess she can wait for a few more weeks before surfacing.
That's it for now. Until next time, keep reading and support your local demigods!