It's been a year, hasn't it? We've all had our share of challenges and interesting times. But as we close out 2021, I have a lot to be grateful for, a lot to be optimistic about, and a lot of new experiences to cherish and learn from. Here's a recap!
Rick Riordan Presents
I am infinitely grateful for the opportunity to work with and promote so many wonderful authors, and also grateful for the booksellers, educators, librarians and readers who have embraced and supported the imprint's mission. As we close out 2021, the imprint has three million combined books in print (and we only started publishing in 2018!), thirty-five combined starred reviews, and fifty-six combined weeks on the New York Times bestseller list. That is exceptional. Our year also included The Cursed Carnival and Other Calamities, a short story collection which made every contributing author a New York Times bestseller if they weren't already! Next year, we will have even more wonderful stories coming, including Yoon Ha Lee's second Thousand Worlds novel TIGER HONOR, out Jan. 4!
Join Yoon at a virtual tour date and pre-order the book! You'll be glad you did. (Artwork by Vivienne To)
Also in 2022, we'll have our first foray into Young Adult territory with Daniel José Older's Ballad and Dagger! Have you seen the incredible cover art by Irvin Rodriguez? Get excited for this book. VERY excited. Publication date: May 3. You can pre-order now!
Daughter of the Deep
It was so fun to adventure into science fiction territory with my standalone novel Daughter of the Deep. Pictured above is the French edition, artwork by the brilliant Khadijah Khatib. Thanks to my readers for making it an instant New York Times bestseller! I look forward to starting work on the screenplay next year with Aditi Brennan Kapil. It's going to be a blast!
Here's some artwork Orpheus Collar did for us to celebrate the fact that the book will be turned into a Disney+ feature film. (Again, the film will be live action, not animated. This artwork is just for fun!)
More time with Nico and Will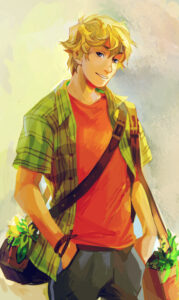 This has been the first year that I've ever tried to actually co-write a book with another author, and it's been an amazing adventure, even though we are still very much in the midst of it. When I decided to write a novel focused entirely on Nico di Angelo and Will Solace — which you all have been asking for more than any other project — It was super important to me that I work as equal partners with an LGBTQ+ writer who could bring their skills, experience and perspective to the story, because Nico and Will deserve no less. Mark Oshiro is a wonderful human being and such a talented writer: it has been an absolute delight to work with them and see what they've done for this story we designed together. The manuscript is in my court now. I am doing my draft, adding my voice and ideas to Mark's, so in the end you will get a novel that is, I hope, fully mine and also fully theirs. I feel so grateful and lucky to spend more time with Nico and Will. I hope you'll feel the same! The book is scheduled for release in 2023, and we will post more details when we can: exact date, title, etc. But this is definitely a reason to look forward to the future!
The Second Year Working on PJOTV and Kane/Netflix.
How has it been two years since we began working on these projects? In some ways, it feels like yesterday that Becky and I gritted our teeth, took a deep breath, and flew out to Hollywood to try re-engaging with an industry I had pretty much given up on forever. In other ways, it feels like it's been a long time, and I know it's felt like that to many of you who are waiting for news!
Looking back on 2021, however, I have to appreciate how much progress we have made and how much we have learned. It's hard to understand how an industry works until you are inside it. I've known this for years about publishing. Most people, even avid readers, have no clear idea what is involved in making a book — how many people it takes, how much work and time it requires, how many manuscripts never see the light of day for every book that makes it to publication.
I have spent the last two years learning about the film industry from the inside, and while I still have tons to learn, I have developed a much greater appreciation for the complexities of getting a film or TV project off the ground. It is truly a staggering amount of work. Becky and I are enormously grateful for the partners who have guided us through this process, because it is not easy to bridge the gap between the publishing world and the film world. Different cultures, different languages, different ways of constructing a story. I get now how easily an adaptation can slide off the rails, for any number of reasons, but this only makes me feel more fortunate about the team we have in place on both Kane and Percy Jackson, who are working with us in a shared vision and in good faith to make adaptations that will please both readers and general viewers, that will be faithful but also fresh and pleasantly surprising no matter how well you think you know the books.
This is going to be just repeating myself mostly, because it's really all I can share at this stage, but we are working on finishing the first four scripts of season one of PJOTV, which follows the narrative of The Lightning Thief. These are due to the studio early next month so we can (hopefully) get approved with a full green light, which will let us gear up for full production and start filming probably next summer. The writing is going very well, thanks to the work of our fabulous writers' room and our tireless show-runner Jon Steinberg. Our partners at Disney Studios and Disney+ have been enthusiastic, supportive, and just basically wonderful to work with. It's not easy work, no, but it is going about as well or better than I could possibly have expected. After the last two years of working behind the scenes to get this show off the ground, I am optimistic that 2022 will be the year it kicks into high gear and actually gets made. Casting for the main roles of Percy, Annabeth and Grover is underway, as I said in my last post. Nothing is decided. Everything is still very much in progress. There is a website to submit unsolicited tapes. If you choose to do that, please follow the directions and note the advisory on the webpage that you should not expect a personal response or confirmation due to the high volume of submissions. I understand some people have reported the mailbox being full. The casting department is checking on this, but I am told tapes ARE still being received. Also, please remember it is the holidays and the film industry folks will not be back at work until late next week at the earliest.
Over the last year, I have also gained tremendous respect for the people who work in casting, the agents who represent actors, and of course the young actors themselves. It takes such courage, commitment, hard work and determination to put yourself out there and decide you want to be a professional actor, especially at such a young age. I am in awe of those who can do it. I never could. I am reminded of when I went to college, thinking I was going to be a professional musician. I arrived at North Texas State (renowned for their music program) thinking I was hot stuff because I could strum a guitar and sing. My friends and family told me I was talented. I had an audition, and after two minutes, the guitar professor said, "You're not there. Sorry. You don't know your basic scales. You don't know music theory. You don't have the chops." I thought I was going to school to learn those things! I was barely eighteen! Turns out, anybody who was really serious about the getting into that music program had already spent most of their lives toiling to perfect their craft. I was a dabbling amateur like thousands of others. That hurt, but it was a dose of reality I needed to hear. My respect for a lot of the actors we've seen is that they (and their families) have made a serious commitment to put in the work. They have a singular drive and sense of purpose. That's not easy, and it's not for everyone. Like I said, I couldn't do it!
As I mentioned earlier, you shouldn't expect any big news until the first part of 2022 at the earliest, but when I do have something solid I can share, I will!
In My Free Time
As for my personal adventures, I have been able to take two amazing diving trips this year, to St. John and Iceland. I have continued my lessons in Italian, including reading my way through the original text of Dante's La Divina Commedia. (I am about halfway through Purgatory now.) I have read a lot of other great books, too. You can follow my reviews on Goodreads, if you wish. I also marked my first full year completely free of social media (a year and a half total, and counting). That's a commitment, too, which isn't for everyone, but it has been incredibly freeing and refreshing for me, and I am very grateful to Ashlee Latimer for overseeing my social accounts, along with Becky. It's amazing how much more bandwidth I have now for things that I want to do: reading, writing, learning, exploring and being with my family!
I wish you all a healthy and happy New Year, filled with books you enjoy!