The front of Tropical Storm Henri, that is, which is scheduled to pay us a visit tomorrow. We are thinking about all our friends on Long Island, in Camp Half-Blood or otherwise, because that is where the storm is scheduled to make landfall as of this writing. Stay safe, everyone! Right now in Boston, however, the skies are clear and the weekend is in full swing, so here is your news of the week.
The Meeting about Percy Jackson
Now I know some of you will be speeding through this page, not caring about anything that isn't related to PJOTV, no matter how small and vague the news, and while I understand your interest, STOP! RESIST THAT URGE! Because I need you to help me celebrate books first. Books always come first. And yes, I just fooled you into reading this paragraph.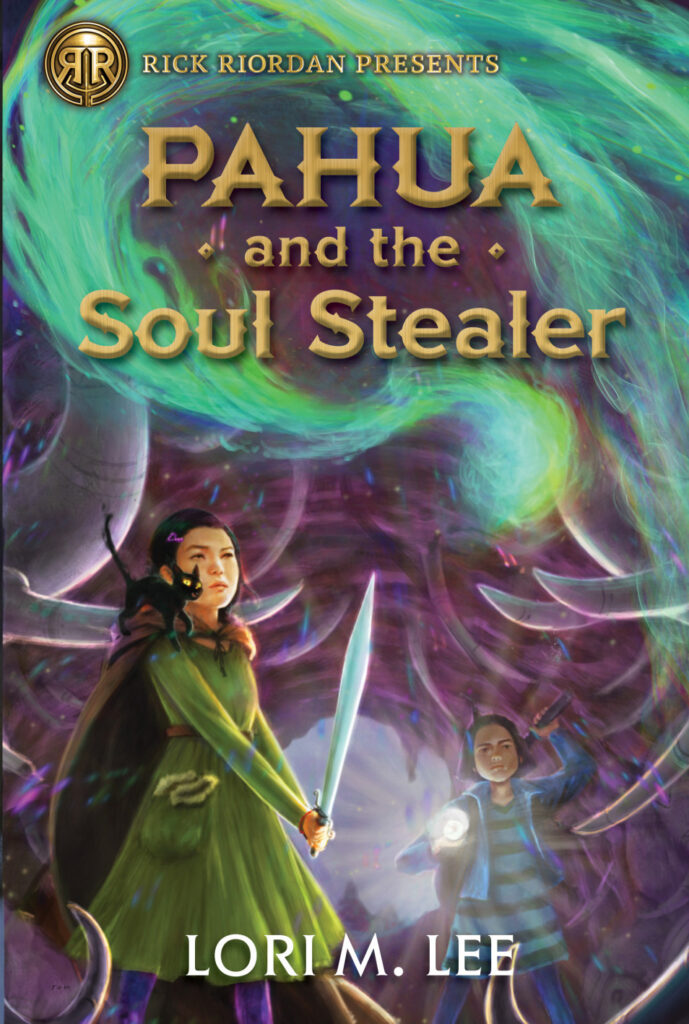 Pahua and the Soul Stealer is our next amazing title from the Rick Riordan Presents imprint, coming Sept. 7. Lori M. Lee takes you into the fascinating world of Hmong mythology. I didn't know much about this subject before, but WOW, what a mind-blowing adventure! You can read my Goodreads review here. Pre-order and find out more here!
Daughter of the Deep: If you haven't yet signed up for an October tour event yet, you can do so here! These are virtual events, so you can participate from anywhere in the world. Among other highlights for each event, I will be sharing parts of my interview with Bob Ballard, famed ocean explorer and discoverer of Titanic, who was kind enough to read Daughter of the Deep and offer suggestions. We will also share some amazing stories from under the ocean (different content at each event) and, yes, I will update you on the latest TV/film adaptation news from Percy, the Kane Chronicles, and Daughter of the Deep, all of which are underway at various early stages of development. You'll also get a signed copy of the book and a Harding-Pencroft Academy t-shirt shipped to you, so you can amaze and impress your friends!
Francis Discovers Possible
Also, our wonderful colleague Ashlee Latimer, aka social media director for the Riordanverse, aka Mx. Thief, has a gorgeous new book coming out in May 2022, Francis Discovers Possible, which you absolutely need to read. It's a beautiful picture book about self-acceptance and finding joy in a world that doesn't always make that easy for kids who are different: heartwarming and uplifting — two qualities we all need more of these days. Read more here and pre-order a copy!
Okay. Now about that meeting concerning Percy Jackson . . . We had a very positive conversation yesterday (Friday, Aug. 20) with the top executives at the various branches of the Disney television organization: Disney Entertainment, Disney TV, 20th Century Studios and Disney+ . This was the first time all of us had been in the same room (well, Zoom room) so we could make sure we were all getting the same information and sharing the same goals. Having everyone together to align our visions for the show was extremely helpful, and I think a lot of confusion was resolved (speaking for my own confused self, anyway!). The good news is: the leadership is "all in," as they put it, about making this show and doing it right. A lot of them have kids who have grown up with Percy Jackson, too, so they get it. They get that there are millions and millions of you out there who are waiting excitedly to see Percy Jackson come to life in a new way. We felt supported and heard, and I am more confident than ever that this show is moving forward as it needs to. You all have made a difference. You always do. Showing up on social media, sharing your excitement for the show: Disney sees you. They have heard you and they want to do right by you Percy fans. That, for me, is priority one, so I am happy!
Caveat, as usual: We still do not have an official green light. I did not expect that from this meeting. We do, however, have clear marching orders about what the execs need to see from us in order to grant that green light, and we are working to get them those materials. Again, this is all totally reasonable. This is a BIG show, and everybody needs to be sure we have our plans in excellent order before we hit the accelerator. In the meantime, we are all moving ahead with the assumption that this show will get made. The writers' room has sketched out the first season episode by episode, scene by scene so we can start talking about creature work and production design while we work on getting the rest of the scripts for the season finished. (That job will take months still.) We are beginning to discuss locations for filming. We are close, I think, to having a deal with our pilot director. I would not be surprised if we can start talking about next steps in the casting process fairly soon, but I can't give you anything certain on that front. We talked about a lot of super exciting possibilities in terms of how and where this show will be made, but nothing is set in stone yet, so I can't say anything else right now.
Bottom line: This is good news. We still have a lot of work ahead of us, and you all will still have a long time to wait, but Percy is a step closer to the adaptation we all want. I had mentioned at one point, maybe a year ago, that the absolutely most optimistic guess I could give you about when this show might air would be 2022. That was, as I suspected, too optimistic. Right now, we are aiming for 2023 delivery. which I think is realistic, but this is my own personal estimate and should not be taken as a firm date. A lot of things have to happen before we can even start filming! The best I can tell you is that Becky and I will stay involved at every step of the process, and we would rather do this right than rush to do it quickly.
Percy facts and figures
As we were preparing for this meeting, we were pulling together a lot of info on the history of the Riordanverse in publishing, just so we could give our partners on the film side some idea of how big Percy was. Turns out, we didn't need to do that. The execs already understood. But, in case you are interested, here are some things we found out. Some of this I didn't really know either, or hadn't fully appreciated.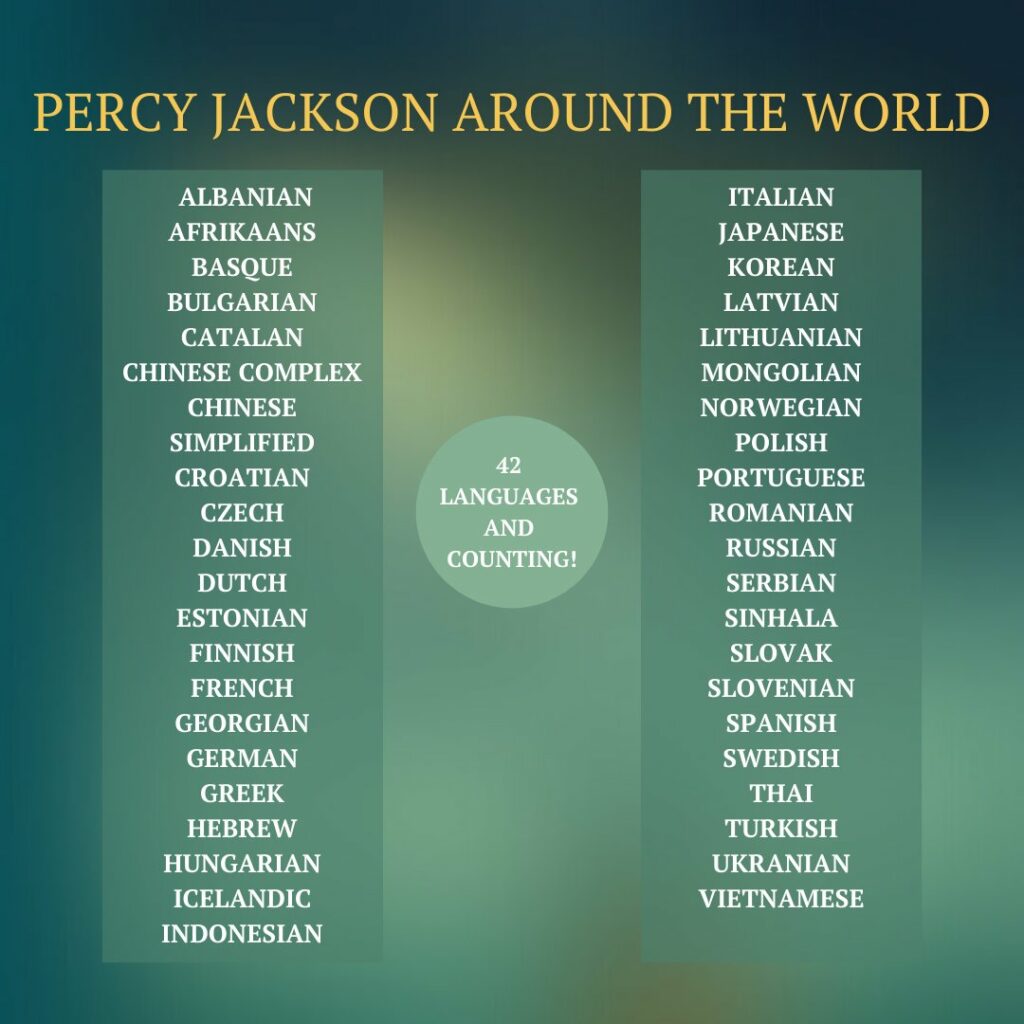 Thanks to Ashlee for sharing this graphic on social media: Percy has been published in 42 languages besides English, and is a bestseller in every major market around the world.
The Riordanverse (Percy and all related Riordan titles) has now sold 180 million copies worldwide, and that does not account for copies shared among friends, read aloud in classrooms, borrowed multiple times from libraries, passed from one generation of kids to the next. There are quite literally hundreds of millions of Percy fans in the world!
Percy Jackson and the Olympians has now spent over eleven years total on the New York Times children's series bestseller list.
Since publication of the Lightning Thief, book sales of the Riordanverse in North America alone have generated more revenue for Disney Publishing than the entire world box office gross of the two alleged Percy Jackson movies generated for Fox.
Given all that, it's not hard to make the argument that a proper PJO TV adaptation is warranted, and I'm delighted that Disney leadership agrees! I will of course keep you posted as much as I can, demigods. Enjoy your weekend and stay safe!