Hello, all! First things first: if you have not yet gotten a copy of Tehlor Kay Mejia's Paola Santiago and the Forest of Nightmares, it is now out, and you owe it to yourself to READ!! I will be joining Tehlor for a virtual event next Tuesday, Aug. 10. I hope you can join us!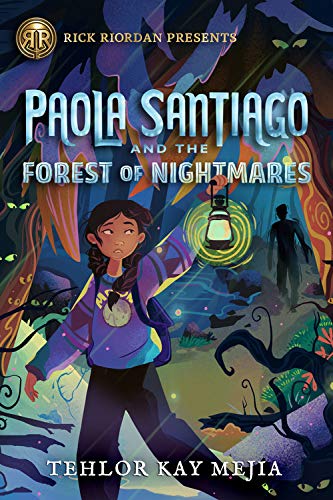 Also, if you have not yet signed up for a virtual event in October to celebrate the release of Daughter of the Deep, now is the time!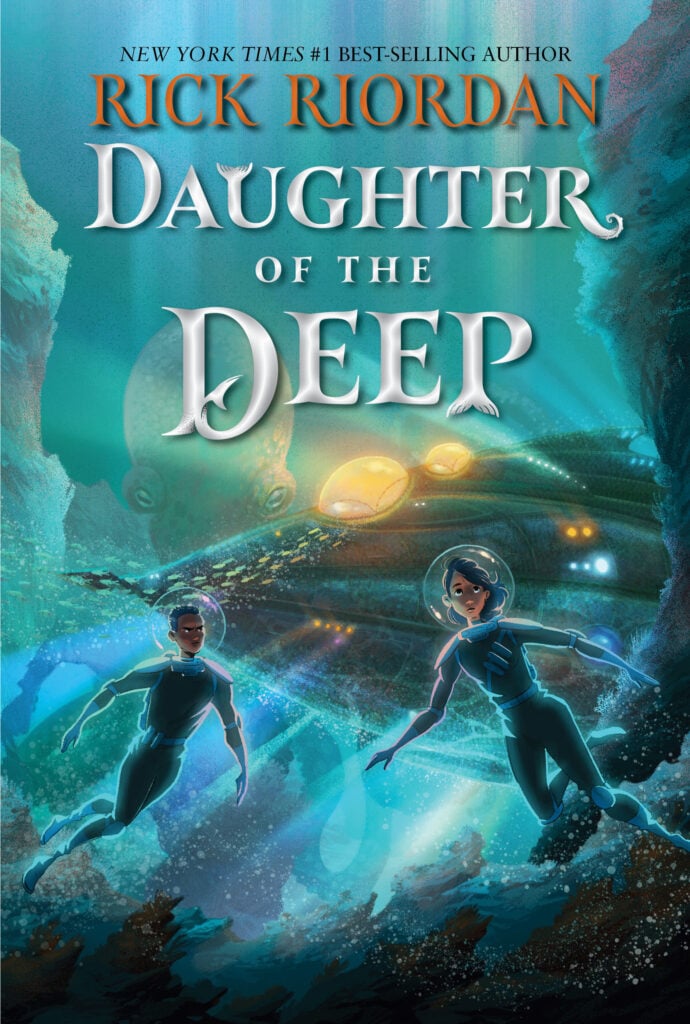 We will have a ton of special content at each event, including Q&A, and everyone who signs up gets a Harding-Pencroft Academy T-shirt along with your signed copy of the book! Which brings me to my next update . . .
Iceland!
Continuing my aquatic-themed travels in preparation for Daughter of the Deep, I just spent a week in beautiful Iceland with Becky and our younger son Patrick. While there, I got certified for drysuit (cold water) diving, and dove in one of the most incredible underwater sites in the world.
We spent most of our week in the capital Reykjavik, which is a beautiful and fascinating city. We visited half a dozen museums — all of which were great. I would particularly recommend the Perlan, with its man-made ice tunnel, and the Culture House, which has a fabulous collection of art.
Here is the view from the observation deck of the Perlan Museum, which gives you a 360-degree view of the capital: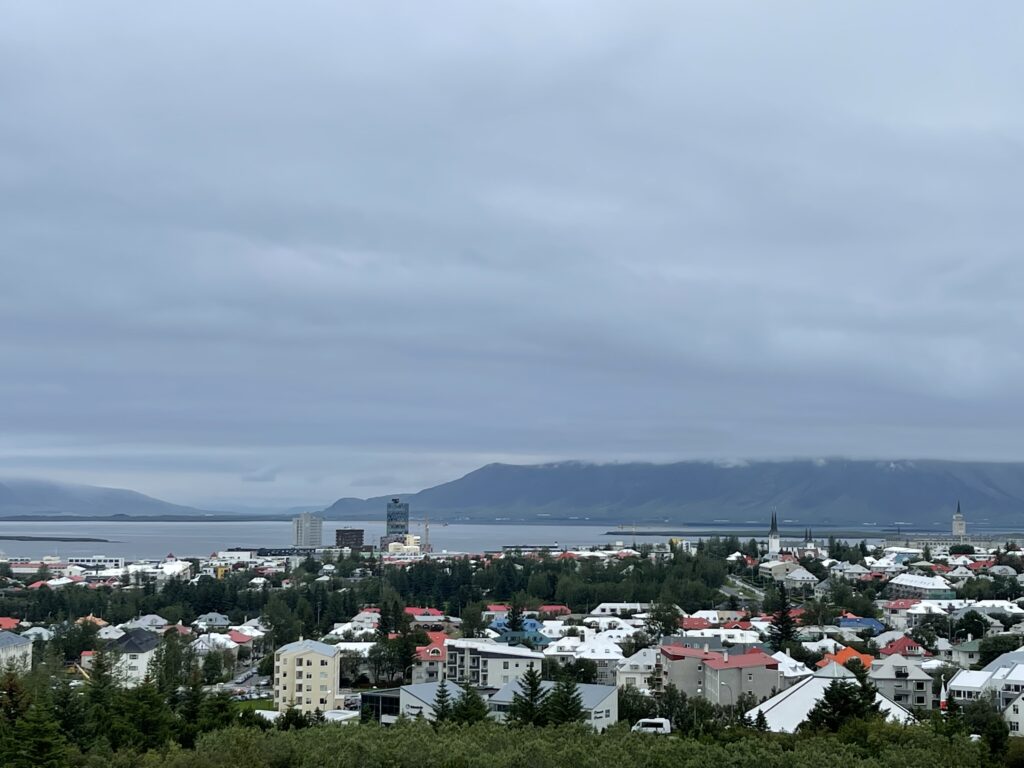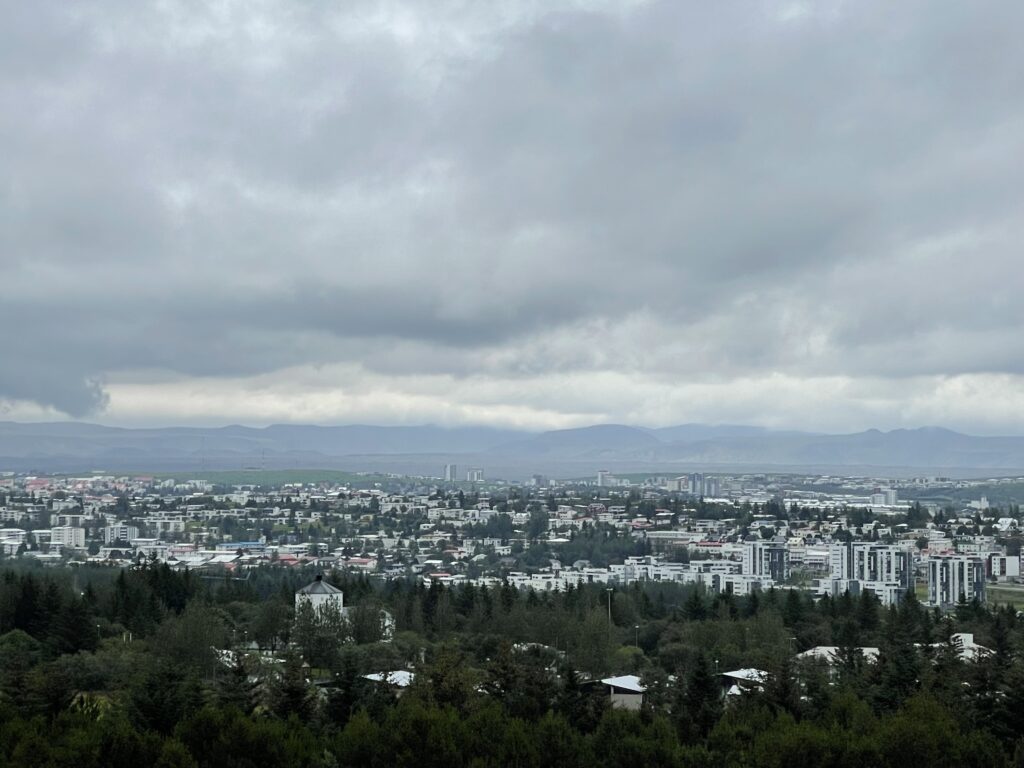 We also visited the local zoo, which was more of a working farm dedicated to domesticated and native wildlife. We loved the arctic foxes and the minks: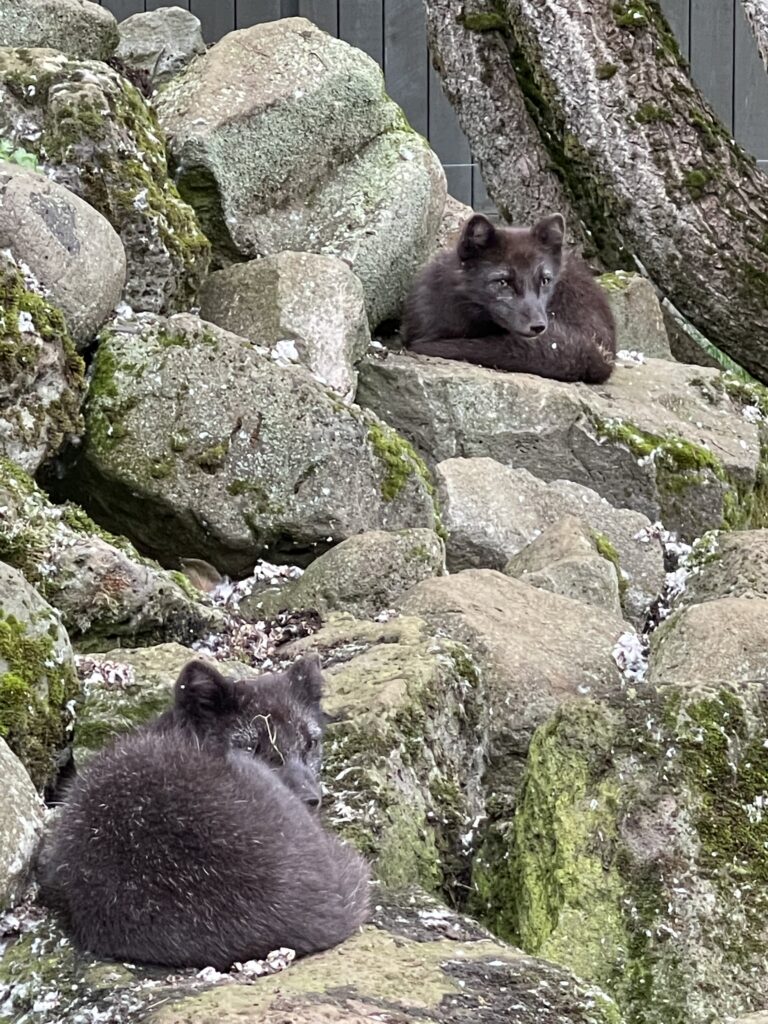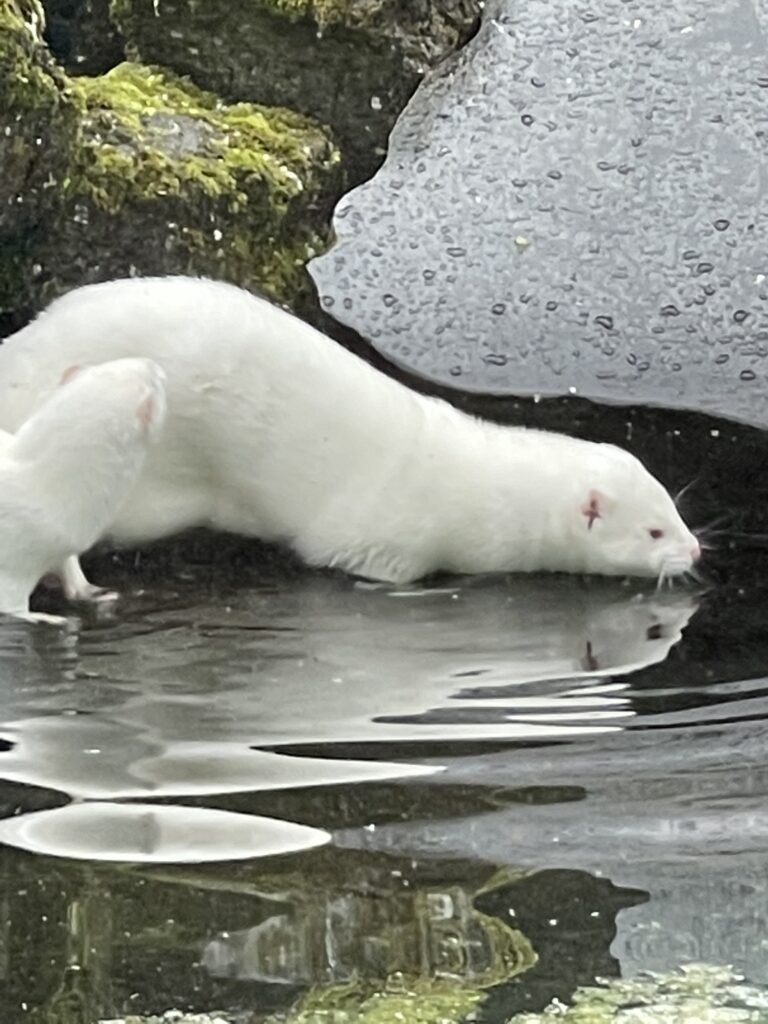 And we found a Trojan Pig . . . not sure what the story behind this was . . .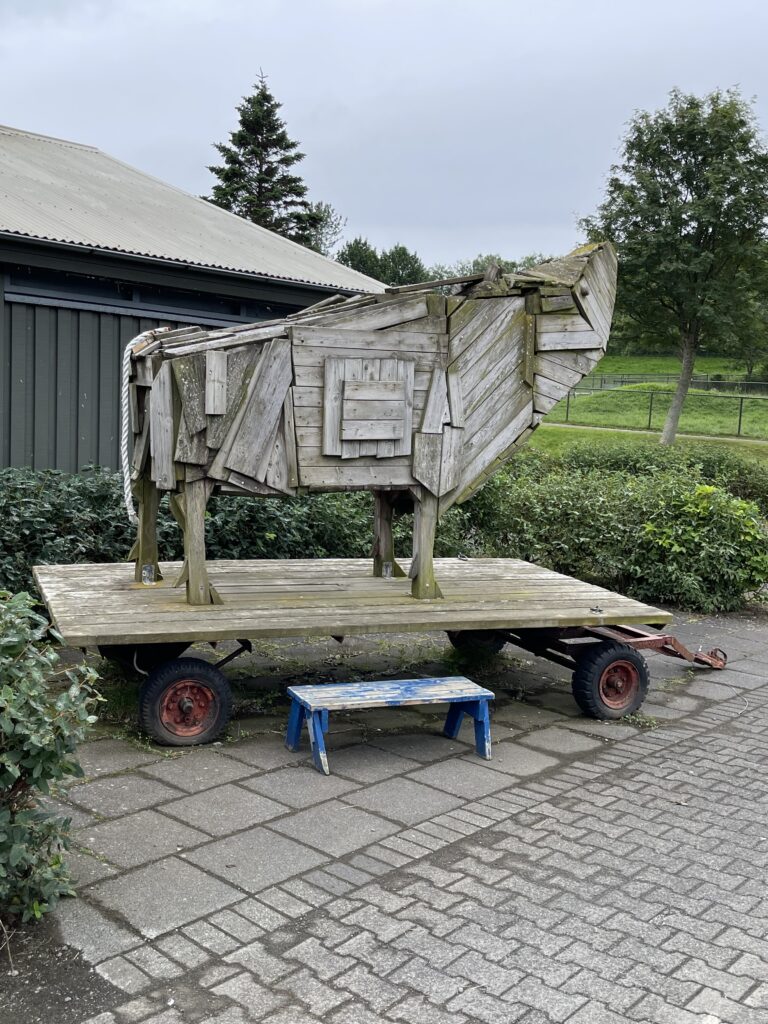 The weather was beautiful all week, which made for a lovely walk in the botanical garden: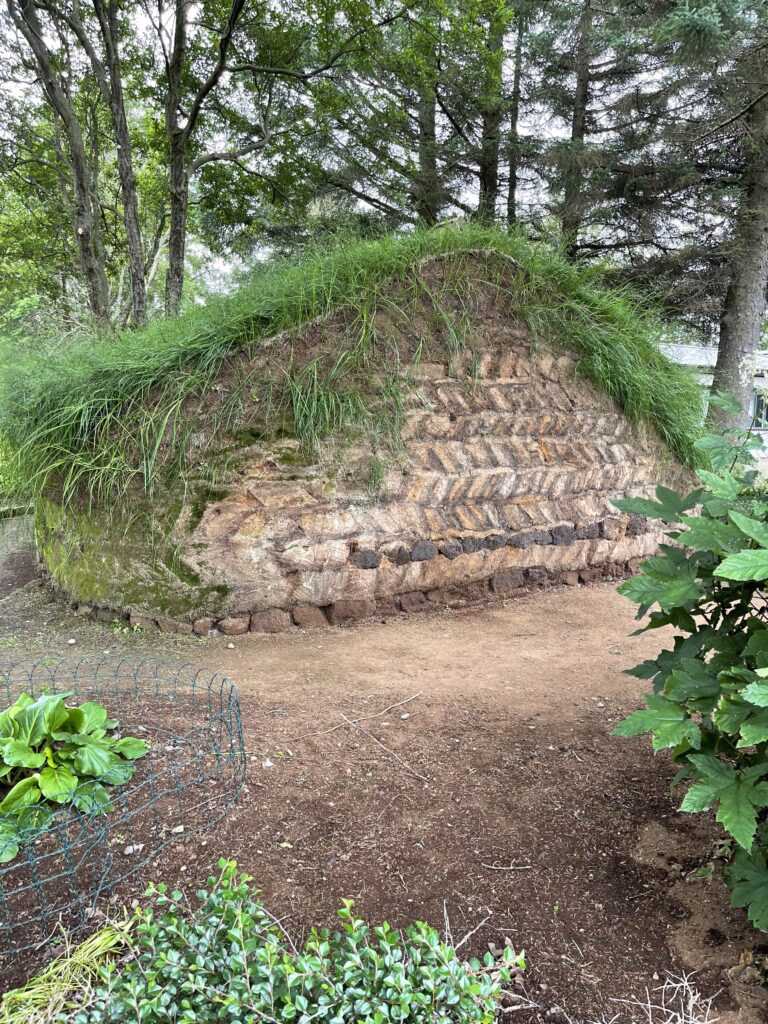 The picture above is an example of a turf wall, which is a form of construction that goes back to Viking times.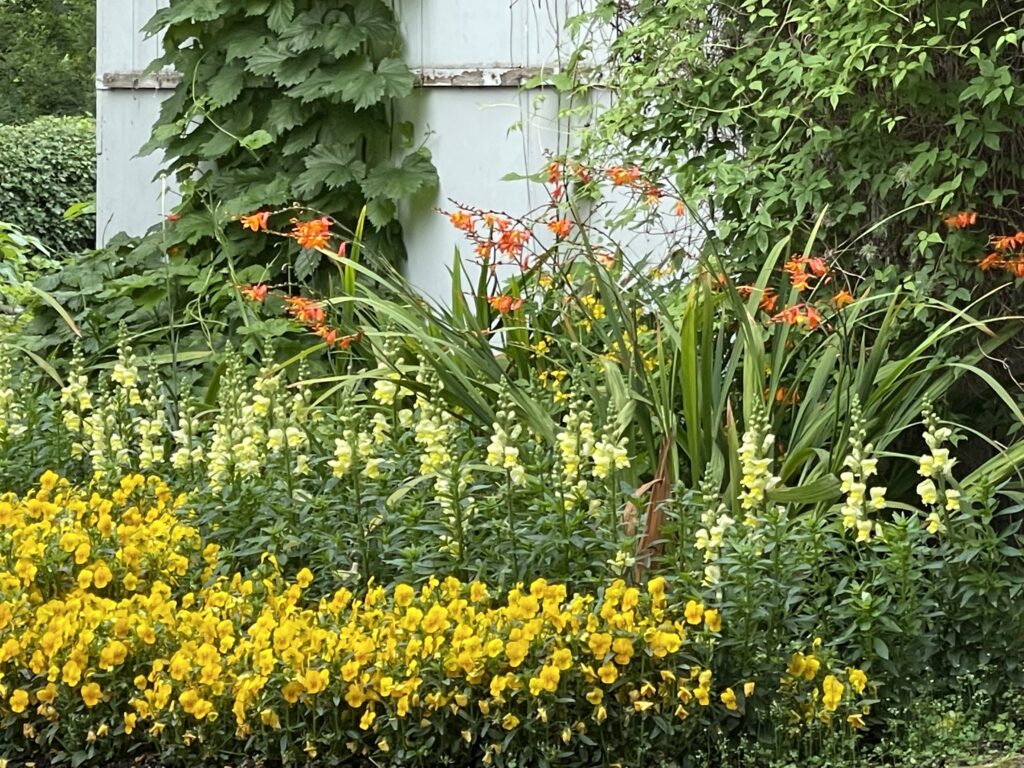 On Friday, I took my drysuit certification, which allows me to dive in colder waters (like those found in Iceland). And I am here to tell you, the water in this lake was COLD.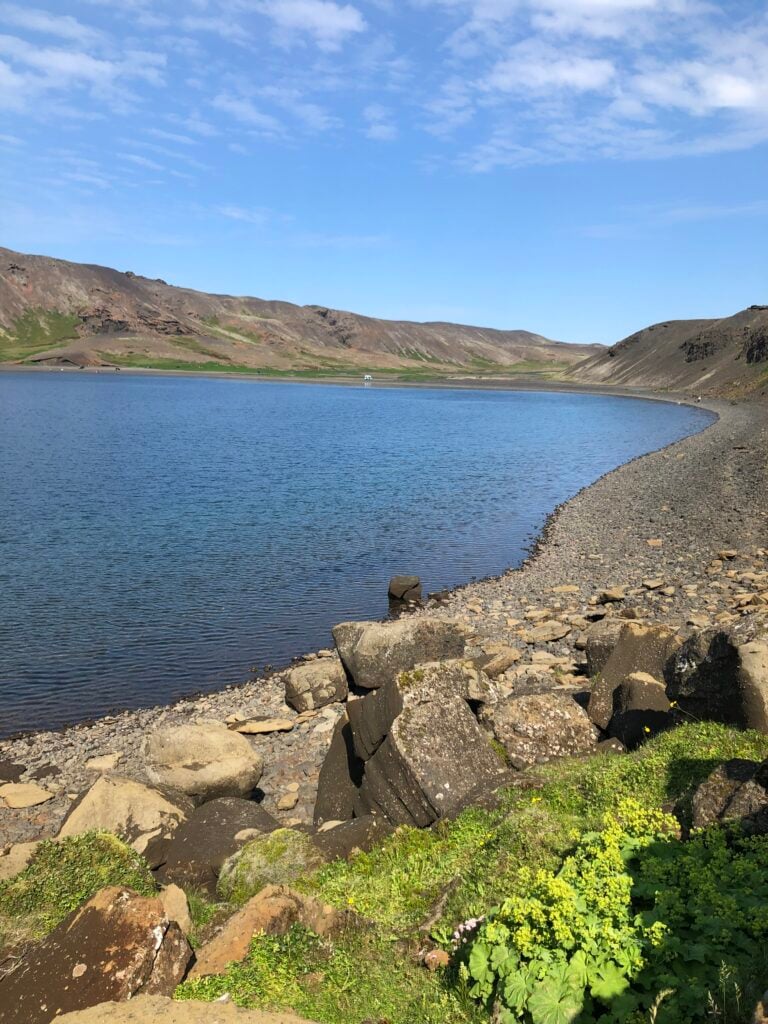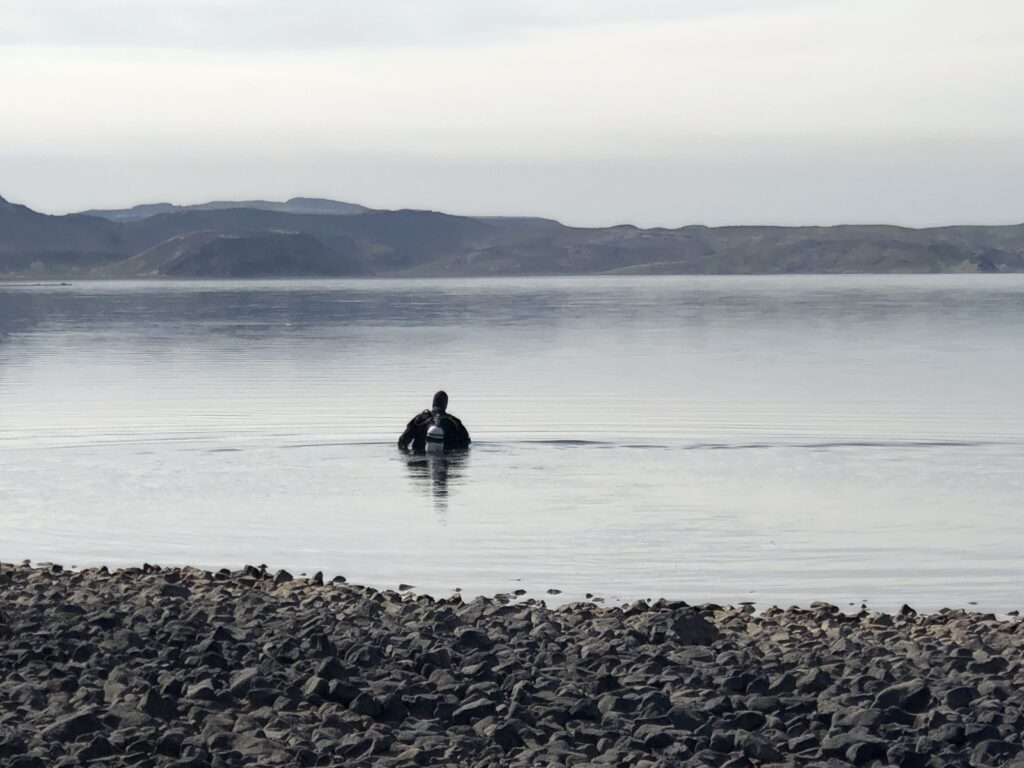 Here I am in all my drysuit equipment. This is designed to keep me dry (hence the name) with a layer of air inside the suit over my thermal undergarments, which allows a diver to stay underwater much longer than with a wetsuit. Water saps the heat from your body over twenty times more efficiently than air does, so you can quickly get hypothermia without this protection. The suit feels pretty natural in the water, but on land all that equipment weighs approximately 75 pounds. It's a bit of a challenge hiking to the water over a field of volcanic rocks.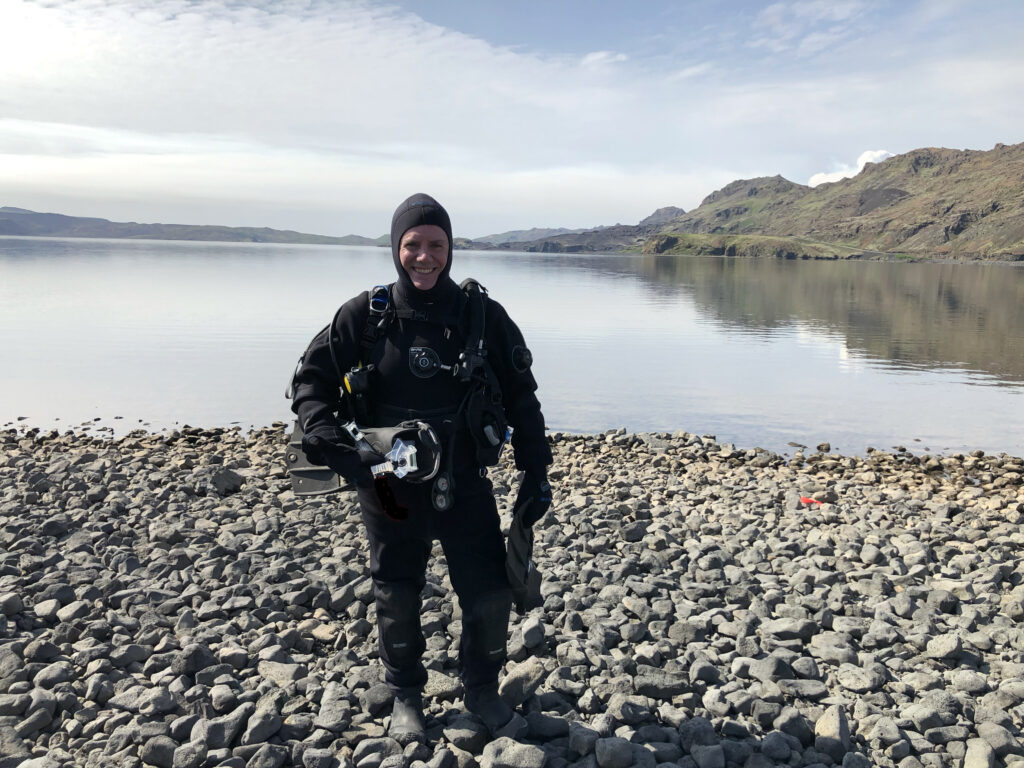 After getting certified, I drove with the family to Thingvellir National Park on Saturday, where I dove the Silfra Fissure, a world-famous dive site. Basically, a rift runs through the park where the North American and Eurasian tectonic plates meet. The plates have been slowly separately for centuries, forming the Silfra Rift, which has filled with glacial water, making it the clearest and purest fresh water dive site in the world. The colors are incredibly vivid, and the geology unbelievable.
This is me touching two continents at once, between the plates: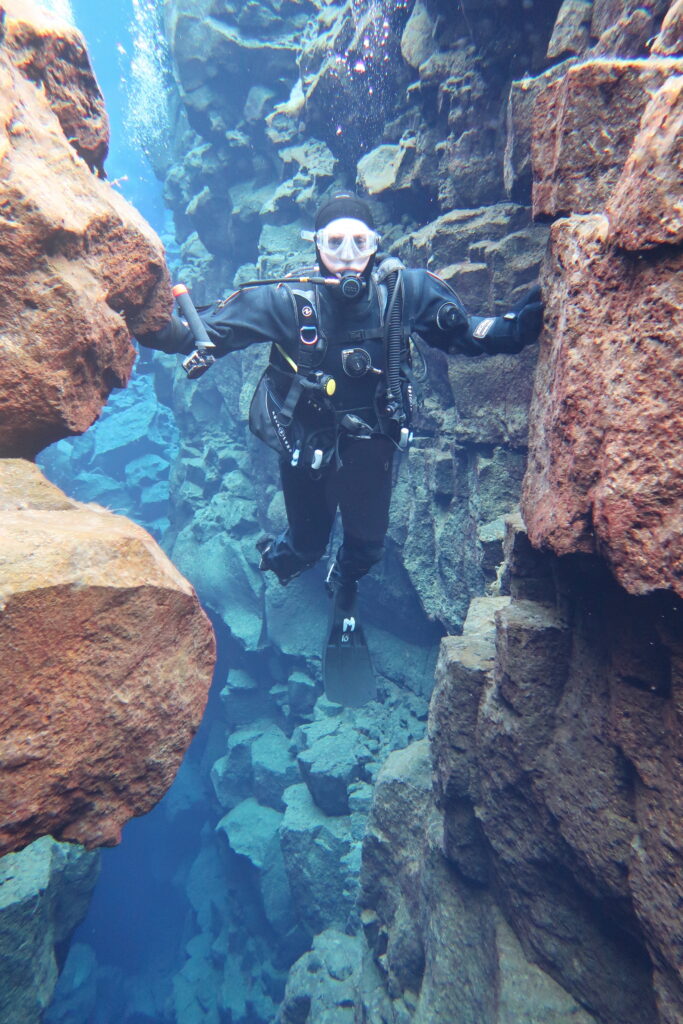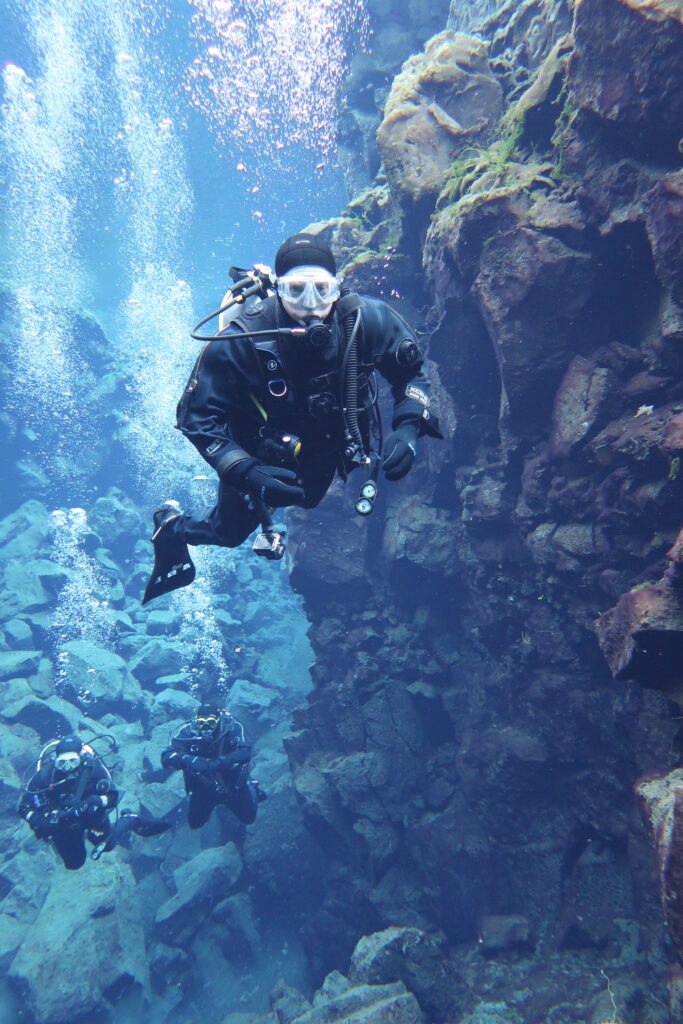 Meanwhile, Becky and Patrick explored the hiking trails in the park, which were also fabulous: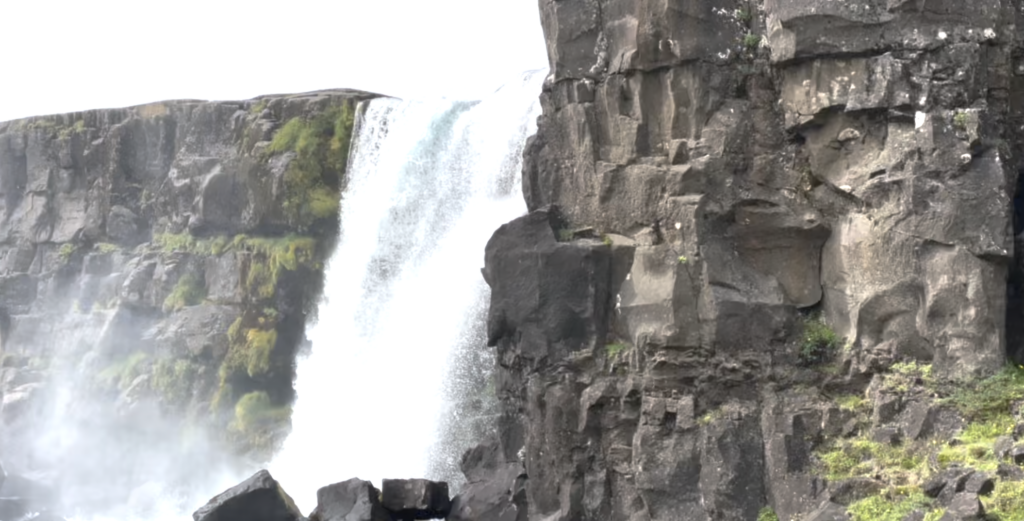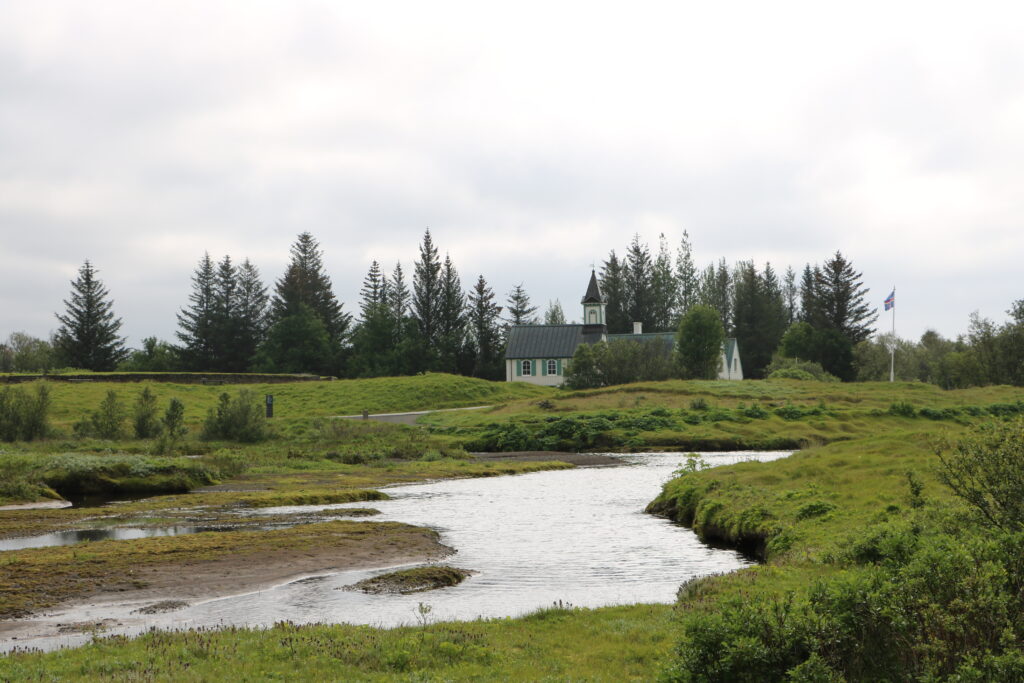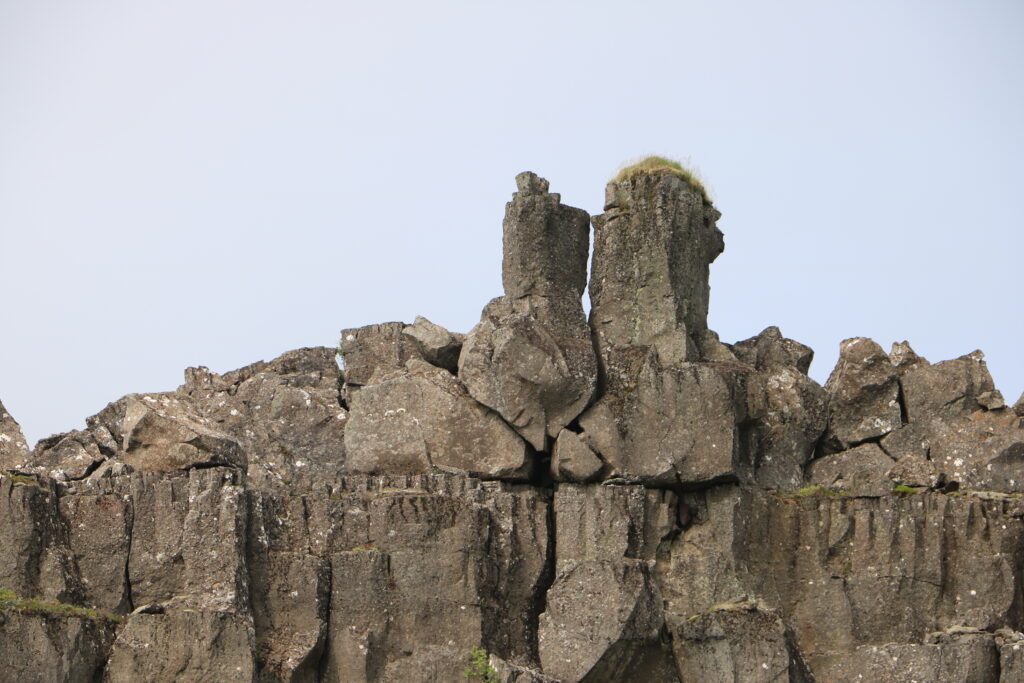 We wrapped up our week in Iceland with a couple of days relaxing in the waters of the Blue Lagoon — another otherworldly spot.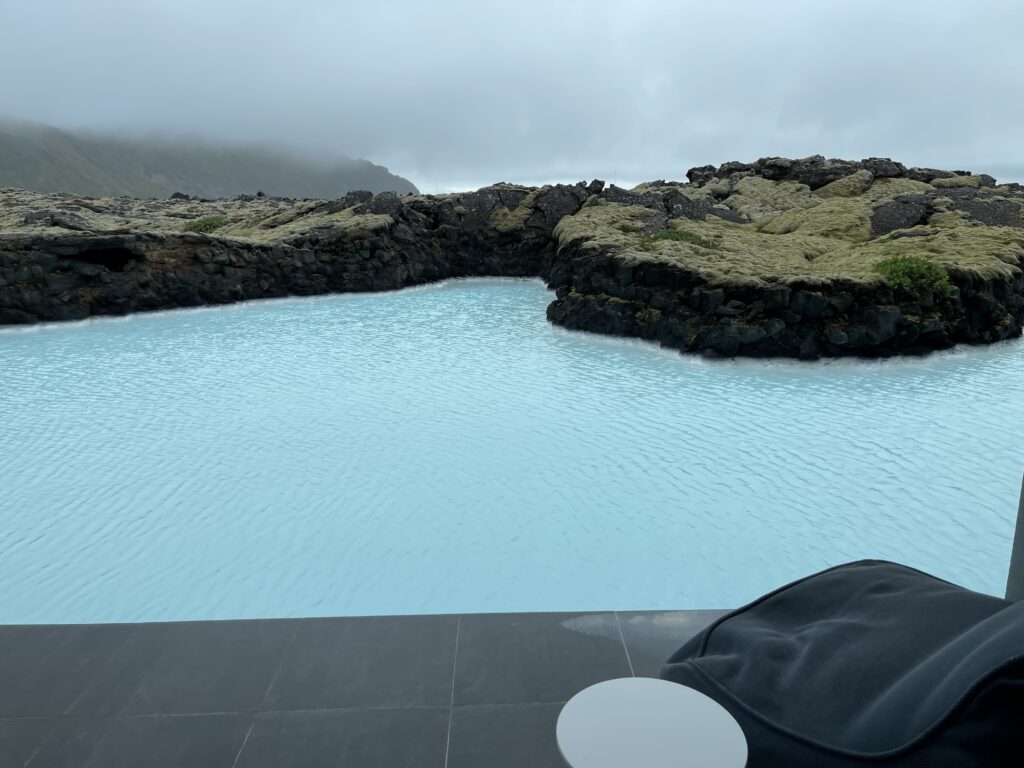 That was the deck of our hotel room. Can you believe it? Neither could we.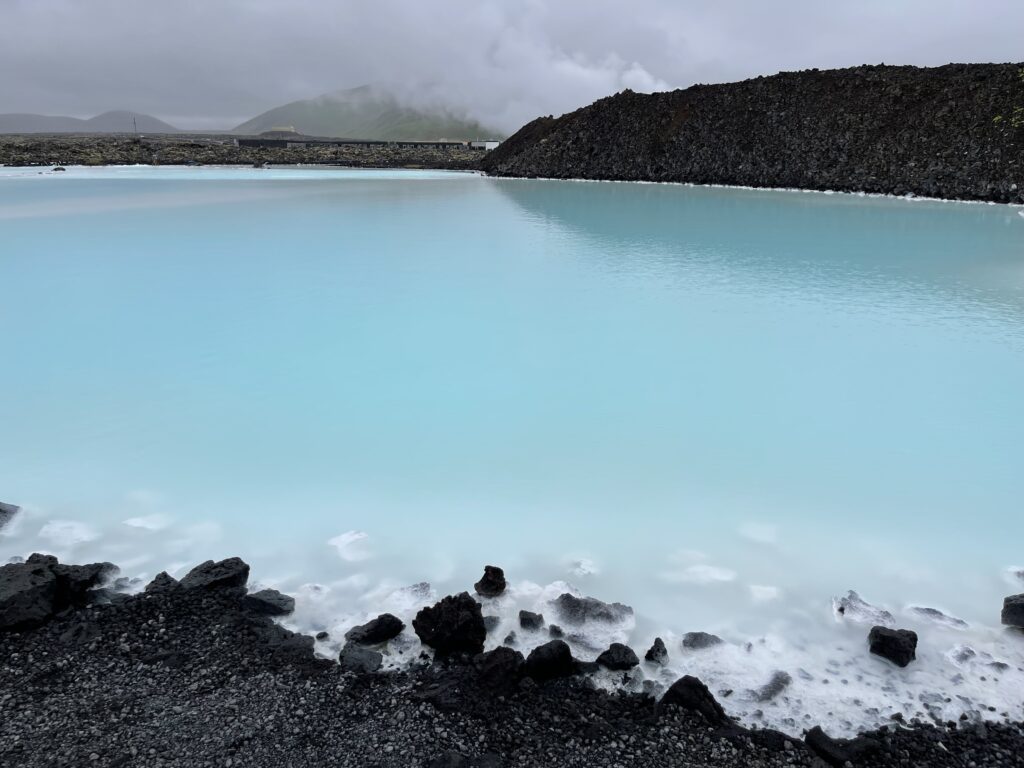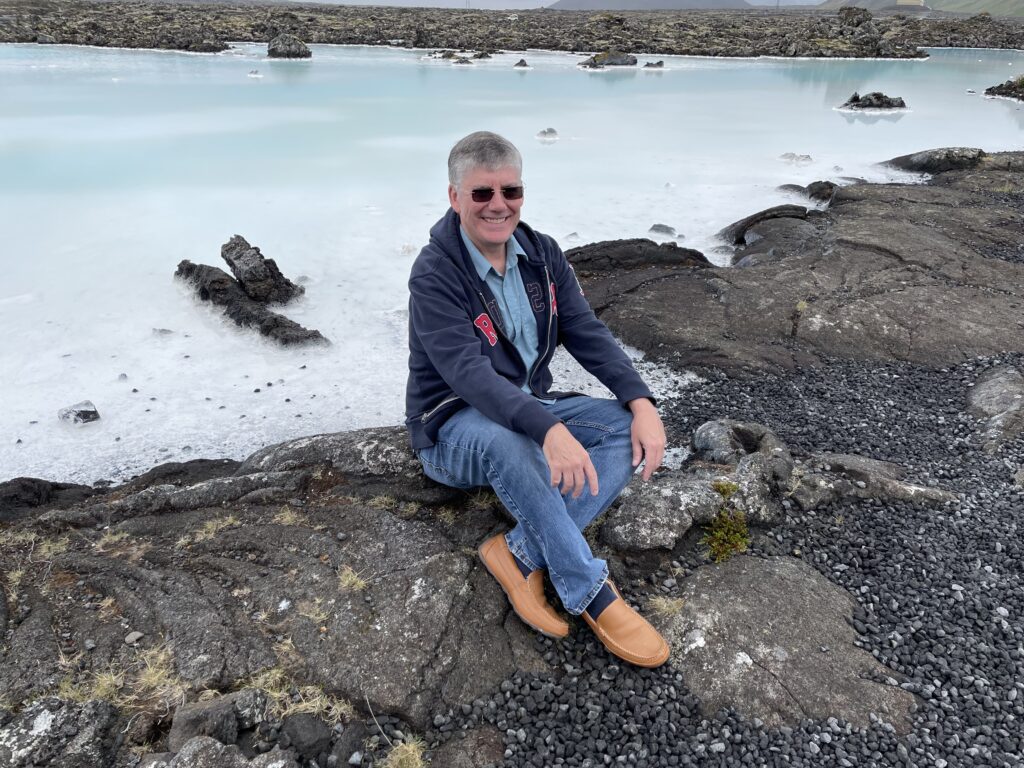 We are, of course, incredibly grateful and privileged to have such an adventure, especially in the midst of Covid, but with all the precautions in place, tests on either end of the trip, and vaccinations, we felt pretty safe. Thank you, Icelanders, for letting us visit and experience your beautiful country!
And Percy fans, never fear. We continued to work while we were on vacation. We met with the PJOTV writers' room each day, as usual, and work continues to go very well on shaping each episode of the first season. We are making good progress on other fronts as well, though there is nothing I can announce yet. Hopeful signs, however!
Finally, a quick reminder that I have been off social media for over a year now, so I cannot be reached through Twitter, Facebook, Instagram, or the like. The fantastic Ashlee Latimer continues to oversee my accounts, however, and she will keep you posted on the latest news. I will also continue to post on my blog whenever I have something that I can share. I hope whatever you're doing this summer and wherever you are, you are having a great time and have found some good books to read!