Happy March, everyone! I hope this month is peaceful for you, even if it is named for Mars, the god of war.
I have been busy behind the scenes juggling a number of exciting projects. (I have to say, being off social media the past eight months has been excellent for my productivity as well as my mental health!) There are several things in progress that I can't talk about yet because they are not official, and of course, I totally understand that you want more news than I can share. Nevertheless, here are some updates I can give you:
Red Pyramid at Netflix
The Red Pyramid feature film project at Netflix is still in the script revision phase, but we are making good progress. Our wonderful screenwriter has done a second pass, and now we are working with our production team and the writer to get it into prime shape so we can send it to our partners at the studio. If you've been following along so far, you can guess what comes next. The studio will have notes for us, too. We will address those. The script will probably go through a few more revisions. (Just like writing a book!) Once everybody is happy with it, then we will start talking next steps, but I imagine (just a guess) we have a few more months ahead of us before we get to that point. The script is like the foundation of your building. It has to be absolutely solid so we can build a great film from it. And just a reminder, we are planning a live action feature based on Kane Chronicles I: The Red Pyramid.
PJO TV at Disney+
The latest: We do not yet have an official "green light," but things are moving along nicely in my estimation. The pilot script has now made it through the very highest levels of Disney execs and everybody likes it. We have met with the studio heads and streaming service execs, and we feel a lot of love and support from Disney, which I really appreciate! Our core production team (me, Becky, our show-runners and our fellow producers) have spent the last year learning to work together efficiently and effectively (through Zoom, of course). I'm delighted to say that our thinking is aligned in terms of what we want this show to be, and I remain confident we will make something great for you all to watch. Again . . . it just takes time. A lot of time. Imagine how complicated you think making a TV show would be. Multiply that times one hundred. It is even more complicated than that. And our process, from what I've been told, has been relatively easy! It's fascinating though, and I'm learning a ton.
Right now, we are starting to plan next steps so we can give our partners at the studio and streaming service a good comprehensive picture of what this show will require. What's the first season look like? (Hint: It will follow the plot of The Lightning Thief). What will the budget look like? (Hint: Good TV ain't cheap. Quality-wise, this has to stand toe-to-toe with Disney+ hits like Wandavision and Mandalorian.) Who do we have in mind for directors? (Hint: I can't give you any hints, but we are having conversations about this.) Casting? (No, we are still not there yet, but we have begun to talk about how the process will work when we do get there.) At a guess, I would say we have a couple more months of these conversations and planning meetings before we get our finalized game plan and (hopefully) get approval to move forward. I am optimistic it will happen. There is a lot of excitement and momentum, and it really helps that Disney understands just how wonderful and massive a fanbase Percy Jackson has, so thank you all for that! I will, as always, keep you posted, but if you see other information or "inside scoops" floating around social media, remember it is just clickbait. What I've told you above is as much as anyone knows, including me.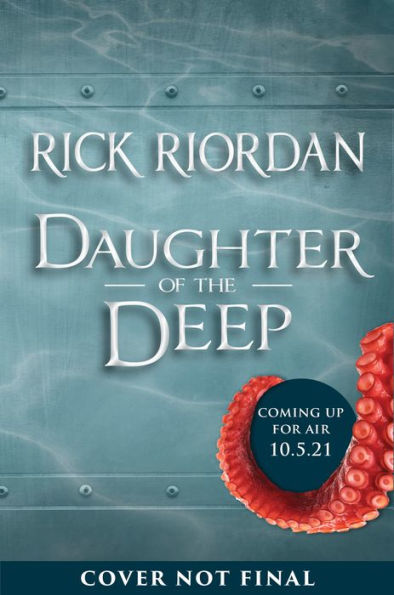 If you missed the news last week, I announced my next novel DAUGHTER OF THE DEEP! You can read a full summary and background information on the Barnes and Noble site. The actual cover is still in development — stay tuned for that! The novel is my first science fiction book, a modern-day tribute to 20,000 Leagues Under the Sea, and features Ana Dakkar, a hero whose heritage is every bit as complicated as Percy Jackson's, but hers has to do with science, not Greek gods. Huge thanks to Roshani Chokshi, who agreed to be a beta-reader for me and also write an introduction to the book (She is so cool) and Riddhi Parekh my fantastic sensitivity reader who had wonderful notes to make the story better. Also big thanks to Dr. Bob Ballard at National Geographic (yes, the same Bob Ballard who discovered the wreck of the Titanic) for vetting the manuscript for marine biology and nautical information. I fanboyed so hard when I found out he would read the book for me. Goes without saying that any mistakes in the book are mine, not those of my advanced readers. They helped so much, though, and I know you're going to love this book! Thanks to my fans for sending it to the top ten on BN.com based just on pre-orders the day it was announced! The book will be available at all your favorite booksellers, naturally.
Another cool note: This is the first book I have written since taking my deep dive (haha) into the world of TV/film writing last year, so I crafted Daughter of the Deep with screenwriting structure and development in mind. It was a very interesting process and I learned a lot that I think helped my craft. As a result, we are already in talks about a possible feature film. I can't give you any details yet, but if it comes to pass, I plan on doing the adaptation myself. Thanks to the other projects in the works, I am now a member of the screenwriters' union, the Writers Guild of America, which is something I never thought would happen. With luck, I might be able to tell you more before the book is even published, Oct. 5. We'll see!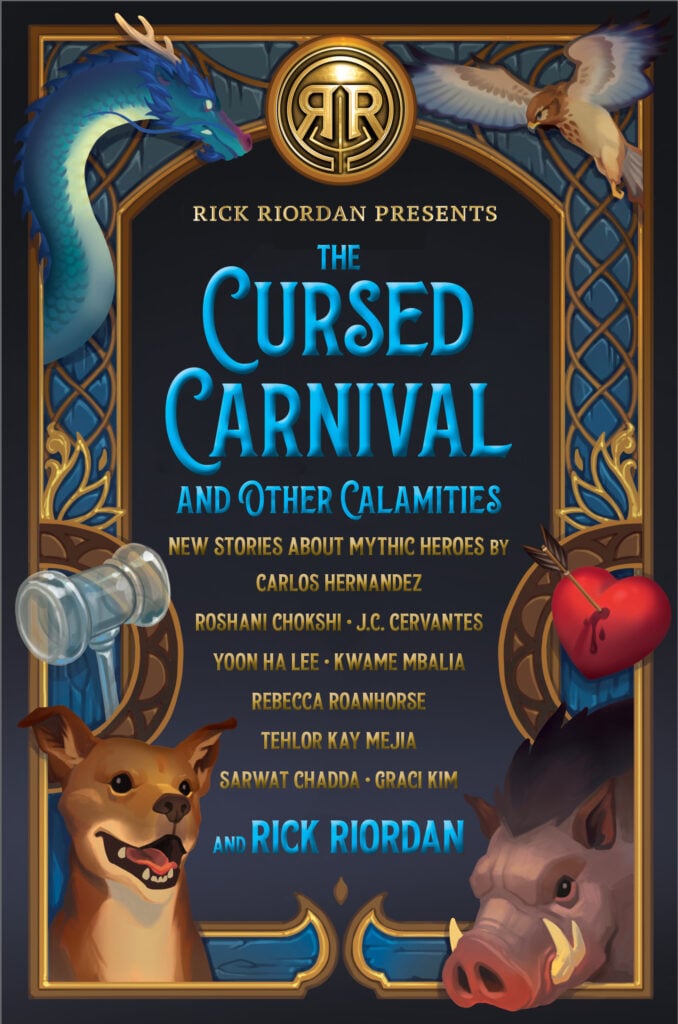 Finally, the Rick Riordan Presents imprint will publish our short story anthology The Cursed Carnival and Other Calamities on Sept. 28! I cannot express how awesome these writers are, and how great their stories turned out! I even got to contribute one myself — my first take on Irish mythology. Bhí sé an-suimiúil! Definitely put this on your pre-order list. The cover above is for the advanced galley. The final art will be unveiled soon.
Phew! That's a lot of news, and that's only the stuff I can tell you about. Much more to come, but I hope you can see why I've been so busy. Stay safe, everybody. Read good books and be kind to each other!