Happy New Year to all, and here's hoping 2021 will be better than the incredibly low bar set by 2020!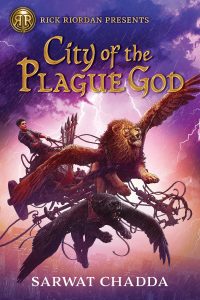 First bit of news: Sarwat Chadda's City of the Plague God is out Tuesday, January 12! Mesopotamian gods in New York, the first Muslim protagonist for Rick Riordan Presents, action, humor and amazing mythology — pre-order a copy today! Sarwat and I will be live for a virtual launch event on Monday. January 11 with Anderson's Books. Please join us if you can! I have been a fan of Sarwat's work for many years, and am so grateful I get to work with him on this project. If you haven't read his earlier series, Ash Mistry and Shadow Magic, check those out!
In other news, I spent the holidays finishing up my latest manuscript (this one is not mythology-based) and it is now in the hands of my agents and editor, so we'll see what happens! I will let you know when I can reveal more. Also over the holidays, I wrote a very brief short story in Italian about Percy and Nico on a Christmas adventure in Florence for La Repubblica. You can read it here. It was a really fun challenge to write in Italian, then figure out how to translate my own work into English!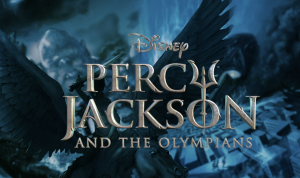 On the Hollywood front, there is not much new to report because the film industry takes a winter break from before Christmas until this week, so everything has been on hold. We are still working on the revisions to the pilot script, but we should be sending it to the top execs at Disney soon for them to weigh in. They may have their own notes for us to include. Then, once everyone is satisfied with the script, we will hopefully get the green light to begin development. As I've said before, I know this seems like it is taking forever, but we are laying the groundwork for a massive project, and it is absolutely critical that we get the first script correct. It will set the tone, style and pace for the entire show.
I understand there have been speculative "reports" online about supposed insider information concerning the show's budget, casting, etc., etc. Just a reminder that you cannot believe everything you read on line, no matter how much you want it to be true. These so-called reports are all utter clickbait with no truth to them. No such conversations have been had. No casting or budgeting has been discussed, much less decided. We're simply not there yet. No one will even be able to start talking about those things until we have an approved script.
Some other weird misinformation I can debunk:
Rick is controlling every aspect of the show. He will direct. He will write. He will produce. He will do the makeup for the actors. He will bring the sandwiches. Not exactly, no. Yes, Becky and I are full producers, which means we will be involved in all decisions. No, we do not have sole control and final decision-making power over everything, because that's not how TV works. It is a team sport. We are on the team. Yes, I am writing the pilot script in collaboration with our show runner, who thankfully has a lot more experience with TV than I do. No, I will not be directing anything. That is a completely different skill set that I do not have and do not want. No, I will not be acting or taking cameos in the show, because I have no interest in that. As to whether I will be catering lunches, stand by. That decision has not yet been made.
It has already been approved for five seasons!!!!!! No, it's way too early for something like that to have been decided. We are designing season one to follow the action of The Lightning Thief, yes. The idea is that subsequent seasons would each follow a book, so ideally that would mean five seasons, following the five books of PJO. But as with all things in TV, future seasons will depend on how the first season does. How many eyes will be on Disney+ watching that first season? That is what will determine whether we get to watch Percy grow up over the course of an entire series. So if you want that to happen . . . tune in! And as for those folks asking about casting for Heroes of Olympus characters . . . guys, a Heroes of Olympus spin-off series would be six or seven years away at the very least, if it ever happens. Of course it would be cool, and I hope it does happen, but that's a long, long way away.
I heard a rumor on social media that — Let me stop you right there. It ain't true. Seriously, I'll do my best to keep you guys updated, but right now, what I've told you above is as much as anybody knows. Also, remember that I am no longer on social media. Occasionally, Becky or Ashlee will let me know if something interesting happens that they think I should know about, but that does not happen very often, and I am not reading questions, comments or anything else anymore, so that is no longer a forum in which you can expect to see any answers directly from me. Becky and Ashlee will continue to keep you posted, however!
Finally on the Hollywood front, we will be meeting in the near future with our screenwriter and our production team for The Kane Chronicles: The Red Pyramid feature film project. I really loved the first draft of the screenplay. Now we'll do a producers' pass to get it even stronger before sending it to the studio execs for their feedback. Again, it's a slow process, but it's important to get it right. I am optimistic that we are creating something you guys will love!
Hope everyone stays safe and well. We'll get through this strange time. Until then, keep reading and be kind to each other!