Hello, all! First thing to note: Kwame Mbalia's Tristan Strong Destroys the World comes out Oct. 6, and you can join Kwame on one of his virtual tour stops! Find out details and pre-order your copy at the links below:
Tristan Strong Destroys the World virtual tour dates!
Tuesday, October 6, Washington DC, 7PM EDT
Mahogany Books virtual event
To find out more, visit the bookstore's website: https://www.mahoganybooks.com
Wednesday, October 7, Raleigh, NC, 7PM EDT
Quail Ridge Books virtual signing
https://www.eventbrite.com/e/kwame-mbalia-tristan-strong-destroys-the-world-tickets-121282257497
Thursday, October 8, New York, NY, 6PM EDT
Books of Wonder virtual event with Rick Riordan (The Tower of Nero)
This event is sold out.
Friday, October 9, Decatur, GA, 5PM EDT
Little Shop of Stories virtual event
https://www.facebook.com/events/668997014017389
To shop at this bookstore https://littleshopofstories.indielite.org/
Saturday, October 10, Austin, TX, 5PM EDT/4PM CDT
Bookpeople virtual event
https://www.bookpeople.com/event/virtual-event-kwame-mbalia-tristan-strong-destroys-world
Tuesday, October 13, St. Paul, MN, 7PM EDT/6PM CDT
Red Balloon Bookshop virtual event with Carlos Hernandez (SAL AND GABI FIX THE UNIVERSE)
https://www.redballoonbookshop.com/event/kwame-mbalia-tristan-strong-destroys-world-virtual-event
Tower of Nero Tour
Also out on Oct. 6 is The Tower of Nero, the last book in the Trials of Apollo! The events are selling out quickly. In fact, only three dates still have availability, so if you plan on joining us, do so right away! You can find the whole schedule here: https://books.disney.com/trialsofunclerick/.
TV/Movie Adaptations 
The Kane-Netflix and Percy-Disney+ adaptation projects continue to move along nicely. We are still in the writing phase for each, so we have a long way to go. I'm very happy with the teams we have chosen to work with, however! Becky and I are fully involved and in synch with our production partners. We are going to take the time we need to get this right, and as a writer (I may be biased) I believe that the writing is the most important part! We will update you when we have more info, but realize that it is a very complicated process, so updates will not be coming as quickly as you might hope!
The illustration above is one we commissioned from Orpheus Collar, one of the illustrators of my graphic novels. Orpheus did a very cool Percy/Disney+ graphic on his own site, so we reached out to see if he would do some for us. The artwork is based on his illustrations from the graphic novels. This does NOT imply that the adaptations are animated (they are not) nor that this would be the style of any animations. Animation is something I love, and something we have talked about for the future, but that is a conversation for another day. Right now, we are focused on getting the live-action adaptations off the ground!
What I'm Reading
While writing and working on the adaptations, I've also gotten a lot of good reading done the past few months.
I very much enjoyed this epic fantasy debut by Matt Wallace. You can read my full review on Goodreads.
I haven't gotten to do full Goodreads reviews for the following yet, but they are all wonderful and highly recommended:
A poignant and heartfelt memoire by George M. Johnson about growing up Black and queer. It's honest, raw, and relatable for anyone who has ever felt like they didn't fit in with the roles society expected from them. A beautiful personal portrait.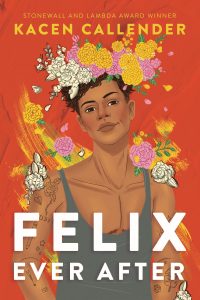 A wonderful novel that is part love story, part mystery, part revenge tale, and entirely real. As a Black, queer, transgender student, Felix worries that he might be too many "kinds of marginalized" to ever experience the sort of happily-ever-after romance that his peers seem capable of achieving. Faced with anonymous, hateful messages, Felix makes a plan to take revenge, not realizing it may lead to some very real (and romantic) complications. Kacen Callender is a major talent and important voice. Their Felix Ever After is a story everyone can appreciate. It will be a breath of fresh air for many marginalized young readers in a publishing landscape that is still too often starved for oxygen.
I recently finished all three volumes of Francesco Petrarch's Rerum Familiarum Libri or "Letters on Familiar Matters." Petrarch lived in Italy during the 14th Century, when the Black Plague was rampant. These books are a collection of letters he wrote during his life to everyone from the pope to kings to lawyers to other writers. For some reason, reading about a writer who was living through a pandemic and massive political turmoil really felt appropriate to me this summer . . . Petrarch does get a bit long-winded at times, and he sometimes repeats himself, but it was amazing to me how little has changed since the 1350s.
Here is just a taste:
On writing:
For me, living and writing are the same thing, and I hope will be so until the very end. I,i.
You say "I have nothing to write." Write that you have nothing to write! Write this very fact, but somehow in other words! III, xx.
A great distance separates eloquence and loquaciousness. One is a matter of quality, the other of quantity. VI, vii.
On social media (which in Petrarch's time meant posting letters that the public would read, and then spread rumors about)
No wise man advertises his complaints. I,ii.
To try to battle with such men is rash. They get the greatest pleasure out of strife and set out not to find the truth but to quarrel. I, vii.
On politics:
The awful slime of evil had penetrated into all the veins of the kingdom as now to be fatal. VI, v.
Human nature is such that everyone easily believes what he desires. XVII, ii.
On the pandemic:
The plague of this year has trampled and destroyed the entire world. VII, x.
I expected joy from you –joy and consolation in these lands where we are continually dying, where there is no place for either joy or comfort. VII, xii.
In Italiano, ho appena finito il romanzo Le assaggiatrici da Rosella Postrino. Si svolge in Germania durante la seconda guerra mondiale, dove Rosa Sauer rimane con i suoceri mentre suo marito è nell'esercito. Rosa è costretta ad accettare un lavoro come assaggiatore per Adolph Hitler per testare il veleno nel suo cibo. Una storia triste ma affascinante!
That's it from me for now. I hope everyone's autumn (northern hemisphere peeps) is off to a good start. Stay safe and read some good books!