Good news, everyone! I finished work on Trials of Apollo 4: THE TYRANT'S TOMB around April 1!
The book won't actually be out until September 24 because, well, that's how long it takes to prepare, print, promote and distribute a book, even after the writer is done writing. I know that's frustrating to you guys who have been waiting since THE BURNING MAZE to find out who I kill what happens in the next volume, but hang in there!
Since then I have been taking a breather to refresh and recharge the creative batteries before diving into Apollo #5, the final volume of the series. I am incredibly lucky to be able to take a nice break like that! I thought you might like to see where we've been, since the places we explore tend to end up in my books, sooner or later . . .
First, Becky and I spent a quick week in Italy, all very under-the-radar, to get some inspiration for writing those evil Triumvirate villains. Also, gelato.
ROME
Here's a view of the Spanish Steps from our hotel in room. The weather was beautiful, which was a nice change from cold rainy Boston!
The seagulls were holding a convention on the rooftop next door, probably plotting to steal our gelato:
I availed myself of the public drinking fountain:
And visited the Roman Forum, which is still impressive even in ruins: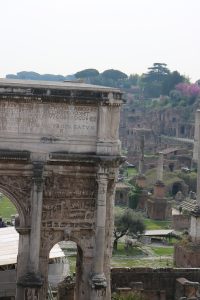 I somehow restrained myself from yelling, "Friends! Romans! Countrymen!"
The Museo del Vittoriano had side-by-side exhibits of Andy Warhol and Jackson Pollack, which wasn't what I was expecting on a trip to the Roman ruins, but the exhibits were great, especially after we'd seen the "Warhol A to B" retrospective at the Whitney in NYC a few months before.  Here's me in the groovy light show room. I'm pretty sure I had those flower decals on my bedroom window when I was a kid in the 1970s.
And here's me getting Pollacked:
We ran into Diana at the Musei Capitolini. Oh, hey, I know you!
And Mr. D after a wild night of pinochle and Diet Coke: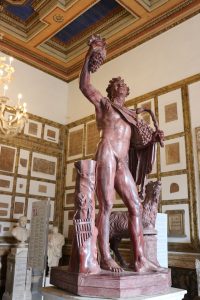 While walking through the park of the Villa Borghese, we stumbled across the Temple of Aesculapius. Beautiful place, but the doctor was not in.
FLORENCE
After a few short days in the Eternal City, we hopped on the Frecciarosa train to Florence. Our first experience on the Italian train system, and we were duly impressed. Amtrak, we need to talk . . .
Two views of Florence from our hotel room. It did not suck.
We had more lovely weather, including this afternoon in the city's botanical garden.
Sunset over the Arno River.
I made a new friend at the archaeological museum, which has an incredible collection of Etruscan artifacts, including Grimace the Lion here.
And Sonny the Chimera:
I'd seen pictures of this bronze sculpture for years but up close it's much more a impressive, and a lot bigger than I realized!
NEW YORK
Finally we headed home to the States, and after a few days of rest in Boston, went down to New York to see our older son Haley, who is working in Manhattan this spring doing an internship in higher education. While there, we saw the musical HADESTOWN, which was a lot of fun! Stand-out performances from Eurydice, Hades and Hermes (pictured below). The story was based on . . . Greek mythology? Dunno. Never heard it of.
We also went to Madison Square Garden to see Billy Joel on his 70th birthday. Another blast from my childhood! The entire audience was wearing paper party hats, but they did not supply birthday cake. Oh, well. We did get a surprise set from Peter Frampton, though, so that made up for it! That's Billy and Peter jamming below. Oldies but goodies!
CHARLESTON
Finally, Becky and I celebrated Mother's Day with a weekend trip to Charleston, S.C. I had been only once before, way back in 2008 when I was promoting the first 39 Clues book. I'd always wanted to go back, and was glad to have the chance to explore the beautiful old city with Becky.
One of our favorite discoveries was the cemetery of the Unitarian Church. If you have to pick a place to sleep for eternity, this is not a bad choice:
We loved strolling the streets in the historical district, which reminded us of a sort-of Baja Beacon Hill, the historic area of central Boston. The Charleston Slave Mart Museum was powerful and unsettling, as such a place should be. The Old Provost and Dungeon was full of interesting history about pirates and rebels. The various historical homes turned into museums did a good job capturing life in the colony and the antebellum state — both the privilege of the rich whites and the lives of the enslaved.
I kind of liked the harp decorations on the Hibernian Society building:
And the South Carolina Aquarium was an unexpected treat — very friendly and helpful staff, and super-cool displays, like Mr. Pufferfish who did not want to stay still long enough for his close-up:
The moray eel, however, was happy to mug for us:
And we met J.K. Rowling!! (the loggerhead turtle) who was being rehabilitated after losing a flipper in the wild. The poor creature had been found "very lethargic and covered in barnacles" and brought to the aquarium for help, Their rescue program is really impressive!
On our last evening in town, we visited Pounce Cafe, which works with local shelters to help get stray cats adopted. I'd never been to a cat cafe before, but it was a lot of fun. Pounce is doing good work. That one location has apparently found homes for 977 cats, and at any given time they have fourteen to sixteen in the cafe.
This is Jackson — yes, like Percy Jackson — who had us figured out the moment we sat down. He knew we'd be given a bag of crunchy treats to feed the locals, and demanded ALL of them. Reader, he received most of them.
Becky spent some time playing with Josie, an adorable one-year-old female.
Tradd the tuxedo cat took a nap in the appropriately labeled basket.
We loved spending time with the felines, but we didn't adopt any. Our two rescue cats at home would not have been pleased. If you're ever in Charleston, though, check out Pounce!
Thanks, Charleston, for the great weather and wonderful hospitality. We loved our time there.
PHEW! Now we're back home in Boston, where it's still struggling to get warm, but it is good to be back. The fifth Apollo book is waiting to be written, and now I have all sorts of diabolical wonderful ideas!