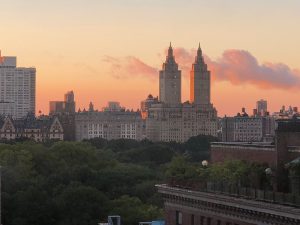 Becky and I got to spend last week in New York, mostly working on various projects and me writing, but we did have time for some fun excursions!
Becky captured the lovely view above on our first evening in town from the window of our apartment. (Yeah, I know. It's a tough life.)
The next day, we went to the Cloisters, which holds the Metropolitan Museum's medieval collection. I've been there many times, but I love walking through the gardens and atriums (especially when the weather is nice) and getting inspired by the wonderful and often weird art.
Here are some of my favorite finds this time: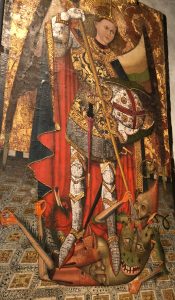 Saint Michael slays a demon which is a collection of weird faces and animal parts. Who says Greek myths have the only cool monsters?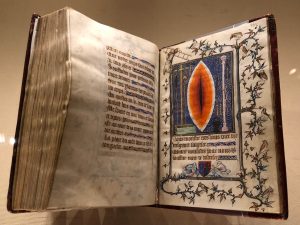 A medieval book which appears to be the oldest copy of Lord of the Rings, judging from the illustration of Sauron's eye.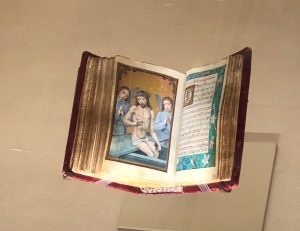 A teensy-weensy wittle book that could easily fit in my palm (if they let me hold, which they didn't.) Can you imagine trying to paint those pictures and write those lines by hand, in miniature?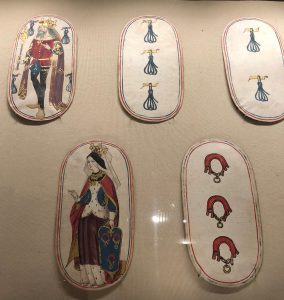 This is part of the only complete medieval set of playing cards which exists.  Not sure what the symbols of the suits are. Egg beaters and horse halters? Go fish.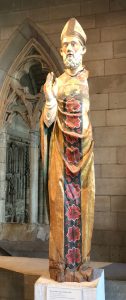 This poor priest's left hand does not know what his right hand is doing. That's because his right hand has been missing for several hundred years.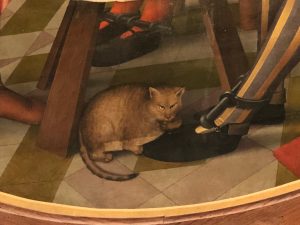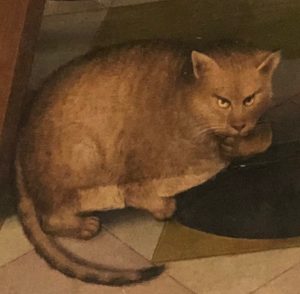 Medieval cat is so done with your nonsense.
That same day we went to the Asia Society and saw a great exhibit on the Progressive Movement in modern Indian art. I knew pretty much nothing about this subject, but I was blown away by the works. Here are some of my favorites: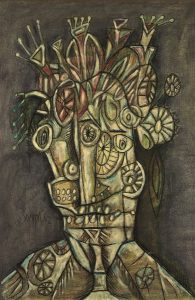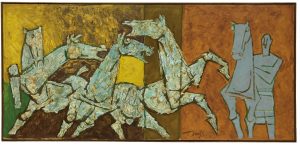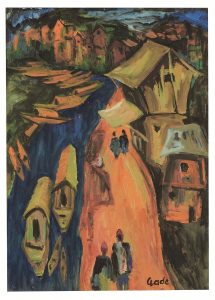 I find that looking at art is a great way to inspire writing, because I get a sense for the many different ways visual artists can see and describe the world. Next time you have writer's block, head to a museum and try it!
The next night, we got brave and did something we'd never done before . . . We caught a game at Yankee Stadium. We carefully left our Red Sox paraphernalia at home, jumped on the 6 train with about a billion Yankees fans, and headed into the Bronx.
Considering we scored our tickets at the last minute, I have to say they were ridiculously good seats. We were so close to the visitors' dugout we saw all the Sox players up close and personal.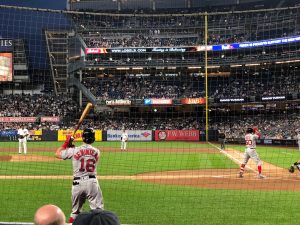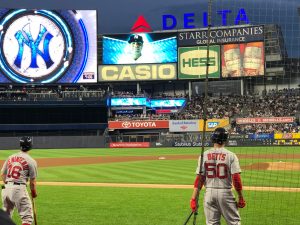 These are not zoomed in. We actually were that close. I am so used to sitting way up in the stands I couldn't tell what was going on, to tell the truth. Was that a strike? A ball? No idea. But THAT'S MOOKIE BETTS! RIGHT THERE!
Gotta say, props to Yankee Stadium for being a great place to watch a game. Our section was in the Legends area, which is so over-the-top swanky it's crazy. In Boston, we certainly don't have a Candy Wall with everything free for the taking. Fenway, I love ya, but we gotta talk . . .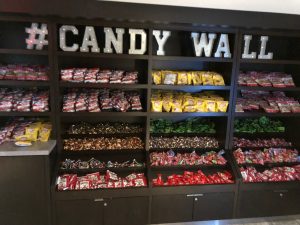 The best photo of the night wasn't taken by me. The doorman of our building happened to be at home, watching the game on TV, when he spotted familiar faces on the screen. "Hey, that's Mr. Riordan!" he said. He got this shot of Becky and me, looking very concerned as the Sox got slaughtered 11-1. (The Sox clinched the division the night after, but alas, we got the losing game).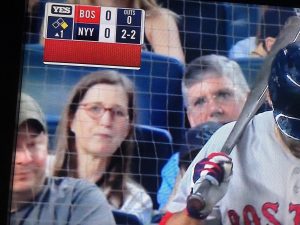 Yes, that is me peeking over J.D. Martinez's shoulder.
The day after that, we headed to the Metropolitan Museum, which you can probably guess is one of my favorite places anywhere since I used it in chapter one of The Lightning Thief. No matter how many times I go, I find great and bizarre new stuff.
For instance: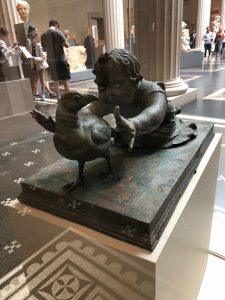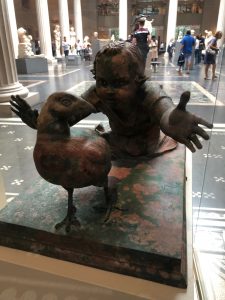 A pair of bronze statues that once adorned a Roman garden. These show two girls, with totally different facial features, trying to catch a pair of partridges. Why are they doing that? Who knows. I call this installation ALL UR PARTRIDGES ARE BELONG TO ME.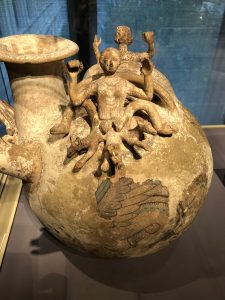 One of the many pieces from the Greek and Roman "Dangerous Beauty" exhibit, showing pictures and sculptures of Medusa and other gruesome lovelies. This pot is decorated with Sirens who have snakes and dogs for their nether regions. I don't know why. I didn't ask.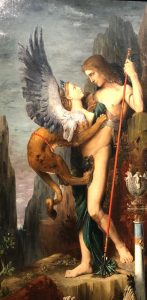 This famous painting of the Sphinx challenging Odysseus I call PERSONAL SPACE, PLEASE.
I'd never spent any time in the Islamic collections at the Met, and I was amazed by all the great stuff. Below, a medieval book on constellations featuring our old friend Pegasus: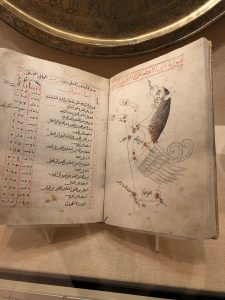 And here is a gorgeous copy of the Qur'an on an equally amazing carved wooden stand: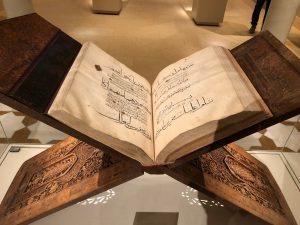 These are bronze incense holders: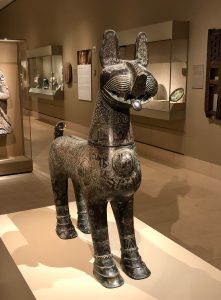 This one just happens to look like my dog.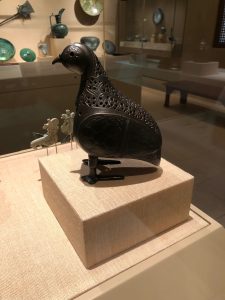 This one is inspired by that famous Mo Willems children's book DON'T LET THE PIGEON EAT SMOKING INCENSE.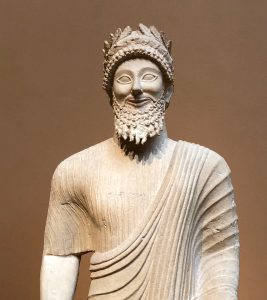 This man from Ancient Crete is happy to see you. He had a great deal of coffee this morning.
The Met also had an exhibit on the French artist Delacroix, who inspired later impressionists like Van Gogh. Here are a few of my faves: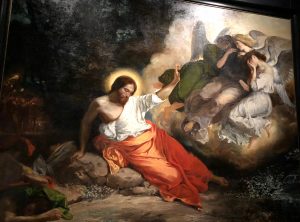 Jesus featured in the work I JUST CAN'T WITH YOU RIGHT NOW.
And again in this picture of Christ asleep during the tempest: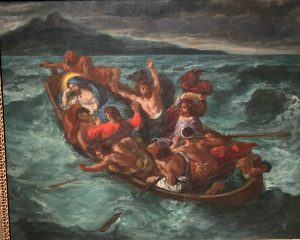 I love the color of the water. Jesus is snoozing. The Apostles are freaking. Peter is like, "He said only wake him up in an emergency! I think DROWNING IS AN EMERGENCY!"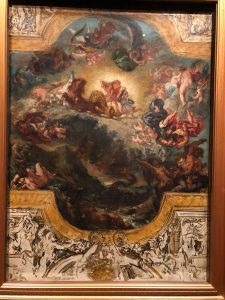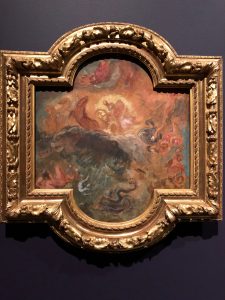 Above are two studies of Apollo triumphing over Python. Don't tell Apollo. It'll just may him sad for the good old days.
And a picture of Medea about to kill her two babies before Jason gets back home. Pro tip: This is not the correct way to hold your children.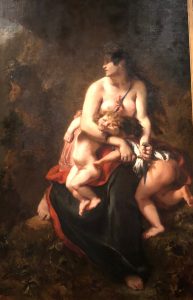 On our last night in town, we went to Madison Square Garden to see Paul Simon. It was one of the last events in his Farewell Tour and he sounded great.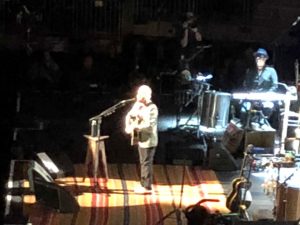 Small Paul, from our seats.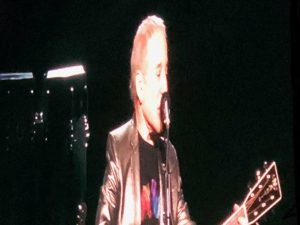 Big Paul, on the big screen above the stage.
A lot of the artists we loved when we were young are doing farewell tours because they're getting too old for the road. Becky and I have dubbed these concerts "GET OFF MY LAWN" tours. We saw Joan Baez in Boston the week before, and then Baez happened to show up at the Paul Simon concert the night we were there. Small world, even in Madison Square Garden.
Now we are back in Boston and I am back to writing, but it was a great week! Wherever you live, I hope you have some time to check out some great art and music once in a while. Like books, art and music make everything better!