Another fantastic trip for the Riordans! We just returned from a week in Ireland, where we spent three days in Dublin and then four days in Cork, retracing the Riordan heritage to its ancestral home (and also having a great deal of fun). We made the mistake of over-scheduling ourselves, so we packed in way more than we probably should have, but it was all good stuff! The weather for the entire week was amazing. All the Irish we talked to told us that this was NOT normal. Sunshine, mild temperatures, no rain. We loved it. Upon arriving, we checked into our hotel in the up-and-coming district of Dublin known as the Docklands. Not only were we in time to catch the tall ships festival, but the roof deck of the hotel had a panoramic view of Dublin and the surrounding countryside:
Strolling through the streets of the city center, we found lots of pubs, flower boxes, colorful buildings, and happy locals and tourists enjoying the summer. Dublin, like Boston, is a great city to walk in:
Everything was in bloom — roses, wildflowers, trees. Achoo! Here I am in front of a random yellow explosion of garden color.
Several times we crossed the Samuel Becket Bridge, which is shaped like a harp. I could imagine a giant playing a nice tune on those suspension chords. Hmm . . . book idea . . .
We had a great stroll through Saint Stephen's Green in the center of town. It reminded us very much of the Public Garden in Boston, except with fewer ducks and more seagulls. Patrick assured me, however, that the picture below is not of seagulls, but of "alternative ducks."
We even stumbled across a road that apparently leads to Asgard. Since Dublin started out as a Viking settlement, I guess I shouldn't be surprised!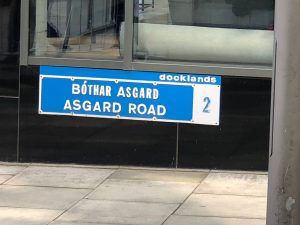 This helpful diving bell gave directions to all points beyond, letting us know how long it would take us to row back to the States, or to Australia . . .
Speaking of giants, I ran across this fellow on the playground of Merrion Square. He was nice enough to offer me a place to sit:
In the same park, we found Oscar Wilde manspreading on this rock, peering across the road at his old house. Why he is holding a stuffed bear, I can't tell you. Wilde's gonna Wilde.
We visited Trinity College, a beautiful campus downtown which has the Book of Kells as one of its centerpiece treasures. The exhibit was great, but we took more pictures of the Long Room, a massive old library with an impressive collection of books and dead white guys:
Patrick saw this bust of Francis Bacon and asked why the library had a statue of Colonel Mustard from Clue:
Later we got to visit the Dublin Zoo, which is a huge, beautiful park with a few animals in it. After walking a long, long way we actually managed to spot some!
Monkey!
Okapi!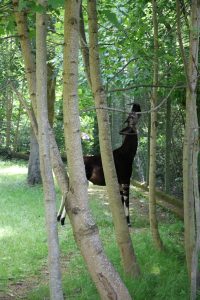 Mama and Baby Elephant!
This guy!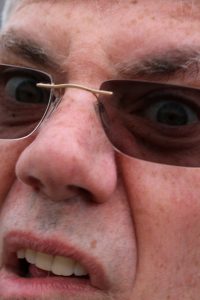 Patrick actually snapped this lovely portrait which really captures my inner . . . something. New profile pic? I think so!
While in Dublin, we also had some excellent meals, visited the emigration museum, and saw The Last Ship, a musical by Sting which played on Broadway last year. We happened to be there for opening night, and Sting made a surprise appearance on stage for the curtain call. Turns out he was staying in our hotel. That was very cool! Becky and I also celebrated our mutual 54th birthday and 33rd wedding anniversary, and I can't imagine a nicer place to do that than Dublin!
Midweek, we took Irish Rail through the beautiful rolling green countryside and arrived in the City of Cork, where my ancestors are from.
Two forks of the River Lee wind right through the middle of the city, which means lots of bridges and lovely views:
Flowers were blooming everywhere. On the riverbanks:
On the stone walls: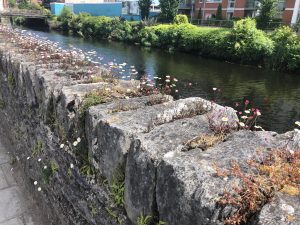 On the buildings:
One of our first stops was St. Finbarr's Cathedral, an Anglican church where my great great grandfather and grandmother were married in 1851:
Me standing in front of the church, wondering if I am in the right place . . .
Becky took a great detail shot of the front door:
And inside, which is quite impressive.
Turns out the present cathedral is a lot grander than the previous one, which existed in my great great grandparents' day. This is what the place looked like back in the 1850s, when they got married:
My ancestors were Catholic, so it was a bit weird that they got married in the local Anglican cathedral. After a lot of research, it looks like they chose to get married there because my great great grandfather was in the British military at the time, and he was about to be deployed, so they didn't have enough time to get married in the Catholic church, which required several weeks to read the bans, etc.
Shortly after my great greats Michael and Honora got married in 1851, Michael shipped out with the 17th Regiment of Foot (Leicester Regiment). He was first stationed at Belfast, then Gibraltar, then fought at the Siege of Sevastopol during the Crimean War before finally getting garrisoned in Quebec, which is how my branch of the Riordans ended up in Canada.
Anyway, the grounds of the cathedral were a beautiful place to walk:
We spent several days exploring Cork on foot. I loved the old mailboxes, left over from the long British rule of the island, which are now painted green instead of red!
We climbed the ramparts of Fort Elizabeth, which dates back to the 1600s. Here I am saying, "Come on up! We won't put your heads on pikes! Honest!"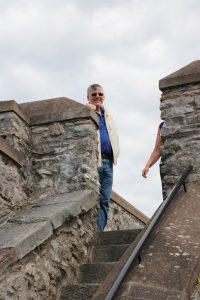 Actually, I lied:
We passed by the Red Abbey Tower, a medieval fortification just kind of hanging out in a modern residential neighborhood:
Here is Jesus in a school parking lot warning you not to even THINK about parking here:
We even did some shopping at the local TK Maxx, which is like TJ Maxx except one letter more advanced:
And meals, so many tasty meals. Cork is quite an impressive foodie city. This is the Mexican burger at the Liberty Grill:
Why did I get a Mexican burger in Cork? Hey, it's green. That makes it automatically Irish cuisine, right? Sure.
One of my favorite stops was getting to hear some traditional Irish tunes at the Sin E pub, which has been a local jam spot for traditional Irish folk since the 1950s. These guys were good! I learned that the musicians sit at a table facing each other, not on a stage and not facing the audience, because they would consider that disrespectful to the music. It's a very casual, friendly scene, with families chatting, babies wandering around, and lots of conversation among strangers and neighbors alike.
As the ridiculously good weather continued, we explored Fitzgerald Park, one of Cork's most beautiful green spaces:
We crossed the footbridge known as the "shaky bridge" because, well, it shakes a lot. And creaks and sways. Fun for the whole family, as long as you don't mind contemplating your imminent plunge into the river below:
More beautiful greenery:
And riverbanks:
And flowers:
Etc., etc., beautiful, etc.:
From Fitzgerald Park, we walked to University College Cork, which one enters across this lovely bridge:
This is the main quadrangle, which is definitely in the running for "Muggle School Most Like Hogwarts."
The corridor you see in the front has an impressive collection of Ogam stones, ancient markers collected from around the country, inscribed with a very early form of Irish writing called Ogam:
Here is a key to the language, in case you want to write your friends secret messages in Ogam:
And here is a decorative detail from one of the stones:
On our final day, I stopped by St. Finbarr's Church (South), the oldest Catholic church in the city, which is where my great great grandfather Michael was baptized in 1820. This marks the farthest point back I've been able to trace the Riordans so far, so it seemed like a good place to end the trip!
Obviously, the interior has changed in the last 200-or-so years, but the shell of the building is still the same. I left a donation and lit a candle for Michael Patrick Riordan and wound up my trip in Cork feeling a bit closer to my roots!
Now we're back in Boston and I'm back to work on Trials of Apollo 4, but it was an invigorating, fascinating week! Whatever your summer plans, I hope you enjoy them, and I hope they include lots of good books!