I am a very lucky guy. Not only do I love my job, but I get to take cool vacations from time to time and explore new places, which often end up in my books later! Travel is a great way to recharge my creative batteries while spending time with the family.
Last year, I was working on my Apollo series while vacationing in Norway. This year, while working on my Norse series, I flipped things around and headed with my family to the Mediterranean. When you read Magnus Chase 3: The Ship of the Dead, it will have been revised in a combination of wonderful cities we visited: Paris, Nice, Monte Carlo, Pisa, Sorrento, and Barcelona.
Want a peek at the cool stuff we did and saw? Read on!
We started our journey in Paris, teleporting into the Fourteenth Nome via the Egyptian obelisk in the Place de la Concorde. You can see the top lit up pretty brightly from all that magic power!  (Um . . . actually we just flew to Paris. There is no such thing as magic. And that would bypass customs, which we would never do. Ahem. Moving on.)
Once there, our friends in the Fourteenth Nome gave us a tour of the Egyptian artifacts in the Louvre.
Our old friend Horus said hello.
And Bast, of course!
Khufu the baboon was sad we forgot to bring Cheerios for him.
We found a new (very old) khopesh for Carter Kane.
And an impressive collection of Ancient Egyptian ping pong paddles! (Okay, actually they were mirrors.)
Here is a scene from that famous Egyptian children's book Make Way For Ibises.
A collection of Egyptian dice! Here we have just enough to roll 8d6 to generate the effects of a fireball spell. The pharaohs were huge D&D gamers.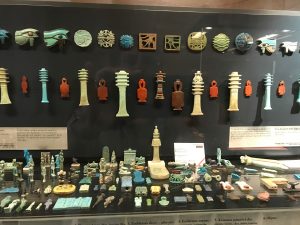 Their collection of ancient Monopoly tokens was also amazing! Would you like to be the djed, the wadjet, or the shoe?
Here is an entire family of Hathors.
And of course, our popular friend Bes, the god of dwarves, was everywhere. You decide: Which Bes wore it best?
The Louvre is an amazing place, but it is HUGE. Just the Egyptian collection went on forever and took us an entire afternoon. The museum was built up over the centuries, various palaces connected to one another, each room more ornate than the last. Even without any of the displays, it is jaw-dropping. You can certainly imagine how a secret school for magicians could be hidden in the complex . . . er, not that there is one, of course.
This was our first time in Paris. Being a contrarian, I went in with the attitude that if so many people gushed about the city, it must be overrated. Well, I was wrong. It really is as beautiful and enchanting as people say. As the kids said, Paris has stunning architecture the way Norway has waterfalls — they're everywhere.
Here is your obligatory photo of the Arc de Triomphe, which stands in the middle of the world's busiest traffic circle. (Traffic not pictured.)
One of our favorite places was the garden courtyard in the Palais Royal. Beautiful roses, fountains, cafes. And that sunset wasn't bad, either.
Our hotel room had a terrace, so this was my view while I wrote for a view days. Pity me.
And at sunset. Seriously, it was tough trying to work in these conditions.
Every evening, the Eiffel Tower put on a light show for us, which we could see from said terrace.
While in Paris, we ate all the things, including enough soufflés to inflate a zeppelin blimp. (Which was kind of how we felt at the end of the trip.)
We visited lots of museums. Here is Patrick in front of Monet's Water Lillies at L'Orangerie. This is as close as you may ever get to seeing Patrick's face.
And here is me saying, "Hey, look, I found a thing."
And I just so happened to see this fabulous window display at WHSmith for The Dark Prophecy:
The art at the D'Orsay Museum was really impressive. Check out our favorite finds:
That is high culture right there!
Becky and I also took a morning walk down to Notre Dame Cathedral, which is beautiful from any angle but a lot quieter and more interesting from the back:
We had breakfast and looked around the famous English-language bookstore Shakespeare & Company, which reminded me a lot of City Lights Bookstore in San Francisco. Great place to hang out!
And as always, those Greek & Roman motifs were everywhere.
The pegasi on this bridge were extra shiny!
We even found a satyr stepping on a snake in front of the reptile house at Le Menagerie, the Paris Zoo. Why he was stepping on the snake, I do not know.
The Paris Zoo, by the way, is a great place — small but fun, with beautiful botanical gardens and cool displays.
My favorite were the caracals:
They made us miss our cats at home. Those ears!!
Eventually we made our way back to the Louvre the check out the Greek and Roman exhibits. Venus de Milo, Winged Victory, yes, sure. Those were cool. But I liked a lot of the less high-profile stuff, too.
Like this fashionable gladiator helmet, perfect for a day strolling through the Jardin des Tuileries!
Or  this lamp with a frog on top for absolutely no discernible reason!
Not to mention these Roman action figures — lead figurines from tabletop D&D, because Caesar became a massive player once Cleopatra introduced him to the game.
Oh, no, it's a level eight troll!
I will attack it with my foot-stomping stone giant!
We also found a statue of Artemis:
And Uncle Ferdinand:
The statue below is entitled "Dude, Stop Pulling My Hair."
And this one is "Boy Strangling a Goose." No, seriously, that's the title. Why is the kid strangling a goose? No idea. Maybe it's Hera in disguise?
Finally, there's the famous statue of Hermaphroditus, who looks female from the back but male from the front. Even after all these centuries, the art challenges your assumptions about gender!
Finally, having eaten every croissant in the Greater Metropolitan Area and having caught 22+ Mr. Mimes, we bid a tearful goodbye to Paris and waddled our way to Nice to begin a cruise around the Mediterranean.
This is the view of the harbor in Nice:
Nice flag you got there, Nice. Get it?
We sailed to Monaco, a country roughly the size of our old driveway in Texas, though much prettier:
Above was the view from the balcony of our stateroom while we were docked in Monte Carlo. We just missed the Gran Prix by one day, which is probably just as well since the city was nice and quiet!
Haley decided Monaco was his favorite place on the trip. Here he is, declaring, "I HAVE FOUND MY PEOPLE!"
Our favorite stop was the Aquarium/Oceanography Museum, which sits on top of a huge cliff near the Old City and the prince's palace.
Inside the impressive mansion, we found OH MY GODS WHAT IS THAT?
Oh, it's an early diving suit! I'm telling you, if Percy saw that thing underwater, he would attack.
We also found an actual submarine from the American Revolution. I used to teach about "The Turtle," but I'd never actually seen it in real life!
The kids encouraged me to climb aboard, but I did not want to get arrested in Monaco so I resisted the urge.
At the top of the museum we also met Coco, the local seagull personality who was rescued by a cook at the cafe as a hatchling and has stuck around ever since: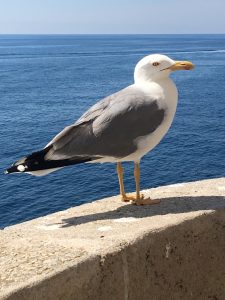 From Monaco, we sailed down the coast of Italy, eating the countryside clean of gelato and pizza like the Goth invaders of old.
First stop, Pisa. (Insert your favorite Pisa/pizza joke here.)
Sometimes, famous buildings are underwhelming when you see them up close, but I have to say, the Leaning Tower is a lot more impressive in person.  The whole town of Pisa was very pretty, including this nice statue of Lupa with Romulus and Remus:
They also had some interesting souvenirs. Here are statues of your favorite gods for sale — Hera! Jesus! Zeus!
Wait . . . What?
We moved on to Civitavecchia, the port of Rome, where I got to go diving in the Mediterranean. No pictures, but it was a lot of fun. Also, the Mediterranean is COLD!
We next visited Sorrento, a cliffside resort town across the bay from Naples. That's our cruise ship parked with Mount Vesuvius in the background. The volcano obligingly did not erupt while we were there. Thanks, Vesuvius!
In Taormina, Sicily, we visited the Greek theater, where they were setting up for a concert. Apollo once played here, back when . . . you know, he was a god. (That sound you hear in the distance is Lester Papadopoulos sobbing.)
From Sicily, we bid farewell to Italy and sailed across the sea to Spain, our first visit there!
We discovered that Barcelona is an AWESOME place. So awesome, that I failed to get any pictures, because I was just walking around going "Whoa" and enjoying the view. I ate paella, and it was good. VENI, VIDI, PAELLA, as I think Julius Caesar once said.
While in Barcelona, I finished my revisions for The Ship of the Dead. Hooray! Then we sailed back to Nice, and back to Paris for a few last days before heading home.
I tell you: Being in all these great places over three weeks gave me a new appreciation for the size of the Roman Empire. We traveled for days, over so many cities and countries, and we never left Roman territory. It also deepened my appreciation for the people of France, Italy and Spain, because they were so welcoming to us. They forgave me my stumbling Italian and Spanish and my even more stumbling French. They fed us well. They made it a wonderful trip. Grazie. Gracias. Merci!
Now I am back home in Boston and diving into my next project, which is of course THE BURNING MAZE. I have lots of inspiration to work with! Look out, Lester. Here we go!
I hope you all have a great summer. And whether you stay home or travel, I hope you find time to read some good books!