There are lots of ways to be a great mother, but moms rarely get the credit and appreciation they deserve.  They support their children, they nurture them and listen to them, they hold the family together with unconditional love and countless sacrifices.  That, at least, is something I have come to understand about my wife Becky in the thirty-six years we've been together. She is the strongest, most caring, most resilient and giving person I know, but she is not comfortable being in the limelight. She makes everything possible for me and my two sons. Without her, I would not be who I am. I would not have had a successful career. I would not have two sons of whom I am so incredibly proud. Becky has built this family. Usually, she prefers to be off stage, but I hope for today, at least, she'll forgive me if I put the spotlight on her, the most important person in my life and the best mom ever.
Thirty-six years being with someone is a long time!
How does a great mom get her start? By being a great young woman.
Becky in 1979, around the first time I ever saw her. I noticed her at the ticket booth for our church's pancake supper. I knew this was one pancake supper I needed to go to. In case you're wondering, we are exactly the same age. Like, exactly the same age. Both born June 5, 1964. She is thirty minutes older than me. We wouldn't find out that until much later.
Becky a year or two later, in high school, about the time we started dating. She was a force in the high school art club. I was a band nerd who composed bad songs on my guitar in my spare time. She friend-zoned me for many months, but finally . . .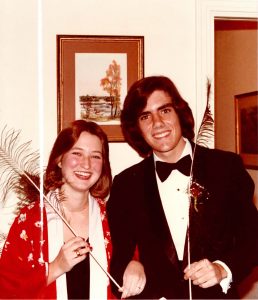 I broke up with her a couple of times, which are two of the stupidest things I've ever done, but it was a little frightening for a sixteen year-old guy to realize he'd found his soulmate so early in life. I quickly came back to my senses. In college, we were married on our mutual 21st birthday.
Why she wanted to marry this long-haired guy with a cheesy mustache, I'm not sure. Her family wasn't sure about me. Fortunately, Becky said yes.
Our wedding cake was a birthday cake, of course.
We graduated from UT Austin together, Becky with a degree in fine art, me with a degree in English and history. She supported me while I got my teacher's certificate and convinced me that I could be a success in the classroom, even when I definitely did not feel like it.
Becky at our house on the West Side of San Antonio, around 1986. Looking beautiful with the 80s hair!
This is one of the first Christmases we celebrated together, way before we had kids.
And this is me and my baby at the Frio River, around the same time.
After I had been teaching in San Antonio and New Braunfels for a couple of years, Becky and I decided to do something brave and move to the San Francisco Bay Area, just because we were ready for new adventures.
On our scouting trip, we visited Golden Gate Park.
We discovered llamas in Sonoma Country.
But we really feel in love with Berkeley and Oakland in the East Bay, and that's where we ended up moving in 1989. We would live there for most of the 90s.
While I taught middle school, Becky was a blue-collar worker, doing interior landscaping for a plant company in San Francisco. She had always been good with plants, but she became a real pro during those years. Here she is on the job, talking to a robot. Of course we had robots in the 90s!
And then the most life-changing thing happened. We got pregnant. Becky was determined to be a good mom as soon as she found out we would have a kid. She read every book she could get her hand on. We talked about Dr. Sears and attachment parenting. We baby-proofed our little apartment. Becky worked at her job, climbing ladders, hauling plants, and driving a work van around downtown San Francisco, into her third trimester. She was a boss. I was a mess. But somehow, we got through the experience together and decided to name our little boy Haley, which is my mother's surname, and an Irish boys' name meaning 'ingenious.'
It was a great pregnancy, but not an easy delivery. I was freaking out the entire time she was in labor, and I wasn't even the one in pain. Becky, as always, got through it with toughness and calmness. After a long labor and a caesarian, little Haley Michael Riordan joined us. The year was 1994, and we were both 30. We'd already been married for nine years at this point, which was a huge plus. We already had the relationship well underway, and we knew who we were as a couple before we introduced kids into the mix. I'm not saying it was easy. It wasn't! But Becky was a pro.
Great moms laugh with their kids.
They sleep and cuddle with their kids. Heck, they sleep whenever they can, which is rarely!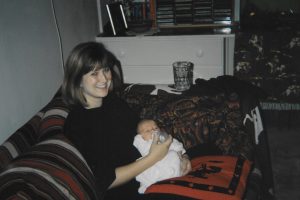 They share meals with their kids.
They use cutting-edge technology to keep in touch with the grandparents.
They teach their children that ice cream is really, really good.
They learn to love what their kids love, like choo-choo trains!
They enjoy the great outdoors together.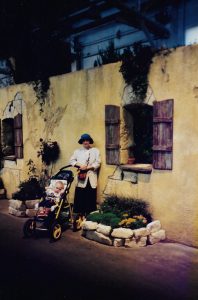 They somehow look chic, even when they are pushing a stroller.
But they also know when to get comfy.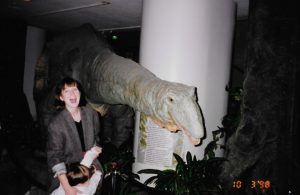 They share a love of science and learning.
They model wonder and excitement.
And they somehow look amazing while doing it. Haley was not an easy kid. He demanded constant attention and interaction, but Becky was always there for him. She made the tough decision to become a full-time mom, even though we knew it was going to be hard living on a single teacher's salary. She was adamant, though, that Haley needed her. And she was right.
In 1998, our second son Patrick John Riordan came along, and that was a tough delivery for a different reason. Becky got toxic shock from the procedure and almost died. I have never been so terrified. You can't tell how sick she was feeling in the picture below, but it was bad.
Becky recovered, and Patrick got to discover just what a great mom he had. Soon, we moved back to San Antonio, our hometown, where we could live on a more modest budget and be closer to the kids' grandparents.
Great moms also support their kids' choices in headwear.
They throw you super birthday parties with more great headgear and Teletubby cake!
They keep you cool in those hot Texas summers.
They introduce you to the wonderful world of choo-choo trains.
And living history. (Here is Becky with Patrick in Williamsburg, VA.)
Throughout it all, while I was teaching and Becky was being a full-time mom, she supported my efforts to become a writer. She encouraged me to take my first mystery-writing class at UC Berkeley, and she was at my side in New York in 1999 when I won the Edgar Award for my second novel, The Widower's Two-Step.
When Haley was diagnosed with ADHD and dyslexia around age seven, she took the lead in getting him testing and support at school and at home. When I told Haley the very first version of Percy Jackson's story, The Lightning Thief, Becky encouraged me to write it down and gave me the time and space to do it. Without all those field trips she took with the kids — to the zoo, the the countryside, to Target, to the museums, I would not have had the time to write that novel.
And two years later, when I sold the Percy Jackson series to Disney, she was at my side again when my colleagues threw me a going-away party at Saint Mary's Hall. I had made the terrifying decision to become a full-time writer. Without Becky's encouragement, I never would have done it.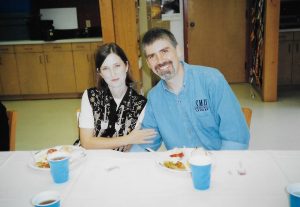 Even after The Lightning Thief was published, it was a long hard slog before I started seeing success. I spent five years relentlessly promoting the books, travel the US and the UK doing school visits. Finally, it began to pay off, but during those years, Becky was the only thing holding me together and keeping the family on an even keel. Percy Jackson, and all the books that came after it, are not just mine. They are the product of teamwork, Becky and me working together toward a goal. Without her being a super mom, an amazing wife, and a career coach and guide for me, I would not be where I am.
The other thing about being a great mom: You keep being a great mom, no matter how old your kids get. Here's Becky with Patrick and Haley a couple of years ago in Greece. (You will notice the boys are going through a long-hair phase, just like their dad did!)
The family at the Colosseum in Rome. Patrick is just starting his college career and making straight A's. Haley just graduated college with a degree in philosophy — this is the kid with ADHD and dyslexia who would cry when he had reading homework in elementary school! What was the secret to his success? A mom who never gave up, always loved him for who he was, and always gave him the support he needed. (Just like she did with me!)
And I swear, Becky just gets more beautiful and wonderful every year, whether she's in Norway.
Or Las Vegas.
Or New York.
Getting ready to go out on the town with her crazy husband, whom she has stuck by all these years.
So a big thank you to the love of my life, the best mom ever. Becky, Happy Mother's Day. You continue to amaze and inspire me every day.
Some more pictures for you!