What did I do this summer? Aside from writing a lot, I also took my family on a vacation/research trip to the old Viking lands of Norway!
Now, if you're a Norwegian fan and are upset I didn't tell you I was in your country, sorry! But this was an under-the-radar trip to relax and get some firsthand info on Scandinavia. I can't really mix in public events on a trip like that or my family would NOT be pleased. I had previously done research trips to Denmark, Sweden and northern England — all big Viking stomping grounds — but this was my first chance to visit Norway. So what did I learn? Read on!
We started our trip in Amsterdam, which is why I am showing you a picture of an apparently dead camel: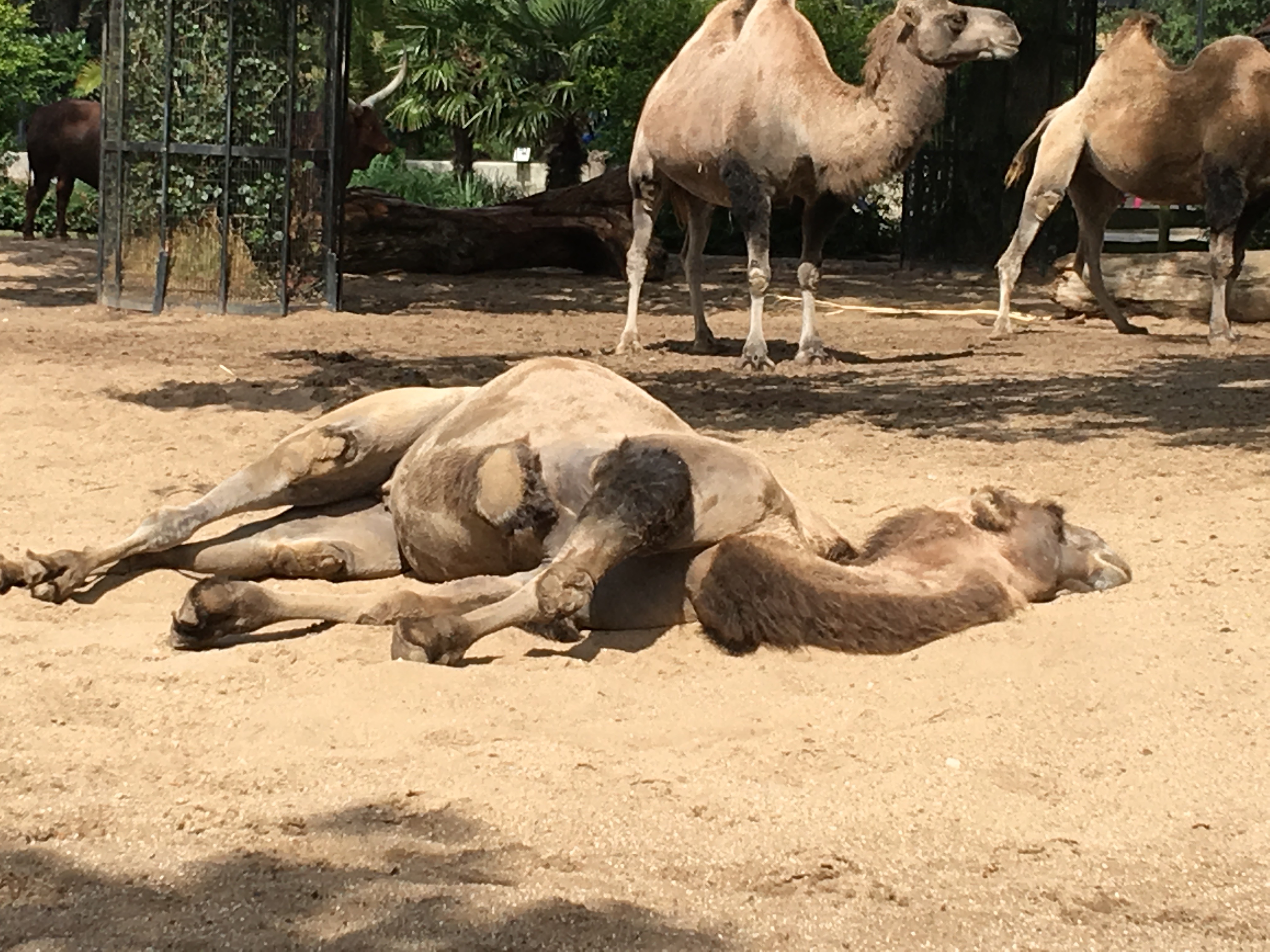 Actually, we met this fellow at the Amsterdam Zoo. I named him Hindenburg. He was alive. He was just so done with being a camel. Either that or he was enjoying the nice weather.
We also got to see a mother and baby monkey. They were pretty darn cute.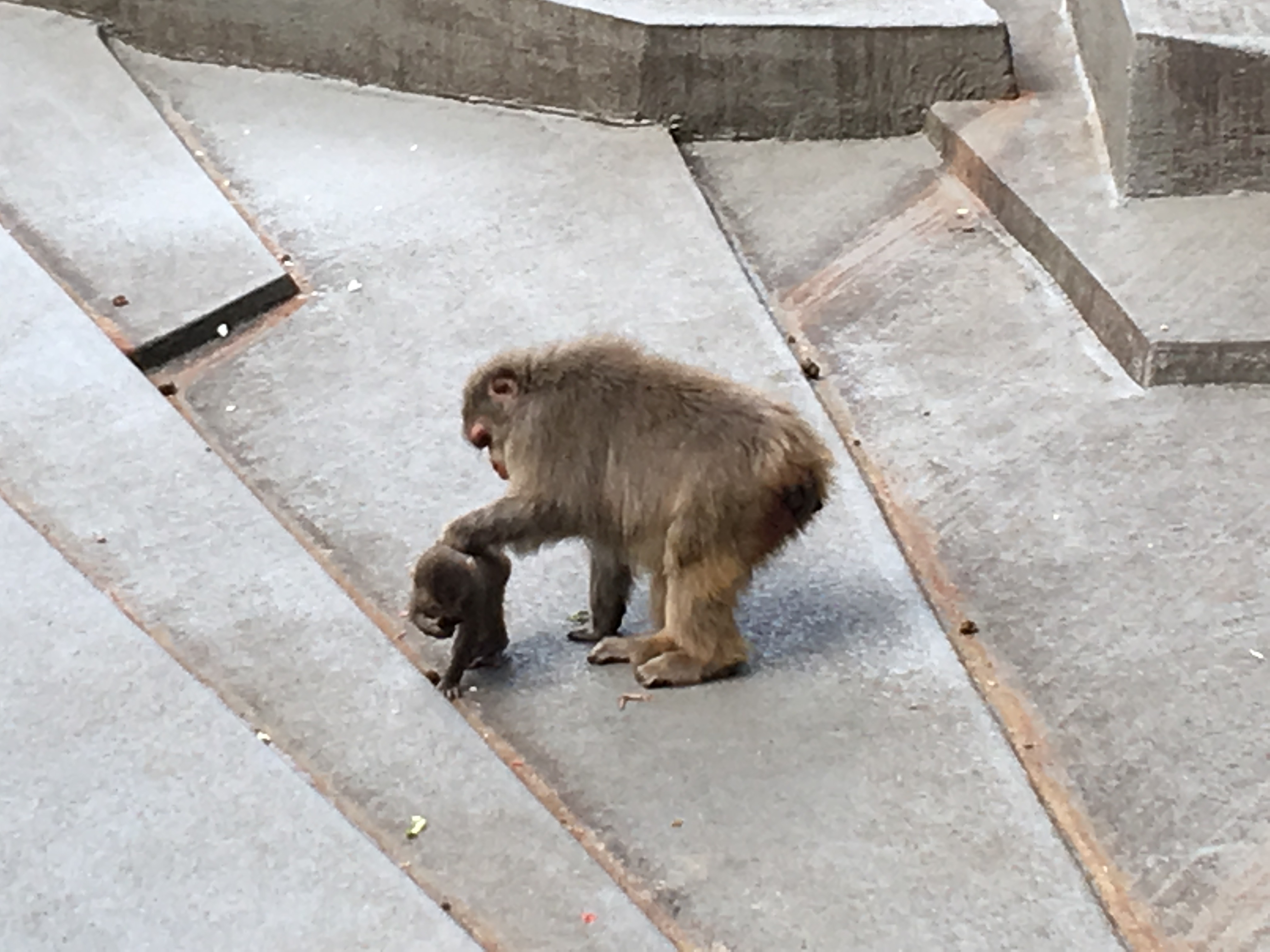 And that about covers Amsterdam!
No, not really. It's a beautiful city. We did the usual boat ride through the canals, took the public trains, explored the museums and ate our fill of waffles and ice cream. (Yum!) But mostly it served as our embarkation point for a cruise north.
Our first stop was Bergen, Norway, where the entire combined armed forces of the Scandinavian countries assembled on the docks to welcome us:
Actually, I don't know what those guys were doing there. It looked like some sort of multi-national ceremony, but it was a cool welcome to town nevertheless. We walked around in the rain and cold, which was a welcome change after Boston's hot dry summer. We ate well at a local bakery, heard a concert of Edvard Grieg's music, and explored the seemingly endless Viking souvenir shops.
How could I not follow this sign upstairs?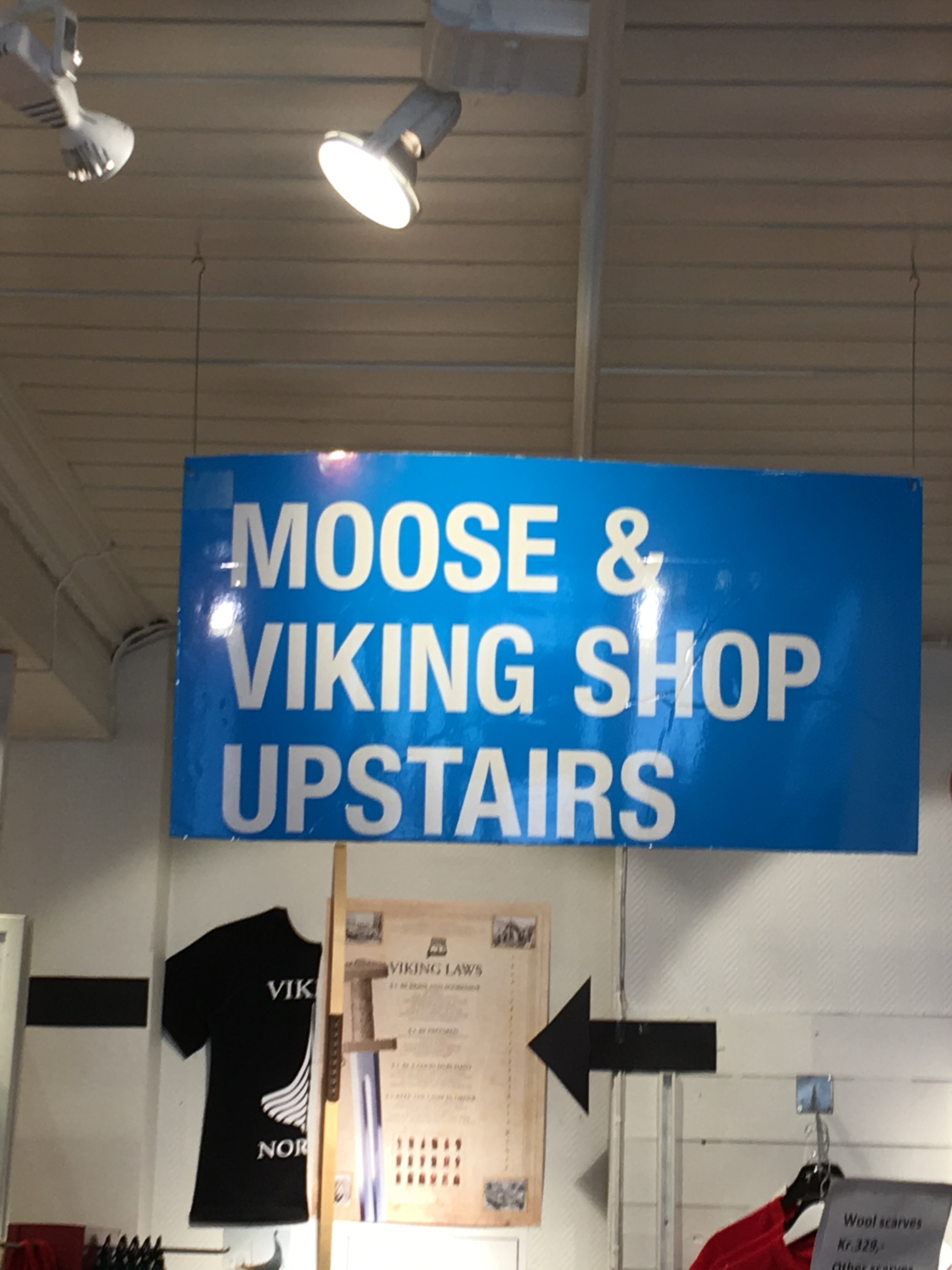 Alas, there were no actual moose or Vikings, but I did find a statue of Freya striking a flirtatious pose: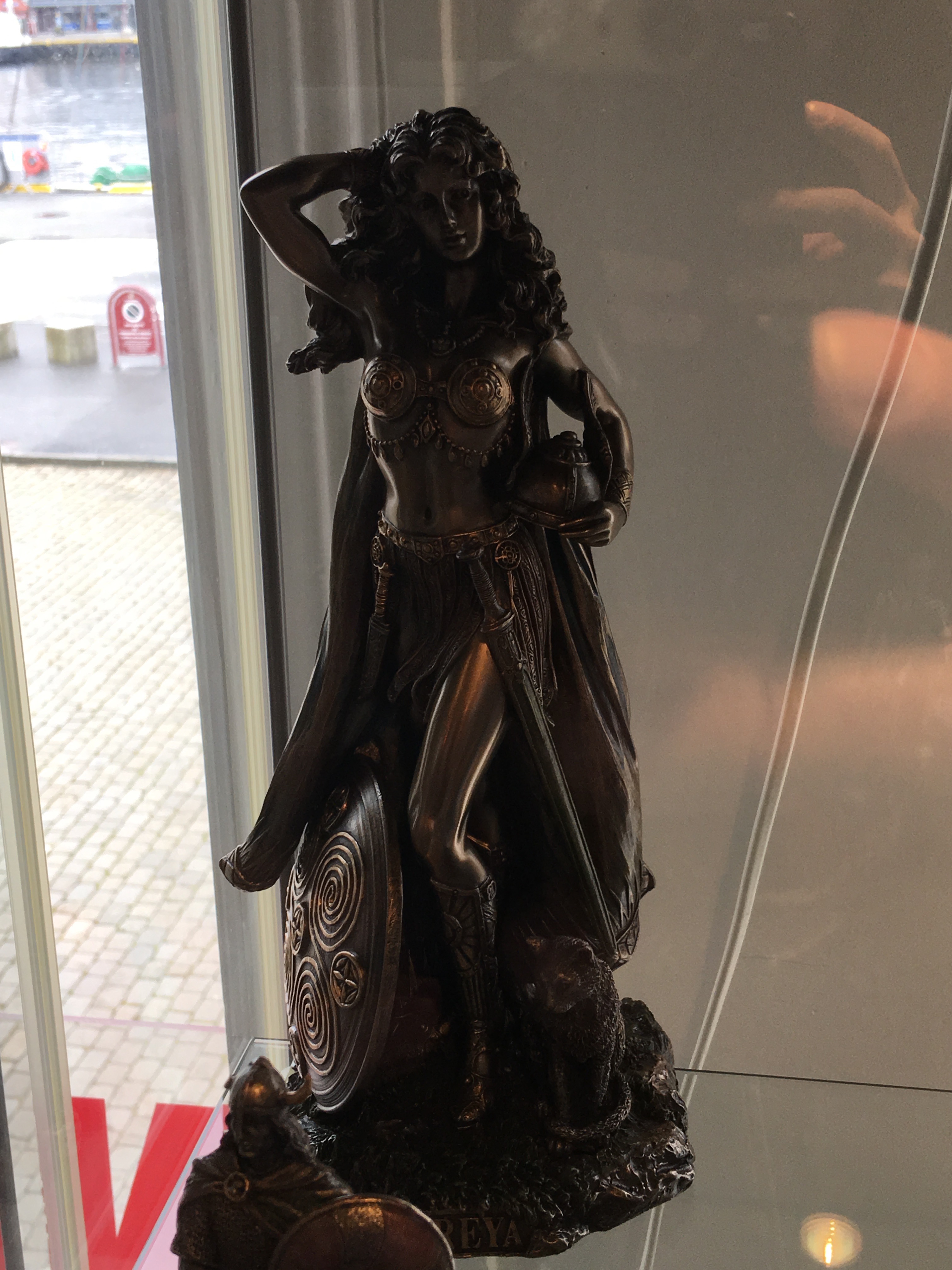 I did not actually buy the statue, however, because the salesperson could not guarantee that it would cry golden tears.
We sailed on from Bergen, and as we went north the weather became sunnier and warmer. I didn't think it was supposed to work that way, but we didn't complain.
We quickly discovered why the fjords of Norway have such a great reputation. The country is stunningly gorgeous. I warn you: None of our pictures could do it justice. When you are there in person, you realize how much bigger and grander and more majestic it is.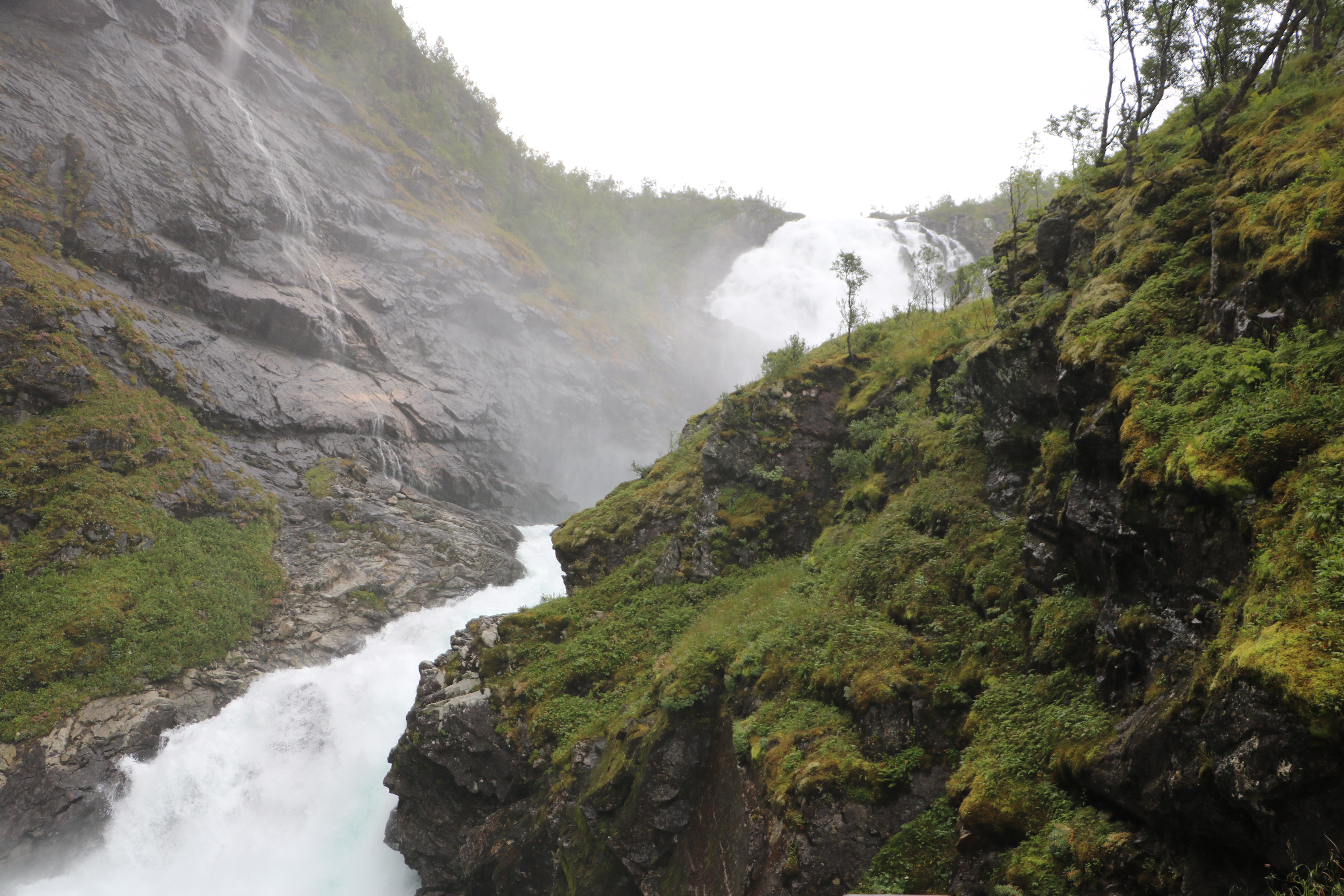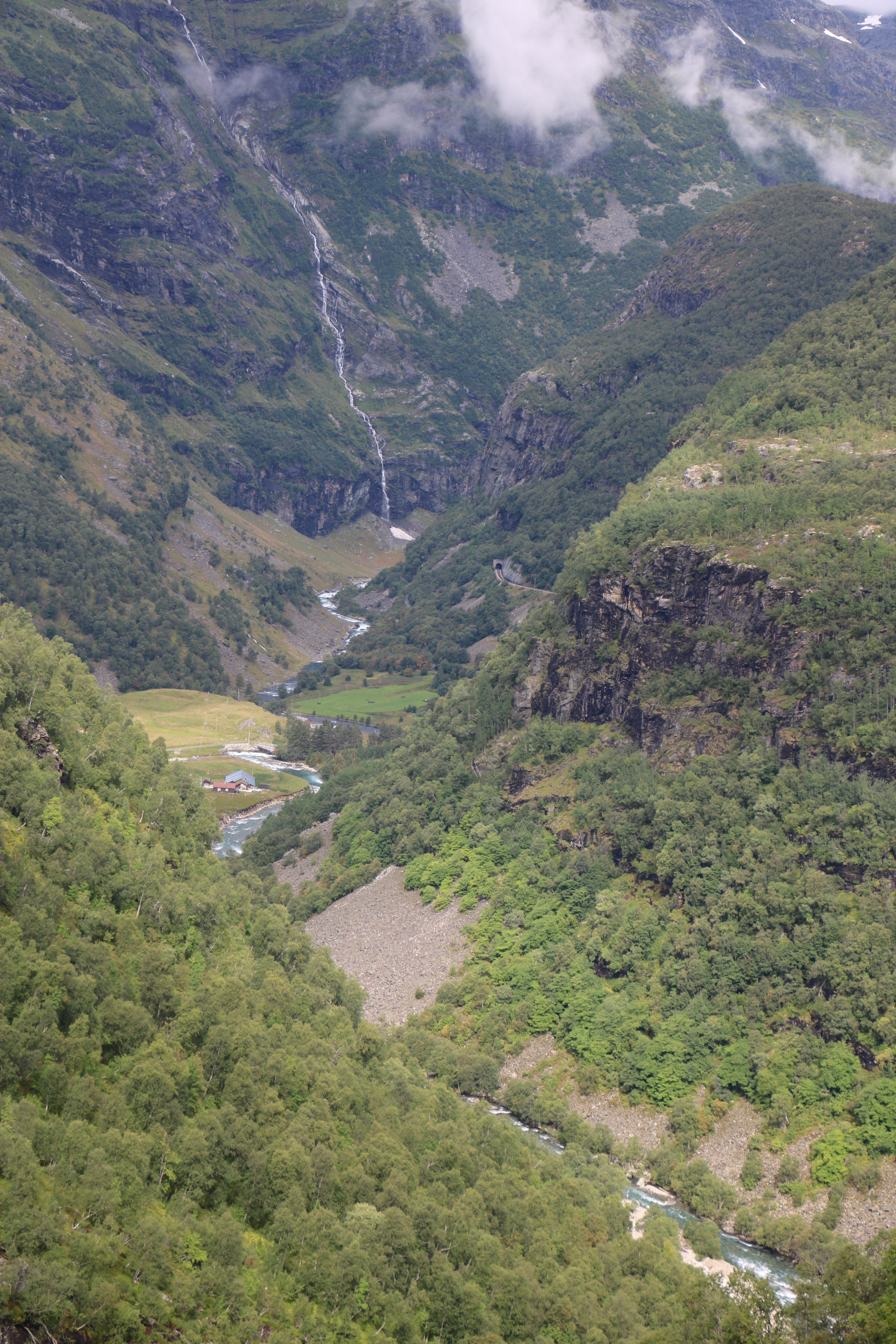 I finally understood why the Vikings believed in giants. How could you not, living in a place where the landscape was fashioned for beings a thousand times your size?
Our best experience was getting lost. We took a train from the small port village of Flam up to the top of a mountain and decided to take the hiking trail back down, not realizing that the hike was twenty kilometers. We eventually figured this out and got a taxi back from the middle of nowhere, but while we were hiking it was beautiful — just us, lots of nature, gorgeous weather, and the occasional random herd of goats.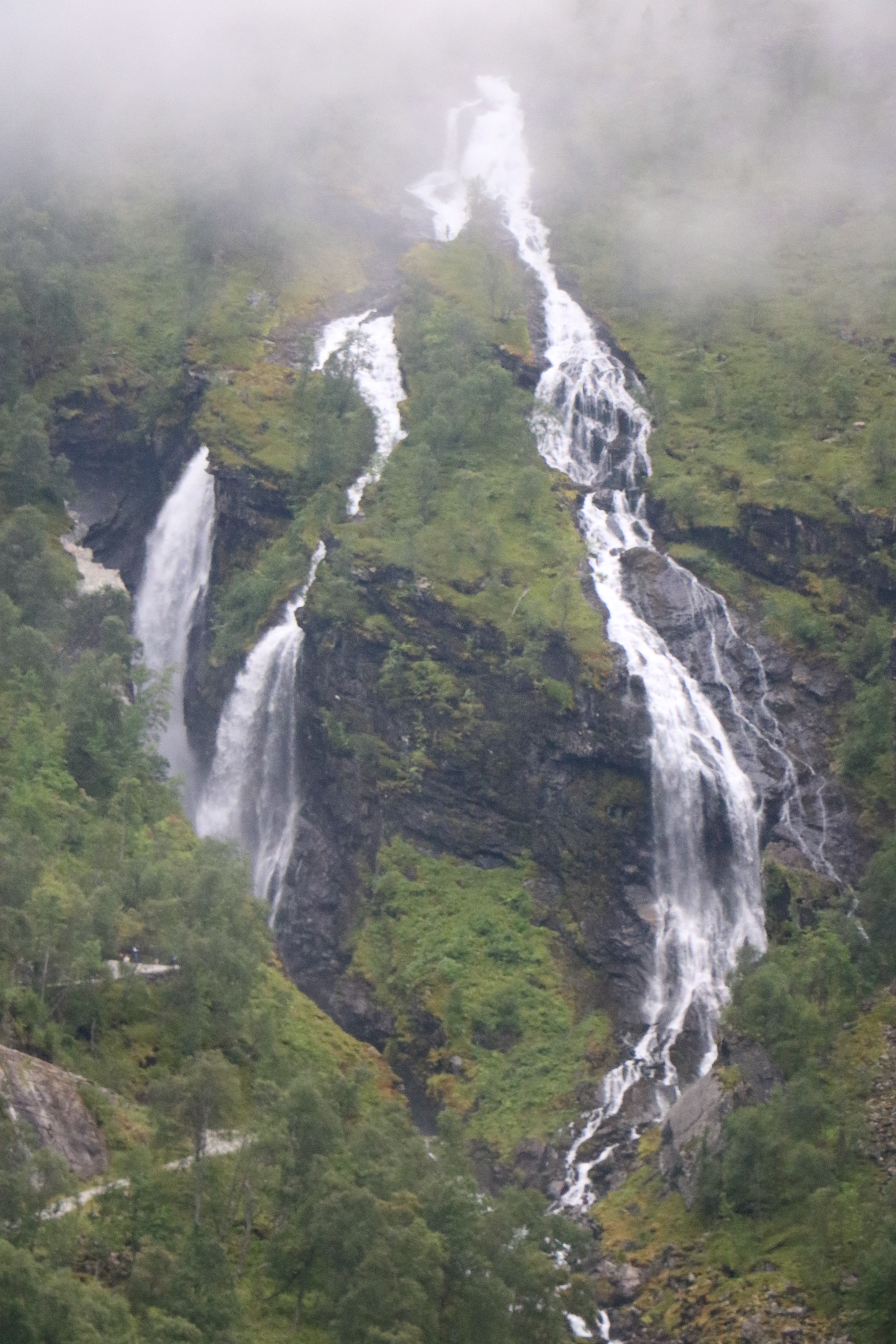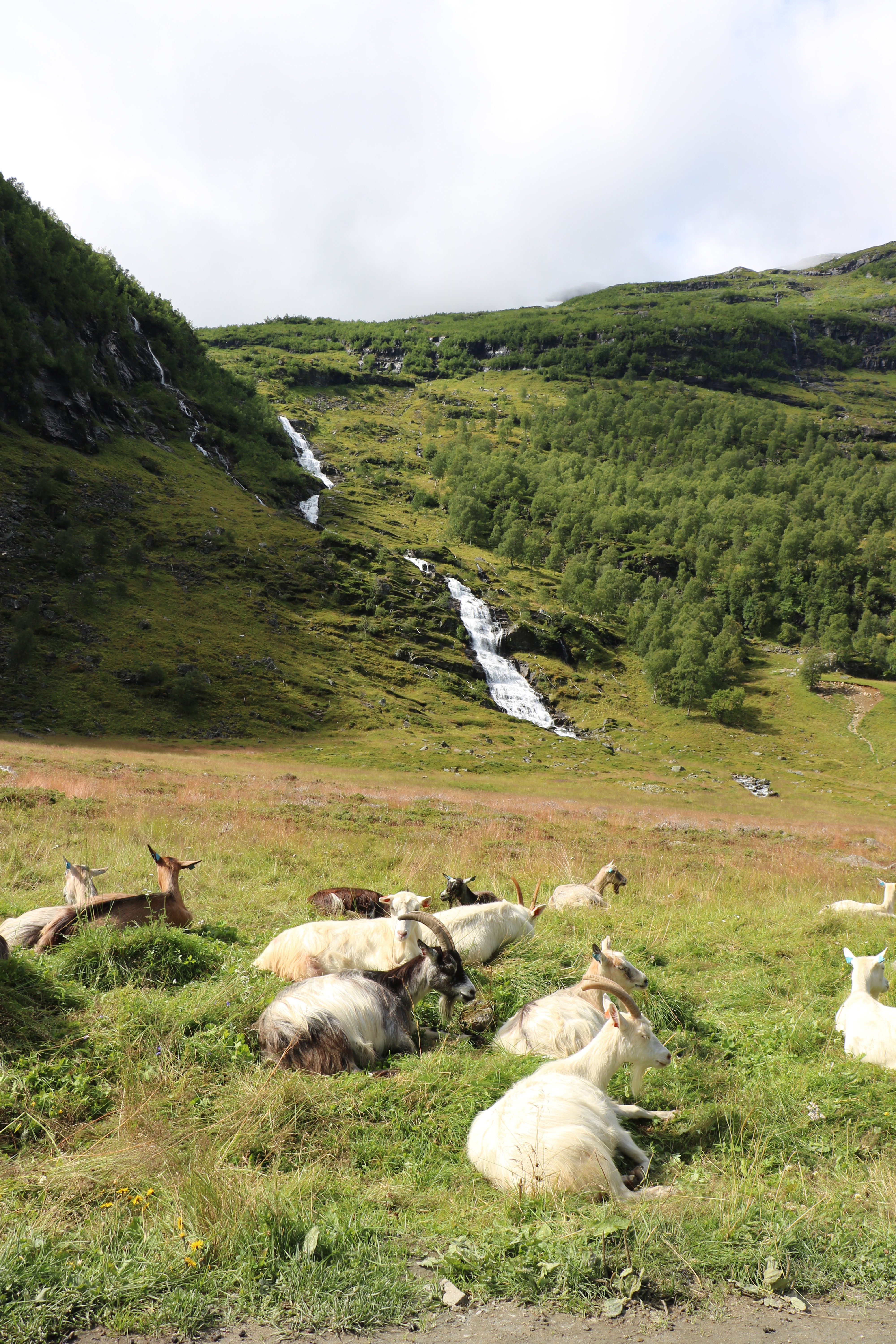 We walked right through the middle of this goat farm, said hi to Otis, Marvin and all their friends. We had to be sure to close the gate behind us when we left the property to keep the goats from coming with us. Here I am making a sad face because NO GOATS SHALL PASS.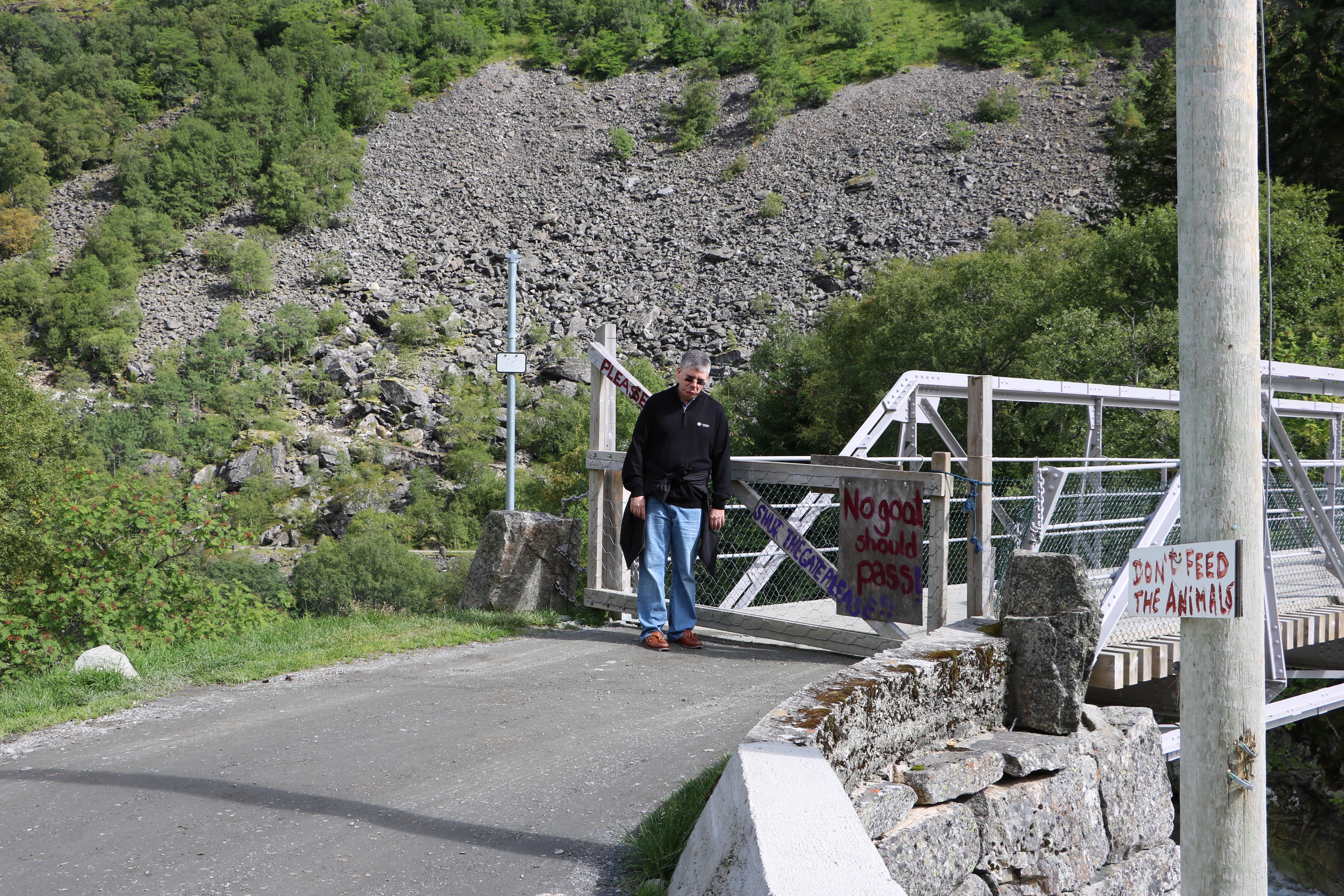 We also met Freya's cat on this hike. She bit me.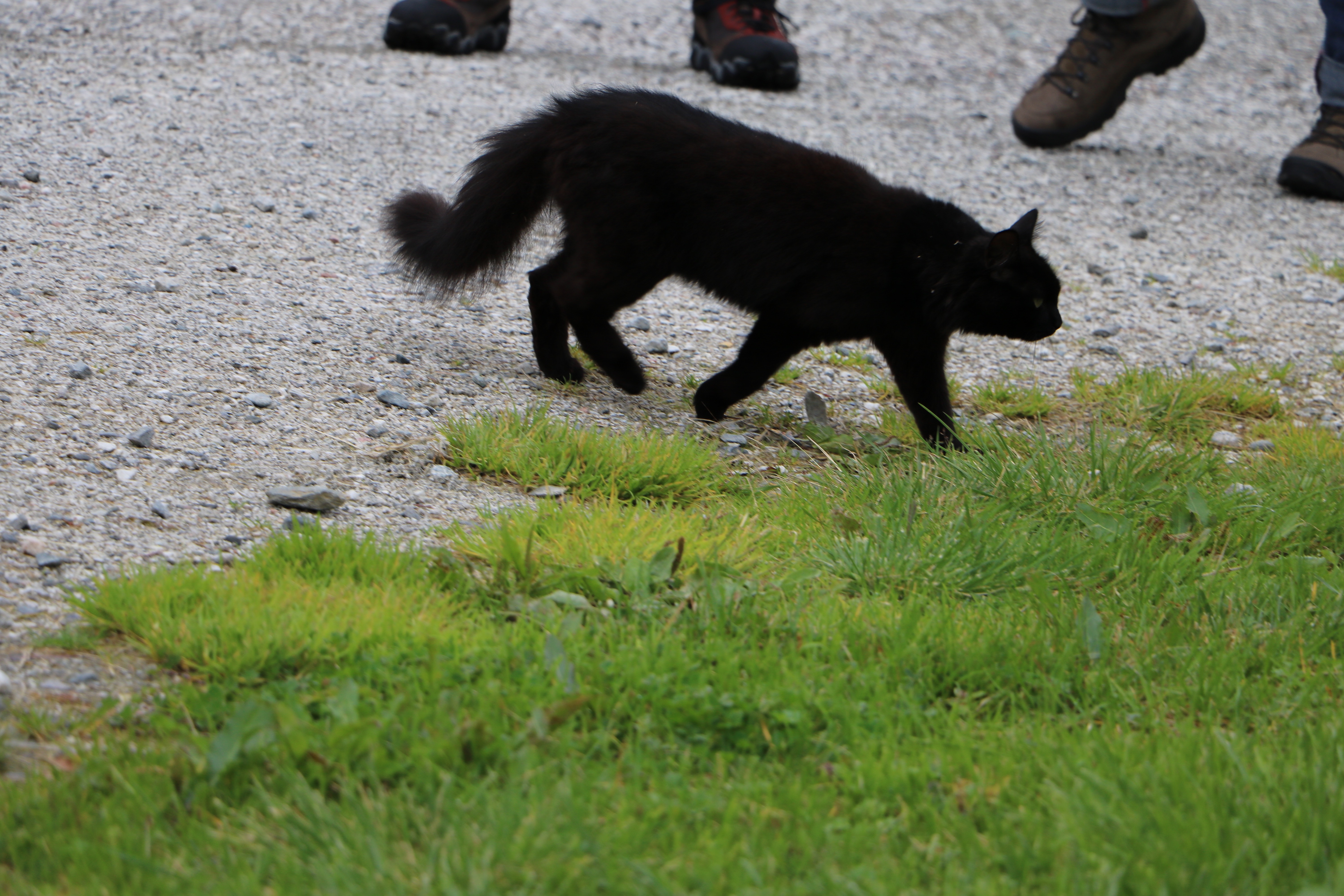 And more amazing natural wonders, blah, blah, blah, whatever: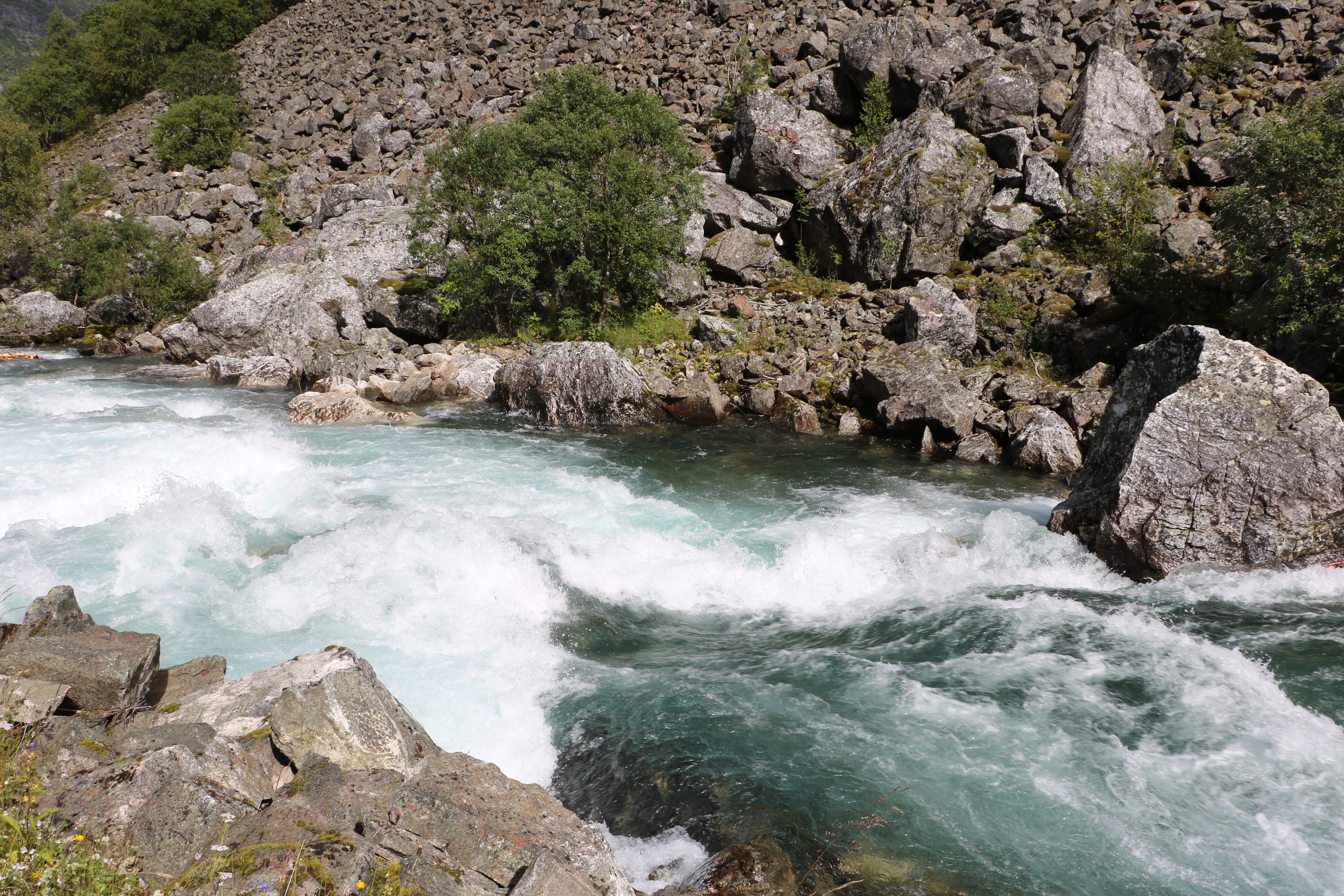 We made it back to the ship just before it sailed away, but Flam definitely made an impression. I could imagine we were travelers like Odin, Loki and Honir, going from village to village, disguised as humans. Next time, I bring a compass, better shoes, and goat treats.
We sailed north from there. It's too bad they don't have beautiful sunrises and sunsets in Norway.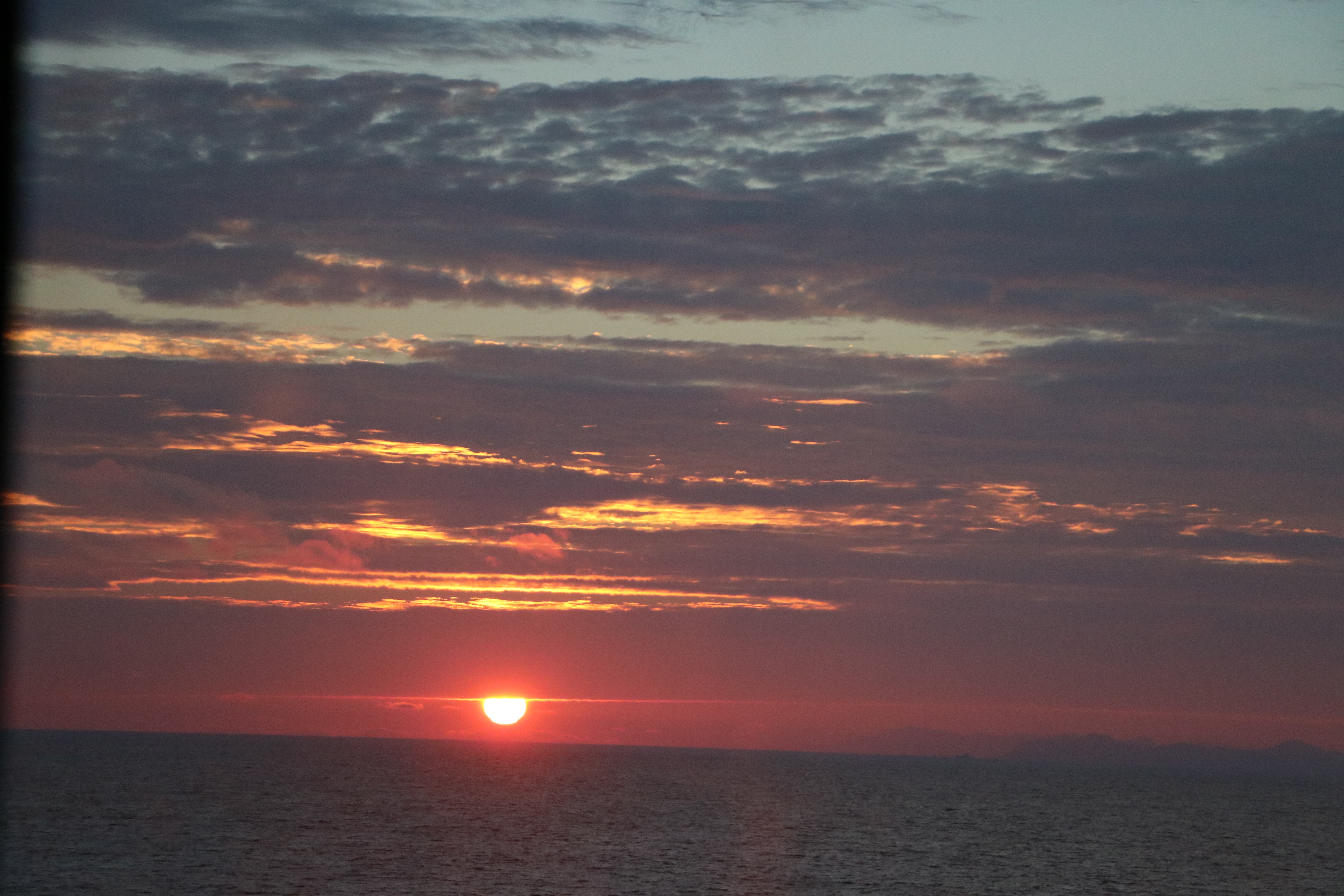 Once north of the Arctic Circle, we got to visit a reconstructed Viking longhouse in the Lofoten Islands.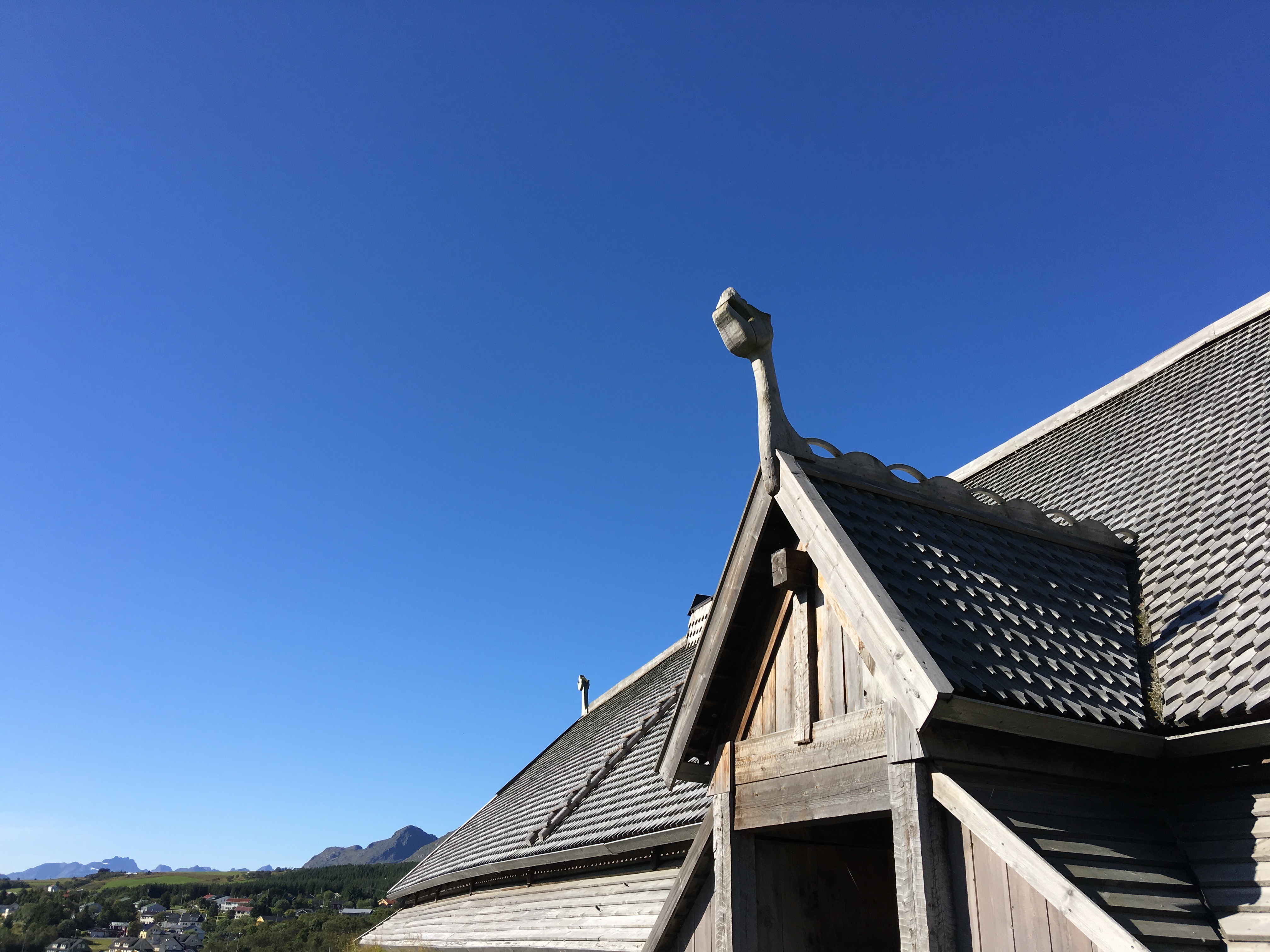 It's a working farm, so we got to see some cows. They were so done being cows: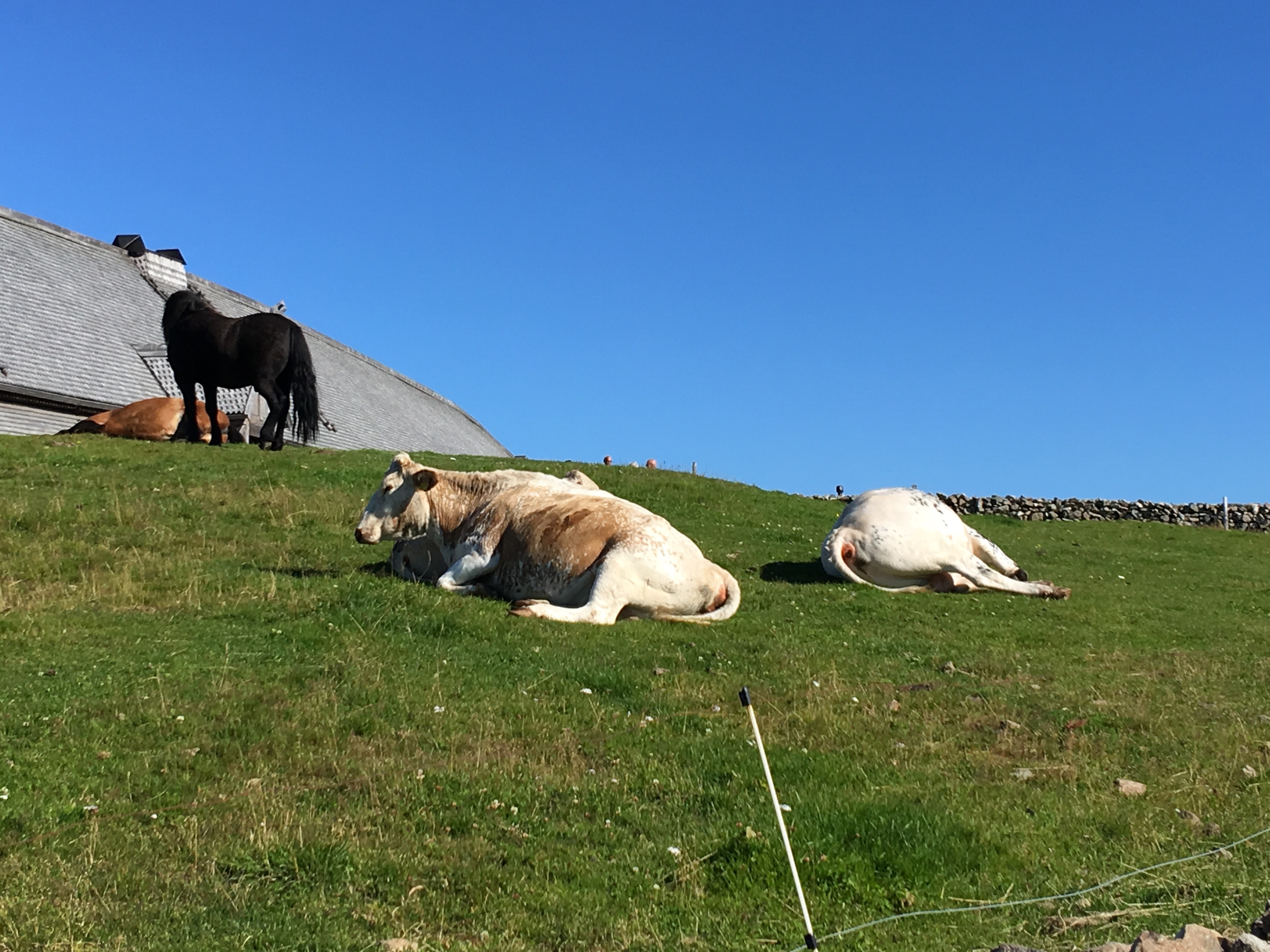 Also piglets. Very cute piglets: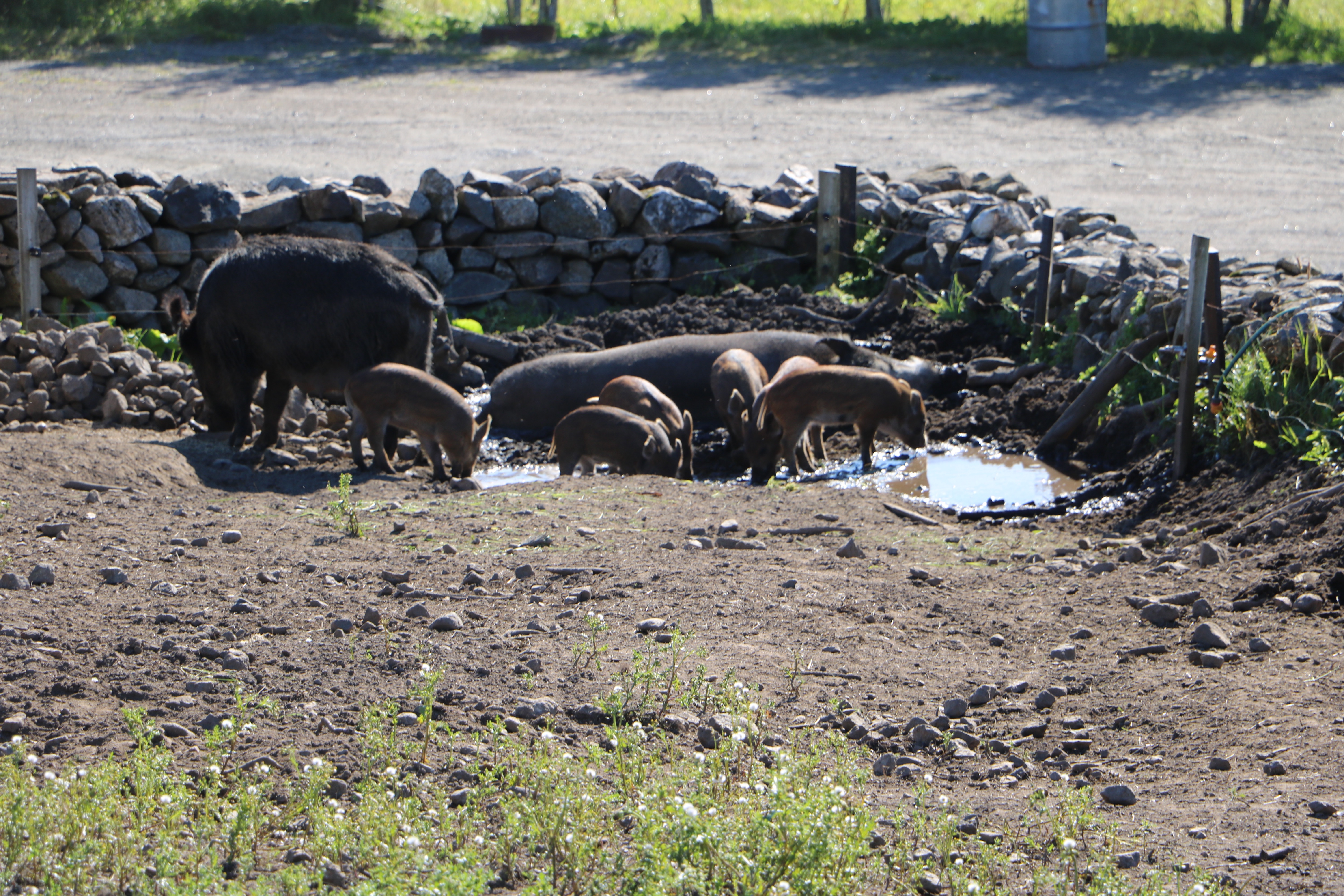 Then we headed inside the longhouse itself, which was, as advertised, long.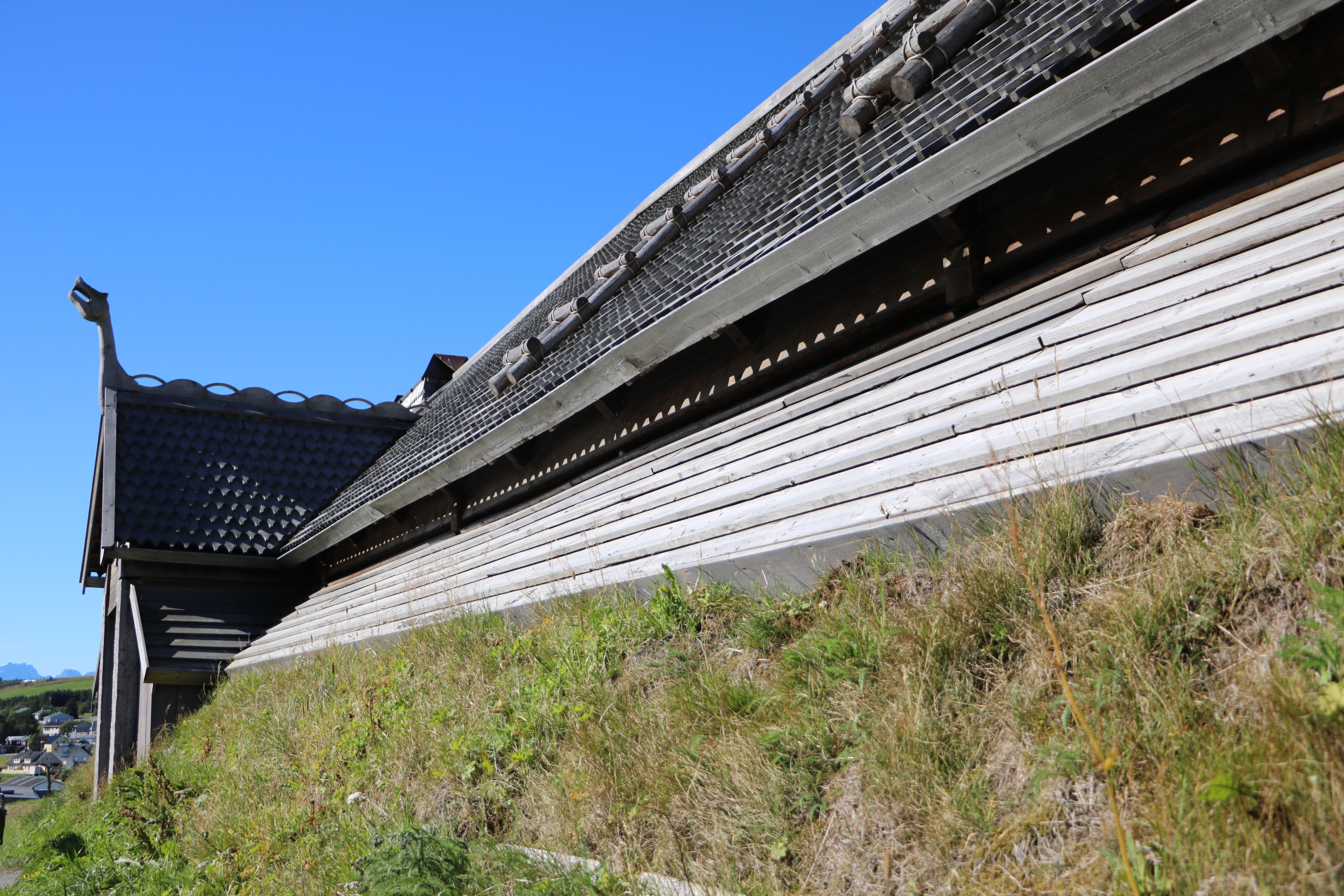 I quickly found the thane's throne and asserted my dominance as lord of the manner: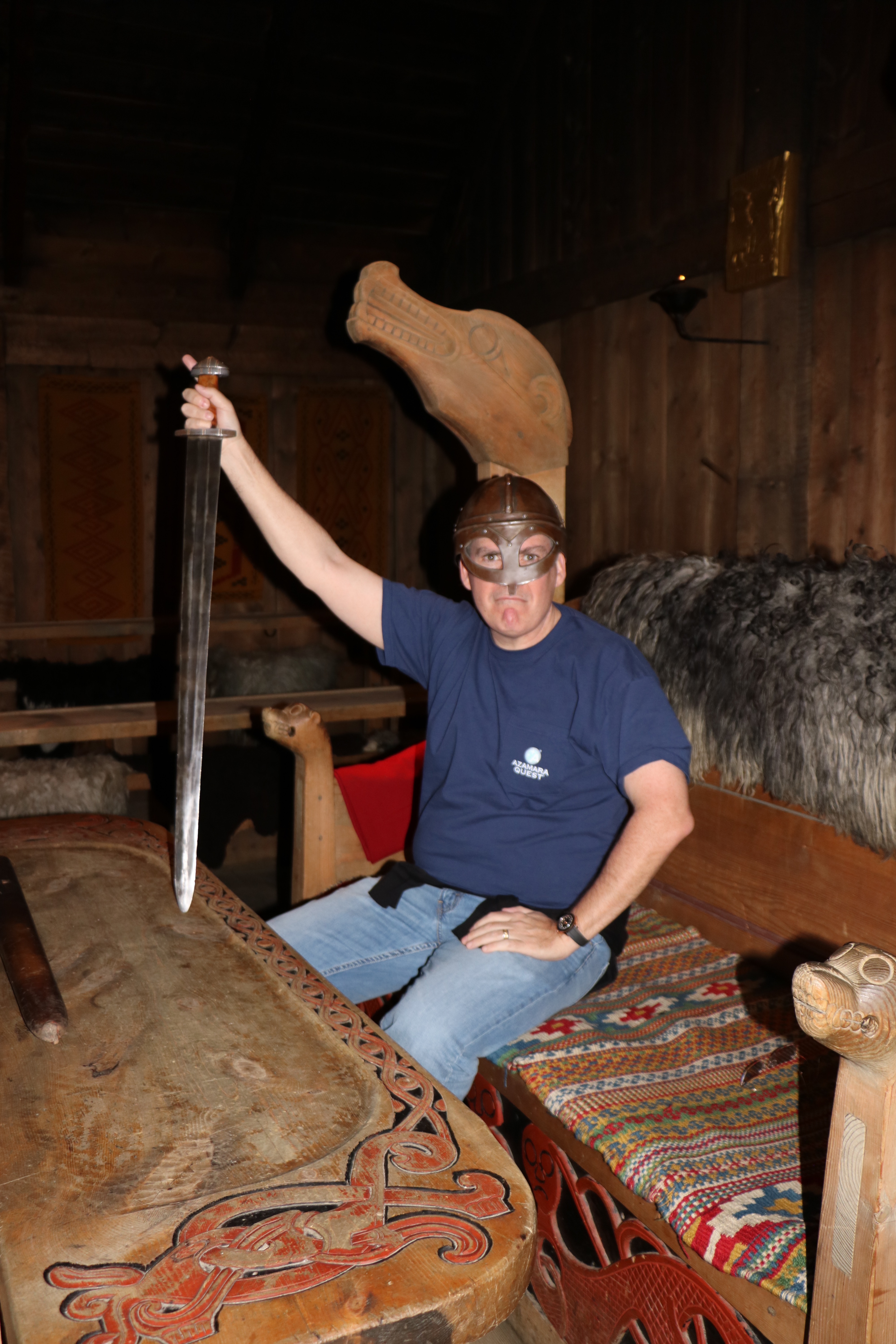 Fear me. Fear my hat.
We found some carvings of the gods protecting the hearth: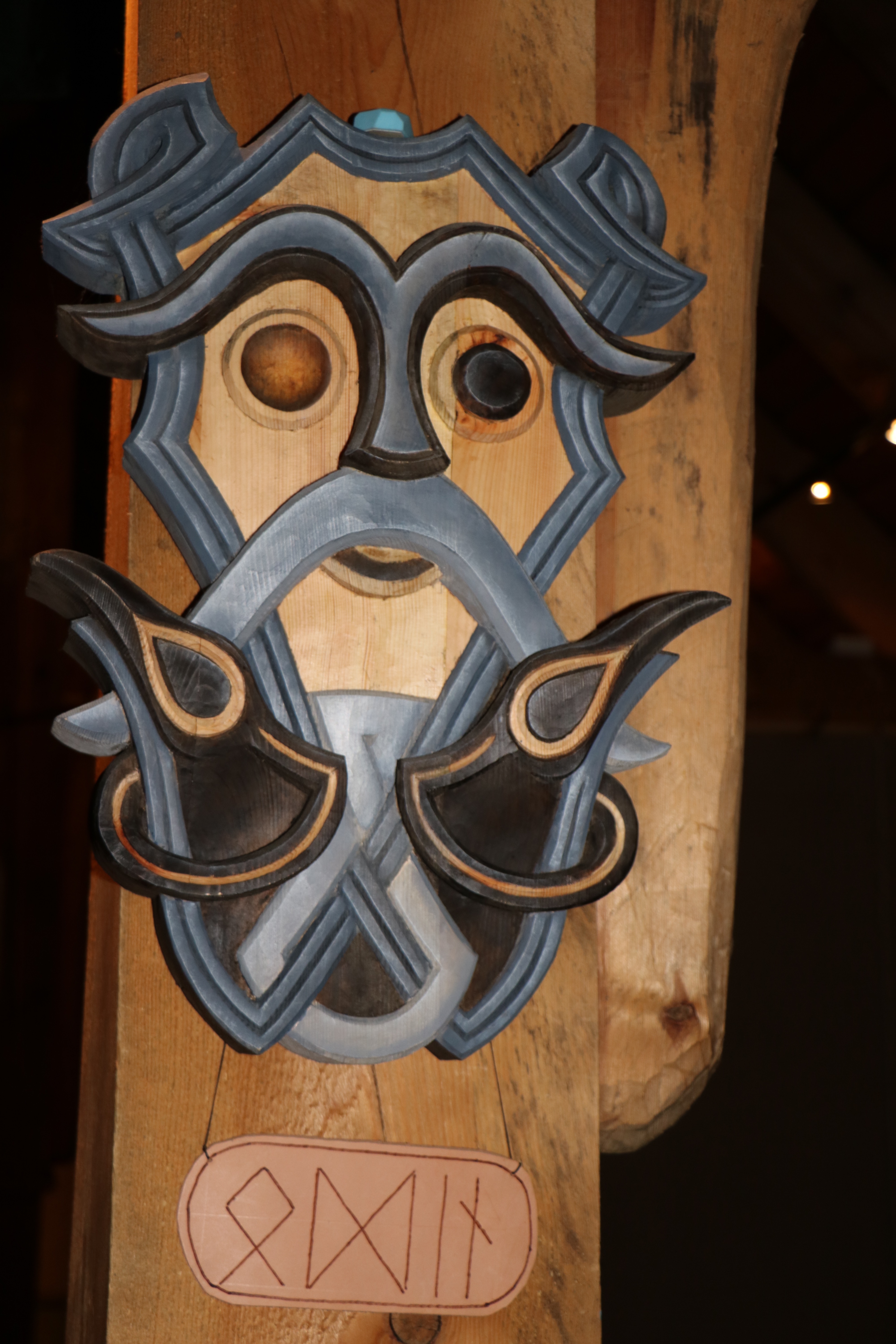 Odin with his ravens, obvs.
I'm guessing Frigg, since she was opposite Odin.
And when you are in a Viking longhouse, always pay attention to the nearest illuminated exit in case of emergency: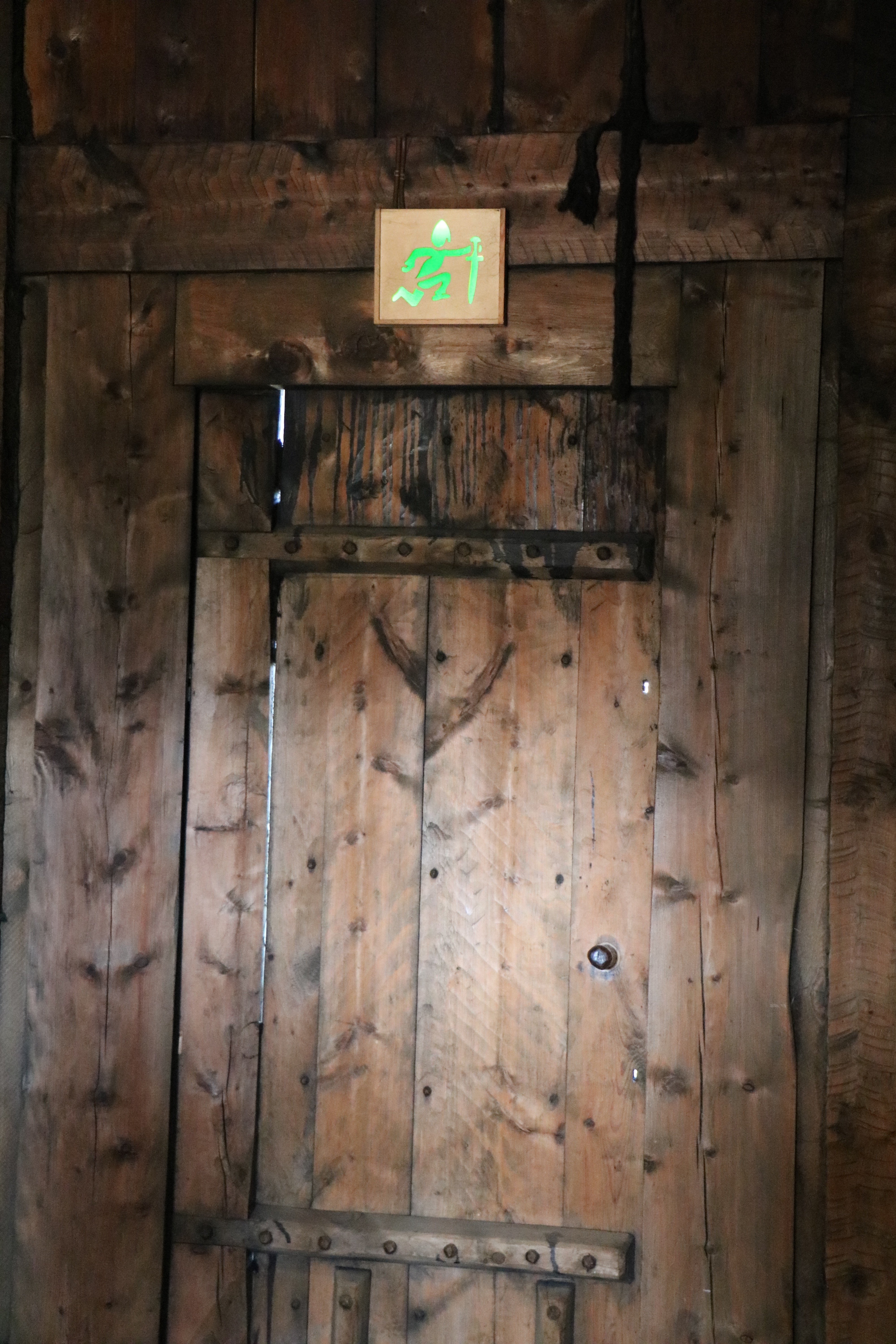 We continued north all the way to Honnigsvag, the northernmost town in Europe at the very top of Norway. Along the way, we got our fill of amazing scenery and I got a very good sense of what it must have been like for the Vikings, living in such an amazing but harsh land: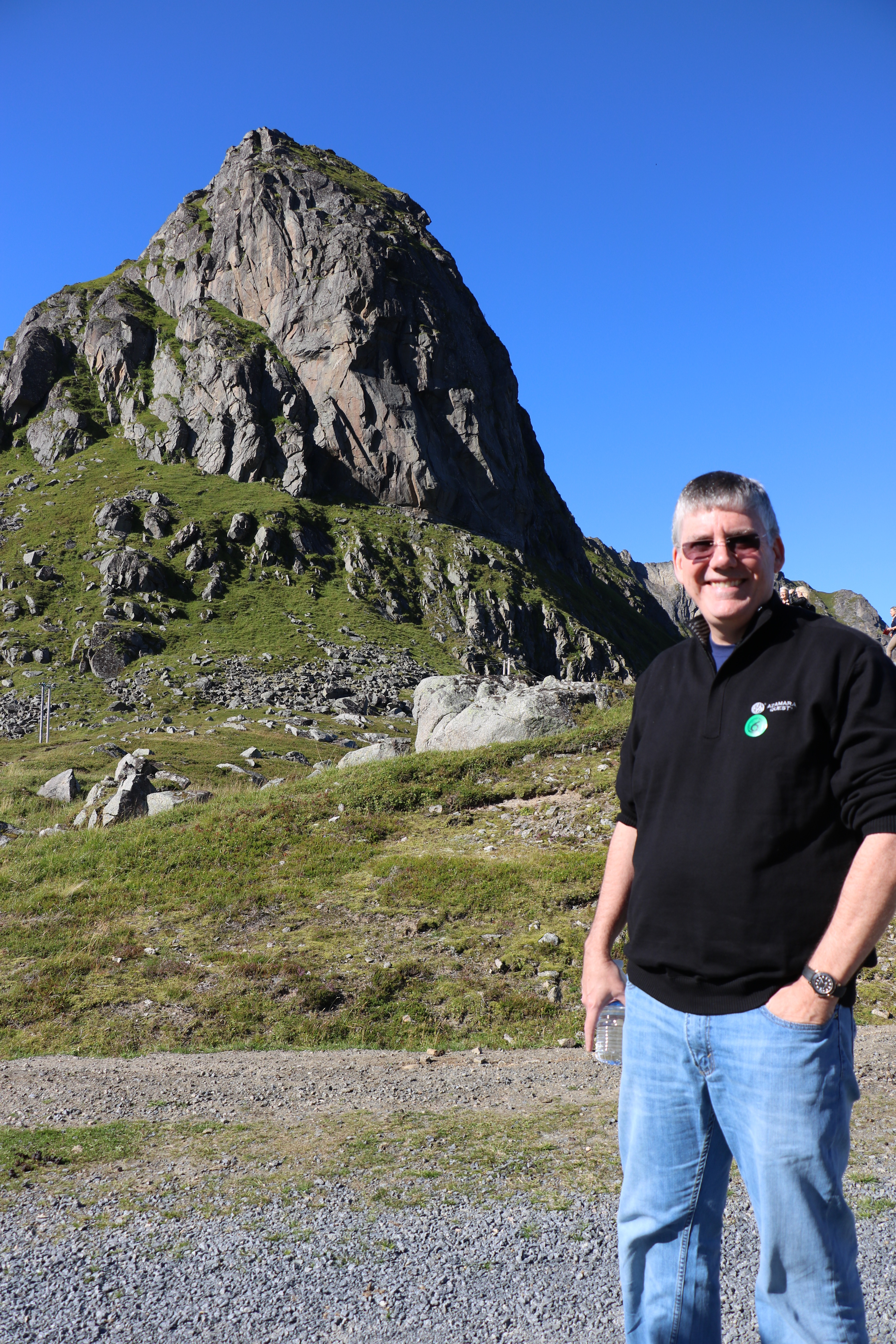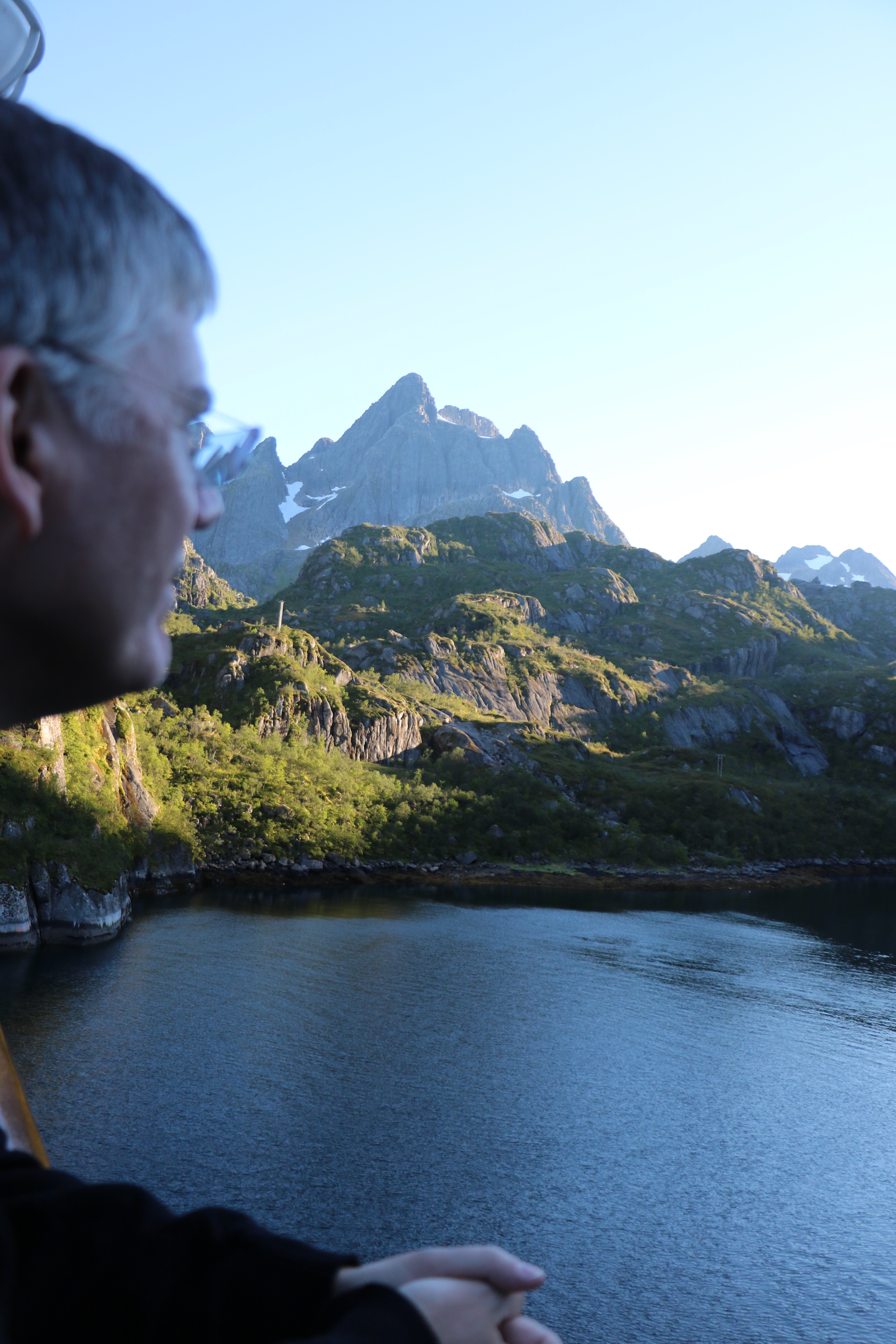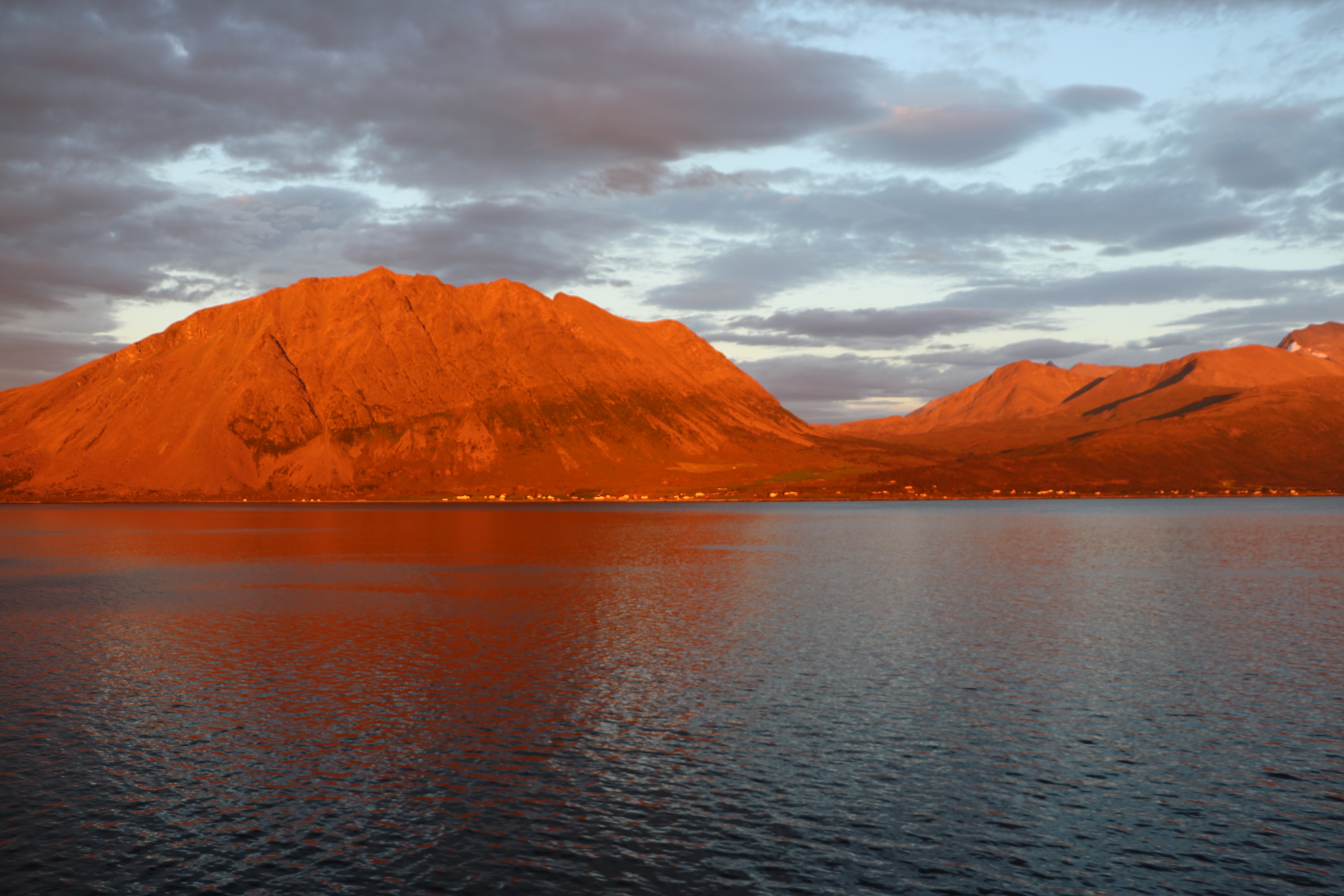 By the third day, we were 'waterfalled out.' We just couldn't take any more pictures of the gorgeous cascades of snowmelt from the tops of the mountains.
This one is called the Seven Sisters, though I'm not sure how they came up with the number seven. I guess the Five and a Half Sisters Plus a Minor Dribble didn't sound as good.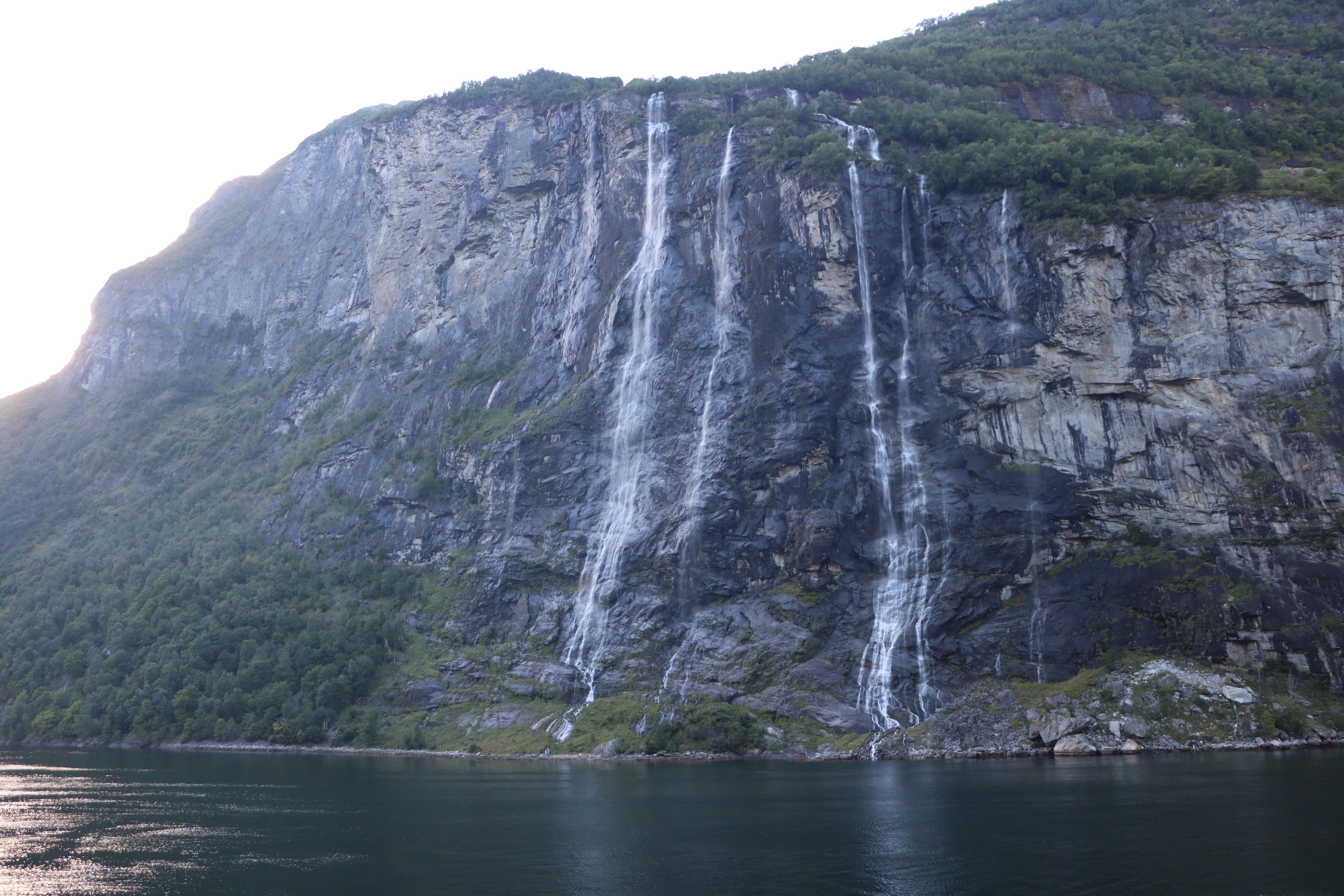 The captain of our ship swore that the cliff in the middle of this waterfall looks exactly like a whiskey bottle, though I dunno — that may say more about our captain's drink preferences than the waterfall.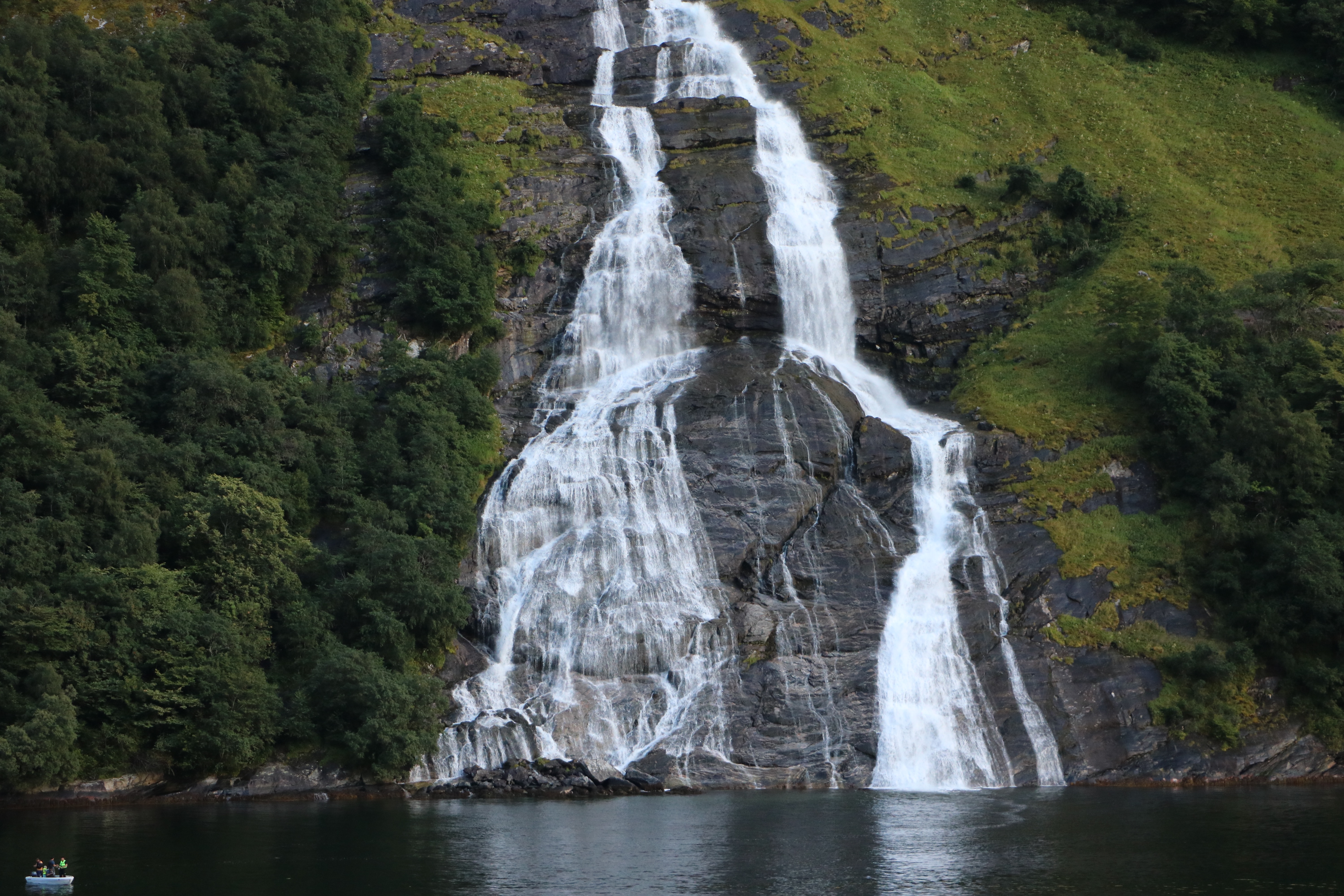 And in every town we came to, we saw lots of Frank Sinatra crossing signs: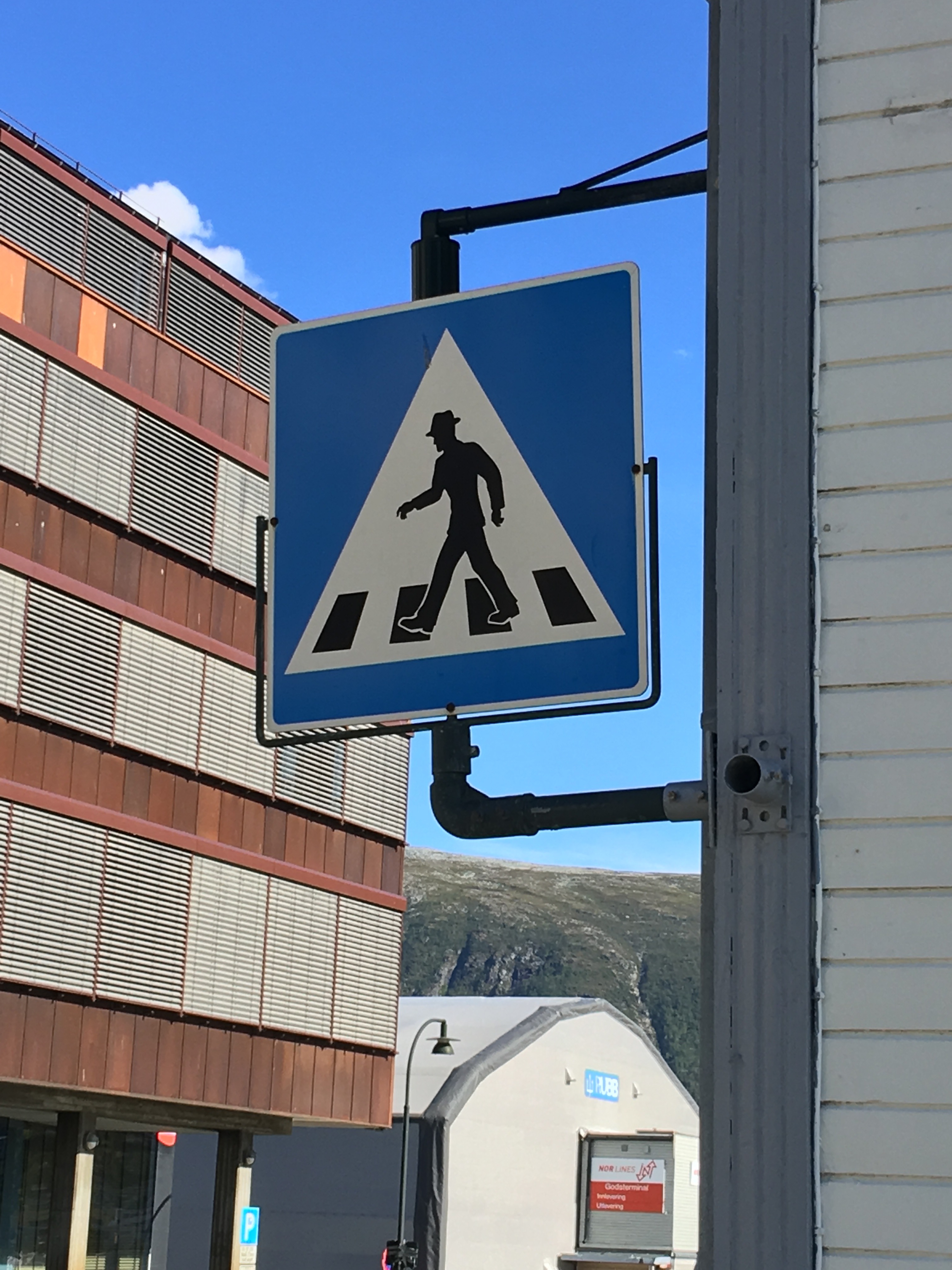 I guess that's why they play his music in the Hotel Valhalla elevators. Those Norwegians really love Sinatra.
Becky even caught a glimpse of the Northern Lights. It was daylight for like 20 hours a day, so it wasn't the best time of year, but she was looking up from our balcony on the ship one night and spotted a glow that she thought was the moon. Then she realized the moon was in a completely different part of the sky. So here's the best shot she could get of the aurora: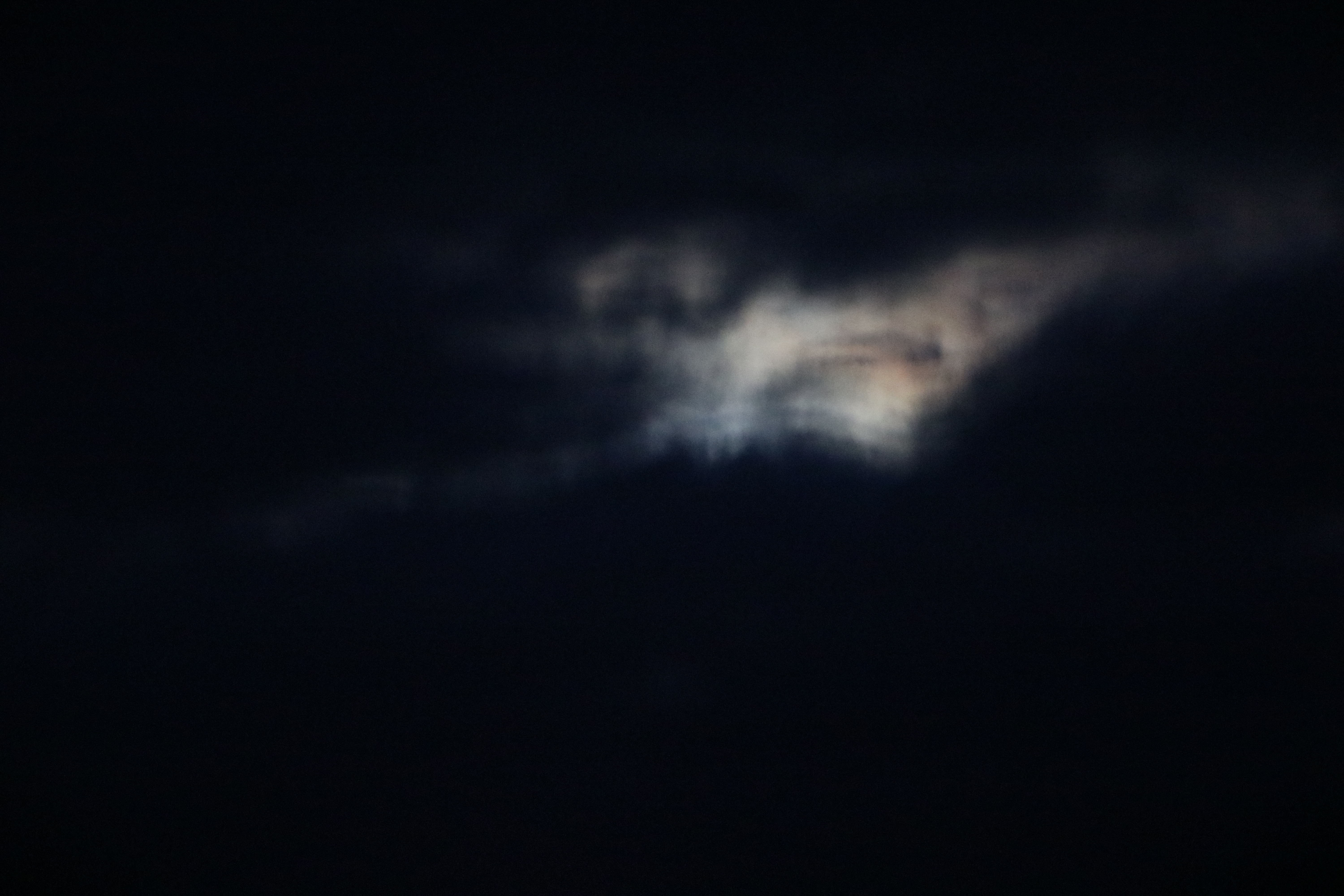 And here's a Midnight Sun sunrise: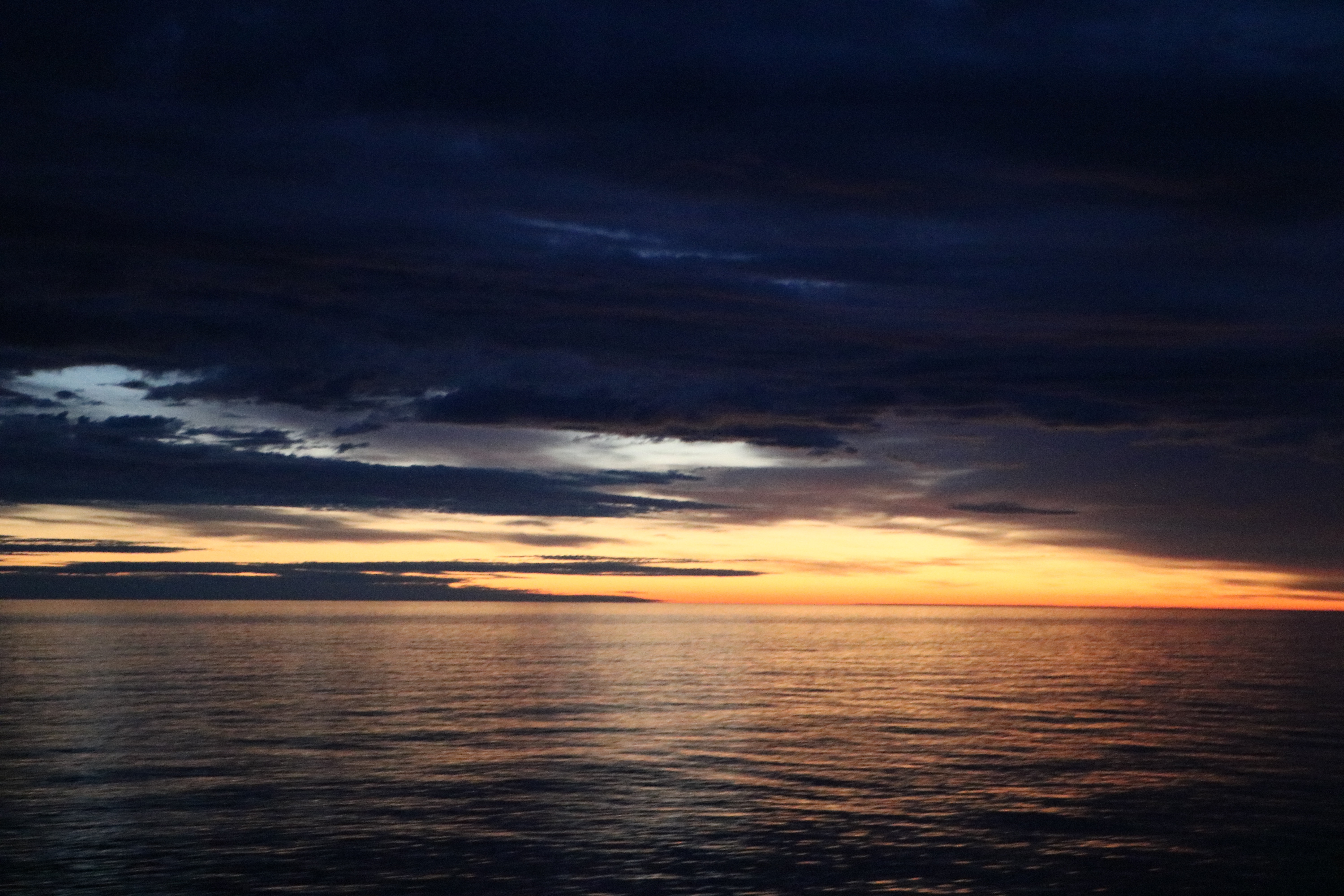 We had a great trip and I learned a ton of stuff! Now we are back at home feeling so done with travel. I am almost as tired as Speedy: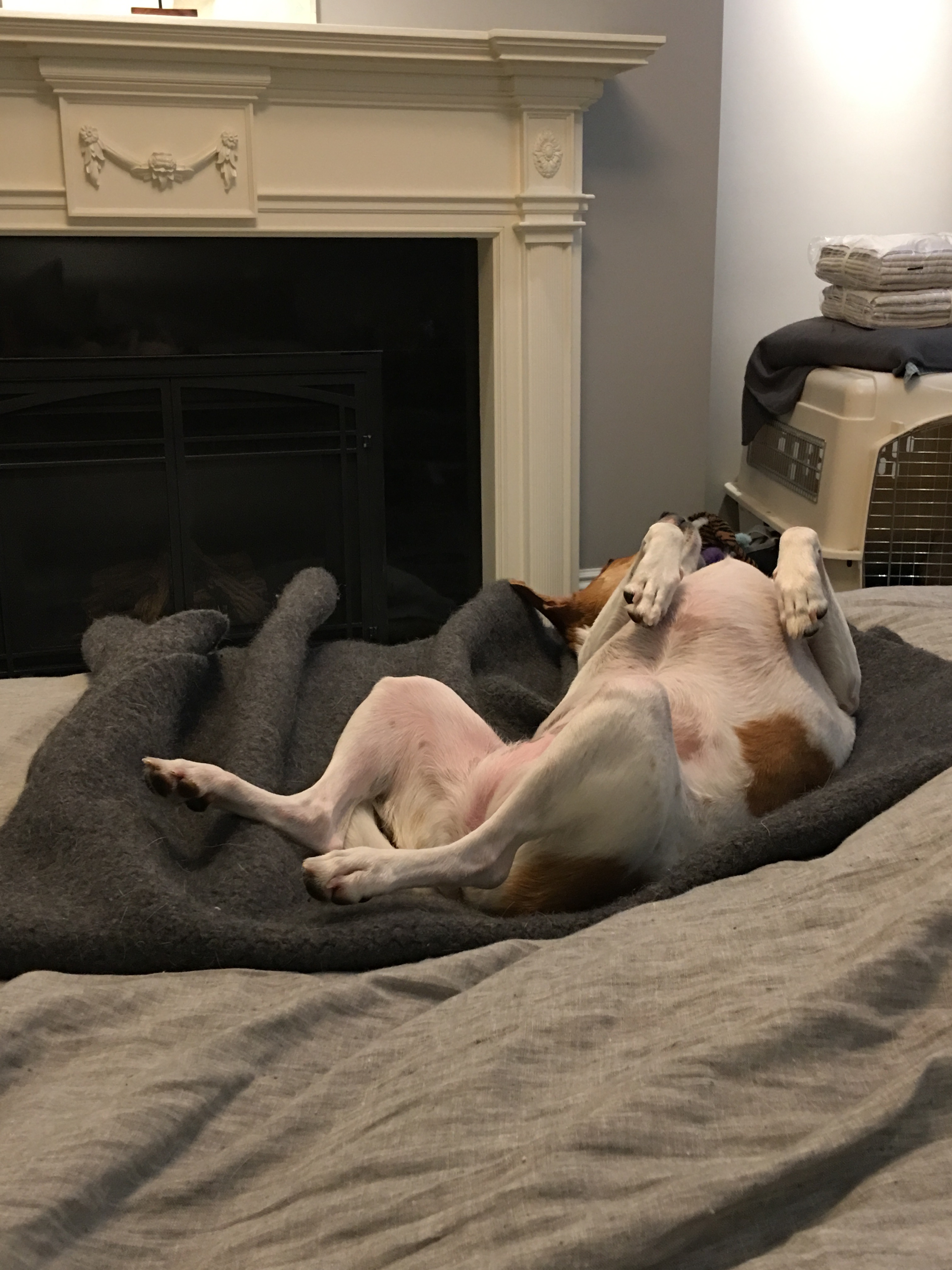 Thanks, Norway, for being awesome and giving us Viking stories to write about! I am now all fired up for the release of Magnus Chase 2: The Hammer of Thor, coming out in October!