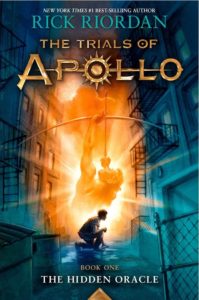 Okay, guys, we're getting close.

The Hidden Oracle will be published May 3, and I'll be doing one — count 'em one — event for the launch of the series. I'm not doing a tour this time around because I have two series to work on, Trials of Apollo and Magnus Chase, and as you can imagine, that requires a lot of writing time!
The event will be here in Boston on May 3, sponsored by Harvard Bookstore. Tickets will go on sale March 22 online. If you can't make the event, you can order a signed book online and Harvard Bookstore will ship it to you!
Full details (with links for ordering) are below from the store's website:
Harvard Bookstore presents:

Rick Riordan
The Trials of Apollo, Book One:
The Hidden Oracle
Tickets on sale March 22 at 9am
Tickets available online only at trialsofapollo.eventbrite.com

($30 tickets include a pre-signed book / $15 tickets are admission only)

Date

Tuesday

May 3, 2016

7:00 PM

Location
Back Bay Events Center
180 Berkeley St, Boston, MA 02116

Harvard Book Store welcomes back bestselling author RICK RIORDAN—dubbed "Storyteller of the Gods" by Publishers Weekly—for his return to both Greek mythology and the world of Camp Half-Blood!
Join us in Boston on publication date for a presentation of the first book in a new series, The Trials of Apollo, Book One: The Hidden Oracle. This event will be the only Rick Riordan event in the country for The Hidden Oracle!

Tickets

Tickets will go on sale online only at trialsofapollo.eventbrite.com on Tuesday, March 22 at 9am. A $30 bundled ticket includes a seat and a guaranteed signed copy of The Hidden Oracle. $15 general admission tickets are also available. Bundled ticket holders will receive their books at the event, taking place the evening of the national release of The Hidden Oracle.

Please Note

This event does not include a public book signing. All books will be pre-signed by Rick Riordan.
Check out Rick's usual tips and disclaimers if you're planning to come to an event.
We will not be able to accommodate requests for personalized inscriptions.

Can't Come to the Event but Want a Signed Book?

Pre-order a signed book at shop.harvard.com/trials-apollo-hidden-oracle. We can ship throughut the U.S. Please note, we will not be able to accommodate requests for personalized inscriptions.

About the Book

How do you punish an immortal?

By making him human.

After angering his father Zeus, the god Apollo is cast down from Olympus. Weak and disoriented, he lands in New York City as a regular teenage boy. Now, without his godly powers, the four-thousand-year-old deity must learn to survive in the modern world until he can somehow find a way to regain Zeus's favor.

But Apollo has many enemies-gods, monsters, and mortals who would love to see the former Olympian permanently destroyed. Apollo needs help, and he can think of only one place to go . . . an enclave of modern demigods known as Camp Half-Blood.

About Rick Riordan

Rick Riordan is the #1 New York Times bestselling author of the Percy Jackson and the Olympians series, the Kane Chronicles, and the Heroes of Olympus. He is also the author of the multi-award-winning Tres Navarre mystery series for adults.

For fifteen years, Rick taught English and history at public and private middle schools in the San Francisco Bay Area and in Texas. In 2002, Saint Mary's Hall honored him with the school's first Master Teacher Award.

While teaching full time, Riordan began writing mystery novels for grownups. His Tres Navarre series went on to win the top three national awards in the mystery genre—the Edgar, the Anthony, and the Shamus. Riordan turned to children's fiction when he started The Lightning Thief as a bedtime story for his oldest son.

Today over 35 million copies of his Percy Jackson, Kane Chronicles, and Heroes of Olympus books are in print in the United States, and rights have been sold into more than 35 countries. Rick is also the author of The 39 Clues: The Maze of Bones, another #1 New York Times bestseller.

Rick Riordan now writes full-time. He lives in Boston with his wife and two sons.