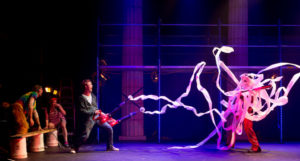 This is cool, guys:
On January 31, 2016 at 11 a.m. Theatreworks (@TheatreworksUSA) will present The Lightning Thief, a musical adapted from the book The Lightning Thief by Rick Riordan, features a book by Joe Tracz with music, lyrics, & orchestrations by Rob Rokicki (@rrokicks). The Off-Broadway premiere of The Lightning Thief was nominated for Outstanding Musical by the Lortel Awards in 2015.
The Kaye Playhouse is located at East 68th Street between Park & Lexington Avenues. Tickets for all performances will be $25. Discounted rates for groups of 4 or more are available as well. Tickets may be purchased by phone: 212-772-4448, online: http://www.hunter.cuny.edu/kayeplayhouse/calendar, and in person at the box office, which is open from Noon-6pm, Monday through Saturday.
Now I am not directly involved in this production. I haven't seen it. *But* I did give Theatreworks my blessing to create it, and I've heard a lot of fans talk about how good it was. It's fun, silly, accurate to the story, and entertaining, plus there is toilet paper. TOILET PAPER! A scene from an earlier staging of the musical is above.
If you missed it the first time, I highly encourage you to catch this return showing!