First, a big thank you to everyone who came to a tour event for The Sword of Summer. In eight sold-out nights, we saw over 10,000 fans and I signed over 10,000 books. As of today, the first Magnus Chase book is enjoying its third week at #1 on the New York Times middle grade bestseller list! It also debuted at #1 on USA Today.
If you missed the news about my upcoming projects, here is the lowdown: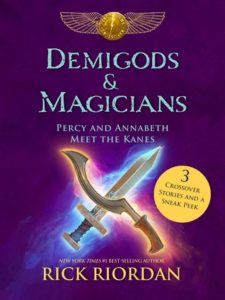 On April 5, the Kane Chronicles/Percy Jackson crossover short stories will be released in one printed volume as you fans have requested: Demigods & Magicians. Previously these were only available in e-editions and in the backs of various paperback releases. The stories include The Son of Sobek, The Staff of Serapis, and The Crown of Ptolemy. Also in this book will be your first sneak peek at the project below: The Trials of Apollo!



On May 3, I will release The Hidden Oracle, the first in the new five-book series The Trials of Apollo set in the world of Camp Half-Blood and Camp Jupiter. What's it about? Well, here is my description:
How do you punish an immortal?
After angering his father Zeus, the god Apollo is cast down from Olympus. Weak and disoriented, he lands in New York City as a regular teenage boy. Now, without his godly powers, the four-thousand-year-old deity must learn to survive in the modern world until he can somehow find a way to regain Zeus' favor.
But Apollo has many enemies – gods, monsters and mortals who would love to see the former Olympian permanently destroyed. Apollo needs help, and he can think of only one place to go. . . an enclave of modern demigods known as Camp Half-Blood.
As I explained on tour, the idea came to me while writing Percy Jackson's Greek Gods, because Apollo had been turned mortal twice before when he got on Zeus' bad side. The first novel has been so much fun to write! The Trials of Apollo is told first person from Apollo's point of view. During the series you will see all the characters from the previous Percy/Heroes of Olympus series so you can get a chance to see what they are up to.
(PS. some of you may have seen a listing on Goodreads for a Roman demigod series. This was an incorrect listing for the Apollo series. There is no separate Roman demigod series, though you will see the Romans during The Trials of Apollo.)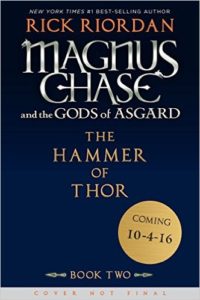 The second volume in Magnus Chase's adventures, The Hammer of Thor, will be out October 4, 2016. It's going to be a busy year of writing for me. Fortunately, I absolutely love my job and I am having a blast with both series! Hope you guys enjoy them. Stay tuned for more details.